Healthy Almond Joy Smoothie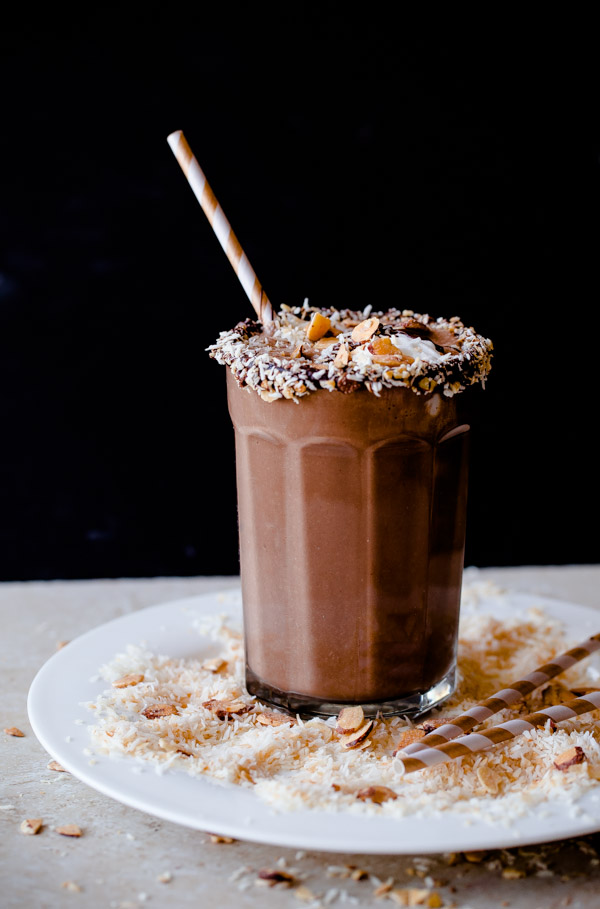 I'm going to make a confession. Sometimes this job is really hard and creatively challenging, and sometimes I completely run out of ideas, get major writer's block, and just…struggle.
Other days, it is crazy fun, I don't struggle, and I get to make a mess (granted, I have to then clean up that mess, but it's still fun).  Mostly, I can't believe I'm lucky enough to call this my job? (Ok, I can't believe that every single day, but hopefully you know what I mean.)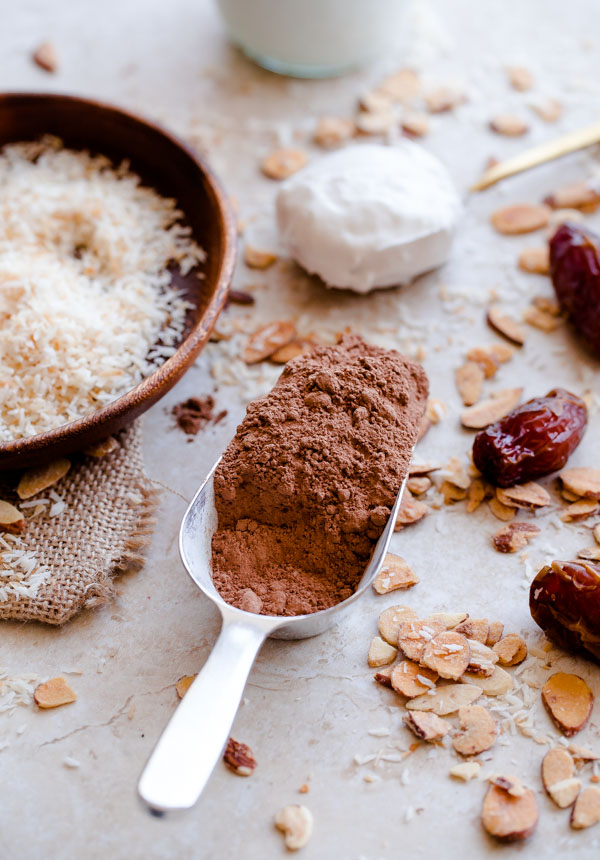 The day that I created and made this Healthy Almond Joy Smoothie was one of those days. I definitely got shredded coconut and toasted almond slices all over my just-cleaned apartment. I most likely burned a batch of shredded coconut–my attention span is that of a three-year-old child at the moment–but everything worked out.
Oh yes, it most definitely worked out. Oh–and it just happens to be vegan and gluten-free! Pretty cool.
[Bonus: I found these pretty striped paper straws–the only ones I even own–that just happened to match this drink, well, perfectly.]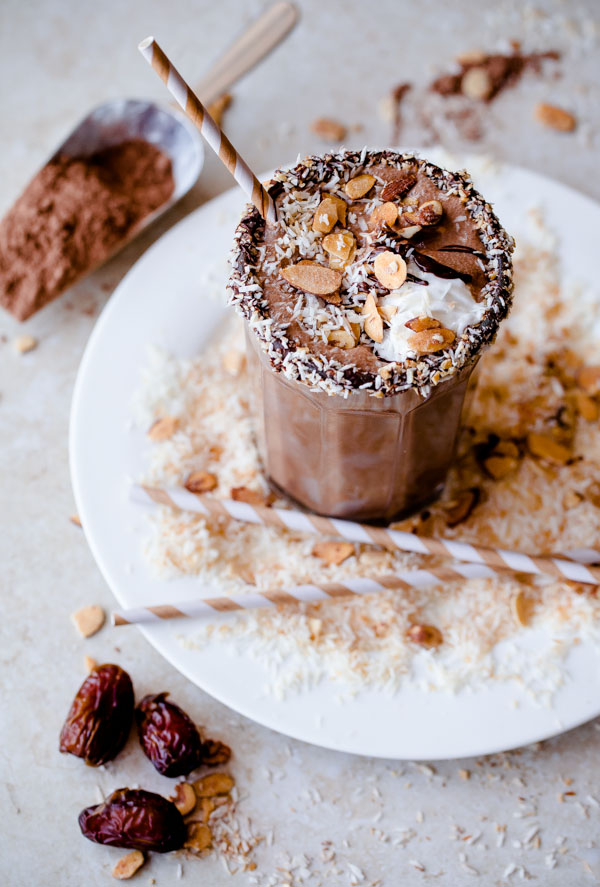 Ok, so before I start talking about today's incredibly fun and whimsical smoothie, I must give a little disclaimer. I personally hate to label recipes as 'healthy' or part of any recipe category, but…I felt like this smoothie needed one. I'm going to come right out and say this:
This smoothie does not taste like the candy bar. I know, I know. I hope you aren't disappointed! But I felt like that was a necessary statement, as I don't want anyone to feel deceived or disappointed? Does that make sense?
It's tasty, delicious, and all that jazz, but it is definitely different. It isn't crazy sweet, and is more delicate in flavor profile. If you're looking for a sweeter breakfast smoothie (or a non-chocolate-y one), may I suggest this amazing Rise and Shine Smoothie –> it tastes like banana bread.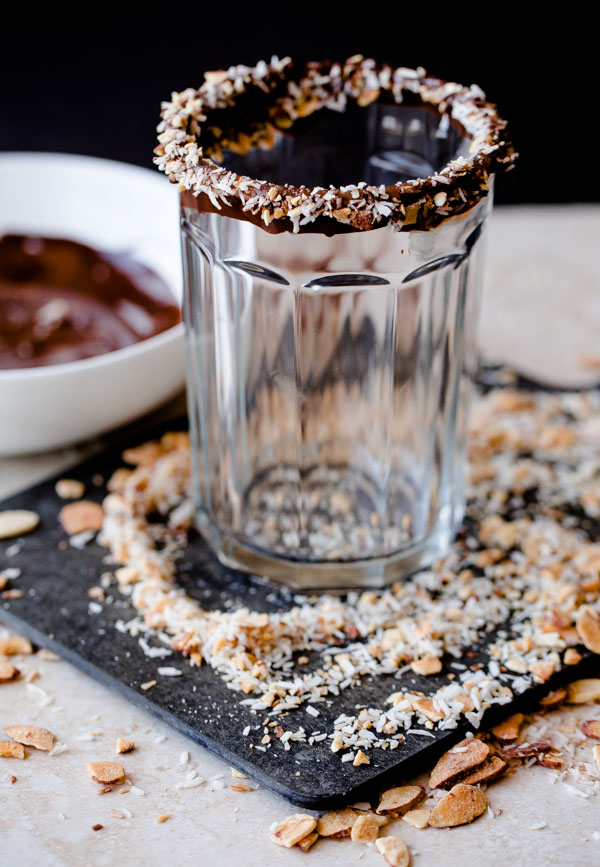 As you all know, classic Almond Joys are characterized by the combination of chocolate, shredded sweetened coconut, and whole almonds.
I took that general idea and ran with it. The base of the smoothie is light coconut milk (you could use a combination of almond milk and coconut milk, but the almond milk doesn't lend as much flavor), and is sweetened slightly with pitted Medjool dates and half of a frozen banana. The almond punch comes from the addition of natural almond butter!
The rest of the flavor comes from unsweetened cocoa powder (which lends a delicate chocolate flavor), toasted unsweetened shredded coconut, vanilla extract, and…coconut water ice cubes!!!! Ok, you could totally substitute normal ice cubes, but coconut water ice cubes are so much more fun and flavorful. I have no idea why I haven't made coconut water ice cubes before coming up with this recipe.
Oh! Oh! And don't forget the dark chocolate rim. That is the slightly more indulgent part of this smoothie, but totally worth the extra step. Don't forget to garnish the top with toasted coconut and sliced almonds! I like to use the honey-toasted sliced almonds from Trader Joe's–they are great.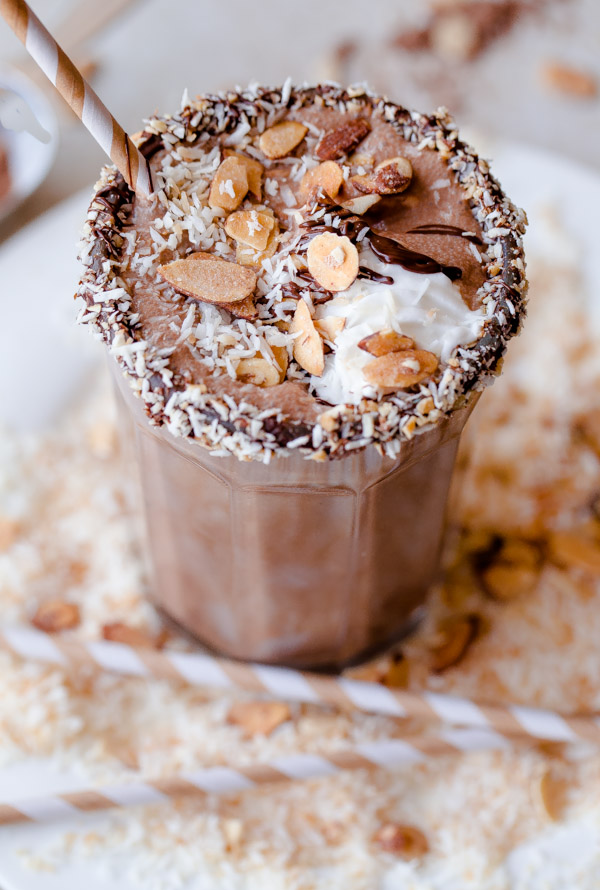 Maybe one of these days I'll create a completely trashed-up version that is completely over the top, and is indulgent–but until that day comes, I've made a healthy, naturally-sweetened, candy-bar-inspired smoothie that you can have in the morning, afternoon, or basically every day?
Do it.
Products Recommended for This Recipe: 
This post contains affiliate links. Thank you for your support!