Simple Parsnip Ginger Soup
A simple, healthy soup made with fresh parsnips and onion, and infused with ginger, cardamom, and cumin.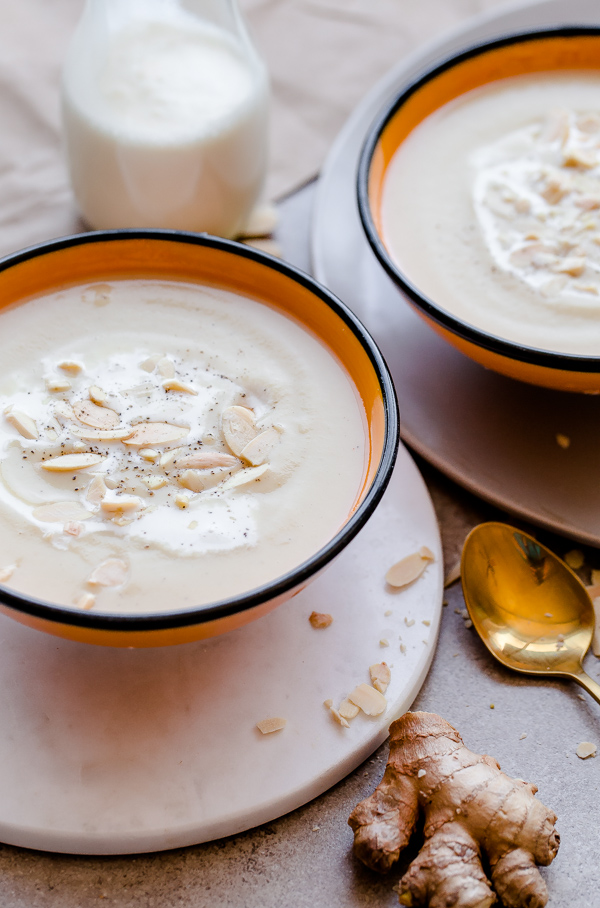 More soup! Yes, yes, yes.
It's still freezing outside, I'm about to have my first wedding dress fitting on Thursday (!), and I'm all for weeknight meals that make great leftovers and are easy to throw together. Soups are totally my thing right now.
Ok, they have always been my thing, but my love for them has amplified exponentially in the last few weeks.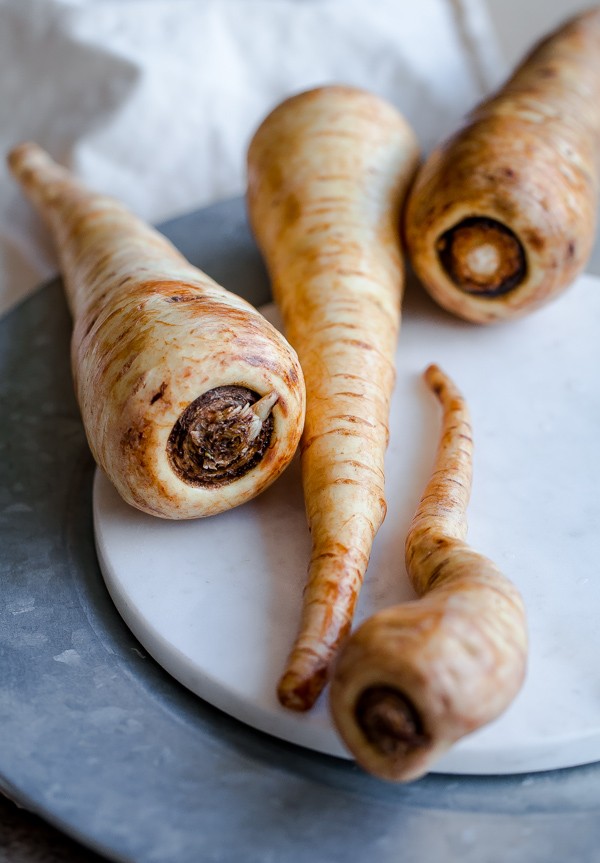 Since I've shared quite a few soup recipes in the last few months, I knew that I wanted to make my next one with an ingredient that has never graced itself on the blog in the entire five years of its existence!
You would think that list would relatively small at this point, but I'm constantly amazed by the plethora of ingredients, dishes, and possibilities ahead of me. It makes things pretty exciting.
But yes, back to the point. I have never shared one single recipe with parsnips in the past five years. In fact, I could probably count the number of times I've cooked or used parsnips in my kitchen on one hand.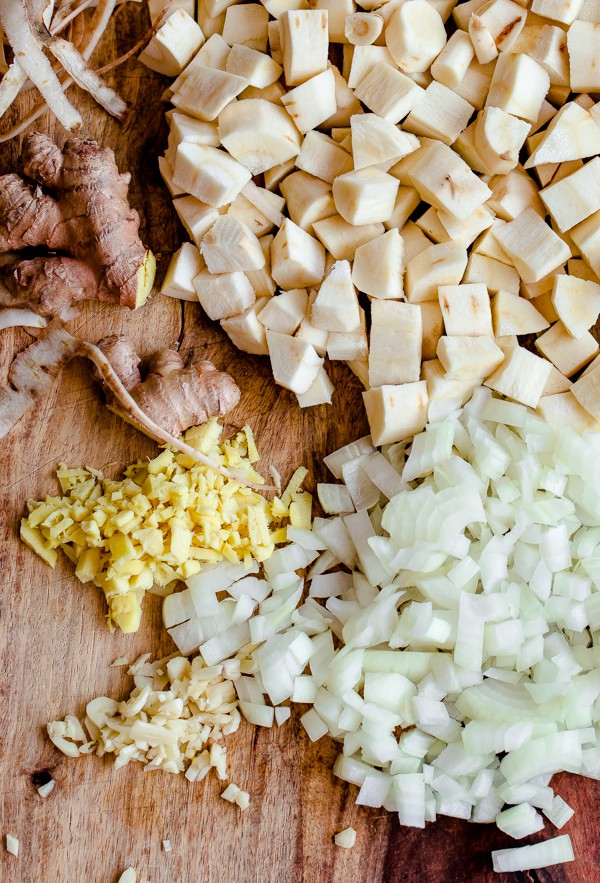 As you can probably tell just from their appearance, parsnips are part of the carrot family, and are a classic winter vegetable perfect for roasting, pureeing into soups, using in desserts (think carrot cake!), or preparing as a side dish to any number of dishes.
Unlike carrots, they tend to be even sweeter in taste–as I often do when I approach a new ingredient, I used one of my favorite kitchen resources in the entire world, and discovered that parsnips contain much more starch than carrots.
Most of this starch is converted to sugar when they are exposed to cold temperatures, meaning that parsnips will vary a bit by taste depending on what time of the year you buy them at the grocery store! Cool, huh?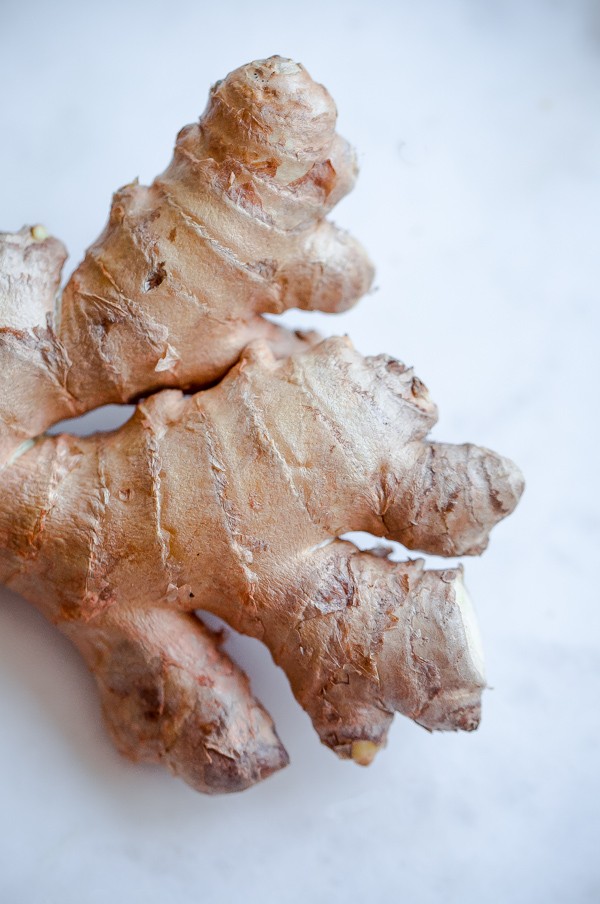 In fact, I find that parsnips cook a bit faster than carrots as well, which makes this soup recipe that much more weeknight-friendly!
This simple recipe just happens to be based on a recipe from the same vegetarian cookbook that I happened to gush all about in my last blog post.
I made a few small tweaks to the recipe: the original recipe called for a relatively large amount of cayenne pepper (which I found to be way too spicy in the final product, despite the fact that I love all things spicy!). I also reduced the fresh ginger quantity by half, as I felt that it had the same effect.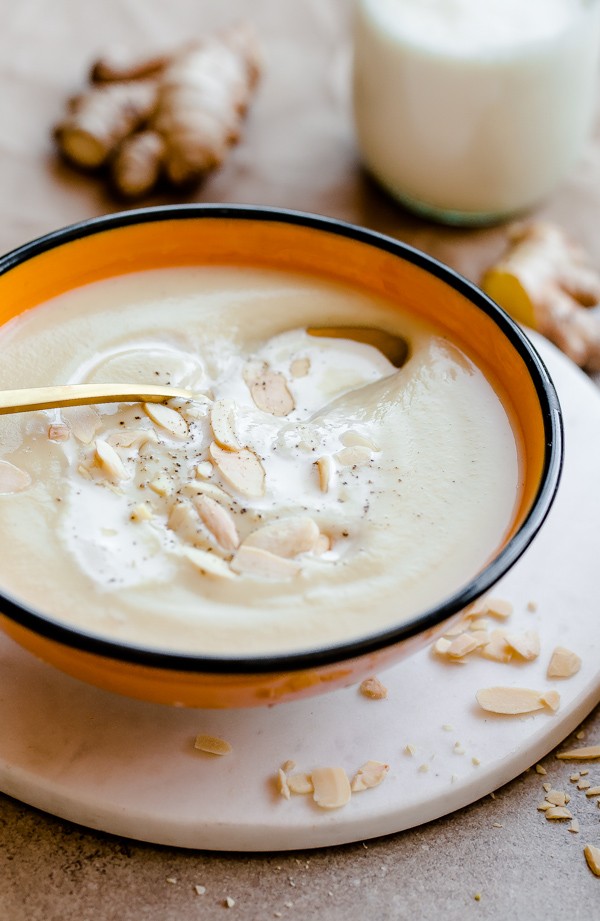 This soup couldn't be more simple to throw together! It's creamy, sweet, yet has just enough spice and heat to make it balanced. It's perfect paired with a few crunchy toasted sliced almonds and dollop of fresh cream as a garnish as well. Enjoy!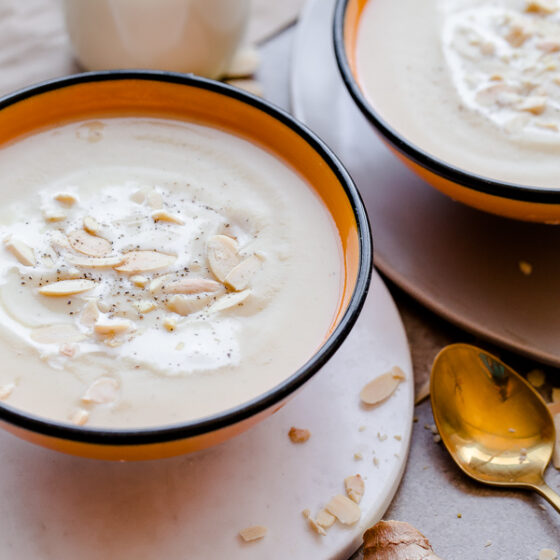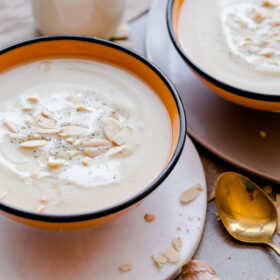 Simple Parsnip and Ginger Soup
A simple, healthy and naturally creamy soup made with fresh parsnips and onion, and infused with ginger, cardamom, and cumin.
Ingredients
1 tablespoon (15 mL) extra virgin olive oil
1 tablespoon (15 g) unsalted butter
1 large onion finely chopped
2 garlic cloves finely chopped
1-inch piece fresh ginger peeled and finely chopped
¼ teaspoon ground cardamom
¼ teaspoon ground cumin
pinch ground cayenne pepper optional
1 lb (16 oz) fresh parsnips peeled and cut into ½-inch chunks
3½ cups (780 mL) low-sodium vegetable broth
kosher salt
freshly ground black pepper
¾ cup (180 mL) whole milk
Toppings:
toasted sliced almonds for garnishing
heavy cream or full-fat yogurt, for dolloping
Instructions
Heat the olive oil and butter in a large soup pot over medium heat. Add the onion and sauté for 8 to 10 minutes, stirring occasionally, until the onions are very soft and translucent.

Add the garlic, ginger, cardamom, cumin, and pinch of cayenne pepper (if using) and sauté for an additional 1 to 2, stirring frequently, until fragrant.

Add the parsnips and stir mixture together. Pour in the vegetable broth, and bring to a boil. Lower heat and simmer soup for 15 to 20 minutes, or until the parsnips are very soft.

Transfer soup to a high-powered blender, such as a Vitamix (or alternatively, you can use an immersion blender), and purée until very smooth. Transfer the blended soup back into the pot, place over low heat, stir in the milk, and season to taste with salt and pepper. If the soup is too thick, add a touch of hot water, or an additional splash or two of vegetable broth.

Serve hot and garnish with sliced almonds and a drizzle of cream or small dollop of yogurt if desired.
Recipe (barely adapted) from River Cottage Veg: 200 Inspired Vegetable Recipes by Hugh Fearnley-Whittingstall.
Serving: 1serving, Calories: 348kcal, Carbohydrates: 32g, Protein: 9g, Fat: 22g, Saturated Fat: 6g, Polyunsaturated Fat: 15g, Cholesterol: 21mg, Sodium: 431mg, Fiber: 8g, Sugar: 11g
This post contains affiliate links, which means that I make a small commission off items you purchase at no additional cost to you. Please read my
privacy policy
for more information.