High Maintenance Egg Salad Sandwich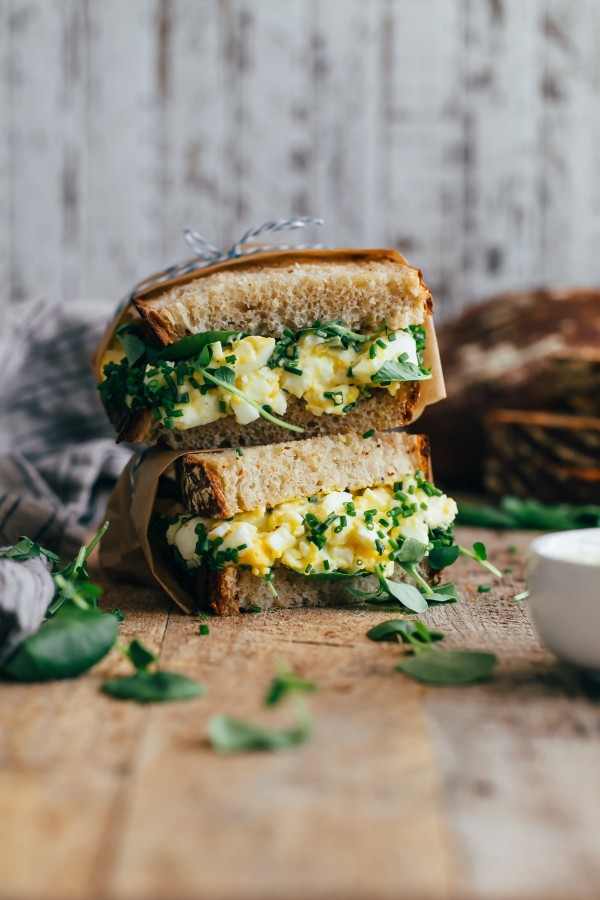 I'm going to make a confession. This egg salad sandwich is a little high-maintenance. It's a bit fancy and needy, but I'm cool with that.
I'm a firm believer in going the extra mile in the kitchen, especially when that extra effort will make all the difference. Simple does not necessary mean easy or effortless, and that's OK.
Start with the best-quality ingredients you can get your hands on, don't overthink things, focus on technique, and you'll be amazed by the results. This sandwich starts with homemade mayonnaise (no fancy equipment needed), hard-boiled eggs, fresh herbs and watercress, and lastly – a hearty loaf of good-quality sourdough bread. Let's do this.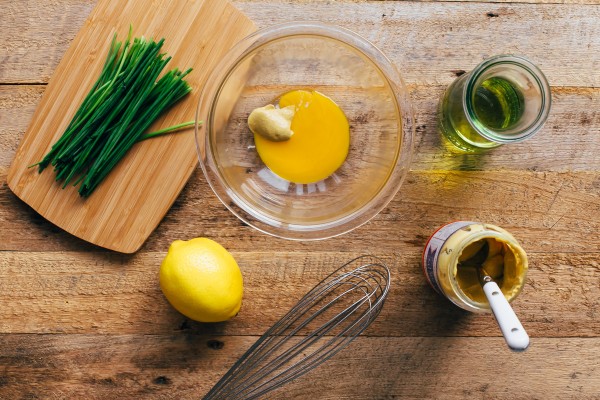 As a former member of the I-hate-mayonnaise camp, I can affirm that homemade mayonnaise is pretty life-changing. It takes some technique and arm muscle, but you can do it.
It only takes four ingredients: egg yolks, Dijon mustard, oil (I prefer grapeseed oil to canola oil), and lemon juice. Compare this to the ingredient list of an average store-bought, shelf-stable mayonnaise.
Somehow those four ingredients have the ability to transform into a luscious, creamy spread with just a bowl, whisk, and a little bit of arm muscle. It's pretty incredible.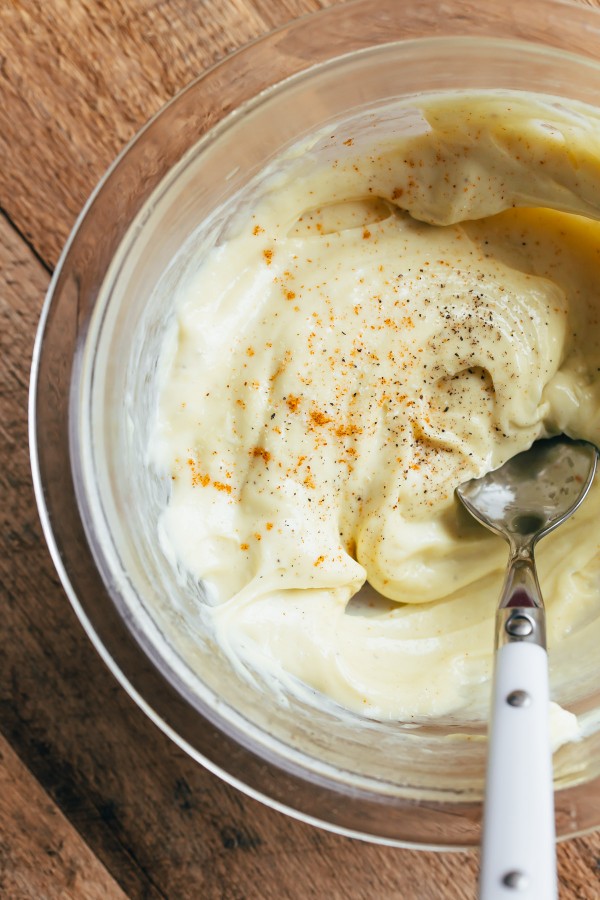 I challenge anyone to hate good-quality homemade mayonnaise. It is indistinguishable from even the best-quality, store-bought mayonnaise. My first experience with making mayonnaise (I avoided mayonnaise at all costs prior to this) was in culinary school.
I remember getting to class, looking at the whiteboard to see our daily menu and recipes, and cringing. Ugh, mayonnaise. All forms of mayonnaise too. Remoulade, you name it, and we were making some mayonnaise-version of it.
Fast forward two hours and I was happily spooning homemade mayonnaise into my mouth. I knew it was going to taste better, but I didn't realize just how much different and better it would be. The texture, the flavor, the smell.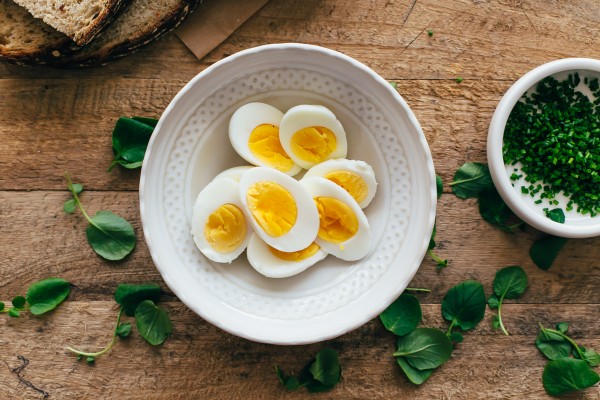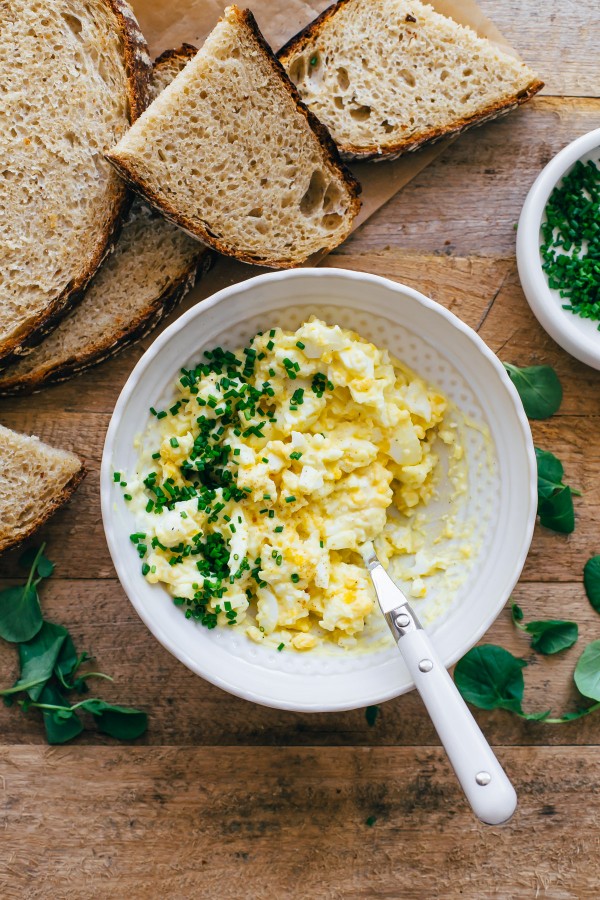 That isn't to say that there isn't a time and place for store-bought mayonnaise. If a recipe calls for a spoonful of mayonnaise, I'm probably not going to whip up a batch of homemade mayonnaise. If you you do, all the power to you!
But I do encourage you to try your hand at homemade mayonnaise, especially for this recipe and application. It takes just five extra minutes of effort (or less), stores well in the refrigerator, and makes all the difference.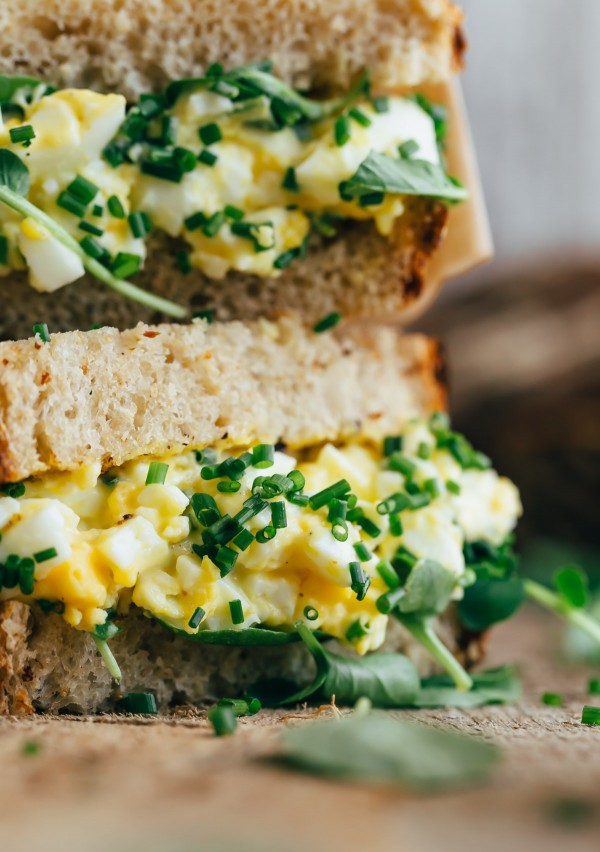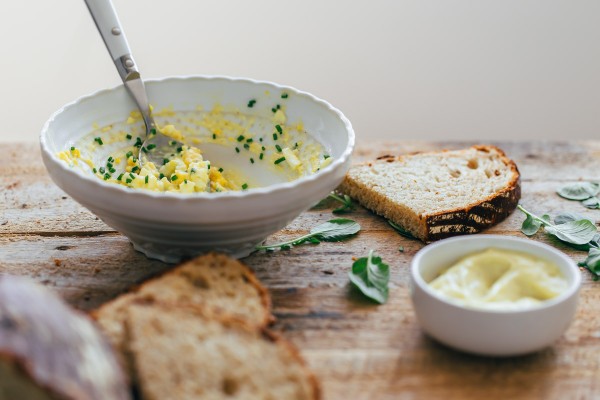 Homemade egg salad is such a simple dish. This one was inspired by an amazing egg salad sandwich that I had in Berkeley, California a few years ago.
I never loved egg salad up until that point, but I could tell that a lot of love and effort was put into that sandwich. It sells out rapidly every day. Everything from the thickly cut homemade bread to the homemade mayonnaise to the perfectly cooked hard-boiled eggs. It really made all the difference.
By definition, egg salad only calls for a handful of ingredients and mayonnaise is one them. It is a pretty important one actually. You might as well start with the best, right?
You'll feel an extra level of pride and love for this egg salad sandwich.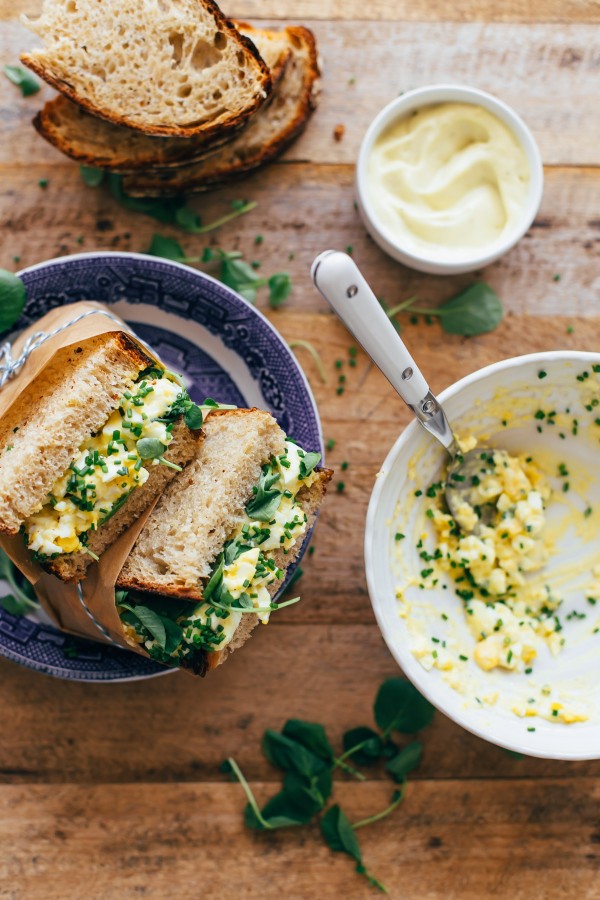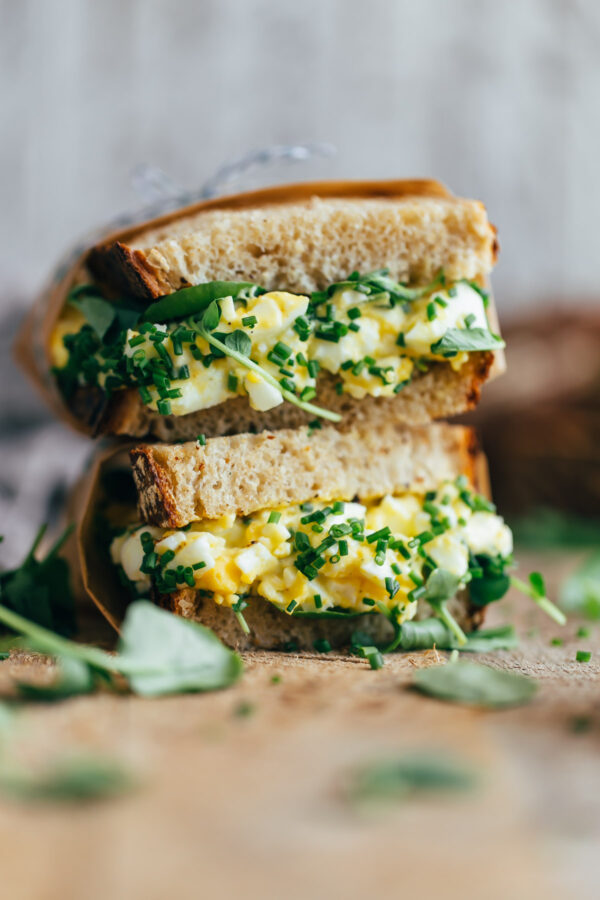 I've been on huge bread-making kick lately, so I happened to make this sandwich with a fresh loaf of my artisan sourdough bread.
There is something very empowering about making mayonnaise, or practically anything, from scratch. I always learn a ton in the process and gain a stronger appreciation and passion for whatever ingredients I'm working with.
I highly recommend seeking out a really good-quality, fresh crusty loaf bread for this sandwich. Bread is often an afterthought in sandwiches and it really does make all the difference! I like thickly cut bread for egg salad sandwiches.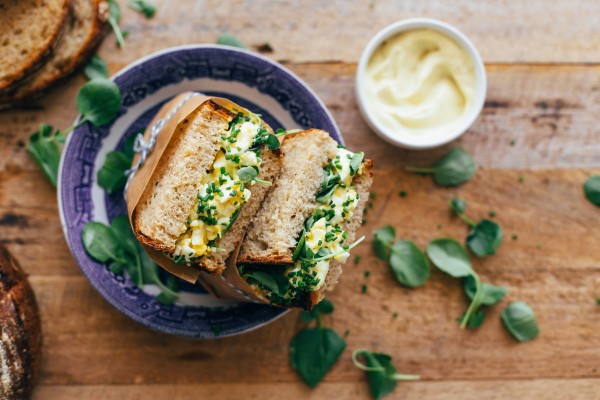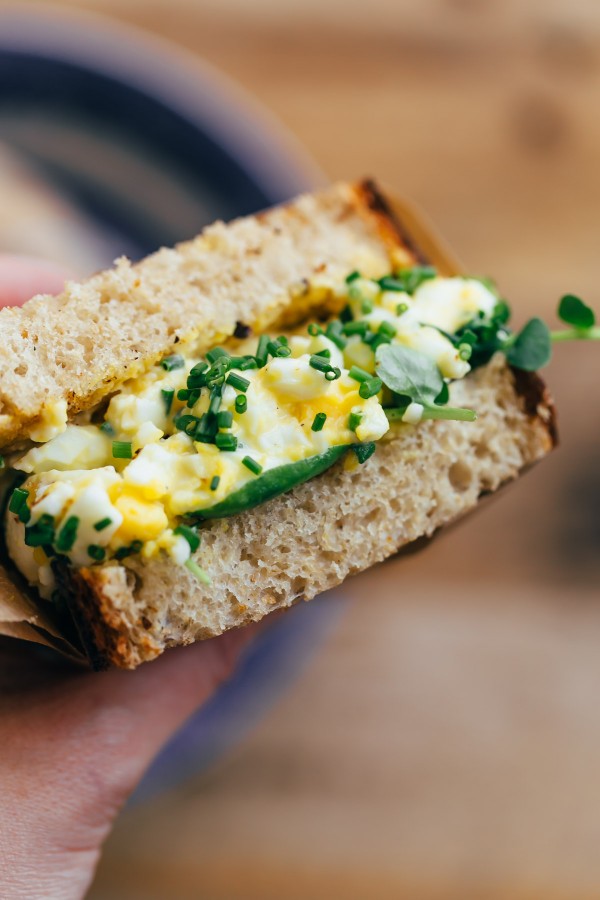 Lastly, I like to add lots of fresh chives and finish the whole thing with some peppery watercress. So simple, but so delicious and satisfying. Scratch cooking at its best!
P.S. The hardest part of this recipe was figuring out how to wrap it 'cutely' in parchment paper. I literally had to google-image it. Apparently that is a life skill that I do not possess.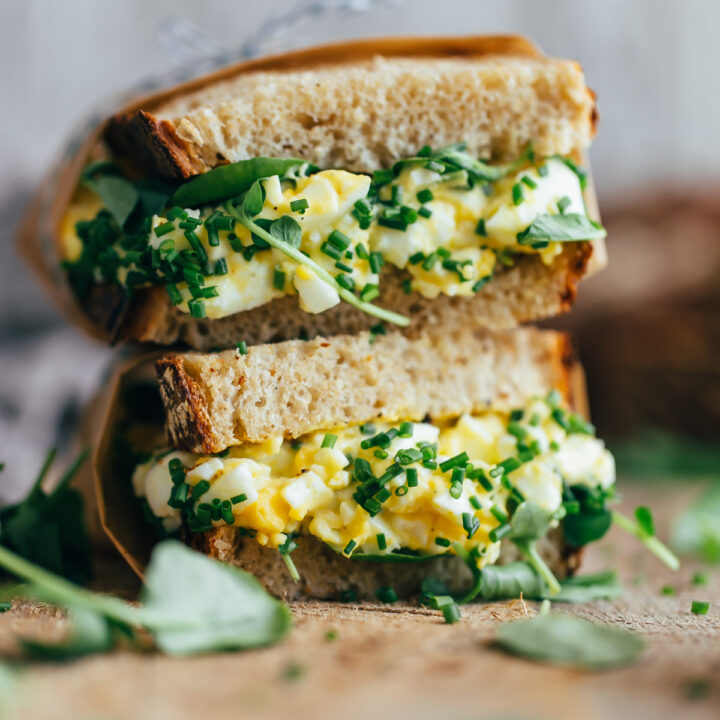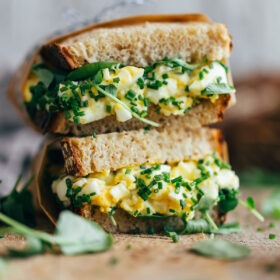 High Maintenance Egg Salad Sandwich
Homemade egg salad is such a simple dish! This one was inspired by an amazing egg salad sandwich that I enjoyed in Berkeley, California many years ago, and is made entirely from scratch.
For best flavor, I recommend seeking out a really good-quality, fresh crusty sourdough bread. Lastly, add lots of fresh chives and finish the whole thing with some peppery watercress for added texture!
Ingredients
Homemade Mayonnaise (Yields ¾ Cup):
1 large egg yolk pasture-raised or locally sourced if possible
1 teaspoon Dijon mustard
¾ cup (180 mL) grapeseed or canola oil
2 tablespoons (30 mL) fresh lemon juice see recipe note
pinch ground cayenne pepper
kosher salt
freshly ground black pepper
Egg Salad:
8 large eggs
½ cup homemade mayonnaise see recipe above
large bunch fresh chives finely sliced, plus more for assembly
kosher salt
freshly ground black pepper
Instructions
Prepare the mayonnaise: In a medium mixing bowl, whisk together the egg yolk and Dijon mustard until slightly thick and smooth. Nestle the mixing bowl in a twisted and rounded kitchen linen to prevent it from slipping and moving on your countertop. Slowly pour the oil in a very, very thin stream – think droplets at at time at the beginning – into the egg yolk mixture while whisking continuously and aggressively with your other hand. Your arms should burn a little. You want to use a flexible large whisk, not a stiff whisk, otherwise your ingredients may not emulsify properly. The mayonnaise will be very thick. Slowly whisk in the lemon juice until smooth. The mayonnaise should be smooth, thick, and pale yellow in color. Season to taste with cayenne pepper, kosher salt, and black pepper. Set aside until ready to use. Homemade mayonnaise can be stored in an airtight container in the refriegerator for up to a week.

Prepare egg salad: Place the eggs in a medium saucepan and add cold water, until the water reaches about an inch above the eggs. Bring to a rolling boil, remove from the heat immediately, and set your kitchen timer for 10 minutes. This will produce an egg with a firm white and cooked, but still slightly moist egg yolk. If you prefer slightly gooey yolks, reduce the time to 9 minutes. If you prefer very dry yolks, increase the time to 11 minutes or more.

As the eggs are cooking, set up an ice bath. Once the eggs have finished cooking, transfer them gently to the ice water with a slotted spoon. Allow the eggs to cool until they can easily be handled – about 5 to 10 minutes.

To peel: Remove one egg at a time from the ice water and gently tap it all over on your kitchen countertop to gently break the egg shell all over. Place the egg back into the ice bath and gently peel it, dipping it back into the ice water continuously – this will make it much easier to peel. Slice the eggs in half and transfer to a medium mixing or serving bowl, and repeat until all the eggs are peeled.

Add ½ cup homemade mayonnaise to the bowl and using a fork, gently mash the eggs and mayonnaise together until incorporated evenly. I prefer a slightly chunky egg salad with good texture, as opposed to a very fine egg salad texture, but adjust this to your liking. Gently stir in 1 tablespoon sliced chives. Season to taste with salt and pepper (or more cayenne pepper, if desired).

Assemble sandwiches: *If using a nice artisanal loaf of bread, I prefer to slice the bread slices in half, rather than assembling and trying to cut a sandwich in half. It prevents the egg salad from spilling out the sides. Place a small handful of watercress on the bottom half of each bread slice, top with a generous spoonful of egg salad. Top with a few more watercress leaves and the top half piece of bread. Gently press or sprinkle any remaining chopped chives onto any exposed egg salad on the sides of the sandwich. Serve immediately.
Tips for Success:
Homemade mayonnaise can be stored in an airtight container in the fridge for up to 2 weeks.
This homemade mayonnaise recipe has a slightly more generous hand of lemon juice than a standard mayonnaise recipe. I like the extra acid as it helps cut the richness of the egg salad – but feel free to reduce the lemon juice to your liking.
Eggs that are slightly older are best for hard-boiling, as they tend to be easier to peel.
Flavor Variation Ideas: 
This egg salad sandwich can customized in many ways. Feel free to turn it into an aioli by adding finely minced garlic, or simply add additional seasonings (curry powder would be great!).
Serving: 1serving, Calories: 748kcal, Carbohydrates: 6g, Protein: 16g, Fat: 74g, Saturated Fat: 11g, Polyunsaturated Fat: 59g, Cholesterol: 476mg, Sodium: 702mg, Fiber: 1g, Sugar: 1g
This post contains affiliate links, which means that I make a small commission off items you purchase at no additional cost to you. Please read my
privacy policy
for more information.