Pineapple Punch with Ginger Beer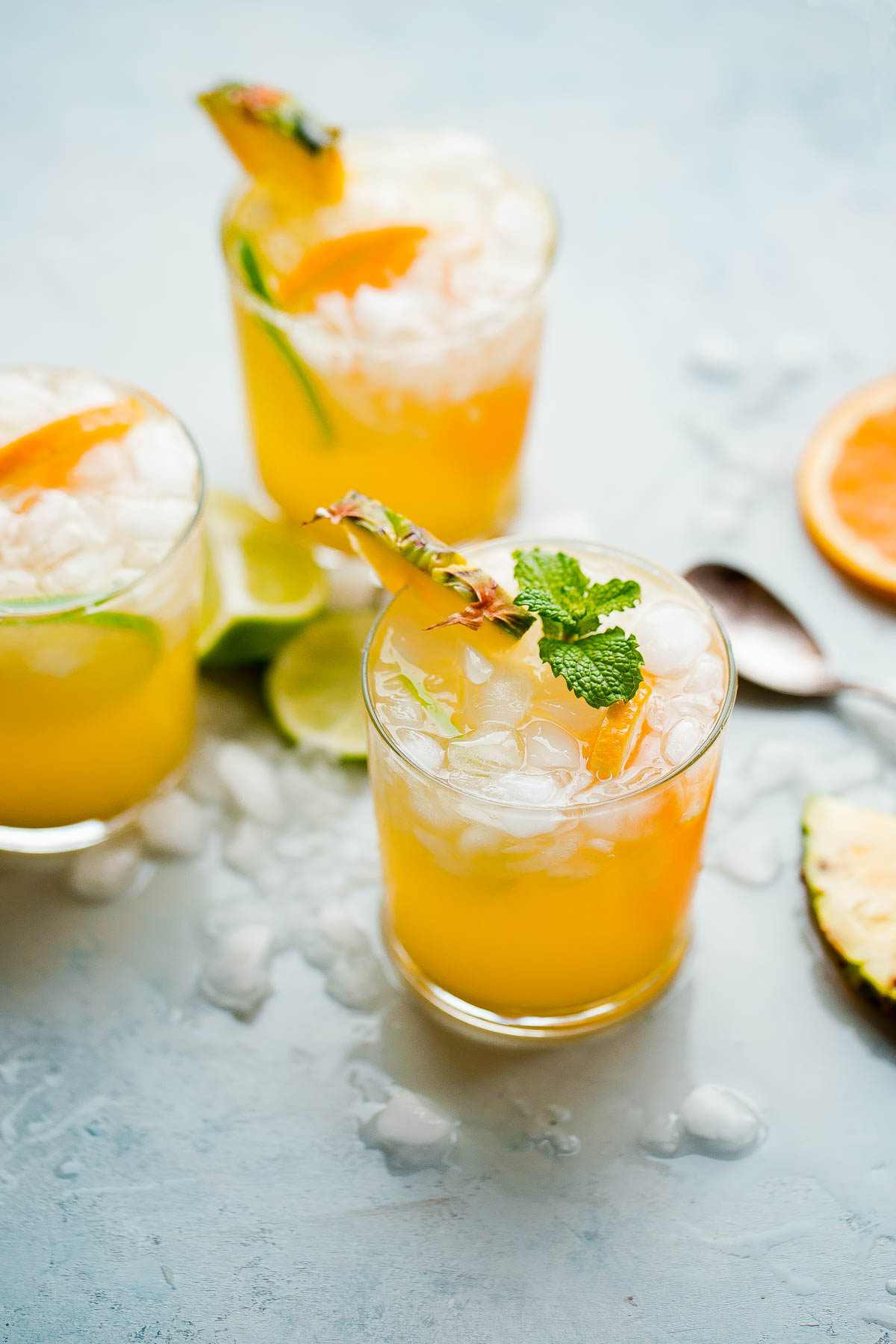 If you're in need of a crowd-friendly cocktail (with a spicy ginger kick) to sip on this weekend, I've got you covered. Add a couple of these wild rice veggie burgers, southwest burgers, or my everyday chicken marinade into the mix and you've got a party.
This pineapple punch recipe is festive, fizzy, and easy to throw together. The ingredients are very straight-forward: pineapple juice, orange juice, lime juice, rum, and ginger beer. If you love citrus-packed cocktails or any type of cocktails made with ginger beer, you will love this drink!


I've always gravitated towards lower alcohol cocktails made with citrus or tart fruits, as evidenced by last year's kombucharita punch. Add ginger beer into the mix and I'm sold.
These types of drinks are always refreshing and often pair well with many different types of foods, which is a top priority for me.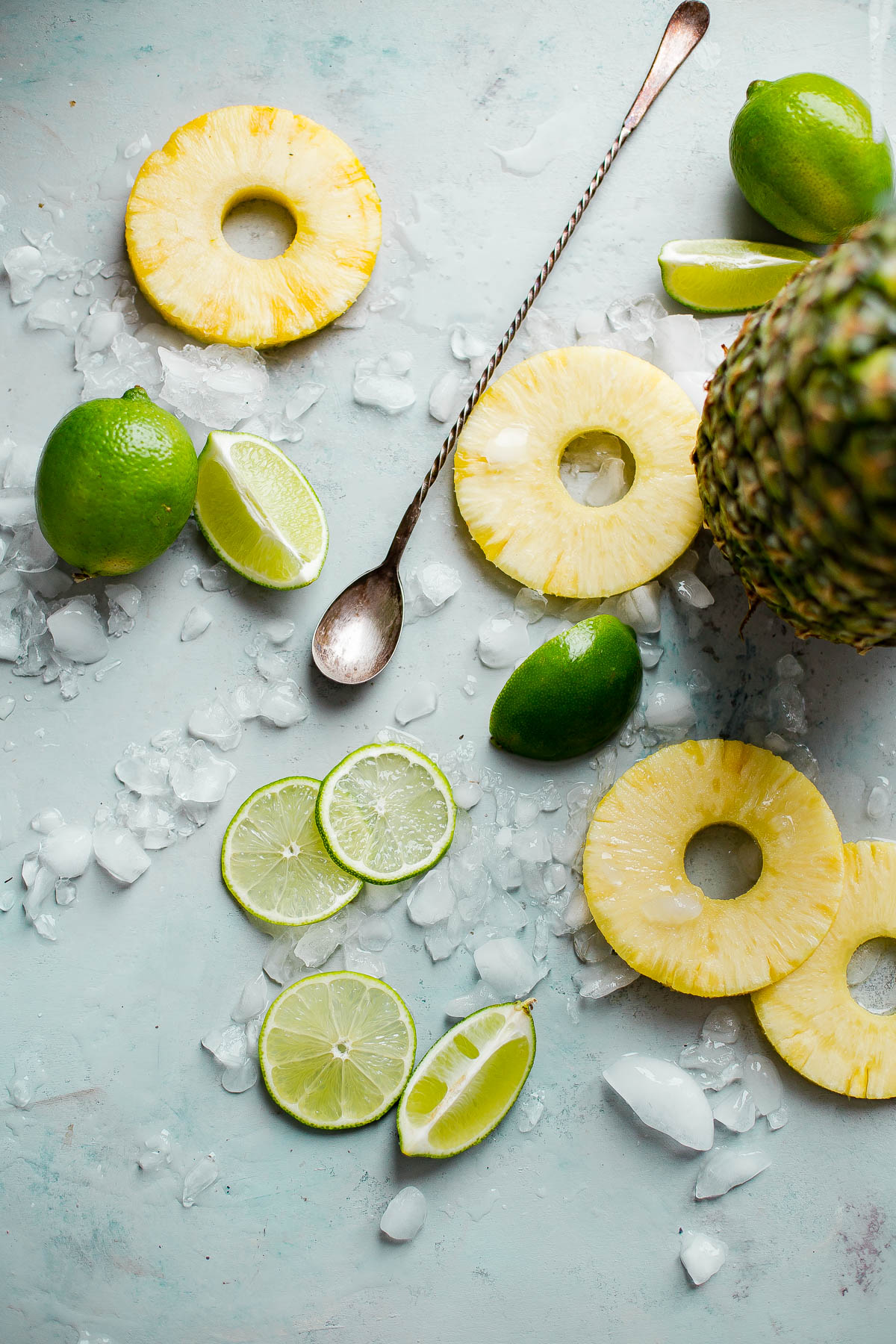 Ginger Beer Recommendations:
It is best to seek out a high-quality ginger beer for this cocktail. Many ginger beers are all sugar and contain little to no real ginger. It kind of defeats the point, right? Ginger beer should taste like freshly juiced ginger.
My brand of choice is Fever Tree, which makes an incredible natural ginger beer that is very low in sugar. It comes in convenient larger size bottles (you'll need 32 ounces, or two 16.9 ounce bottles, for this recipe!), is reasonably priced, and packs a spicy ginger punch.
Fever Tree ginger beer is available at most grocery and beverage stores, and I've even found it in the aisles of World Market. If you still can't find it, you can even order it on Amazon for a reasonable price! If you're looking for other ginger beer recommendations, here's another great resource for ideas.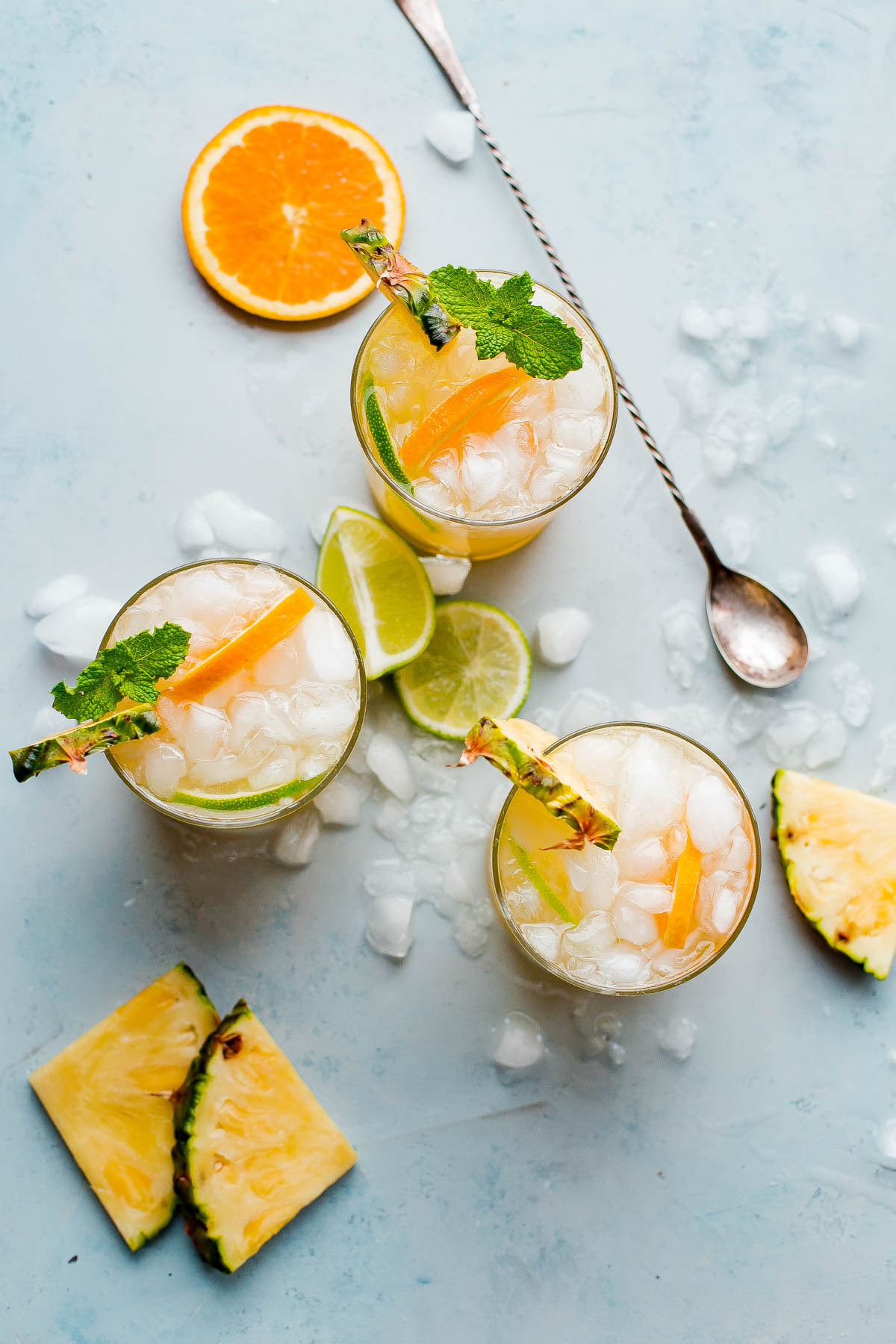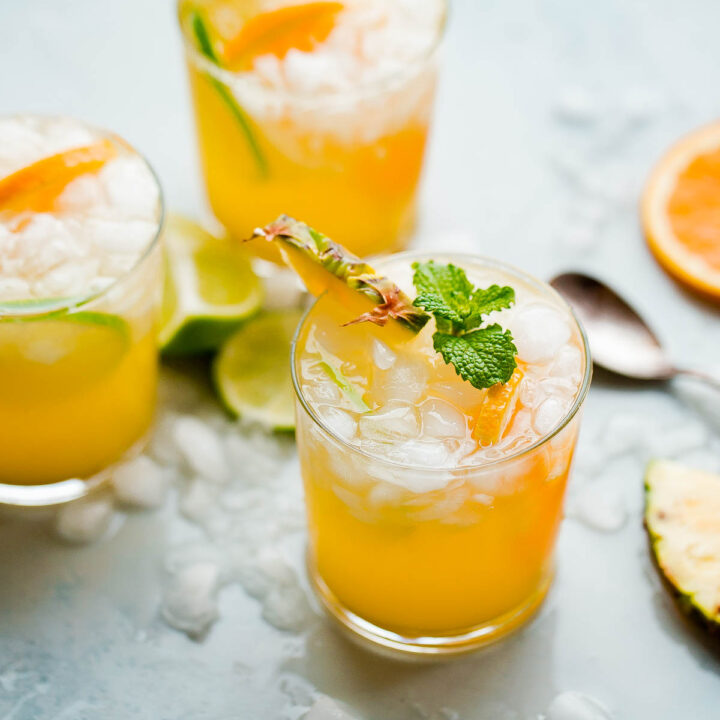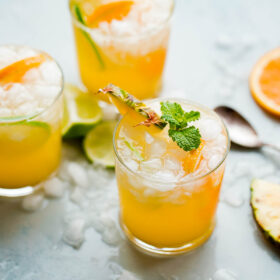 Pineapple Punch with Ginger Beer
A refreshing pineapple punch recipe made with pineapple juice, orange juice, rum, lime juice, and ginger beer for a bit of a spicy punch. A delicious cocktail for summer! This recipe serves makes a pitcher for group entertaining.
Ingredients
1 cup (240 mL) pineapple juice, preferably homemade see notes for instructions on on how to make your own
½ cup (120 mL) fresh orange juice roughly 1 to 2 oranges
½ cup (120 mL) light rum
⅓ cup (80 mL) freshly lime juice roughly 2 to 4 limes
32 to 34 ounces chilled ginger beer I recommend Fever Tree brand, which is low in sugar, and comes in large, convenient 16.9 oz bottles
ice
Optional Garnishes:
4 orange slices halved, for serving
8 thin lime slices for serving
small thin wedges of fresh pineapple
fresh mint sprigs
Instructions
In a large pitcher, combine the pineapple juice, orange juice, rum, and lime juice. Stir until blended. Just before serving, add the ginger beer and stir until just combined. Pour into individual glasses and serve. If you'd like, garnish each glass with an orange slice, lime slice, wedge of pineapple, and mint sprig. Serve immediately.
How to Make Homemade Pineapple Juice: 
1 medium pineapple, peeled and cored, will yield approximately 1½ cups to 2 cups (12 to 16 ounces) pineapple juice.
Place chopped pineapple in a large food processor. Puree until completely smooth. Strain through a large fine-meshed sieve, using a spatula to press down the pulp to release the juice, into a large measuring cup or bowl. Fresh pineapple juice can be stored in an airtight container in the fridge for 4 to 5 days.
Serving: 1serving, Calories: 101kcal, Carbohydrates: 17g, Protein: 1g, Fat: 1g, Saturated Fat: 1g, Polyunsaturated Fat: 1g, Monounsaturated Fat: 1g, Sodium: 9mg, Potassium: 93mg, Fiber: 1g, Sugar: 15g, Vitamin A: 51IU, Vitamin C: 17mg, Calcium: 13mg, Iron: 1mg
This post contains affiliate links, which means that I make a small commission off items you purchase at no additional cost to you. Please read my
privacy policy
for more information.