Hold the Yeast Cinnamon Buns
Warning!
Following photo may cause instantaneous salivation and drooling to occur.  Reader discretion advised…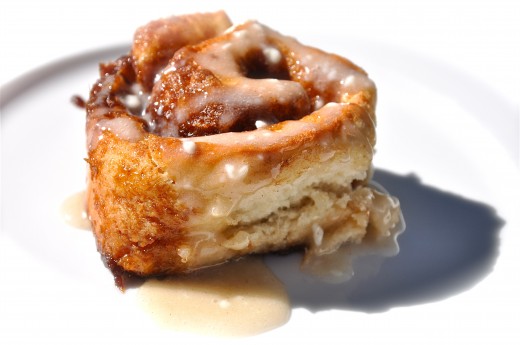 Did you know that Cinnabon strategically places all of their bakeries in an area where the smell has the ability to waft to any and all noses within a specific radius?  I can't verify that information, but it explains a lot.  Let's just say, I've never walked past a Cinnabon store without having smelled it more than a mile away.
Who doesn't perk up at the smell of warm cinnamon-sugar doughy goodness?  I'd like to meet them.
I know, I know Cinnabon is not good for you.  Perhaps it is all the trans fats and processed ingredients they use, or maybe it's because each Cinnabon is about the size of a child's head (or some other similarly sized object).  Most likely both.
I think Jim Gaffigan stated it the best in this hilarious video.
But we should all indulge in our cinnamon roll cravings every once in a while.  And I'm here to let you know that you CAN eat cinnamon rolls that are not nearly as bad for you and you can MAKE them right here at home in about an hour.  Yep, that includes baking time too my friends.  The secret? No yeast.
Can you tell?  Not at all.  The trick is to use baking powder and baking soda, like most other baking recipes out there.   This allows the cinnamon buns to rise, but avoids the need to let the yeast do its thing.  And this means that the cinnamon rolls can be made and put out on the table even faster.  I learned this trick from the awesome Cook's Illustrated magazine.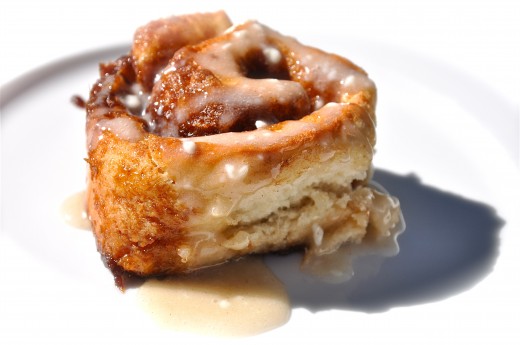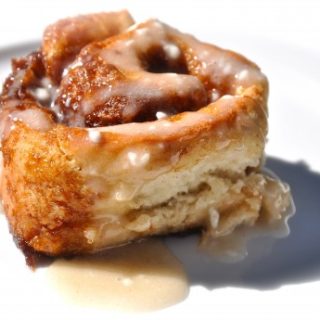 Hold the Yeast Cinnamon Buns
Yield: 8 Servings
Prep Time: 30 minutes
Cook Time: 25 minutes
Additional Time: 5 minutes
Total Time: 1 hour
Ingredients
Cinnamon Sugar Filling:
3/4 cup packed brown sugar
1 tablespoon confectioner's sugar
pinch of cloves
2 heaping teaspoons cinnamon
1/8 teaspoon salt
1 tablespoon butter, melted
Dough:
1 1/2 cup all-purpose flour
1 cup whole wheat pastry flour
2 tablespoons granulated sugar
1 1/3 teaspoon baking powder
1/2 teaspoon baking soda
1 1/4 cup Kefir (or buttermilk)
1 tablespoon butter, melted
1/2 teaspoon salt
Maple Cinnamon Icing:
2 tablespoons Kefir (or buttermilk)
1 tablespoon Neufchatel, softened
3/4 cup confectioner's sugar
1 tablespoon maple syrup
1/2 teaspoon cinnamon
Instructions
Sugar Filling: Mix together sugars, spices, and salt. Add melted butter and stir with a fork. Set aside.
Prepare Dough: Whisk together flour, baking powder, baking soda, and salt in a bowl.
Meanwhile, using a separate bowl, combine the Kefir (or buttermilk) with one tablespoon melted butter. Stir. Add liquid to dry ingredients and stir until just combined. The dough should be shaggy and wet at this point.
Using a well-floured surface, knead the dough until smooth. No longer than 1-2 minutes.
Make Rolls: Preheat the oven to 425 degrees Fahrenheit.  Grease a 9-inch cake pan lightly with butter.  Set aside.
Pat down the dough into a 9 inch x 12 inch rectangle. Not perfection necessary, but try to make it as uniform as you can. Brush the dough with two tablespoons melted butter (don't skimp on this part or you will not be able to get the sugar to stick properly). It will be shiny and smell delicious.
Sprinkle on the sugar filling. Maintain a 1/2 inch border on the sides to prevent the sugar from spilling out during the rolling process. Press down firmly.
Loosen dough from floured surface and roll. Pressing as you go to form a log. Pinch the seam to seal and roll it it seam-side down.
Cut evenly with a sharp knife to form 8 rolls. Press down firmly to keep filling in place and keep seams together. Place greased cake pan. Don't worry if gaps exist, as the buns will spread out during baking. Brush the buns with remaining two tablespoons melted butter.
Bake for 23-25 minutes in 425 degree oven. Meanwhile, make the icing.
Prepare Icing: Whisk together buttermilk and softened Neufchatel cheese. Add sugar, maple syrup and cinnamon and whisk until smooth. Once buns are ready, drizzle evenly over the top.
Nutrition Information:
Yield: 8
Serving Size: 1
Amount Per Serving:
Calories: 437
Total Fat: 6g
Saturated Fat: 4g
Trans Fat: 0g
Unsaturated Fat: 2g
Cholesterol: 16mg
Sodium: 476mg
Carbohydrates: 86g
Fiber: 5g
Sugar: 36g
Protein: 11g
A Beautiful Plate provides nutritional information, but these figures should be considered estimates, as they are not calculated by a registered dietician.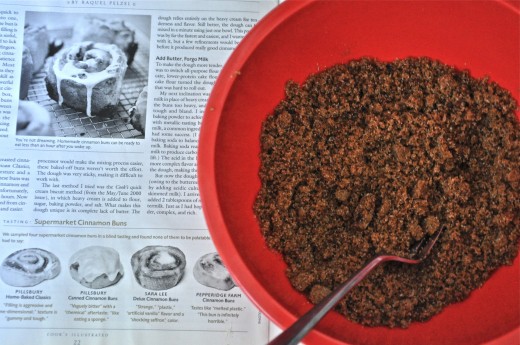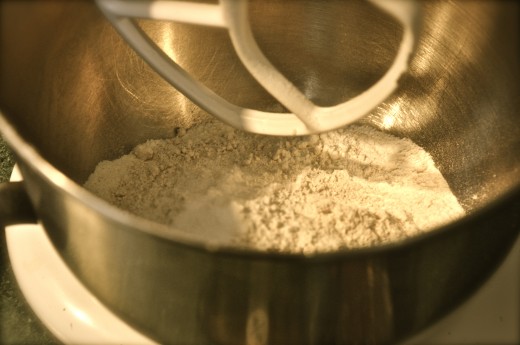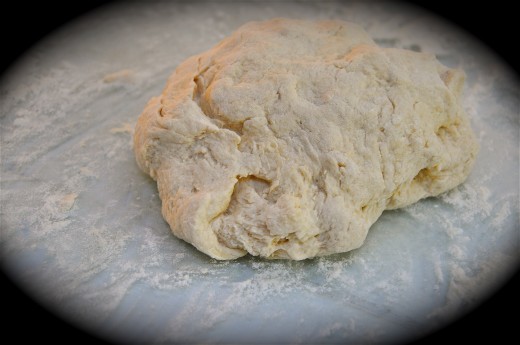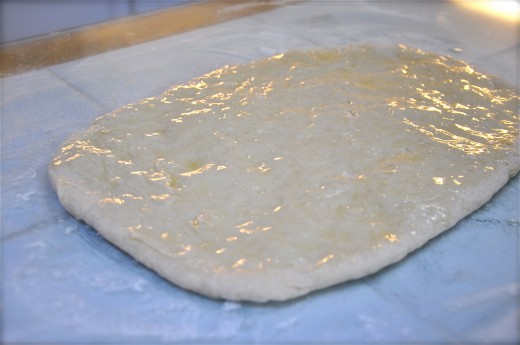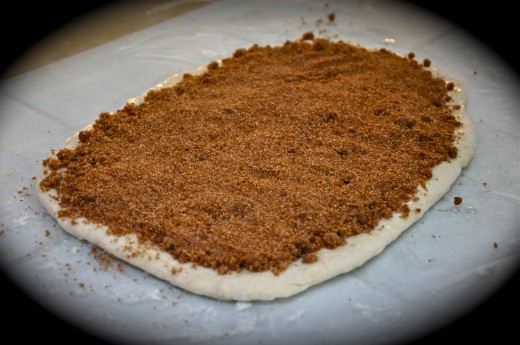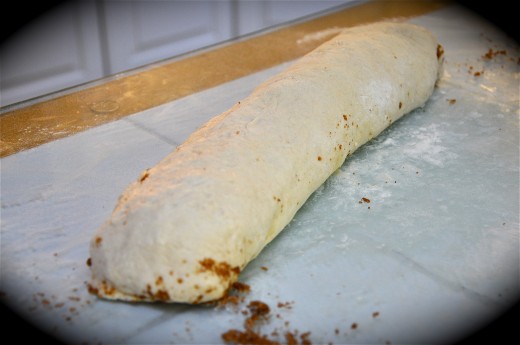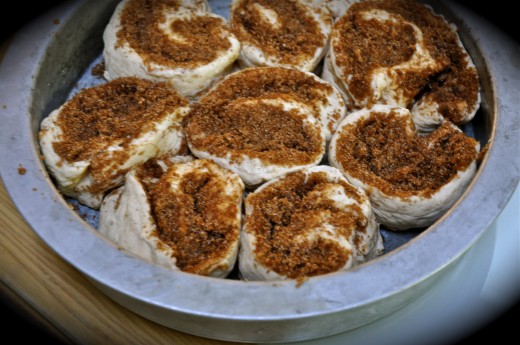 Remove from the oven, waft in the smell of homemade cinnamon buns (better than Cinnabon!), and try not to burn yourself by trying them too quickly.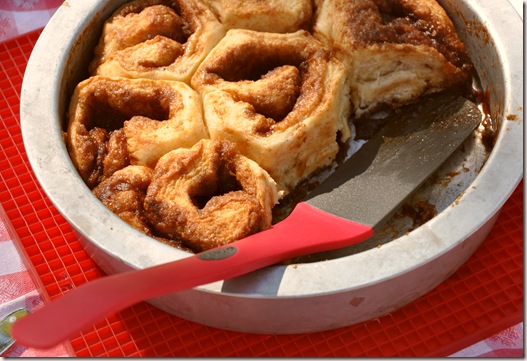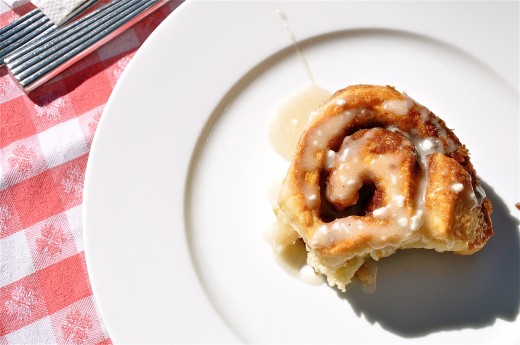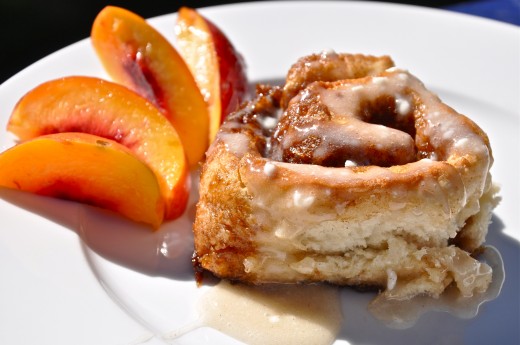 They won't disappoint…yeast or no yeast