Chicken Rice Noodle Soup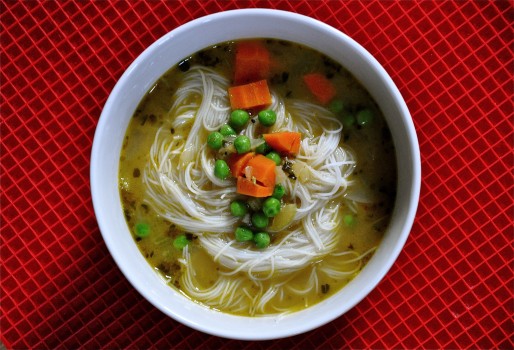 The other night, I was at a loss as to what to eat for dinner. This was exasperated by the fact that I had very little in the fridge to work with besides fresh carrots, celery, onions, and some frozen veggies. I could have stuck to my normal "for lack of a better option" dinner ideas, such as simple poached eggs (thanks to Jenna's great tutorial), some sort of pasta, or heck, even Trader Joe's frozen Tikka Masala (it's quite delicious), but I had been there, done that quite recently.
Easy solution? Homemade soup. If you don't have many ingredients on hand, but have some carrots, onions, canned beans, and broth, this is another favorite go-to meal of mine. Of course you could always open up a can of pre-bought soup, but I promise you, it really is simple to make at home. Most of the work can be left to the pot and the stove.
So that is exactly what I made. My favorite soups are on the bulkier side with loads of veggies, lentils, or beans. If I'm missing carbs (as I often do), I try to pair it with some fresh bread and cheese or homemade whole-wheat biscuits (will share that recipe sometime in the future!). But tonight I decided to do something different.
Why? Because I saw a box of thin rice noodles sitting in the top of my pantry, which I had bought months and months ago (read: while I was still a college student). I had an ah-ha moment and suddenly knew what to make.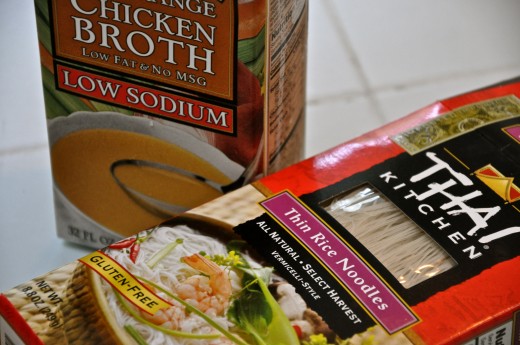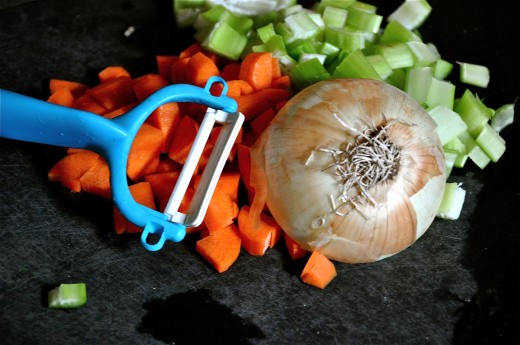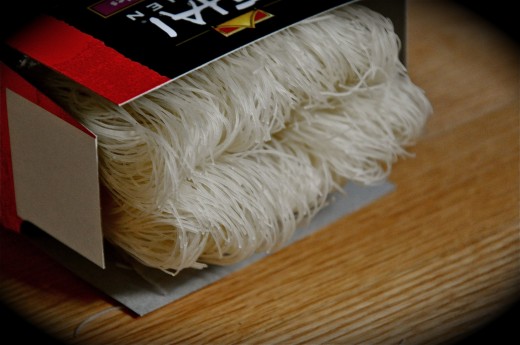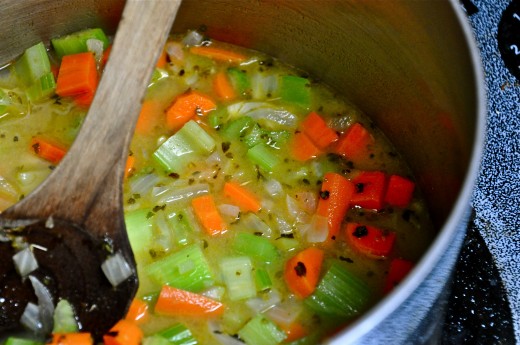 The finished product…(the light was working perfectly for me at this point):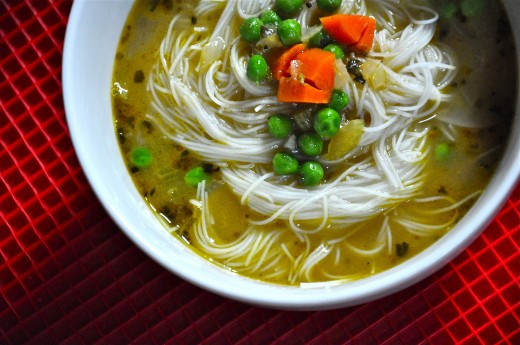 I really just made this on a step-by-step basis, I didn't really have a set idea in mind when I started cooking, besides the general "I'll make chicken rice noodle soup" concept. If I'm unsure of a spice or seasoning, I add a small amount of it or go by smell. Usually that's a safe way to see whether your flavor combinations will work.
It was quite good, but was missing some sort of pizazz, even after I added the red hot pepper flakes. It definitely needs a bit of tweaking to perfect, but was still quite tasty. I definitely think adding some bok choy or frozen shrimp (or tofu) would have definitely bulked this up and added much needed flavor.
On a different note, thank you all for your kind words about my grandfather passing away. You guys are awesome! ♥ More recipes to come later in the week, trust me, you won't wanna miss this one.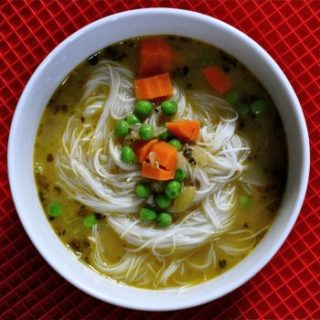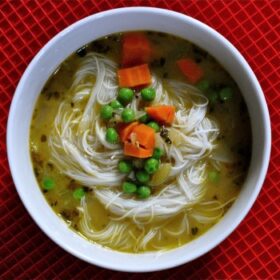 Faux Chicken Rice Noodle Soup
A simple faux chicken rice noodle soup prepared with Asian thin rice noodles.
Ingredients
3 cups (720 mL) low-sodium chicken or vegetable broth
extra virgin olive oil
½ yellow onion medium dice
3 celery stalks medium dice
2 carrots, peeled and trimmed medium dice
1 garlic clove finely chopped
1 tablespoon soy sauce
2 teaspoons dried oregano
½ teaspoon dried basil
2 ounces Asian rice noodles Vercimelli style
½ cup frozen peas
½ teaspoon Diamond Crystal kosher salt or more to taste
½ teaspoon red hot pepper flakes
Instructions
Heat the oil over medium heat in medium soup pot. Add chopped celery and carrot and cook for 5 minutes, stirring frequently. Add chopped onion and garlic and cook until soft. Add the soy sauce and dried spices, and cook for an additional 30 seconds or until fragrant. Add the chicken broth and bring to a boil. Lower the heat to a simmer and continue cooking for an additional 15 to 20 minutes. Stir in the frozen peas and simmer until they are tender. Season to taste with salt and pepper.

Meanwhile, bring water to a boil in another large saucepan. Remove from heat, add rice noodles and let sit for 8 to 10 minutes. Drain.

Ladle broth into serving bowls and add desired amount of cooked rice noodles. Serve hot.
Serving: 1serving, Calories: 129kcal, Carbohydrates: 17g, Protein: 5g, Fat: 5g, Saturated Fat: 1g, Polyunsaturated Fat: 4g, Cholesterol: 5mg, Sodium: 1644mg, Fiber: 4g, Sugar: 5g
This post contains affiliate links, which means that I make a small commission off items you purchase at no additional cost to you. Please read my
privacy policy
for more information.