Banana Chocolate Coconut Green Monster
This post contains affiliate links.
In the last few days, I've mastered two new feats:
I've officially jumped on the bandwagon and signed up for a Twitter account (I even have a handy new button the left sidebar).  I never thought I would say that sentence in my life, but geez, it's kinda fun!  Honestly, when anyone mentions Twitter or "twittering," this was what always comes to mind:
Previously, I had been on the "it's not gonna happen to me…" side of the equation.  Clearly, things have changed.
I still have no idea what the heck I'm doing, but I somehow I ended up 'twittering' Bethenny Frankel congratulating her on the filming of Bethenny Getting Married? Season Two.  I guess now it will be called something like: Yes, Bethenny Did Get Married. I don't think she cared, to say the least.  Did anyone else become completely obsessed with that show instantaneously?  I was laughing hysterically during each episode.
Second feat? I finally broke out my trial Chocolate Amazing Grass packet, which I bought at Whole Foods about 2 months ago (overdue, much?), and made a breakfast smoothie.  Verdict? Grass tastes good.  Or, what is more likely, grass disguised by chocolate tastes good.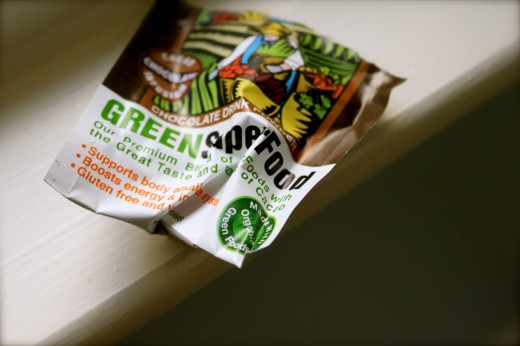 So…why did it take so long for me to try it out?  Ever since I was about 10 years old and tried a sip of a wheatgrass shot.  I really had been excited to try it out at the time.  However, that feeling immediately went away as the first couple drops reached my taste buds.  I was definitely not enamored and distinctly remembered feeling like I had just eaten the discards of a lawn mower.  No, thank you.
And yet, there I was this morning, making a smoothie using a packet, which contained all of the following: wheat grass (!), barley grass, alfalfa, spirulina, spinach, chlorella, and broccoli. While I'd like to think that my taste buds have evolved quite a bit over the last 13 years, I was a little skeptical, even after reading countless recipes for green monsters out there in the blog world.  I was imagining the final product as a just ok, incredibly grassy smoothie, with perhaps a mild hint of chocolate somewhere in there.
Boy, was I wrong!  I'm officially twitterpated.
I followed Ashley's advice for the green monster newbie and incorporated banana and peanut butter.  I then added my own twist!  Check it out: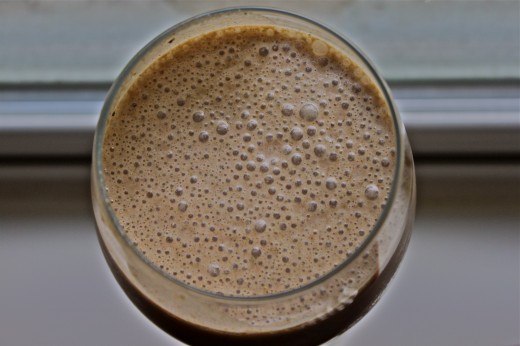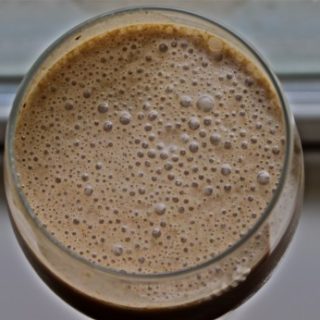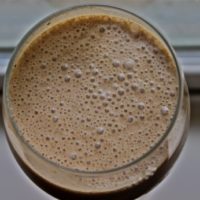 Banana Chocolate Coconut Green Monster
Yield: 1 Serving
Prep Time: 5 minutes
Total Time: 5 minutes
Ingredients
1 packet chocolate Amazing Grass
1 ripe banana, preferably frozen
1 tablespoon unsalted, unsweetened Peanut Butter
2/3 cup light coconut milk
1/4 cup non-fat Kefir (or you could substitute more coconut milk!)
Instructions
Dump it all in the blender, whirl away!
Nutrition Information:
Yield: 1
Serving Size: 1
Amount Per Serving:
Calories: 372
Total Fat: 23g
Saturated Fat: 13g
Trans Fat: 0g
Unsaturated Fat: 8g
Cholesterol: 4mg
Sodium: 195mg
Carbohydrates: 39g
Fiber: 5g
Sugar: 22g
Protein: 10g
A Beautiful Plate provides nutritional information, but these figures should be considered estimates, as they are not calculated by a registered dietician.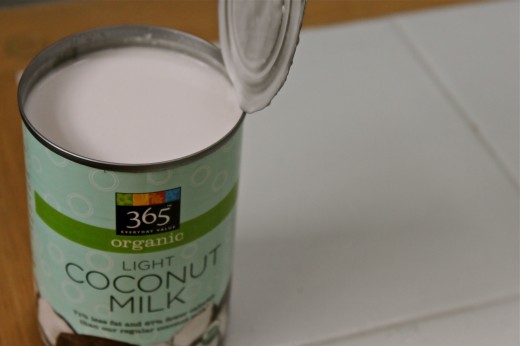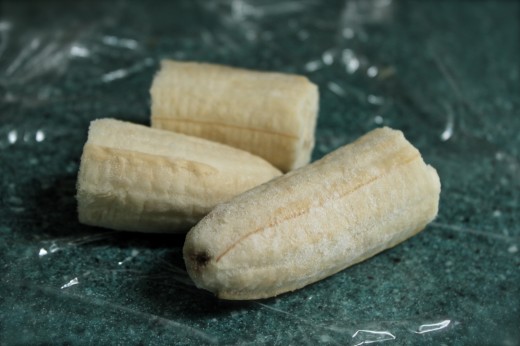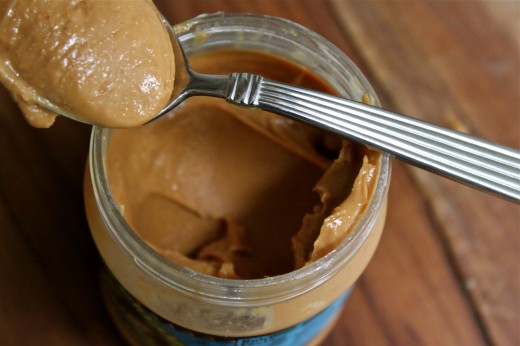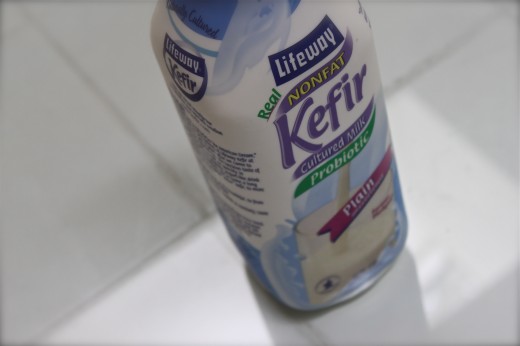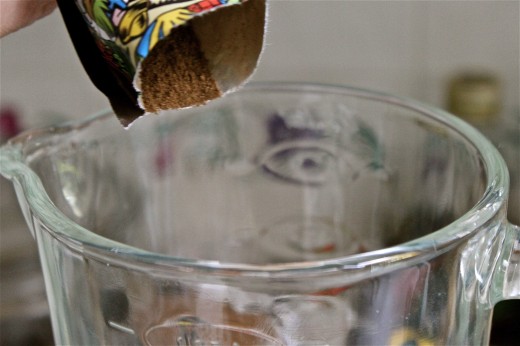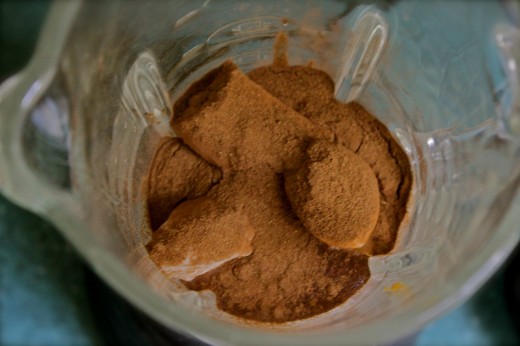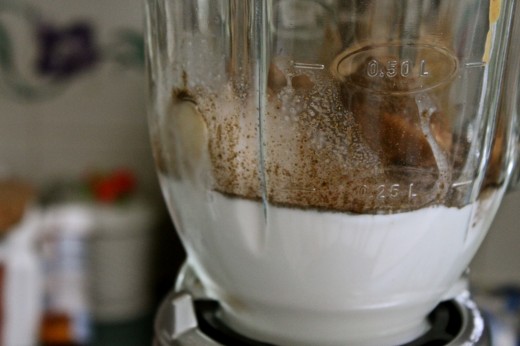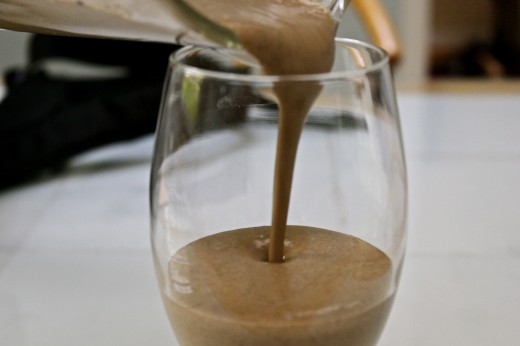 I can honestly tell you that I didn't taste even a hint of grass, let alone vegetable in this.  It resembled a chocolate peanut butter milk shake in flavor and texture, and the hint of coconut was a great addition!  You could easily serve this to kids (or adults, of course) and they would have no idea.  I also can't help but be curious as to see how this would turn out after a twirl in my ice cream maker.  Any opinions?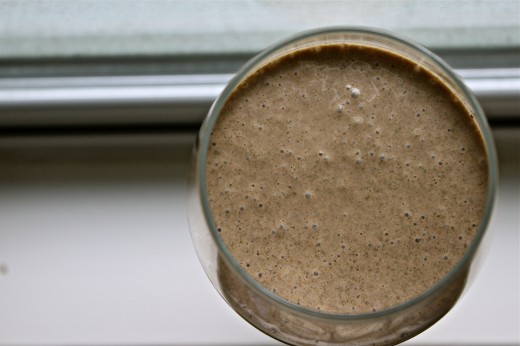 While I wholly enjoyed this for breakfast, I would prefer this as an afternoon smoothie snack after a work out, as the chocolate was a bit too rich for me first thing in the morning.
I know, I know…I'm lame.  I never was one to like cocoa puffs, chocolate-chip pancakes, or even Nutella as a breakfast treat.  Blame my mother.

This post contains some affiliate links, which means that I make a small commission off items you purchase at no additional cost to you. Please read my
disclosure policy
for more information.