Crab Feast, Pumpkins & Some Sweet Gelato
My Saturday afternoon was filled with these.  Crabs. Not the bad kind…come on now, that sentence was just asking for a dirty joke.
No,  Maryland crabs. At the Cabin John Crab Feast in Maryland (go figure!).
Although my afternoon was filled with crabs, by the end of the "feast" I was definitely not full from crabs.  As many of you probably know from personal experience, the effort of eating crabs probably burns more calories than the actual crab meat consumed at the end of the day.  It's a pretty amusing food custom when you think about it.  Grabbing and going at shellfish with wooden mallets and metal pliers for what seems like forever just for a few tablespoons of precious meat?
Odd, yes.  Worth it?  Absolutely.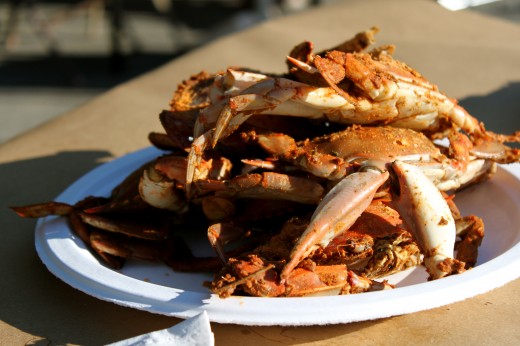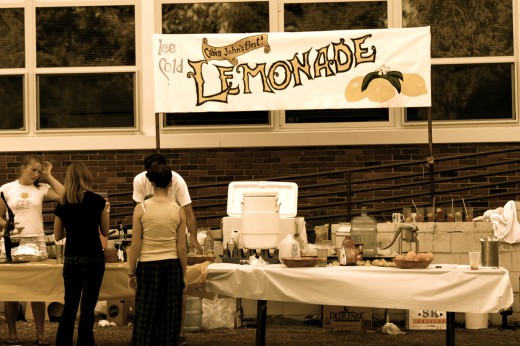 It was also an excuse to get together and bid farewell to my past blogger buddy, Caroline, who embarked today on a long month of job traveling.  We are officially grown ups.  Fun, huh?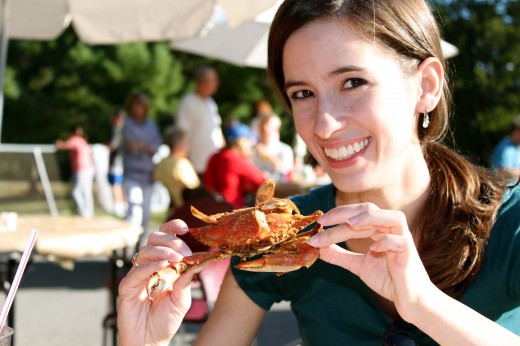 While the rewards of crab eating may not be abundant, it sure is fun.  I actually love it, because it's very low key and entertaining.  It also makes you slow down (not that you're exactly stuffing yourself) and enjoy the company you're with.  You never feel full to the point of nausea at the end of the meal…
It's not weird if you end up having old bay smeared and caked over your face or hands.  And no one bats an eyelash if you accidentally spew crab body parts all over the table (or other people's tables, for that matter) during the smashing process.
Seriously though, at one point in the meal, a large piece of crab shell flew onto our table from another table 4 feet away.  There were kids involved to say the least…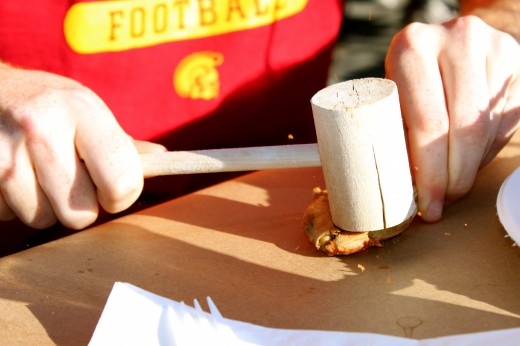 Remember these toys?  I forget what they are called.  All I can remember is a 4th grade talent show when I was younger and a contestant's 5-minute routine, where he repeatedly threw it up in the air and only caught it on the string 1% of the time.  And he didn't even seem the least bit embarrassed.
One ticket to the Cabin John Crab Feast gave you three options:
6 crabs
3 crabs and 3 sides
chicken and 3 sides
Believe it or not, there were quite a bit of people who got chicken!  I decided to go with the half and half option (3 crabs, 3 sides), even though most of the sides weren't that appealing to me.  It's not that I didn't think I could eat 6 crabs (especially since they were quite small to begin with), but I wasn't sure if I had the energy to "eat" 6 crabs.  So I grabbed some collard greens and carrots with cinnamon instead.  Sadly, I've never eaten collard greens before, but they were quite good!  In the end, I wish I had gotten 6 crabs, but at least the veggies filled me up.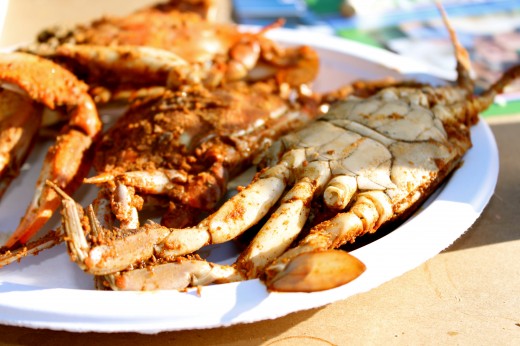 Luckily, the boyfriend took pity and gave me one of his.  How sweet!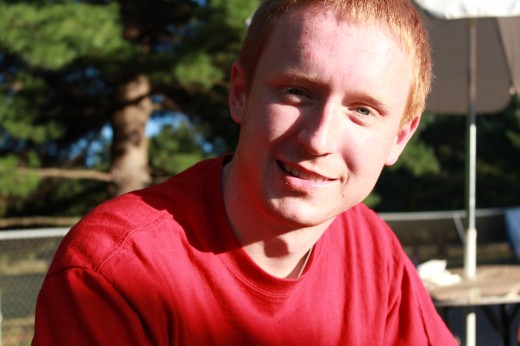 After all the consumption of crab (note sarcasm), we decided a mini-workout was in order.  We took cue from the kids around us and decided to brave the climbing wall.  Unfortunately, the climbing wall was barely taller than me, so it didn't last long…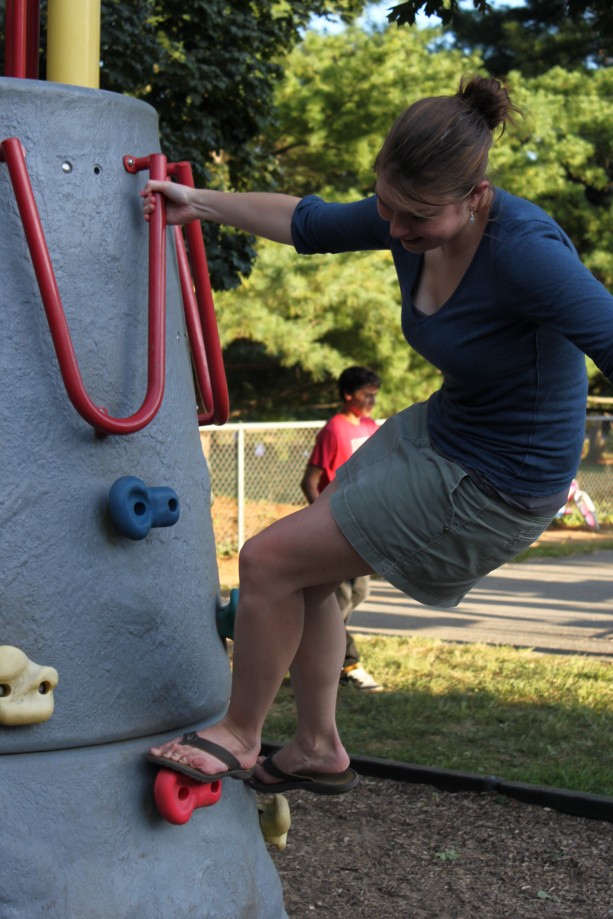 So to make up for it, I suggested a nice walk in the neighborhood.  Though I probably haven't mentioned it before on the blog, one of my favorite things to do is look at houses.
Yep, I'm a real estate junkie.  My name is Laura and I like craftsman style houses.  And flower pots, wrap-around porches, and shingles.  I particularly enjoyed the house below…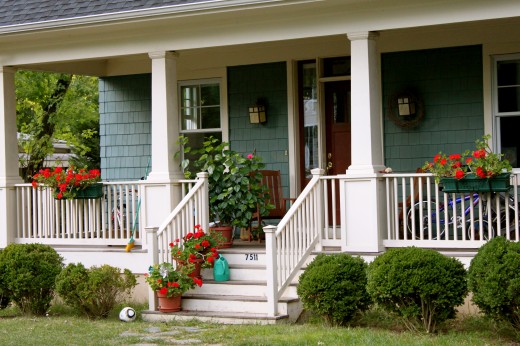 One of my favorite things to do on the weekends has always been to go to Open Houses with my dad.  Even when I was 10 years old.  Probably, even younger to be perfectly honest.  I'm pretty sure the real estate agent loves its when we tell them we're just checking them out for fun.  Hey, some kids like games, I like interior design and daydreaming about decorating my future house/apartment.  And probably like every other foodie out there, of course my favorite room to snoop around in is the kitchen. I get especially excited if Carrera marble and Viking appliances are involved.
I also get excited when I see food gardens.  Fall is officially here!  It's PUMPKIN season.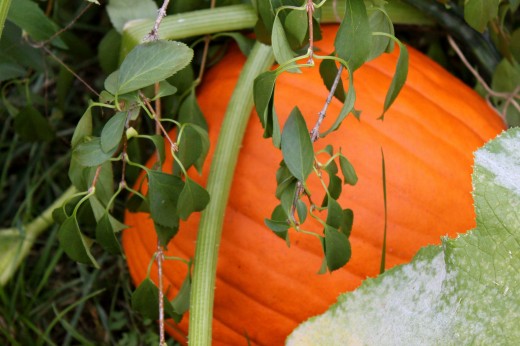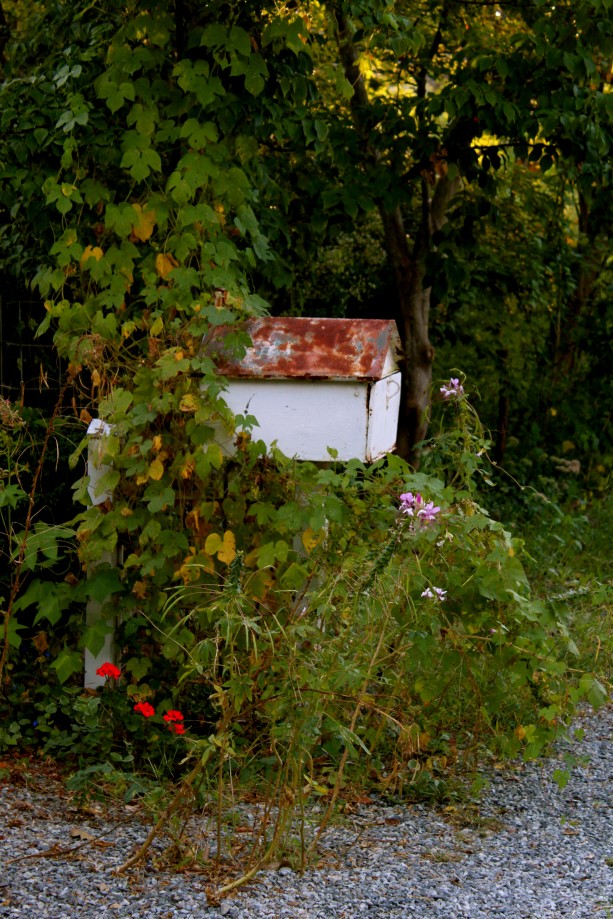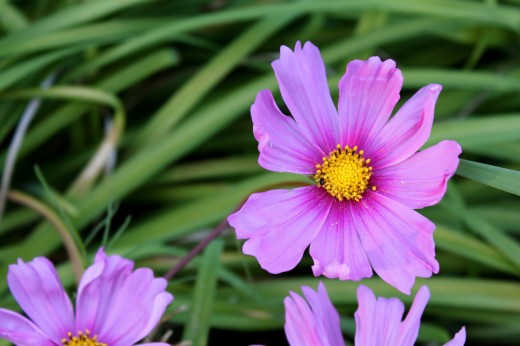 After the rock climbing wall and some walking, the three of us were hungry again.  In fact, it pretty much felt like we had never eaten to begin with.  So, we did what any other rational being would do… go out for gelato!
We headed over to downtown Bethesda, which has, in the past year, doubled its number of pedestrian-friendly restaurants, shops (including a Le Crueset store!), boutiques, and most importantly, ice cream stores.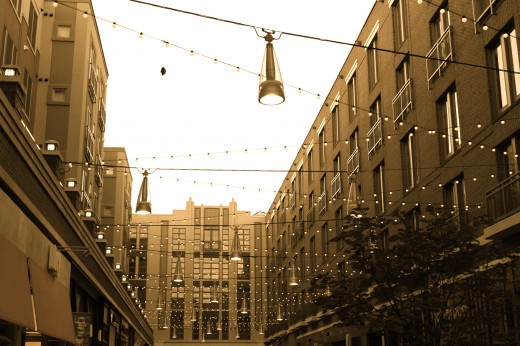 This is also the location of one of DC's famous Georgetown Cupcakes bakeries.  Needless to say, there was a 100-foot line out the door.  I overheard a confused boy tell his mom, "Their just cupcakes!"  Well said, young man, well said.
After much debate between tart fro-yo and gelato, we finally chose gelato from the incredible Dolcezza. Although expensive (it was $5.65 for this guy!), Dolcezza offers artisanal, daily made Argentinean-style gelato from only seasonal, local ingredients.  They also boast half the fat, thus half the calories of regular gelato.  My taste buds beg to differ.
Dolcezza also offers some incredibly creative flavors!  Lime Cilantro, Red Watermelon Vokda, Thai Coconut Milk, and Lemon Opal Basil are just a few.
Following many "tastings" (including ones for Banana Foster, Orange-Cardamom-Honey, and White Peach) and about 10 minutes of decision-making, I decided on two half-scoops.  Most ice cream places will allow you to do this, so I highly recommend going this route if you want to try a bunch of flavors without paying for a bigger size.
What did I get?
Valhrona Chocolate Amargo (Bittersweet) & Yellow Peach-Southern Comfort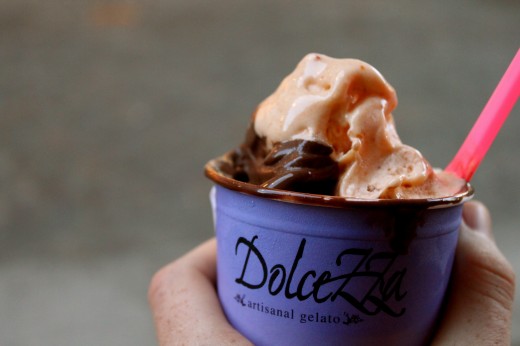 OH. MY. GOD. Both of them were incredible!  Probably the best gelato I've ever had, including the stuff I had in Italy.  The Valrhona chocolate was incredibly thick and chocolate-y, but since it was bittersweet, not over powering.  I'm usually not a chocolate dessert fan, because I tend to think their too sugary and not chocolate-y enough.  Not at all the case with this gelato.
The Yellow Peach Southern Comfort cut the richness of the chocolate and was perfectly tart.  I honestly couldn't taste the Southern Comfort, but the addition of it may be why it didn't taste too sweet.  After all, they always say  that alcohol cuts the sweetness.
Caroline's Pick: Valrhona Chocolate Amargo & Milk Chocolate (can't remember the exact name!)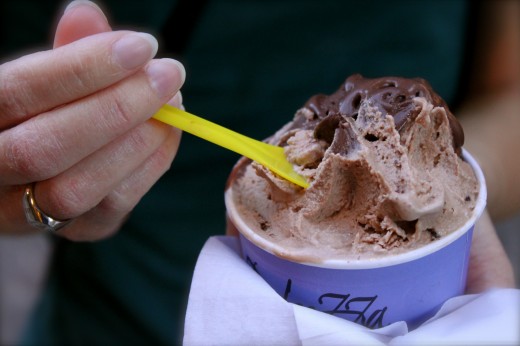 In case any of you aren't familiar with it, Valrhona is one of the best brands of chocolate out there!  If you're making a really good chocolate dessert and need bittersweet chocolate for baking, I recommend paying a bit more and buying it, or similarly good brands like Scharffen Berger.  You can find them at cooking stores usually, or Whole Foods.  It really is a testament to what can happen when you use good quality chocolate.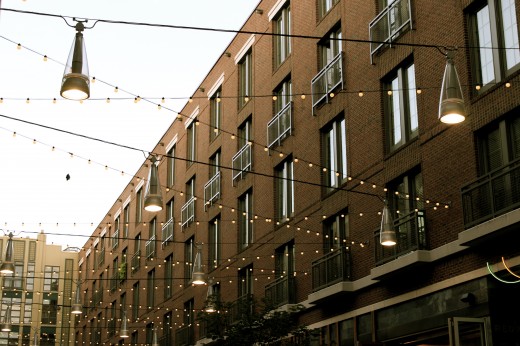 If you're in the DC area, I highly recommend checking this place out!  You and your taste buds will not be disappointed.
While I haven't faced up to the challenge of making homemade gelato yet (though I do have many recipes that are catching my eye at the moment–particularly Mario Batali's recipes), in the spirit of frozen desserts, check out my recipe for Homemade Champagne Mango Lime Sorbet. You don't even need an ice cream maker!
This post contains affiliate links, which means that I make a small commission off items you purchase at no additional cost to you. Please read my
privacy policy
for more information.