New Year, New Name: Introducing A Beautiful Plate
The big reveal has arrived! My stomach is full of butterflies and I feel like I've been on an adrenaline high for a week. I have anxiously and excitedly awaited to share this secret with you for the past three months.
Blogging Over Thyme has rebranded itself as A Beautiful Plate. New year, new name, new tagline, new look! We're starting 2016 off with a big, big bang.

When I first started this blog in 2010, I had no idea where it would take me in the five years that followed. Since that fateful day, I made the decision to enroll in culinary school and ultimately turn this site into a dream job. More importantly, I've made amazing connections with readers and bloggers alike.
Blogging Over Thyme will always be sentimental to me (please continue to share thyme puns with me!), but I'm excited for what this new name and focus will offer. Both creatively and professionally. I've put on my big girl pants so to speak. A Beautiful Plate represents what I'm passionate about: sharing simple, beautiful recipes. Whether that's showcasing the beauty of real food, presenting an ingredient in a new way, or sharing my love for food photography.
With this new site and redesign comes a few housekeeping notes:
Links: All links, including recipe links, will automatically redirect from www.bloggingoverthyme.com to www.abeautifulplate.com. If you run into technical issues or find broken links today or in the coming weeks, please let me know! I'll love you forever!
Social Media: To support the new name and redesign, all of my social media handles will be updated as well. If you're already following the blog on Instagram, Pinterest, Twitter, or Facebook – you will be automatically be following A Beautiful Plate (new universal handle: @abeautifulplate).
Email/RSS Feed: If you are subscribed via email or RSS, this will update automatically (in fact, you should have received this post!). No need to re-subscribe or change your preferences.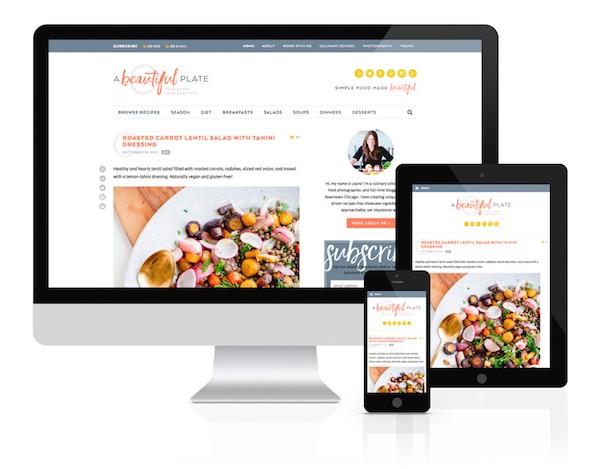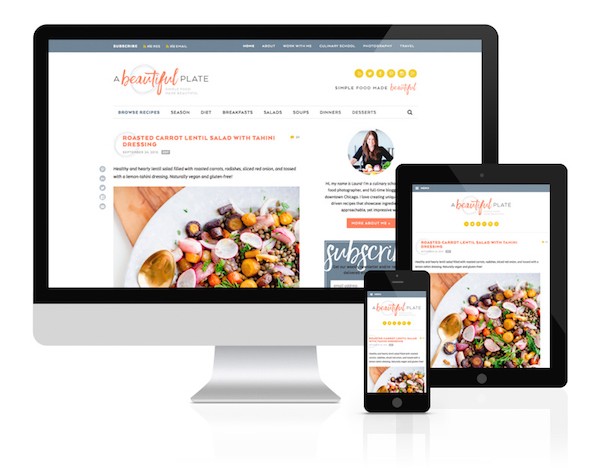 To go along with new name, I've got a brand spankin' new design (and new mobile view) with amazing new features! For the past three months, I've been working with Lindsay Landis of Purr Design (the best of the best) to bring about some incredibly exciting changes to this space. Feel free to poke around the site (I recommend visiting it on a desktop to see it in all its glory), explore the menus, sidebars, and familiarize yourself with the new site.
Here are some of my favorite highlights of the new re-design and site:
50% Less Ads + Faster Loading Times:
My biggest priority for this re-branding process was to reduce the number of advertisements. Unfortunately, ads are a necessary evil to help support the blog, but this new site will be displaying half the number of ads that it did previously. Not only will this result in faster website loading times, but hopefully a significantly improved user experience. Cheers to that!
New Recipe Index + Search Functions: 
Another incredibly exciting feature of the new site is an improved recipe index (found by clicking on the 'browse recipes' link in the main navigation menu). I've spent tens of hours re-indexing, re-categorizing, and re-tagging every single recipe in the archives to make these categories as logical and comprehensive as possible. Even I (and I made them!) had trouble finding recipes on the old site.
On this new page, you can search for recipes by category or subcategory, or even by ingredient, making it easier for you to find a recipe that suits your diet or what's in your fridge at any given time. You can even browse recipes by season!
The best part? When you click on any category, you are brought to a page with a visual recipe index.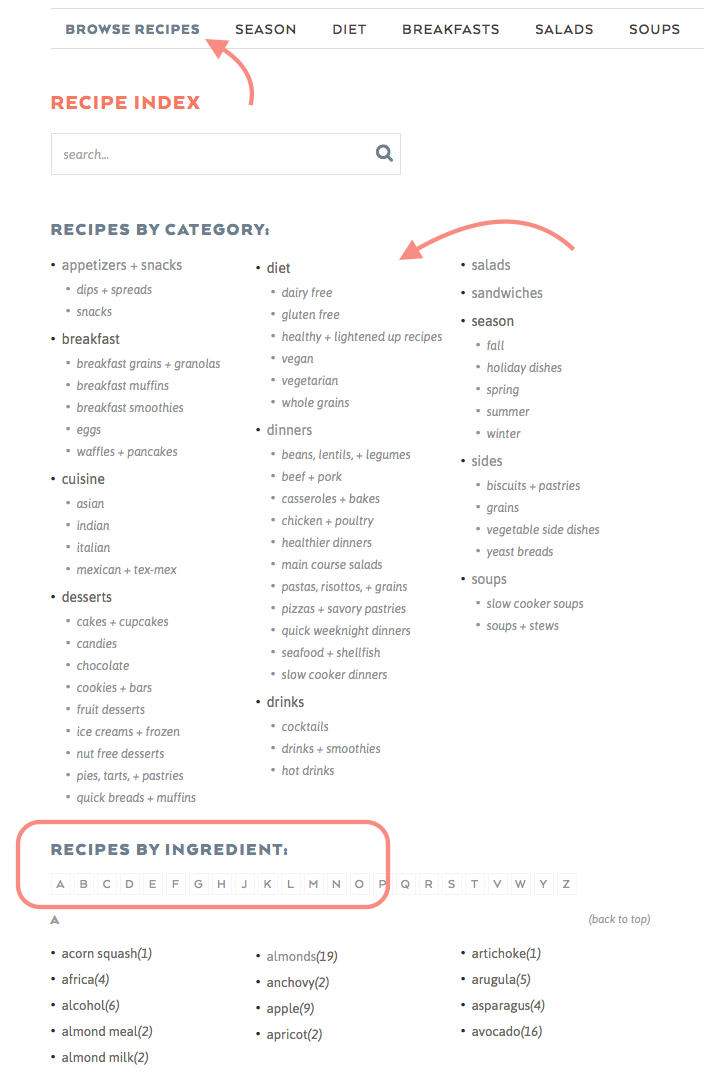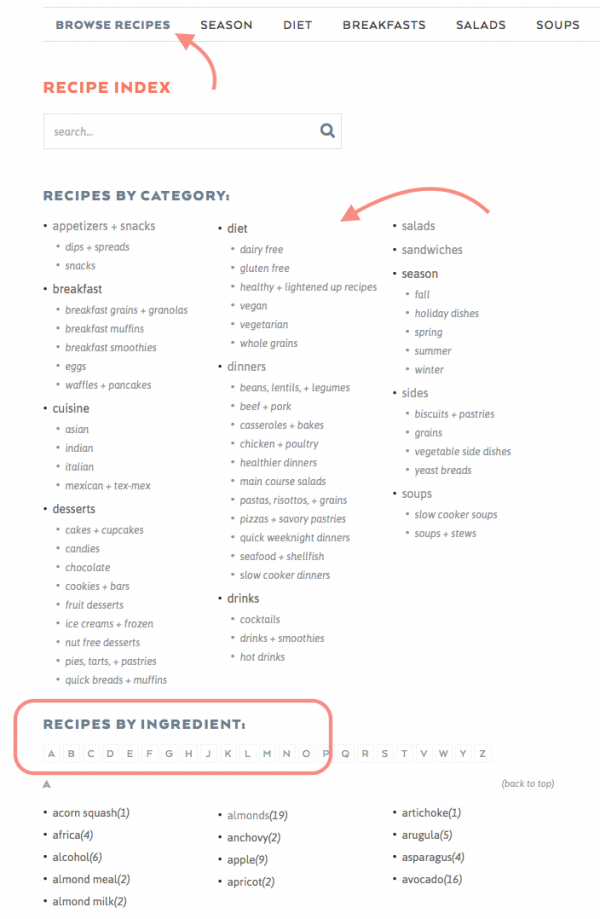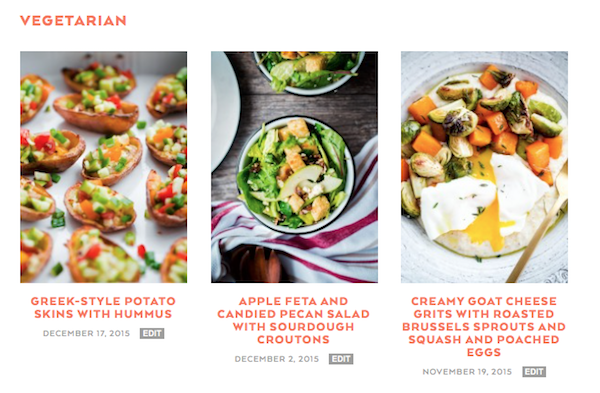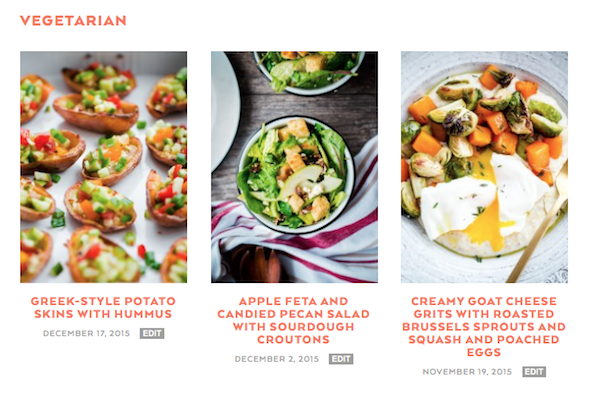 Clean + Functional Navigation Menus:
The navigation menus have gotten a complete makeover! The main navigation is now dedicated exclusively to recipes, and recipe categories only – and I kind of love it. It is clean and functional. You can search by diet type (think vegetarian, gluten free recipes, etc.) or by season.
While there are recipe categories that aren't featured in the main menu (side dishes, drinks, sandwiches), the most commonly searched categories are front and center. The best part? Hover over a menu page and a dropdown will allow you to quickly narrow your search. Looking for a dinner recipe? Just hover over the 'dinners' menu tab and you find almost any recipe type, including quick weeknight dinners to healthier dinners and lots more.


New Top Menu:
If you're looking for non-recipe pages, you can now find them in the new top menu, which provides an easy link to everything from my old culinary school posts (completely re-categorized!), as well my about and contact page. There is a new travel page too!


Updated Recipe Formatting + 'Tips for Success' Feature:
The recipe formatting has a beautiful new two-column design (the 'print recipe' button allows you to print any recipe off the site from your browser or mobile device).
I've also introduced a new tips for success recipe feature, which will provide everything from ingredient, cooking, as well as styling and presentation tips. Double cheers to that!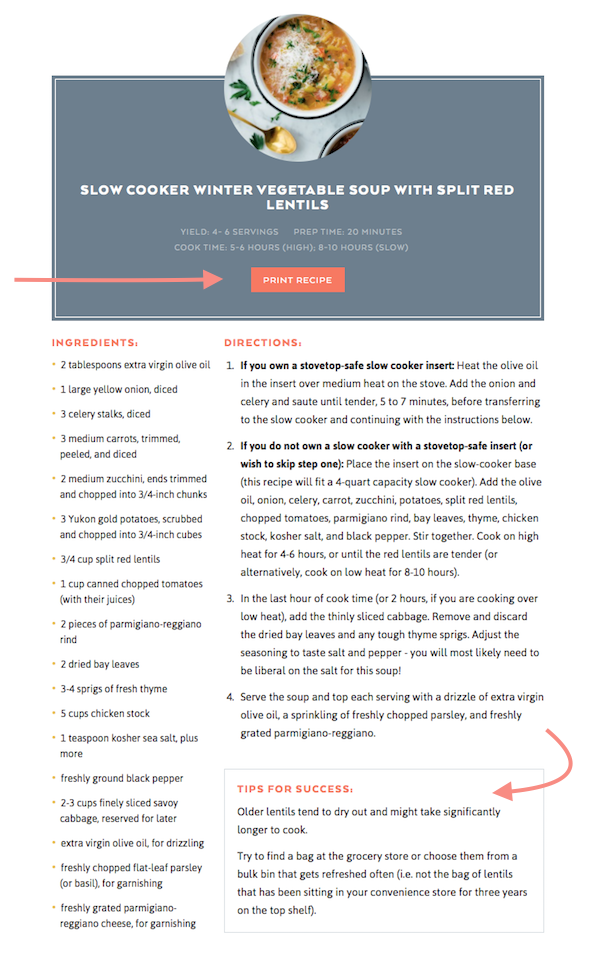 Easy to Find Subscribe Options:
There are now tons of easy and accessible ways to subscribe to the blog – either by signing up for my newsletter (you can choose to sign up for new posts or one weekly e-newsletter). Right below, there is option to add the blog to your Bloglovin' or Feedly subscription list as well!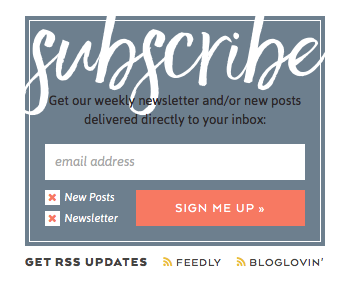 Related Posts + Recommended Products:
If I've used a specific kitchen tool or hard-to-find ingredient (and feel like this information could be beneficial to you!), I'll be providing easy links and information for these things below recipes from here on out. I love this feature, because it's visual and often times, I'll order specialty items online and want to tell you all about them!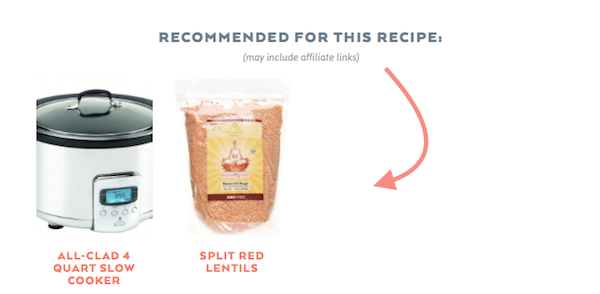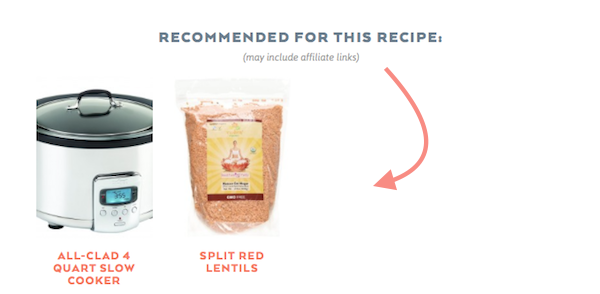 Remember the suggestions for 'related posts' on the bottom of my old posts? Yeah, those were awful. Half the time, the posts weren't related at all (unfortunately, they were randomly generated). A new related posts feature allows me to hand-choose recipes that are actually similar to a given recipe – and you can find these at the bottom of each post. Simply click on the image or recipe name to open that recipe post in a new tab. It's that easy.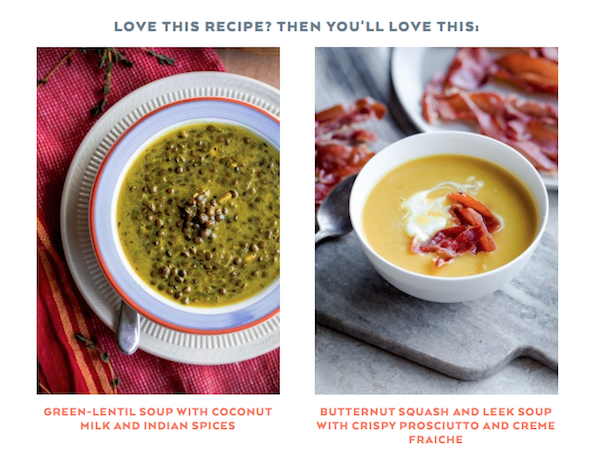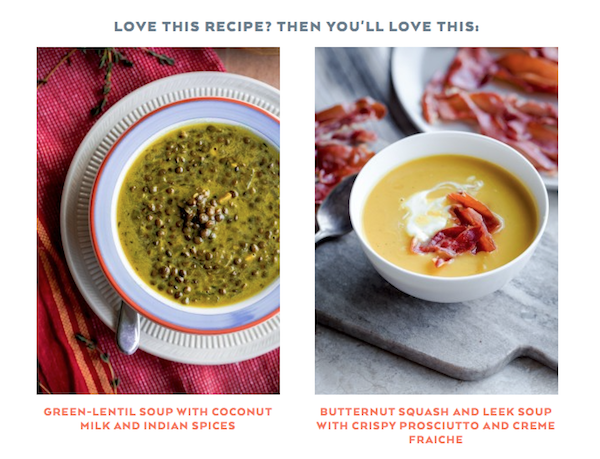 New (Straight-Forward) Social Media Handles:
From this point forward, you can find me on all social media platforms at @abeautifulplate [with the exception of Facebook, where I'll be continuing to post on my old page until Facebook merge my pages – hopefully soon!].
Most importantly, thank you for being here, supporting this site, and sharing my excitement with this big change. I hope you love the new look and name as much as I do!
This post contains affiliate links, which means that I make a small commission off items you purchase at no additional cost to you. Please read my
privacy policy
for more information.