The Best Recipes of 2015
I realize I'm a little late to this party. Nearly two weeks late in fact. But one of my resolutions for 2016 (this might have to become an entirely separate post) is to be more kind to myself. I'm pretty sure it's something a lot of us could work on.
So instead of apologizing for my tardiness, I'm simply going to get right into it.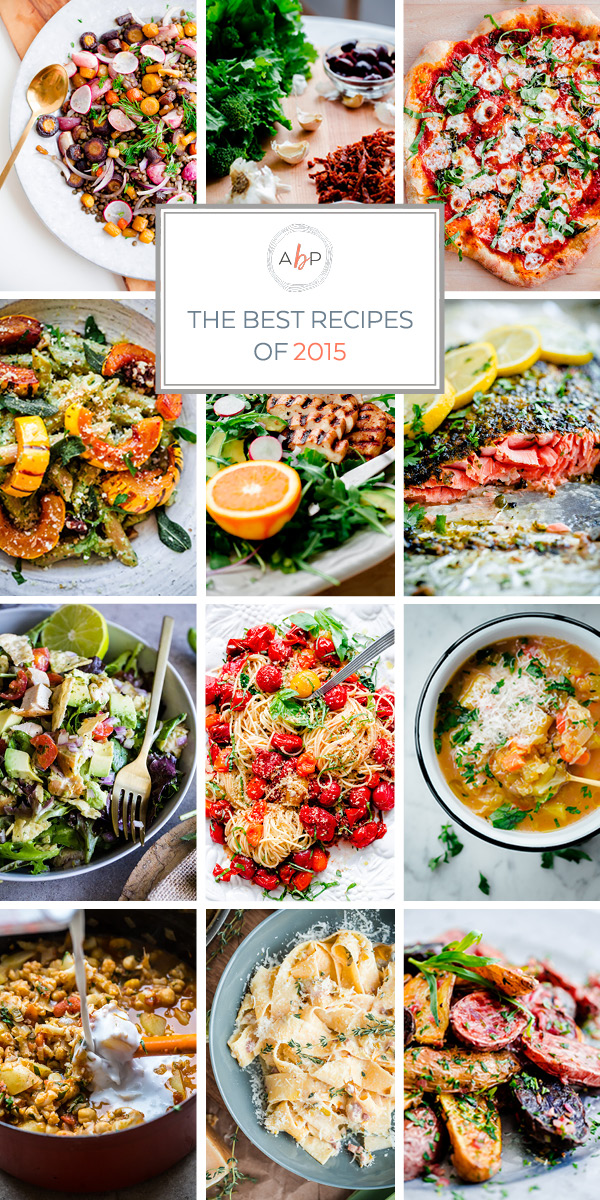 One of my favorite things to do at the beginning of each year is look back at which recipes resonated the most with you! Sure, I could look at my analytics and figure out which recipes received the most page views, but I'm going to do it a bit differently. Instead, I'm going to share recipes that people have been loving lately. Specifically, which recipes have received a lot of great feedback through comments or through various other means.
I'm so, so appreciative of everyone that leaves feedback on my recipes – both good and bad! It helps me become a better recipe tester and writer, and ultimately makes this blog a much better space and resource for everyone.
For anyone that's nosy (hi, that's me!), these also happen to be recipes that Connor and I make over and over again! Most of my cooking these days is dedicated to creating new recipes, but there are a good handful that are part of our regular dinner rotation (this Classic Mexican Tortilla Soup included, which I happened to make last night). If you have recipes that you make over and over again (links or links to other blogs), please share them in the comments. There's no such thing as too many dinner ideas!
Best Recipes of 2015:
Roasted Carrot Lentil Salad with Tahini Sauce – might as well start with something a bit healthy, right? This salad is one of my favorite recipes from last year (and thankfully, you guys seem to like it too!). It also happens to include some of my favorite food photographs from 2015.
Orecchiette with Spicy Sausage, Broccoli Rabe, Sun-Dried Tomatoes, and Olives – this is one of those recipes that Connor and I make over and over again, so it was extra exciting to see that this pasta resonated with so many of you! It couldn't be easier to make and I keep most of the ingredients on hand at all times (and pick up the sausage and broccoli rabe at the store the week of!).
The Best Homemade Margherita Pizza – um, again, we make this pizza close to once to a week. We can't get enough of it. It's so classic, yet so satisfying! I've finally found a pizza crust recipe that I can rely on time and time again. So many of you have said that this is the best homemade pizza that you've ever made – and it makes me heart sing.
Whole Wheat Penne with Walnut-Sage Pesto – if you're looking for a healthy whole grain pasta recipe for the new year, please add this one to the list! It has a super seasonal walnut-sage pesto to boot. Amanda says, "I can't stop smiling with every bite! I am eating this right now and I am loving every flavor."
Everyday Chicken Marinade – it's a great sign when one of your best friends from college texts you randomly and says, "we made your chicken marinade the other day and my boyfriend can't stop talking about it!". Honestly, I can't take much credit for this one, because this is almost identical to the marinade that my mom has been making for years, but it's a keeper.
Weeknight Broiled Salmon with Chermoula Herb Crust – this salmon recipe sounds a lot fancier than it is! It requires very few ingredients and can be put on the table in about 20 minutes. A great way to add healthy salmon and fats into your weekly or biweekly menu rotation.
Guacamole Greens Salad with Cilantro-Lime Vinaigrette – oh my god, I love this salad. It's a re-make of one of my favorite, overpriced salads from a place called Sweetgreens (you may have heard of it) back home. Abby says, "I have an obsession with SweetGreen, and guacamole greens is my go-to salad, You are right: you nailed this one! This was amazing!!"
Spaghettini with Roasted Tomatoes, Basil, and Garlic Breadcrumbs – ugh, this makes me crave summer so badly! It's currently single digits in Chicago and I'm living in my smart wool socks.
Slow Cooker Winter Vegetable Soup with Split Red Lentils – my very first slow cooker recipe on the blog, and surprisingly, so many of you instantly gravitated towards this one! It couldn't be more seasonally appropriate at the moment. So comforting and healthy.
Vegan Cauliflower, Potato, and Chickpea Curry – this recipe just happens to be vegan (adapted slightly from one of my favorite vegetarian cookbooks) and is super quick to prepare, unlike many other curry recipes. It also makes lots of leftovers, so try to prepare it on a Monday or Tuesday and reap the rewards throughout the rest of the week.
Creamy Leek and Pancetta Paparadelle for Two – upcoming Valentine's Day plans! This pasta is definitely more indulgent and rich, but such a great special occasion recipe. Ginge says, "Made this last night for the hubs and I, last vacay supper of holiday vacay and it was amazing! And super easy and fast!"
Roasted Fingerling Potatoes with Tarragon-Shallot Butter – the recipe that made me fall in love with fresh tarragon. These potatoes are one of my personal favorite recipes from the past year, simply because they are so simple, yet so tasty and visually impressive. One reader told me she made these and her toddler couldn't stop eating them! So amazing.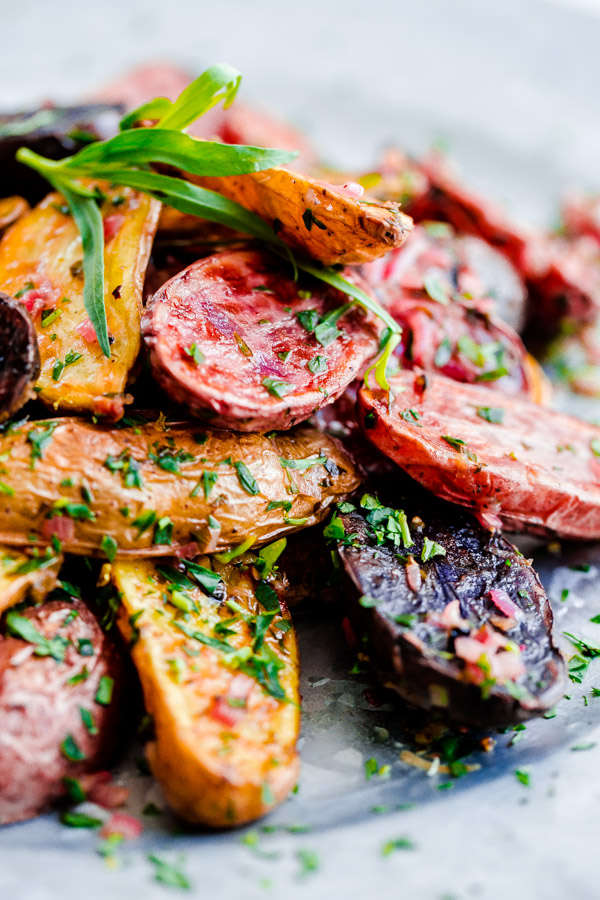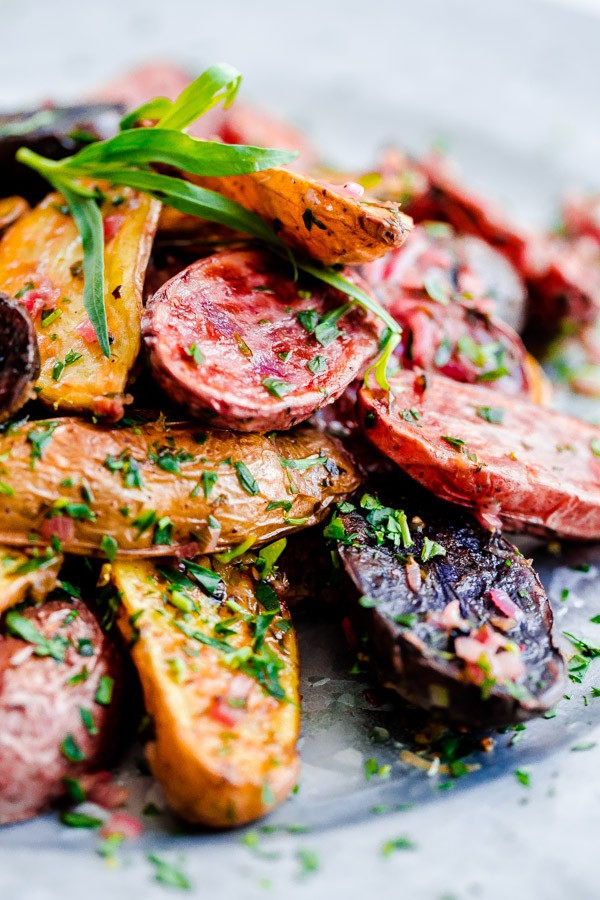 Here's to many successful (and delicious) recipes in 2016! Thank you so much for being here and allowing me to continue to share them with you!
This post contains affiliate links, which means that I make a small commission off items you purchase at no additional cost to you. Please read my
privacy policy
for more information.