Irresistible Oatmeal Currant Cookies
This post contains affiliate links.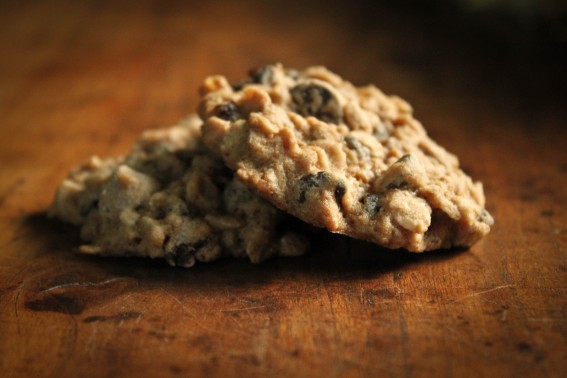 These are some of my favorite cookies ever! Full of spice, they're nice and chewy, my personal favorite, due to using all brown, instead of part granulated sugar. In addition, they're full of healthy add-in's, like rolled oats, wheat germ, whole wheat flour, and Zanté currants. Of course, you can make some healthier versions using some of my tips found at the bottom of this post.
I tend to make these when I'm stressed out or need to find a reason to procrastinate, all good enough reasons in my mind. This recipe makes two dozen cookies, but you can always double it to ensure that these don't disappear too quickly! Or better yet, freeze half the batter so that you can whip up a batch whenever the occasion calls for it!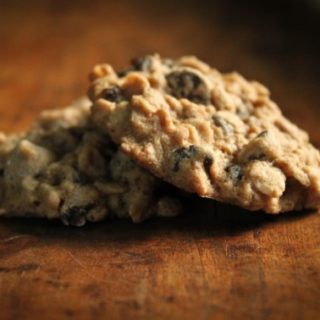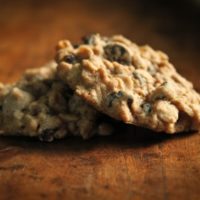 Irresistible Oatmeal Currant Cookies
Yield: 24 Cookies
My favorite chewy oatmeal currant cookies!
Prep Time: 15 minutes
Cook Time: 10 minutes
Additional Time: 5 minutes
Total Time: 30 minutes
Ingredients
2/3 stick (11 tablespoons; 150 grams) unsalted butter, softened
3/4 cup brown sugar, packed
3/4 teaspoon vanilla extract
1 large egg, room temperature
1/2 cup unbleached all purpose flour
1/4 cup whole wheat pastry flour (*or substitute with additional all-purpose)
1 tablespoon wheat germ
1/2 teaspoon baking soda
1/4 teaspoon salt
1 teaspoon ground cinnamon
pinch ground nutmeg
pinch ground cloves
1 and 1/2 cups old-fashioned rolled oats
1/2 cup dried Zanté currants (great for cookies, because they are smaller!)
Instructions
Preheat oven to 350 degrees Fahrenheit. Line a baking sheet with parchment paper (or Silpat).
Combine and cream together the butter, and sugar in stand mixer with paddle attachment. Mix in vanilla extract. Add egg and beat until incorporated.
In a separate bowl, whisk together the flours, wheat germ, baking soda, salt, and spices. Slowly add to mixer and combine until just incorporated (always mix as little as possible with baked goods!).
Over low speed, add in the rolled oats and currants and mix until just incorporated.
Bake at 350F for 8-10 minutes, depending on desired doneness. Allow cookies to cool on rack.
Nutrition Information:
Yield: 24
Serving Size: 1
Amount Per Serving:
Calories: 91
Total Fat: 3g
Saturated Fat: 2g
Trans Fat: 0g
Unsaturated Fat: 1g
Cholesterol: 15mg
Sodium: 74mg
Carbohydrates: 15g
Fiber: 1g
Sugar: 8g
Protein: 2g
A Beautiful Plate provides nutritional information, but these figures should be considered estimates, as they are not calculated by a registered dietician.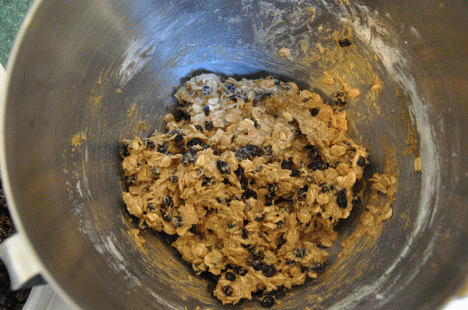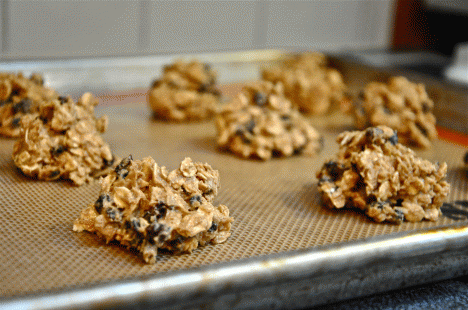 These cookies are hearty and delicious! And, even better, flexible to your taste. If you want to make a slightly healthier version, you can substitute half the butter with unsweetened applesauce or use a flax egg (1 tablespoon ground flax seed mixed with 3 tablespoons water). In general, apple sauce substitutions lend cookies a cake-like consistency, so keep that in mind. If you're a chocolate lover, you could also add chocolate chips or other types of dried fruit, such as cranberries! I'll stop now, since you've probably gotten the point.
What are your favorite types of cookies? Do you prefer chocolate over dried fruit? Do you tend to bake when you feel stressed out or are procrastinating (like myself) or only when you have free time on your hands? I wanna know all about it!
This post contains some affiliate links, which means that I make a small commission off items you purchase at no additional cost to you. Please read my
disclosure policy
for more information.