The Cupcake Fad Comes to DC
Photo Sources: Georgetown Cupcakes
Is it just me or are cupcakes huge right now?  Maybe it all originated from that Sex & the City episode, where Carrie and Miranda meet up at the famous Magnolia's Bakery in Manhattan for pink-frosted cupcakes.  Either way, DC has not been immune to this new trend at all.  In fact, over the past year or two, several cupcake bakeries have sprung up throughout the area and they don't seem to be disappearing any time soon.  In fact, one particular cupcake shop,Georgetown Cupcakes, has gained so much national attention that the TLC network has premiered an entire new series, DC Cupcakes, dedicated to it.  By the way, in case you're curious to see what it's all about, the series airs on Fridays @ 10/9 pm central.  It's not the greatest show, but you'll get the idea.
The thing that really sets Georgetown Cupcakes apart from other bakeries and stores is their choice of quality ingredients.  In general, I've never been a big cupcake fan.  Not because I'm against dessert or anything (um, hello, have you seen my favorite recipes list?), of course, but because the cake part tends to be dry and dull or the icing tends to taste like chemicals or is just way too sweet for even the biggest sweet tooth. Georgetown Cupcakes has changed my opinion of what cupcakes can be.  Let's just say that their in the luxury, designer cupcake league.  Why exactly?  Well, check out the following:
Georgetown Cupcakes only uses premium Valhrona and Callebaut chocolate for their icings, cake batters, you name it!  High cocoa content makes these chocolate cupcakes like no other.
Madagascar Bourbon vanilla extract–the most expensive and highest-grade vanilla out there–is a staple in all their baking products.
European style sweet cream butter (and lots of it!)
Fresh fruit–for any and all fruit-infused cupcake flavors.  Example?  You can see fresh zest in each of the Lemon Blossom and Key Lime cupcakes.  Yum!
Fresh cream cheese or buttercream frostings!  My personal favorite is their cream cheese, because it tends to be less sweet.  Equally as rich, though.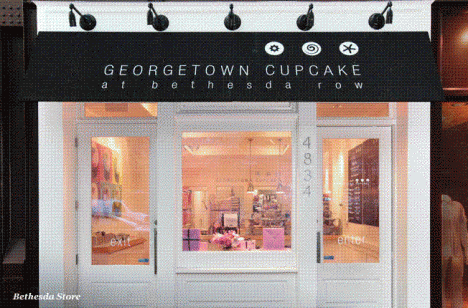 Ok, they also offer specialty coffees as well, but who pays attention to any of that?  Most of the people coming to the store, all day mind you, are coming to get cupcakes in ones, pairs, dozens, or even bagged boxes.  Georgetown Cupcakes has two locations (at the moment, we'll see about that…), one in Georgetown and one in Maryland at Bethesda Row.
However, you'll experience long lines at both, even on weekdays.  They are known to have lines out the door (I experienced one on my most recent visit on a Friday!).  Once you enter the shop, you'll be greeted by a warm, preppy, and cute interior.  Stainless steel cupcake tiers, pink and black everywhere, marble countertops, and industrial style pendants.  You'll also be met with the cupcake flavors of the day, as well as their regular staples.  Check out their website for a full menu!
One of my favorite (and frustrating) things about Georgetown Cupcakes is how they mix up the menu and provide unique and out-of-the-ordinary cupcake flavors throughout the year.  Winter time?  Check out their White Chocolate Peppermint cupcake or how about Chocolate Egg Nog? While this change provides a fun aspect to visits, it also means you may miss out on some of your favorite flavors (Carrot Cake cupcake, anyone?) if you can't hit up the store on a particular day of the week.
On my most recent visit, I decided to get three daily special flavors–any cupcake orders of more than one get placed in a nice pink box with travel-friendly cupcake holders –Lava Fudge, Lemon Blossom, and Vanilla Squared(vanilla on vanilla).  All three were great, but my personal favorite was Lemon Blossom.  It was full of great, natural lemon flavor and zest and incredibly moist.  A close second was Lava Fudge–which to my surprise, was filled with a gooey and delicious chocolate fudge center and topped with their excellent cream cheese frosting.
Their incredibly rich, so my personal recommendation is to get a couple to share with friends and family and try out different flavors by (messily) cutting them up in halves or quarters.  This way you get to taste them all!  If you're in the DC area, definitely check them out, but be prepared for lines.  If you're not in the area, but want to see what all the fuss is about, check out their TLC series.
This post contains affiliate links, which means that I make a small commission off items you purchase at no additional cost to you. Please read my
privacy policy
for more information.