Meet Marley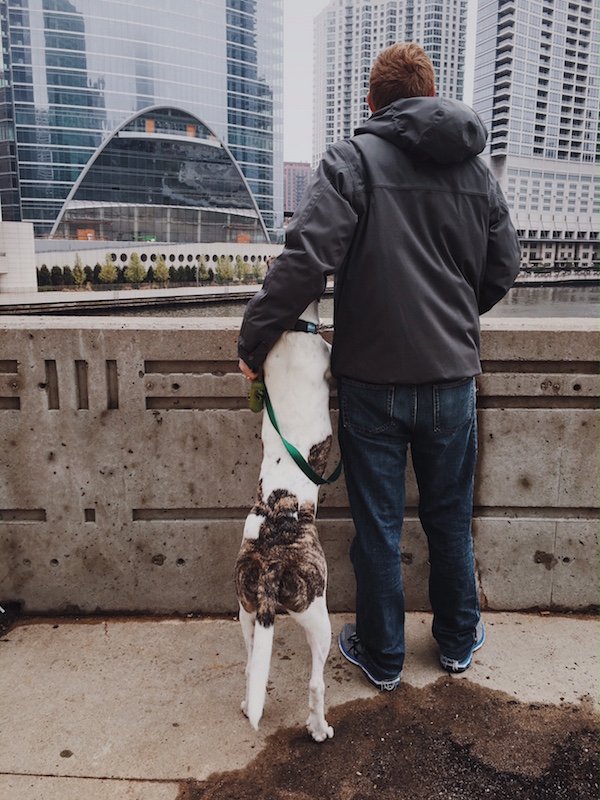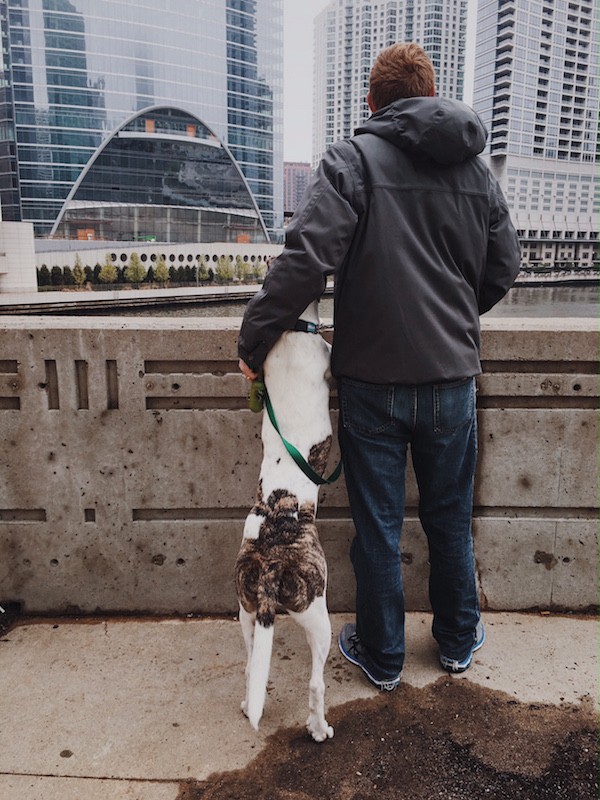 Meet my newest distraction (and reason why posts were a bit sparse last week). This 68-pound chunk of love. We're smitten. Connor and I adopted Marley from the Anti-Cruelty Society last weekend!
We've been toying with the idea of adopting a dog for about a year, and have been visiting shelters here and there in Chicago over the past few months. Last Saturday, we decided to drop by the shelter since we were just a few blocks away.
You know, just to look [says no one ever].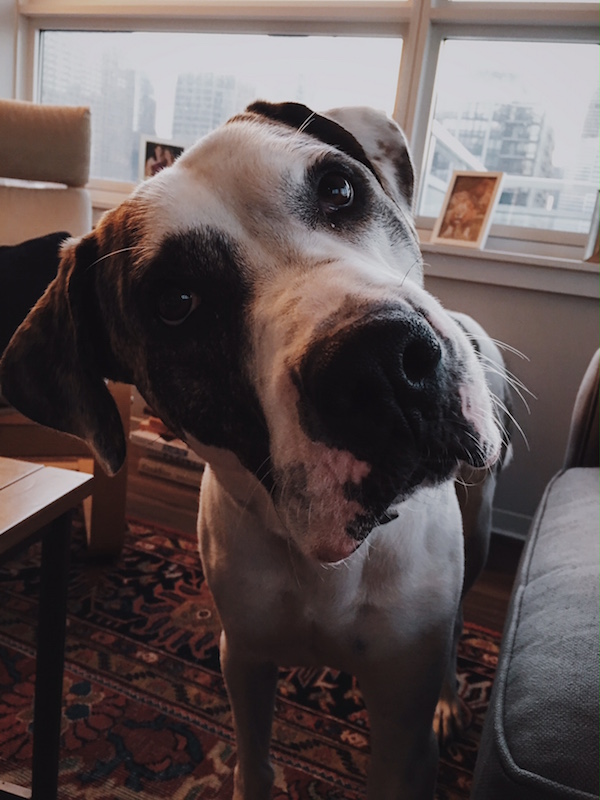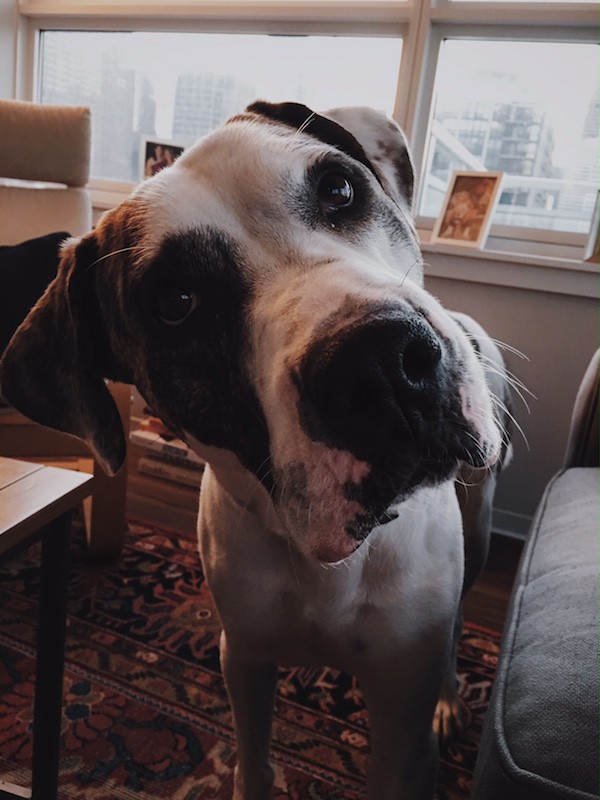 Lo and behold, we stumbled upon Marley, a 3-year-old Catahoula Leopard mix. He was a transfer from a Oklahoma City shelter, and had been at the Anti-Cruelty Society in Chicago for just over two months. He had big puppy dog eyes, floppy lips, and a pink muzzle.
Marley was slightly timid, but sweet, gentle, and adorable. He also passed every single behavioral test with flying colors. It didn't take him long to warm up to both of us. We decided to think on it for the week (we technically arrived after adoption applications had closed for the day). If Marley was still at the shelter the following weekend, we would move forward with it.
On Sunday afternoon, less than 24 hours later, I convinced Connor that we should go back and see if Marley was still there. We wouldn't adopt him, but would just visit and say hi [again, says no one ever]. Just before the shelter closed, we decided to put in our adoption application. Forty five minutes later, we were approved and walking out the door, Marley in tow.
As they say, the rest is history.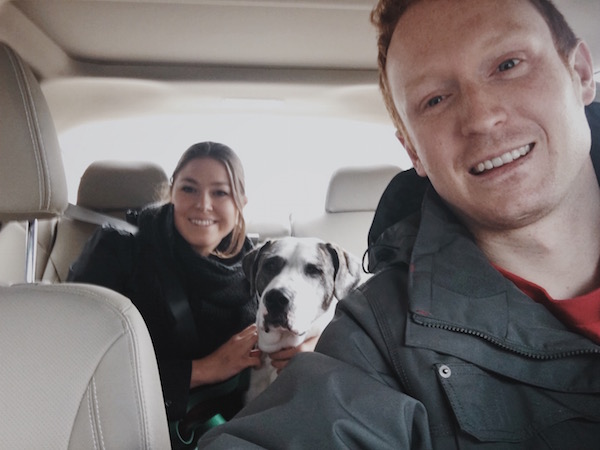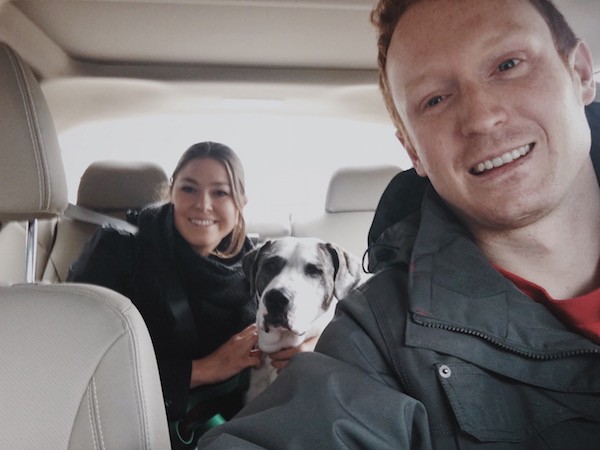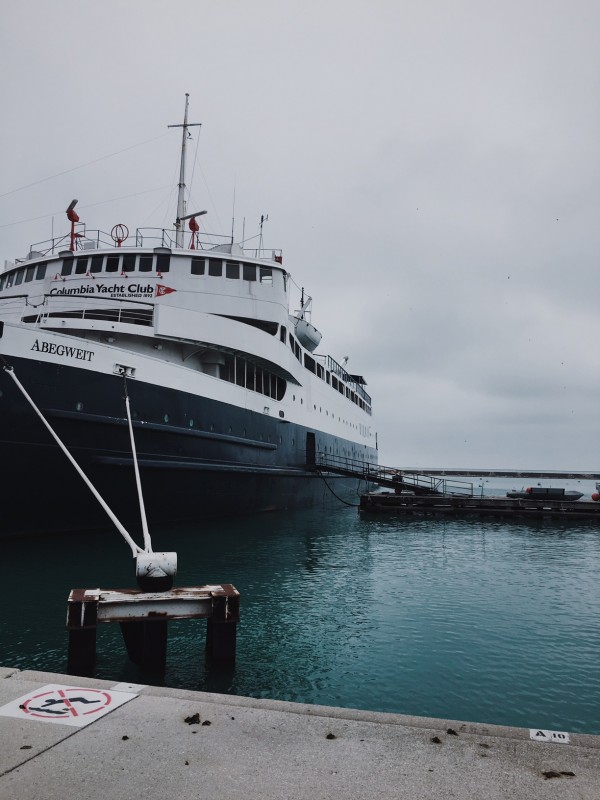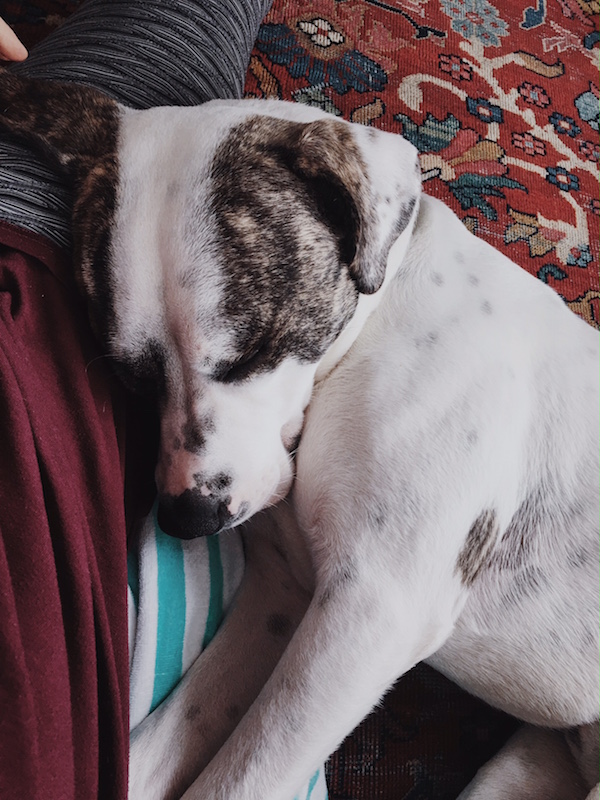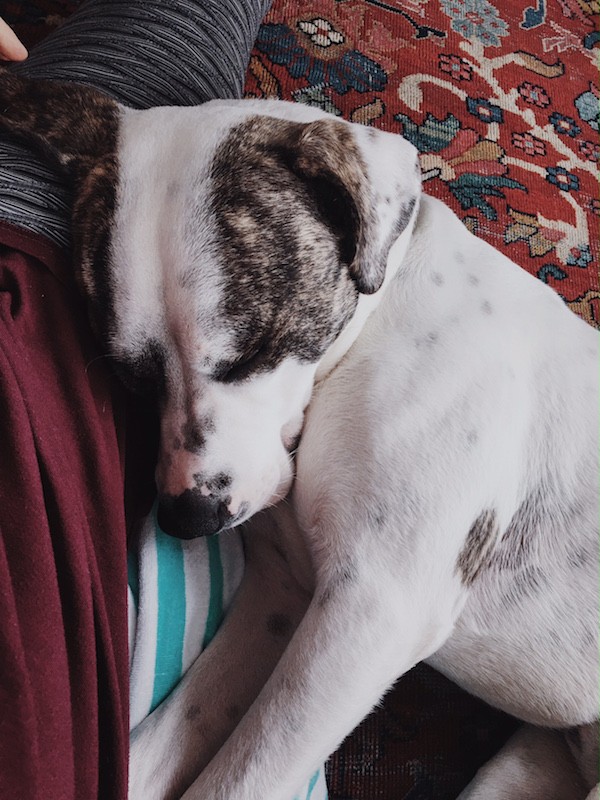 After a few accidents (a trip to the grocery store to buy all the carpet cleaner) and some separation anxiety those first few days, Marley has settled in and already become such a huge part of our lives. He's one of the sweetest, most well-behaved dogs I've ever met, and is such a big cuddle bug.
He loves mozzarella cheese sticks, roast chicken, and this elephant chew toy. He knows how to sit, shake, stay, and follows at least one of us around at all times. He loves the dog park and has made us more friends in our apartment building in one week, than we have on our own in the past year. Dog ownership comes with perks.
He also loves to sneak himself onto our couch when we're not looking. He knows he's not supposed to, but he just can't help himself. Despite the fact that he has the world's largest, most comfortable dog bed (tip: Costco sells awesome dog beds for $34 dollars!).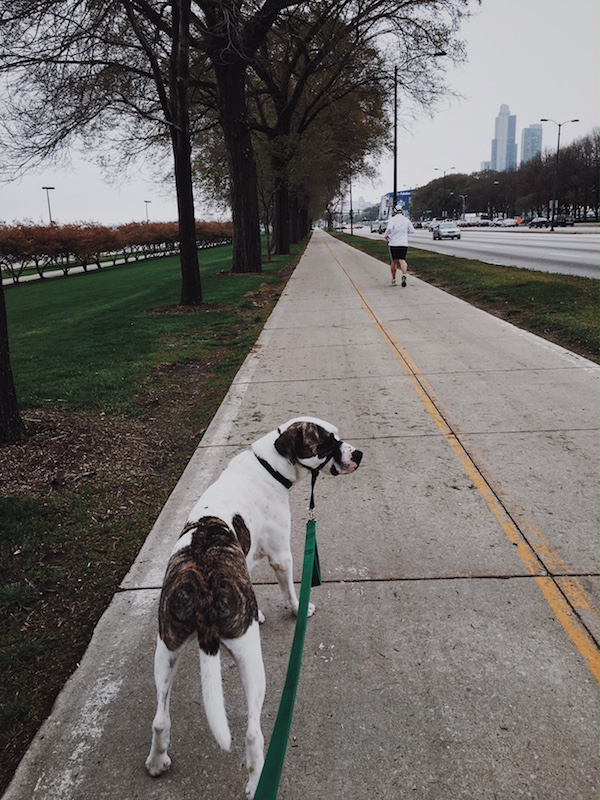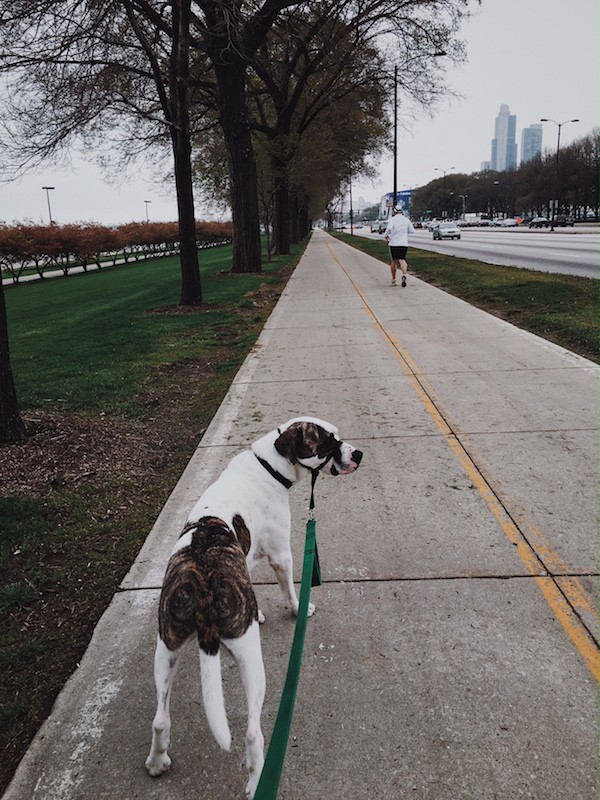 Marley loves other dogs, and I've been trying to go on long walks all over the city to get him acclimated and adjusted. He gets tons of smiles and compliments wherever we go.
He's also an incredibly good sport. He let me put this ridiculous winter hat on him at the pet store the other day, just for my own amusement.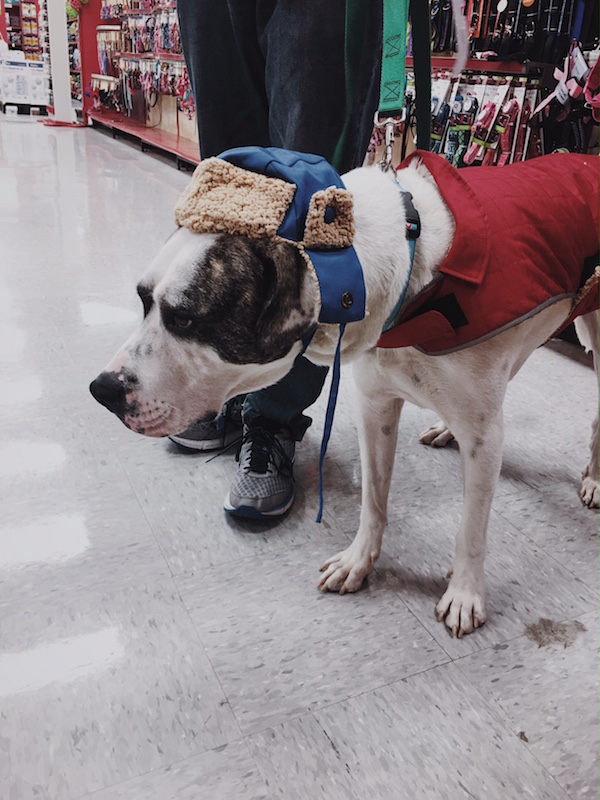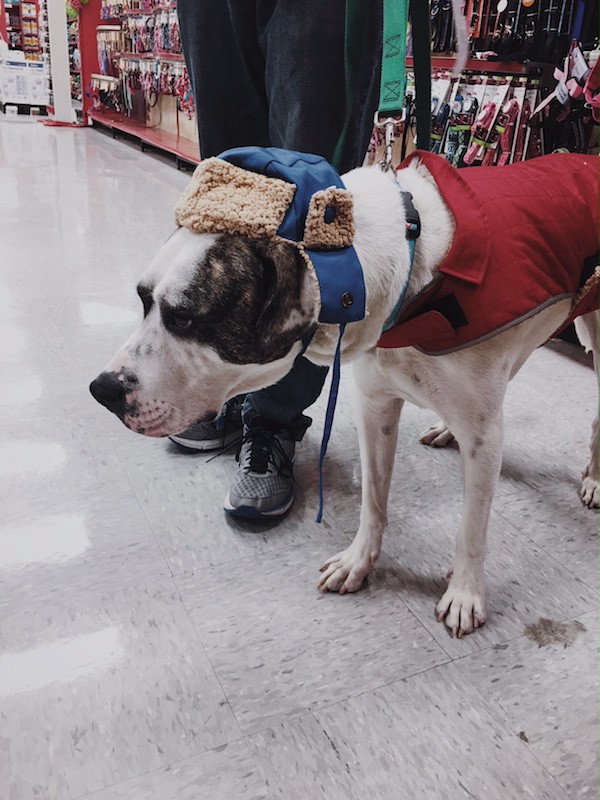 Our world has turned upside down in the best way, and he already feels like such an important part of our family (our cat, Max, is still undecided on this, but surprisingly calm and collected).
I'm officially that dog owner now, so if you want to see more sneak peeks of Marley, and our antics together, you can follow along on Snapchat.
Thanks for being so patient this past week! We appreciate it so much!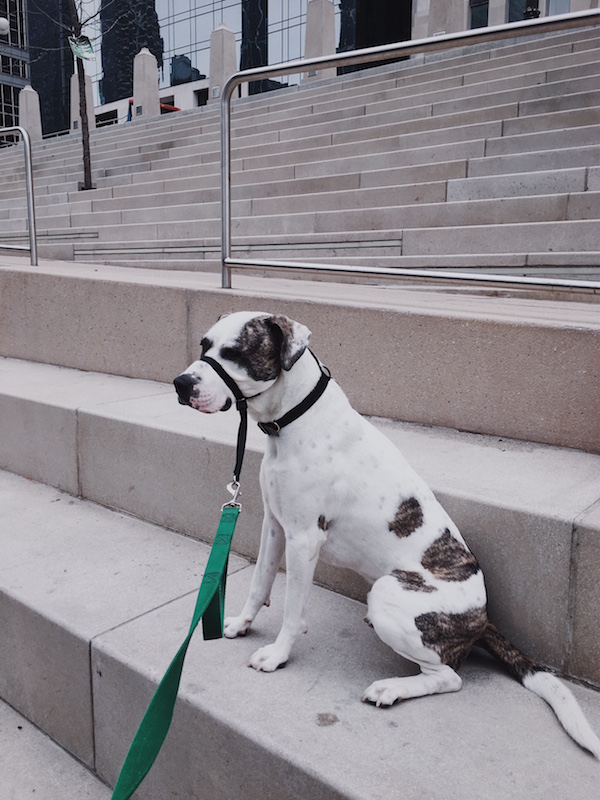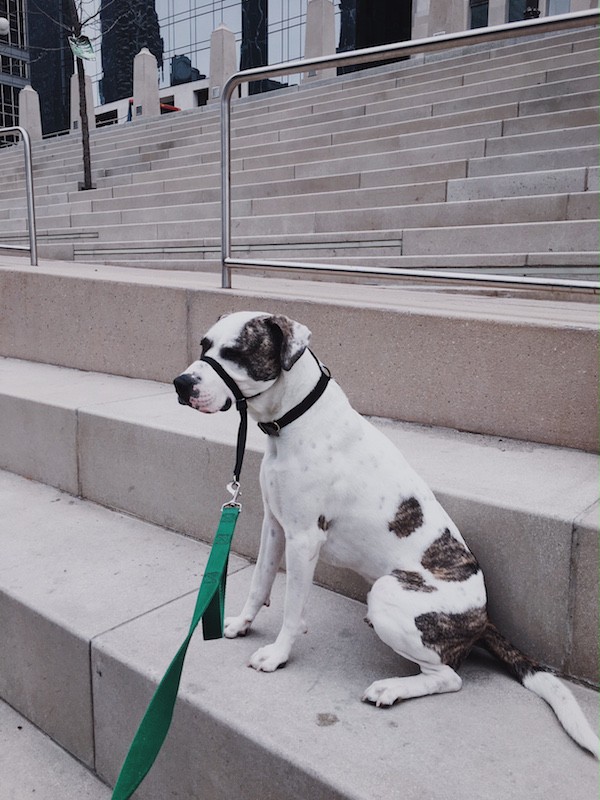 This post contains affiliate links, which means that I make a small commission off items you purchase at no additional cost to you. Please read my
privacy policy
for more information.