Meyer Lemon Tarts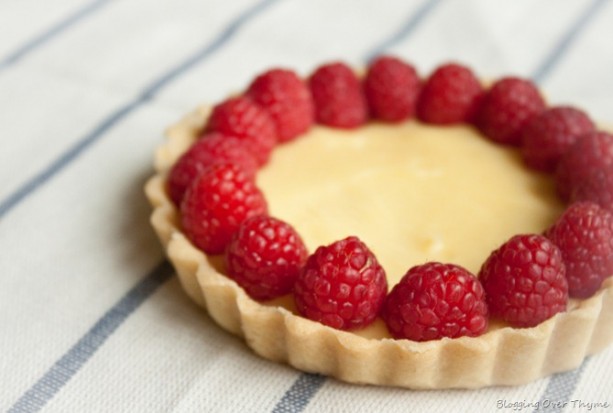 Though it's been a while since I've gotten the chance to write up a recipe post, I'm hoping these Meyer lemon tarts make up for lost time!  Since starting culinary school, tarts have become one of my favorite things to make both at school and at home.  After taking a short trip to Costco a few weekends ago and discovering big containers of fresh Meyer lemons (only $6.99 for about 15-17), I couldn't resist and snatched up a box.  Native to China, Meyer lemons are actually a cross between a Mandarin orange and lemon.  Their zest is a deep yellow in color and their juice is slightly sweeter in flavor than standard lemons.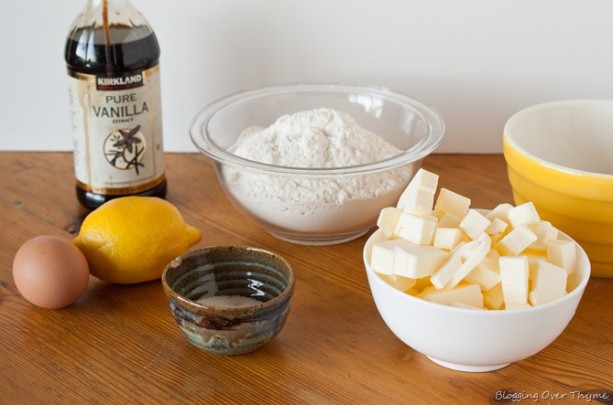 Though this recipe calls for Meyer lemon juice, since they are slightly more expensive and can be difficult to find, feel free to substitute with regular lemon juice. 
These tarts are made with a pate sucree dough, which yields  sugary, cookie crust, and are a cinch to put together.  
Check out the beginning of this video for more instruction!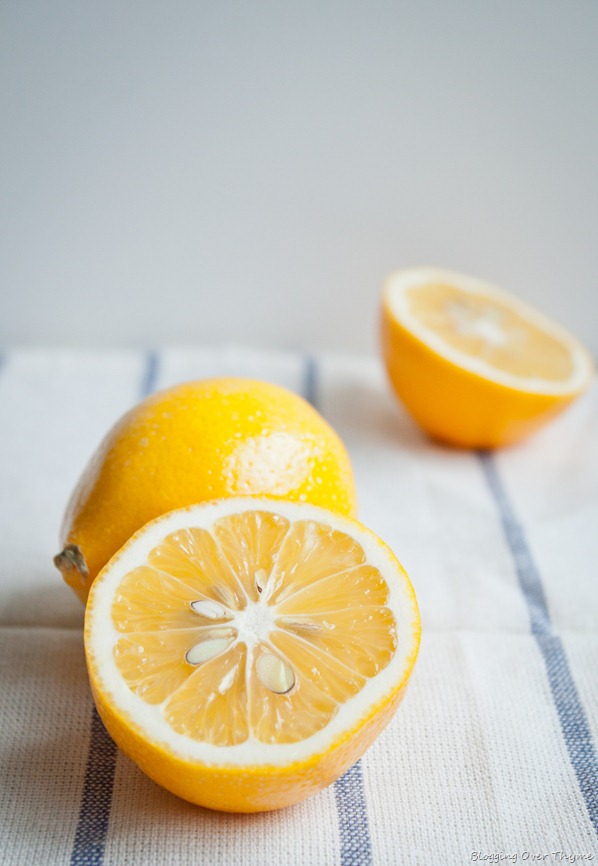 Though I used 4-inch inch tart shells (with removable bottoms), feel free to adapt to whatever size you have on hand. You could also make one large 8" or 9" inch tart, as well, just be sure to adjust baking times accordingly.
If you are short on time, you can assemble the tart dough and lemon curd several days or the night before and keep it well-wrapped in the fridge.  Then simply bake and assemble the tarts the day they are served!
Leftover dough can always be frozen and re-thawed for future use as well.  For example, to make fruit tarts with pastry cream!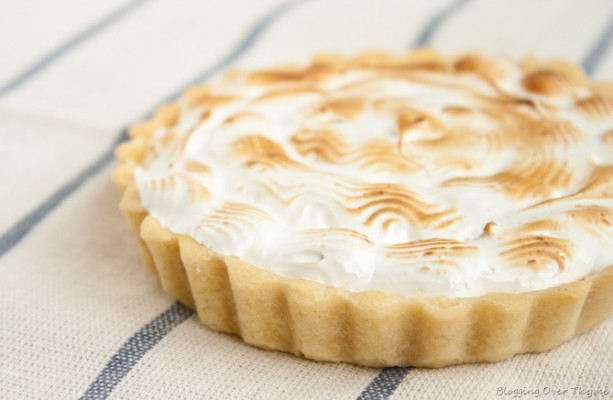 To make these extra special, top each lemon tart with a soft marshmallow-y Swiss meringue (see recipe below) and lightly brown in the oven or with a hand-held torch.   
Another simple option is to decorate them with fresh raspberries or simply leave plain!
Either way, these tarts are sure to win over any crowd on any occasion.  I've already gotten a request to make one for my dad's upcoming birthday in May!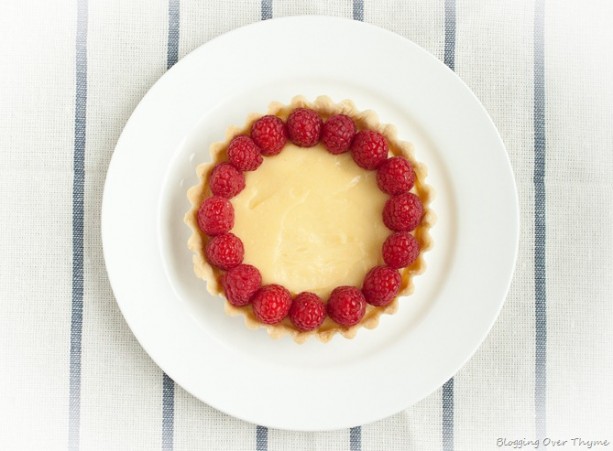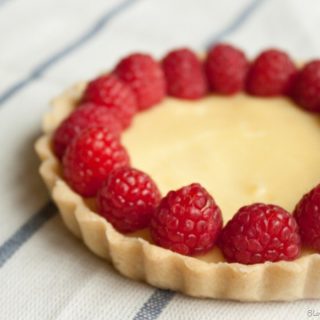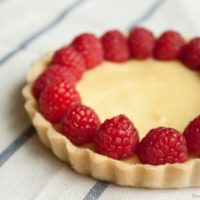 Meyer Lemon Tarts
Yield: 4 Servings
Prep Time: 1 hour 30 minutes
Cook Time: 25 minutes
Additional Time: 15 minutes
Total Time: 2 hours 10 minutes
Ingredients
Pate Sucree Dough:
12 ounces all-purpose flour
8 oz unsalted butter, cold and cubed
1.5 teaspoons salt
1/2 teaspoon lemon zest, freshly grated
4 ounces granulated sugar
1 whole egg
1 teaspoon vanilla extract
Meyer Lemon Curd:
¾ cup + 1 tablespoon Meyer Lemon juice (roughly 4-5 lemons)
3 egg yolks
2 whole eggs
7 ounces sugar
1 oz cornstarch
7 oz butter, cold & cubed
Swiss Meringue:
3 ounces egg whites
6 ounces granulated sugar
Alternative Topping:
Instructions
Prepare Dough (see video for further instruction!): Scale out ingredients. Combine flour and salt. Using bench scraper and countertop, chop in cold, unsalted butter until butter is finely distributed.
Pour sugar over flour mixture and incorporate thoroughly. Create well in center of mixture. Add whole egg, zest, and vanilla to well and using hands and bench scraper, incorporate wet ingredients by pressing mixture together as you combine.
Using the "fraisage" technique, use the heel of your hand to press down and smear dough onto countertop. Push back together and repeat until smooth and all ingredients are well incorporated—the dough will have a slight shine.
Place dough in between parchment paper and using hand or rolling pin, roll out until roughly 1/2" – 3/4" thick. This will help making the rolling process later easier. Place dough on baking sheet and let rest in refrigerator for about 45-60 minutes. Freeze any remaining dough in flat disk wrapped in plastic wrap for future use.
Mold & Blind Bake Tart Shells: Preheat oven to 325 degrees Fahrenheit.
Remove cooled dough from refrigerator. You may want to work with half the dough at at time. Throughout the process, dust rolling pin, dough, and surface lightly with flour to prevent sticking. Using rolling pin (starting from the center of dough to the outside), roll out thin to about 1/8" thickness. Throughout the process, pick up dough carefully and flip around ensuring it does not stick. **If dough cracks, gently press back together with hand and continue to roll.
One at a time, place mold on top of rolled dough and use knife to cut circle of dough—leaving about 1 inch extra to form sides of each tart. Place tart pans on parchment lined baking tray and gently place dough circle on top, using fingers to push in dough and gently shape each tart. Make sure to press dough tightly inside corners and sides. Repeat until all tarts are assembled. Scraps of dough can be pressed together and rolled out again as you go.
Dock (pierce with fork) the bottom of each tart. Press small square of aluminum foil into each tart, ensuring it reaches into corners and fill with dried beans until it just reaching the top. This ensures that the tart will retain it's shape during the blind-baking process.
Bake tart shells for about 15 minutes. Remove from oven and take out aluminum foil with beans. Place tarts back in oven for an additional 5-7 minutes until tart dough is cooked all the way through and looks dry. Set aside to cool on rack.
Prepare Curd: Place egg yolks, whole eggs, cornstarch, sugar, and citrus juice in small saucepan. Mix well with whisk.
Place saucepan on stove and over low-medium heat, whisk continuously until lemon curd slowly becomes thick and starts to bubble.
Remove from heat and slowly add butter, whisking continuously until incorporated. Strain mixture. Allow to cool in fridge.
Assemble Tarts: Remove tarts from molds carefully!
Remove lemon curd from fridge and stir to reincorporate until smooth. Using pastry bag (or small spoon), fill each tart shell with lemon curd and using offset spatula, smooth surface. Store any leftover lemon curd in fridge.
Top with swiss meringue (see below), fresh raspberries, or leave plain! Serve slightly chilled or at room temperature.
Swiss Meringue Topping (optional): Put sugar and egg whites in mixing bowl. Place over baine marie and mix using whisk until sugar has fully dissolved.
Remove and beat at high speed using hand-held or stand mixer, fitted with a whisk attachment, until meringue reaches stiff peak.
Filling piping bag (with small star pipe) and once tarts have been filled with lemon curd, pipe on top.
Brown meringue until golden brown in broiler (be very careful not to burn it!) or using hand-held torch.
Nutrition Information:
Yield: 4
Serving Size: 1
Amount Per Serving:
Calories: 670
Total Fat: 38g
Saturated Fat: 23g
Trans Fat: 1g
Unsaturated Fat: 13g
Cholesterol: 203mg
Sodium: 487mg
Carbohydrates: 77g
Fiber: 1g
Sugar: 48g
Protein: 8g
A Beautiful Plate provides nutritional information, but these figures should be considered estimates, as they are not calculated by a registered dietician.