Day 33: Pizza Day
Wednesday's class was a lot of fun!  It was officially pizza day, where we really just got to be creative and have a relaxed day in the kitchen.  In order to prepare for class, the previous afternoon we put together our pizza dough to rest and relax/ferment over night.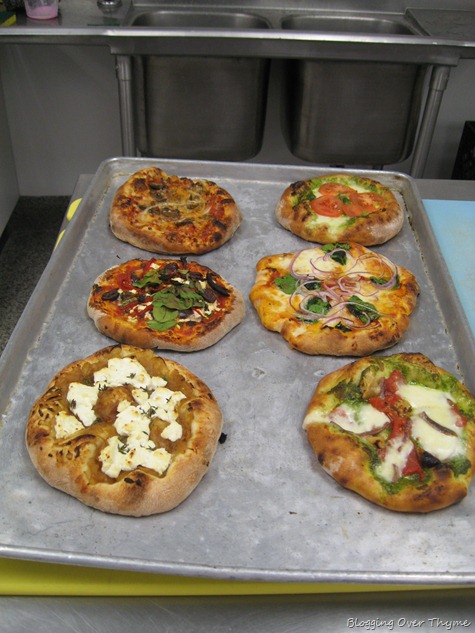 When we got into class on Wednesday morning, we were each assigned work tables and were responsible for putting together various toppings and options for our individual pizzas.  Some tables put together sauce, pesto, and assembled all types of cheese.  Others put together meat toppings or veggies!
In addition to pizza, we also made fried eggplant, which were basically batons of eggplant that were breaded and fried and served with a simple homemade tomato sauce.  The eggplant got especially creamy in the inside, they were very delicious and a cinch to put together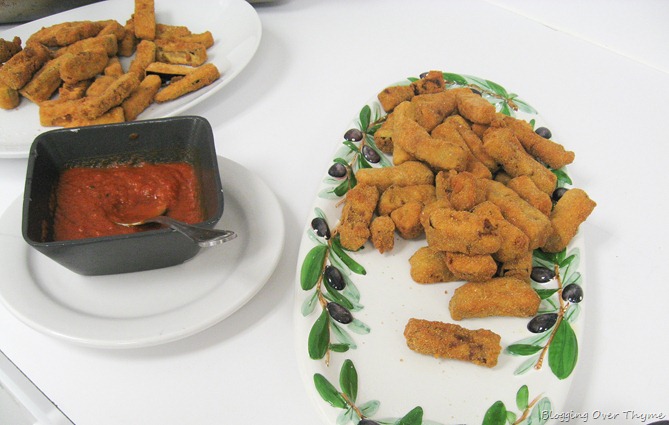 Once we got all our various toppings (we were pretty much allow to grab anything we wanted from the commissary), we got to work putting our pizzas together.  Each of us were able to make 6 small pizzas using the dough from the previous day.  So there were lots of chances to be creative!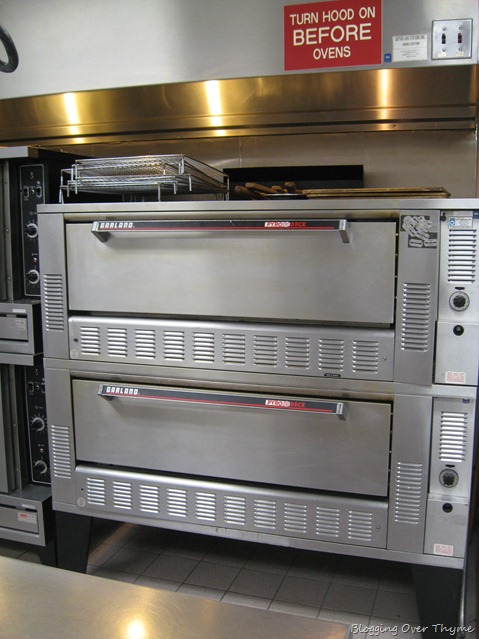 To cook the pizzas, we used Phase II classroom's massive deck ovens, which go up to 650 degrees.  Since they weren't around, we also got to set up their classroom with everything to make it extra easy.
I almost started running out of ideas at the end!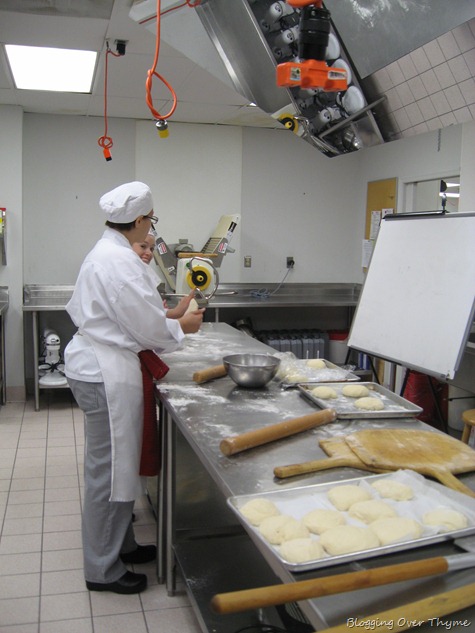 I made a variety of pizzas, but here are two (shownbelow) of the six that I put together.  The one of the left is a pizza made with caramelized onions, goat cheese, and fresh thyme.
The one of the right is a Greek-inspired pizza with feta, olives, roasted red peppers, spinach, capers, and red hot pepper flakes.   I also was inspired by my trips to Two Amy's downtown and made a pizza with mussels, capers, and red hot pepper flakes.  Not as good, but not a horrible attempt either.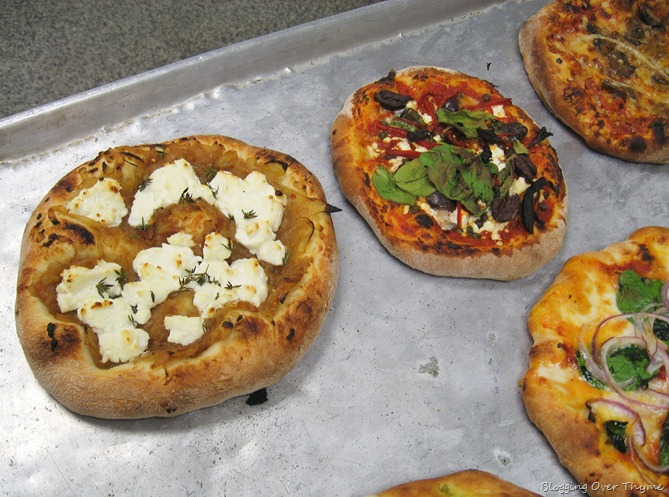 All of our pizzas were arranged buffet style for lunch, so we were able to grab small slices of our own or our classmate's creations.  It was a very fun way to end our classroom week at school!
For dessert, we dug into Charlotte Royale cakes, which are made with roulade cake and filled with bavarian cream, which is essentially crème anglaise (with gelatin added) and whipped cream combined.  We had also assembled these at the end of Tuesday's class, so these were ready to go as well!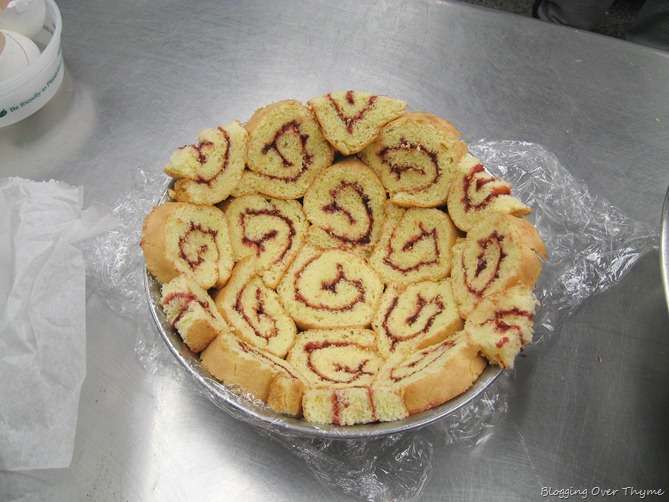 It looks like a very difficult cake to assemble, but it is pretty straight-forward as long as it is done correctly.  To put it together, we sliced fresh roulade (sponge) cake that was filled with raspberry preserves.  We arranged all of this tightly together in a plastic-wrapped bowl.  Then we filled the inside with bavarian cream and allowed it to sit in the fridge overnight to set.
The trickiest part is making sure that you tightly pack the roulade slices so that the filling does not spill out and mess up the presentation side of the dessert.  Hannah was the only one who did hers perfectly!  The rest of us had small cracks in our roulade slices, which made it not quite as pretty.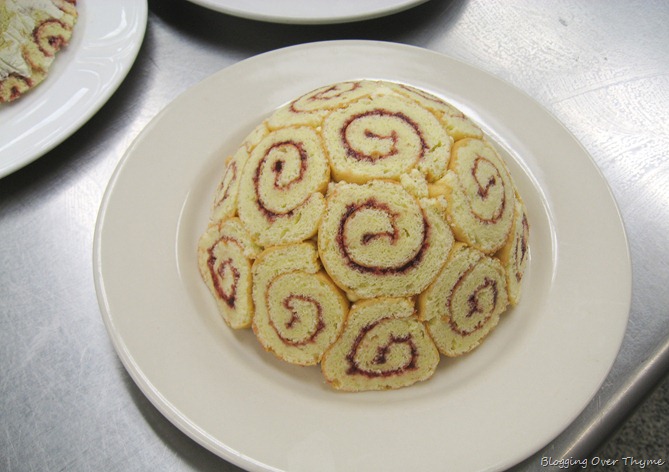 Again…this is another example of a dish that I thought sounded a bit odd before trying.  Gelatin crème anglaise??  As a filling??  But getting a bite of filling and cake together was really delicious actually!  The crème anglaise was almost pudding-like in texture and contrasted nicely with the sponge cake.  I also like the fact that they are so pretty to look at!
Overall, it was a really fun, laid-back day and end to the week, before heading off to our field trip the next day.  Lots of pictures and details to share about that, but that will wait for a future post!
Have a great weekend everyone!
This post contains affiliate links, which means that I make a small commission off items you purchase at no additional cost to you. Please read my
privacy policy
for more information.