Mini Cornmeal Cakes with Whipped Mascarpone and Fresh Berries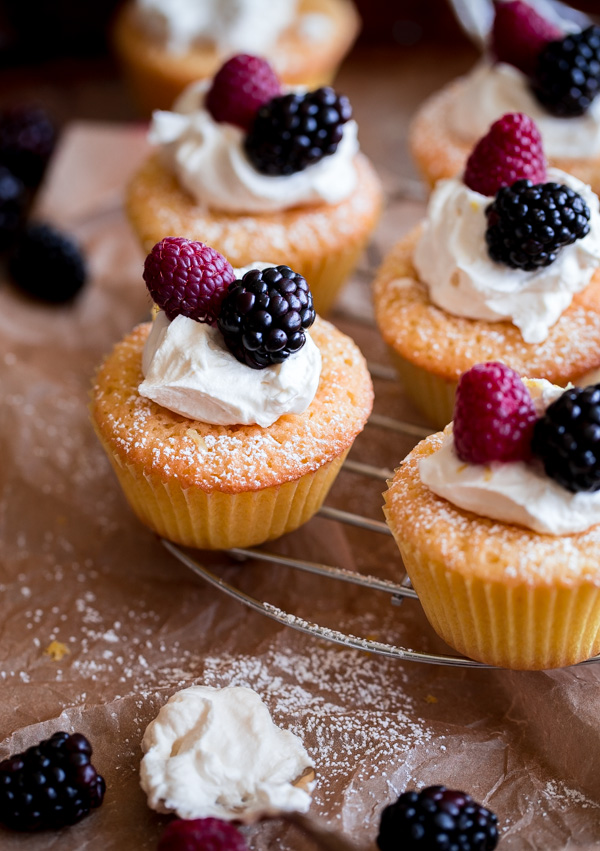 Growing up (OK, still to this day), my favorite dessert was my mom's homemade sponge roll cake filled with tons of fresh berries, jam, and lightly sweetened whipped cream. If we were lucky, it would include freshly picked berries from our favorite farm just outside of DC, a day-trip during the summer days when we were off from school.
My mom has made various versions of it over the years–chocolate-berry, buche de noels for the holiday season, and chocolate-orange–but I was a classic, vanilla sponge cake fiend through and through. If I was being a pain in the butt and it was my birthday, I would request two roll cakes.
Because let's face it, my family (particularly my oldest sister–YES, I'm calling you out, Alessandra!) is not the best when it comes to sharing food, particularly when it comes to sharing our favorite foods.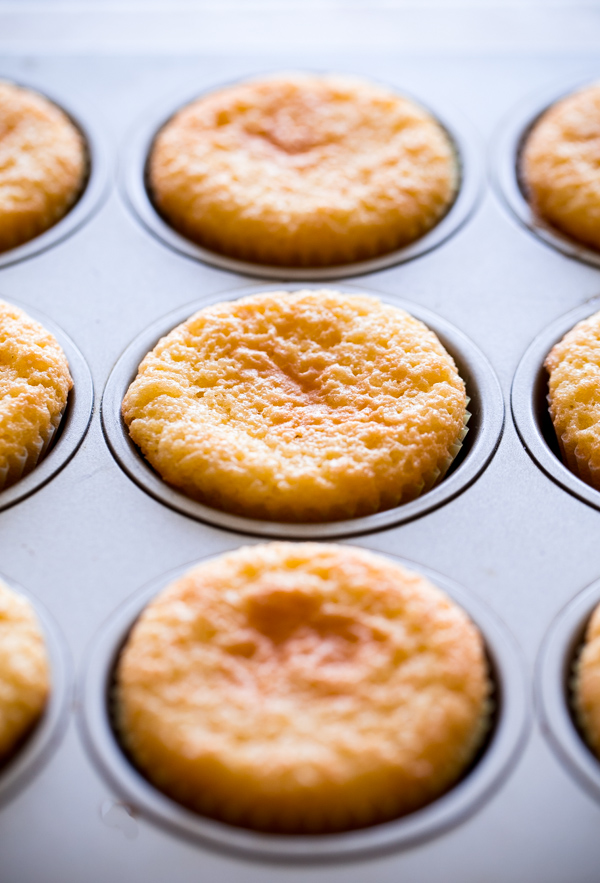 I was never a huge fan (the understatement of the century) of traditional cake frostings–as I often times found/find them to be way too sweet. I was the little girl who would scrape off the frosting–unless of course it was a very good frosting–to get to the good part: the cake.
To this day, this simple combination of sponge cake with whipped cream and berries continues to be one of my favorite desserts, particularly during the summertime when you're looking for a light, not-too-heavy or overly-sweet dessert that won't weigh you down.
These mini cornmeal cakes topped with whipped mascarpone and fresh berries are exactly that. Plus, they are ridiculously easy to make! As in, it will take you just 45 minutes to make these from start to finish. They also require practically zero special equipment (just a standard muffin tin and a hand-held or stand mixer).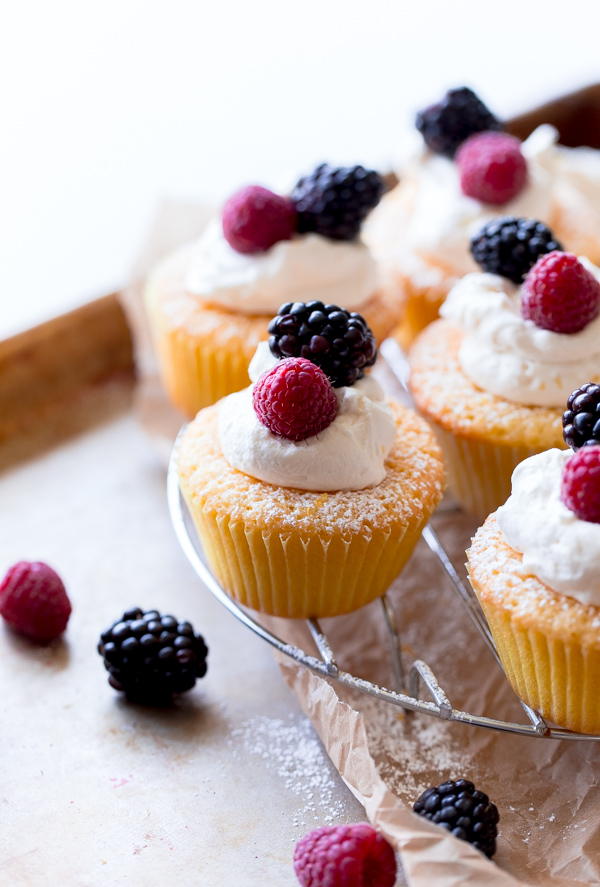 Although these mini cornmeal cakes aren't a traditional sponge cake by any means, they are just as light and fluffy in texture. Plus, they're individually portioned for serving!
Are they cupcakes? Well, no, not really. If anything, these mini cornmeal cakes resemble British fairy cakes, as they are smaller and not piled high with frosting, as many cupcakes are these days.
The cornmeal addition, though small in quantity, gives them a noticeable flavor, similar to that of a sweeter cornbread. And yet, the texture could not be more fluffy! Particularly, when they are eaten within just a few hours of baking.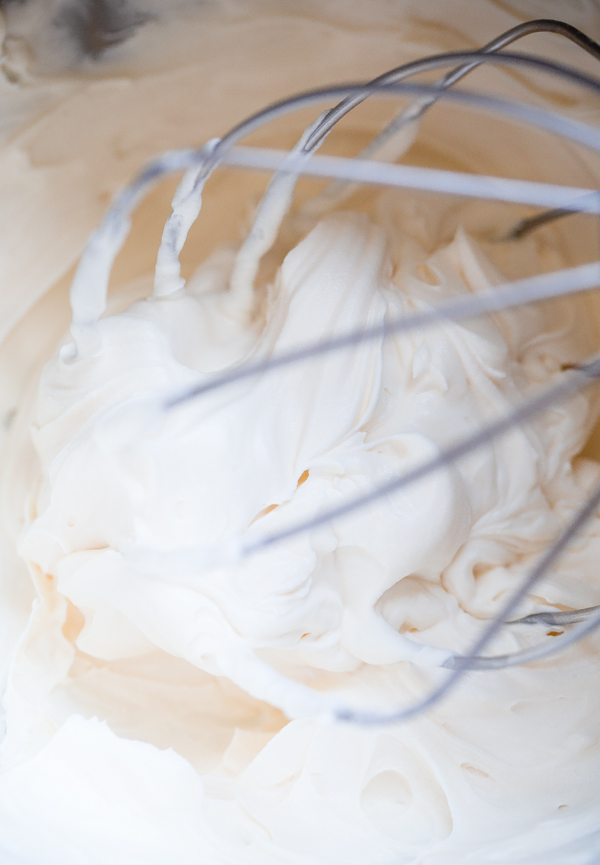 Oh, and that whipped mascarpone frosting?! You will want to eat it straight from the mixing bowl. Move aside buttercream, this stuff wins hands-down.
Essentially equal parts (in measurement, not weight) of mascarpone cheese and heavy cream whipped until it thickens and reaches soft peaks. It's flavored with pure vanilla extract, and sweetened with just the smallest amount of powdered sugar.
Ugh, so good. Simple and perfect.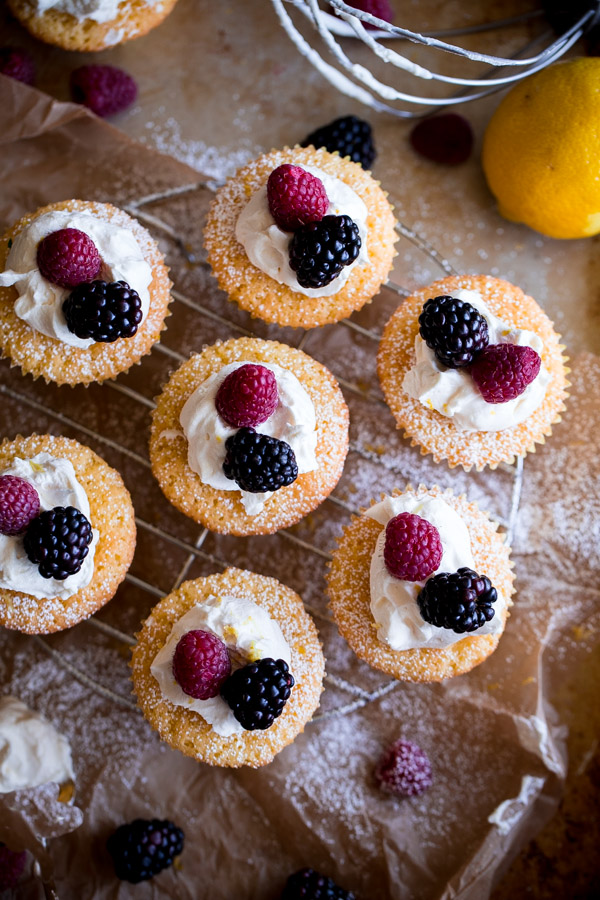 Although you could easily use just lightly sweetened whipped cream, I highly recommend the addition of mascarpone cheese, as the thicker texture holds up better to the cornmeal cakes.
The mascarpone also helps to stabilize the frosting (particularly helpful if you are transporting these to a friends house or preparing them a little bit further in advance).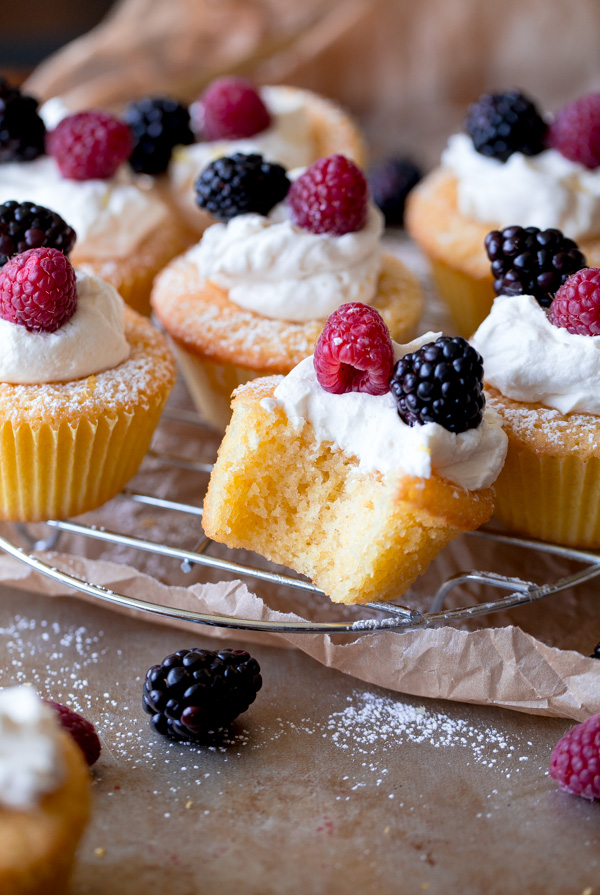 The best part of these mini cornmeal cakes?!
They're supposed to be rustic! So skip the piping bag and pastry tip, grab a spoon and add a nice dollop of whipped mascarpone on top of each cake. Top them with a few berries (I love the combination of blackberries and raspberries), dust them finely with powdered sugar just before serving, and you're ready to go.
To add a little extra pop of color, I added just the smallest amount of fresh lemon zest as well. Enjoy!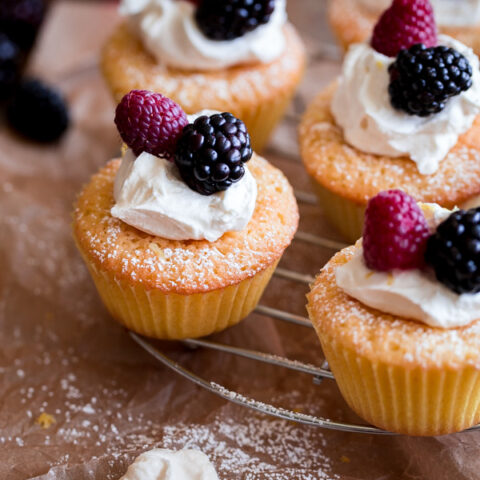 Mini Cornmeal Cakes with Whipped Mascarpone and Fresh Berries
Yield: 11 Cornmeal Cakes
Mini Cornmeal Cakes with Whipped Mascarpone Frosting and Fresh Berries. A simple summer dessert that can be prepared in less than 45 minutes!
Prep Time: 30 minutes
Cook Time: 15 minutes
Total Time: 45 minutes
Ingredients
Mini Cornmeal Cakes:
3/4 cup + 2 tablespoon (100 grams) unbleached all-purpose flour
1/4 cup (30 grams) stone ground yellow cornmeal
1/2 cup + 3 tablespoons (140 grams) granulated sugar
1 and 1/2 teaspoons baking powder
1/4 teaspoon kosher salt
3 large whole eggs
10 tablespoons (145 grams or 5 ounces) unsalted butter, very soft
Whipped Mascarpone Frosting:
1/2 cup (113 grams) mascarpone cheese
1/2 cup (120 mL) chilled heavy cream
3 tablespoons (24 grams) powdered sugar
1/2 teaspoon pure vanilla extract
Assembly:
powdered sugar, for dusting
fresh raspberries and blackberries (roughly 2 ounces of each)
fresh lemon zest, for garnish
Instructions
Prepare the mini cornmeal cakes: Preheat the oven to 375 degrees Fahrenheit. Line a standard muffin tin with 11 liners. Set aside. In a medium bowl, whisk together the all-purpose flour, cornmeal, granulated sugar, baking powder, and salt. Set aside.
In a stand mixer, fitted with a paddle attachment, combine the whole eggs and softened butter (yes, I know it sounds a bit weird, trust me on this!). Add all of the dry ingredients to the bowl. Turn on the mixer to medium speed (4) and beat the batter for 2 minutes, or until all of the ingredients are evenly incorporated and batter is smooth.
Divide the batter evenly among the lined muffin cups. The batter should be reach about half-way up each cup. Bake at 375 degrees for 14 to 16 minutes, or until the cornmeal cakes are golden brown and springy to touch. Remove from the oven and allow to cool in the baking tin, on a rack, for 5 minutes. Remove the cornmeal cakes from the tin and allow to cool to room temperature on a cooling rack.
Prepare the whipped mascarpone: In a clean mixer bowl, fitted with a paddle attachment, combine the mascarpone cheese, heavy cream, powdered sugar, and vanilla extract. Beat at low speed, slowly increasing to medium speed, until mixture thickens and forms soft peaks. **Be careful to avoid over-beating the mixture, it comes together very quickly.
Using a spoon, add a dollop of whipped mascarpone in the center of each cooled cornmeal cake. Using a fine-meshed sieve, dust the cakes lightly with powdered sugar.
Top each cake with a mixture of fresh blackberries and fresh raspberries, and freshly grated lemon zest. Serve immediately.
Notes
Frosted cakes can be stored in an airtight container in the fridge for 1 to 2 days, but are best served at room temperature and the day they are baked. If you would prefer to skip the mascarpone cheese, increase the heavy cream quantity to 1 cup.
Nutrition Information:
Yield: 11
Serving Size: 1
Amount Per Serving:
Calories: 293
Total Fat: 19g
Saturated Fat: 11g
Trans Fat: 0g
Unsaturated Fat: 6g
Cholesterol: 104mg
Sodium: 188mg
Carbohydrates: 27g
Fiber: 1g
Sugar: 17g
Protein: 4g