Falafel Bites with Lemon Twist Hummus
Homemade falafel bites, paired with Sabra lemon twist hummus, are the perfect one-bite appetizer for summer entertaining!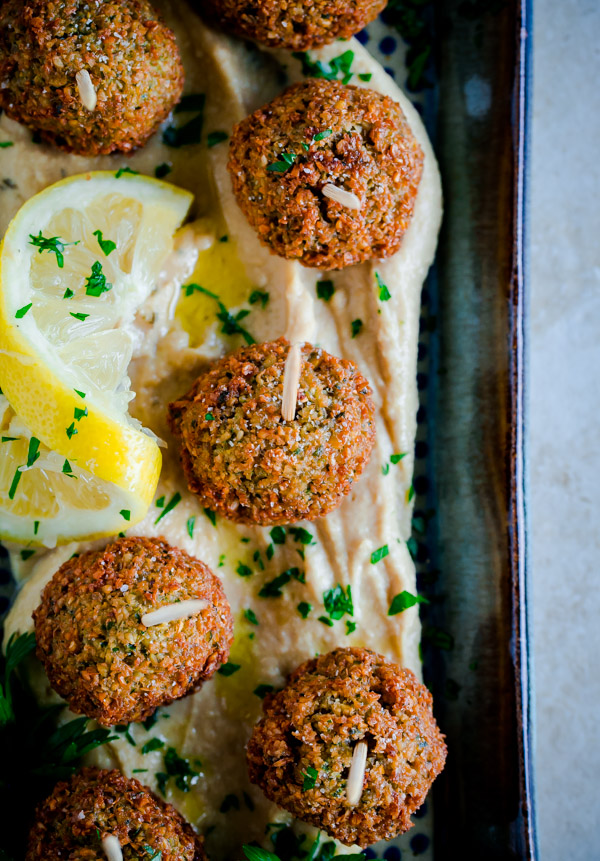 Guess what today is?! It's National Hummus Day! Yes, that's a thing! An excuse to eat and celebrate the wonderful thing that is hummus all day long. Although, if we're being honest, I don't really need an additional excuse to eat hummus all day, every day. I do that already.
What's even more exciting? I've teamed up with Sabra this year as part of their Tastemaker program. In other words, I'll be bringing you all sorts of tasty dishes, featuring their delectable line of hummus spreads, in the months ahead.
I've never worked with a more generous company (I might turn into a chickpea by the time I get through all of the hummus they have sent me!), and it's partnerships like this that get me really excited, draw upon my creative juices, and get me fired up.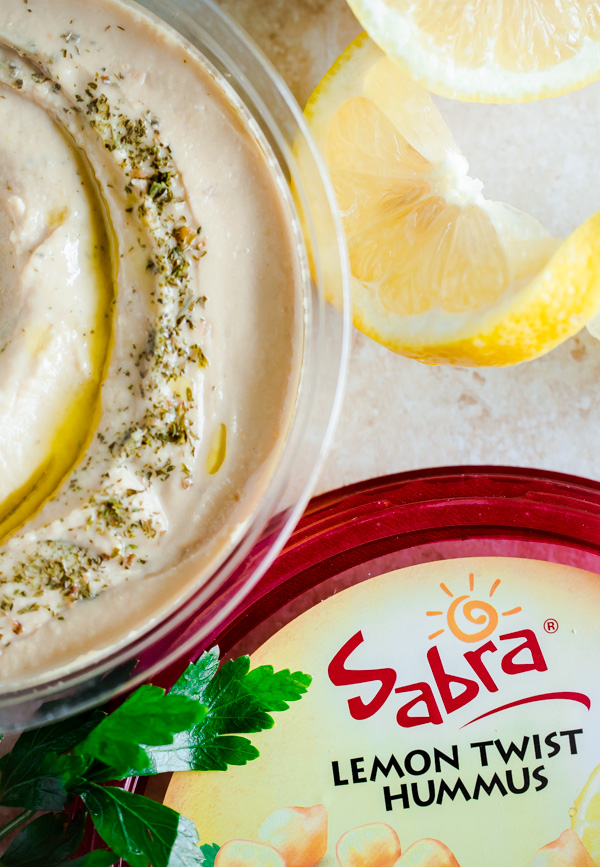 Hummus is quite possibly one of the most versatile spreads out there, and it is rare that a week goes by without me picking up at least one container of it at the store. It's such a great, healthy snack for when hungry strikes in the afternoon (uhh, this happens every afternoon for me), and is so versatile.
It goes with practically everything, and is naturally gluten-free and vegan, making it the perfect snack to have on hand for parties and entertaining. Plus, have you guys seen the amazing line of hummus flavors that Sabra offers? They have practically every hummus flavor that you could imagine under the sun!
Craving spicy? Try their supremely spicy hummus. Feeling like hummus with a little bit of an Italian twist? Try their basil pesto hummus. As you can imagine, the possibilities are quite endless. However, since it was National Hummus Day, I decided to pair one of Sabra's new flavors, lemon twist hummus, with something a bit more classic and traditional. 
Homemade falafel! But not just any old falafel…mini falafel bites! On toothpicks! Uhh, hello new favorite appetizer and party snack!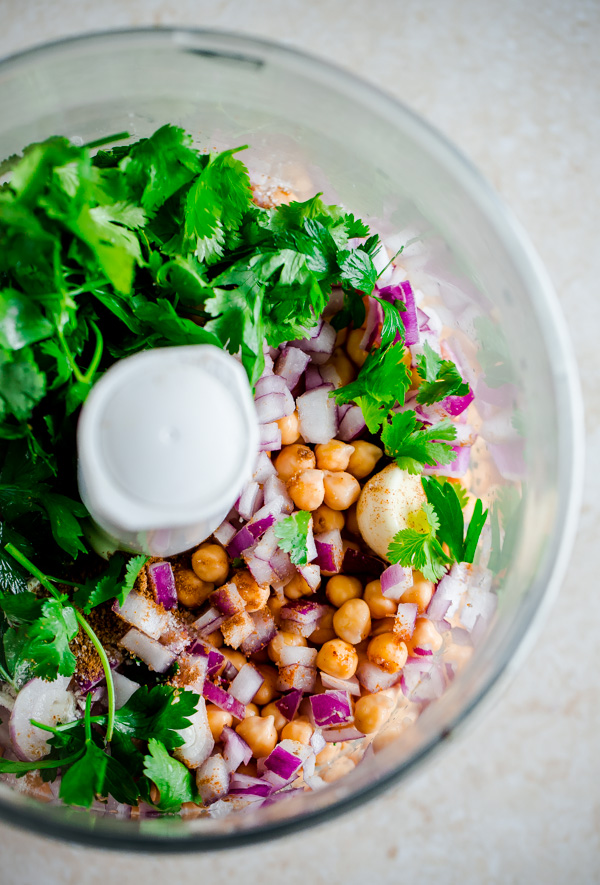 Have you guys ever made homemade falafel? It's actually incredibly easy! Much easier than you might think.
The only step that you have to remember is to soak your dried chickpeas the night before you want to prepare this dish–just simply place your dried chickpeas in a medium saucepan, cover them with a generous amount of cold water, and let them sit them out on your counter top overnight.
Note: Don't substitute the dried chickpeas with canned chickpeas for this recipe, as the moisture level is not the same!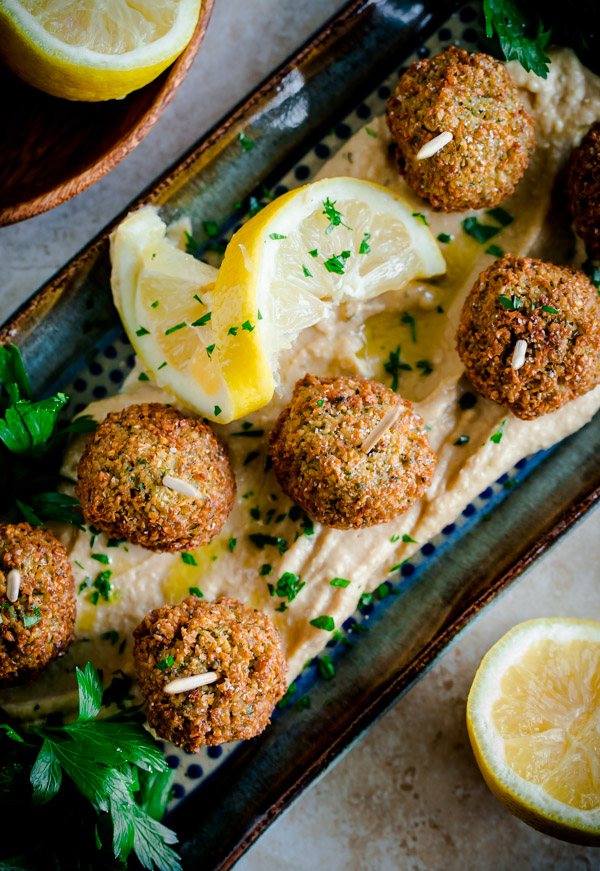 The falafel mixture comes together in just minutes, and is made with only a handful of ingredients: dried and soaked chickpeas, diced red onion, fresh garlic, ground cumin, cayenne pepper, a touch of flour, salt, and fresh parsley and cilantro leaves.
I love using a mixture of both parsley and cilantro, but if you're a cilantro-hater, feel free to double the amount of parsley leaves.
The trick to making falafel is achieving the right texture. If you don't pulse the ingredients enough, you'll be left with a falafel mixture that won't hold together easily. You want to pulse it just long enough that the mixture begins to come together, but is not too smooth and loses all of its texture.
Once the falafel mixture comes together, I allow it to sit in the refrigerator for about an hour in order for the flavors to come together.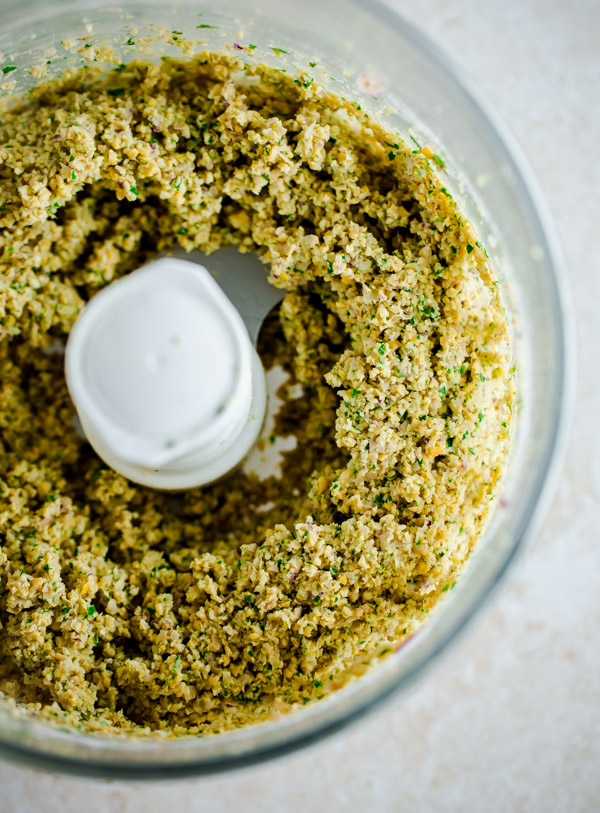 After all, falafel is all about the texture and crunch! A falafel without any sort of crunch or bite defeats the purpose of falafel in my humble opinion.
Since these falafel bites are very small (roughly 1-inch or smaller in diameter) and are fried (YES!), they have unbelievable texture. They could not be crispier! 
Once paired with Sabra's new lemon twist hummus, a classic hummus with a boost of extra lemon flavor and dried herbs and spices, they are downright addictive. I love to serve the just-fried falafel bites on top of a bed of hummus, and use toothpicks to make them easy to grab, pass around, and eat in one bite!
Happy National Hummus Day!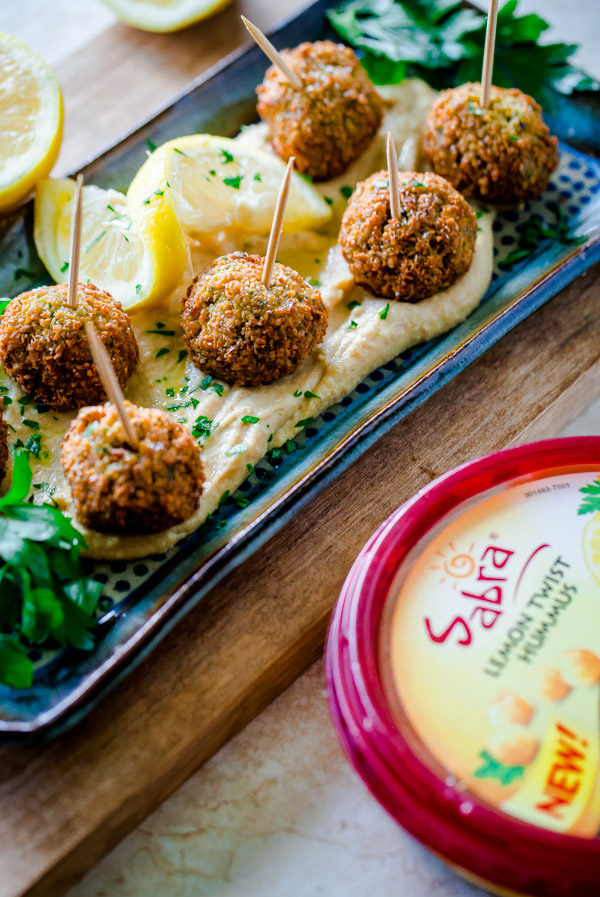 I am thrilled to be part of the Sabra Tastemaker program this year! This post is sponsored by Sabra. Thank you for supporting brands that allow me to get in the kitchen, be creative, and share my passion for great food!