Mumbai Shrimp Tacos with Avocado Salsa
An easy shrimp taco recipe packed with spice and topped with a simple avocado tomato salsa. Pin and save this recipe for later.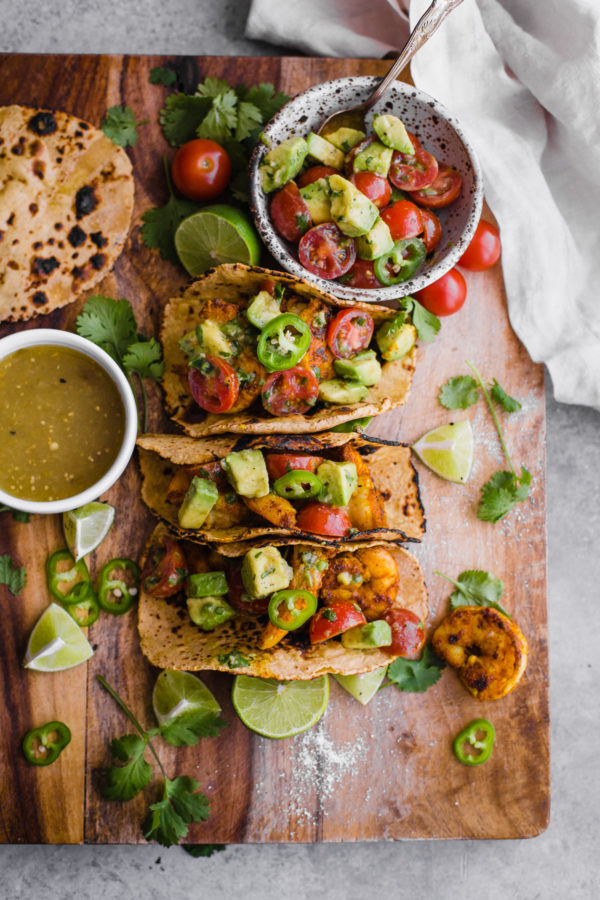 Is it just me or did this past week absolutely fly by? The blur of holiday shopping and decorating has made time go at warp speed. This happens every year, but always seems to catch me off guard.
Instead of focusing on our never-ending to-do lists, let's make Mumbai shrimp tacos instead. Sounds like a much better plan, yes?
These shrimp tacos are delicious, super easy, and full of spice and flavor. They are also very simple in ingredient list and execution. This is an ideal weeknight dinner recipe for any day of the year.
You could also easily scale the recipe up and serve these during the busy holiday season (serve-yourself taco bar!). Everyone will love them.


The shrimp taco recipe is from my friend (and fellow blogger) Lauren Grier's brand new cookbook, Modern Comfort Cooking, which will be released on bookshelves next week!
I've been following Lauren's blog Climbing Grier Mountain for years – we literally started our websites a month apart from one another – and I'm so excited to share her new book with you.
Lauren has an incredible ability to dream up creative, flavor-packed twists on classic comfort food (seriously, you should see what this girl can do with a tater tot!). Her new cookbook is an extension of that skill. Inspired by her childhood and love of travel, you'll find mash-ups on older staples, as well as global flavors.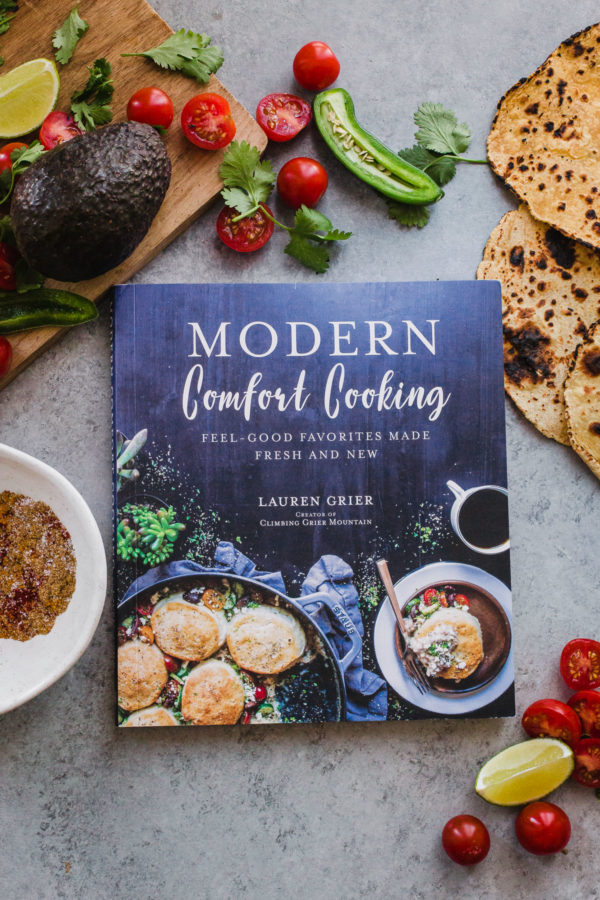 As the title suggests, the cookbook is packed with reinventions of vintage comfort food all using fresh, wholesome ingredients. This isn't your average comfort food.
You'll find everything from Turkish burgers with fattoush lime slaw, Thai chicken and rice casserole, falafel waffles, and Spanish wedge salad to bananas foster galette, champagne marshmallows, kimchi and bacon mac and cheese, Korean pulled pork lasagna, and so much more.
I had the hardest time deciding on a recipe to share with you (could I get a bite of each one?), but kept coming back to these Mumbai shrimp tacos. What can I say, I'm a sucker for seafood tacos.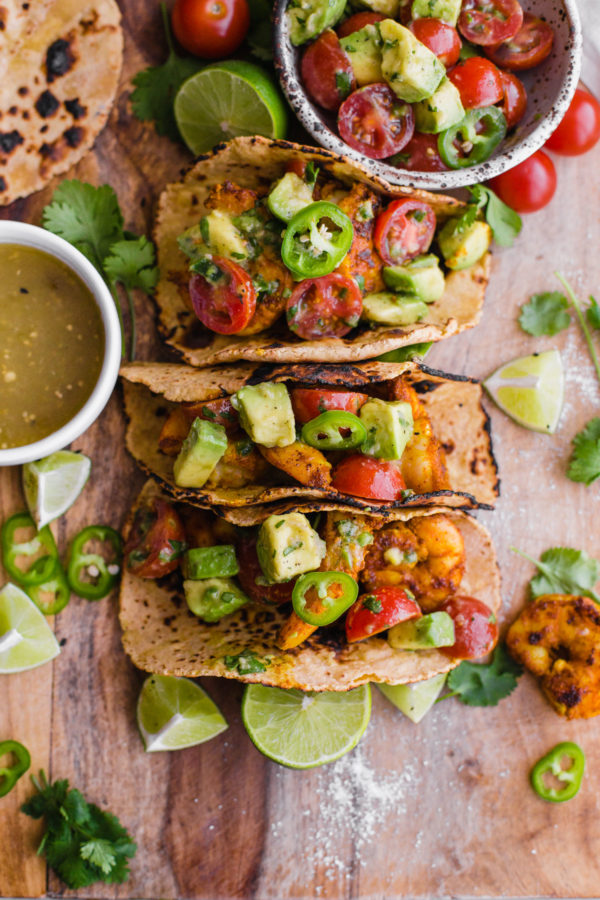 MUMBAI SHRIMP TACOS: INGREDIENT BREAKDOWN
These shrimp tacos get their name and flavor from a simple combination of ground spices. Good news? These are basic staple spices, which you most likely have on hand:
– turmeric, paprika, coriander, cumin, and garlic powder
The spice mixture is tossed with the raw shrimp, which are seared in a sauté pan. The tacos are topped with an avocado salsa made from chopped avocado, halved grape tomatoes (I used cherry, which will work just as well!), lots of fresh lime juice, garlic, cilantro, and jalapeño for a touch of heat.
The bright acidity, along with the natural creaminess from avocado, adds just the right balance to the shrimp without overpowering the spices. I prefer to serve these in combination corn-wheat tortillas, which I char on my gas stove, but you could easily make this dish gluten-free if you use corn tortillas.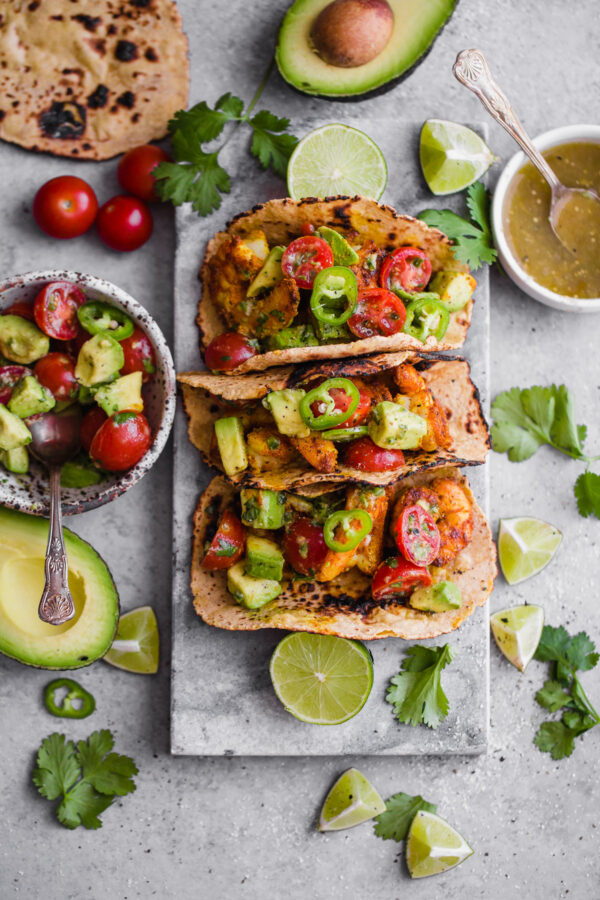 Be sure to check out Modern Comfort Cooking – it would make for a great cookbook gift over the holidays!
I was provided with a copy of the cookbook for review purposes. All opinions are my own. This post contains a few Amazon affiliate links. This means that I will earn a small commission (at no additional cost to you) if you purchase an item using these links.