2017 Favorite Things Gift Guide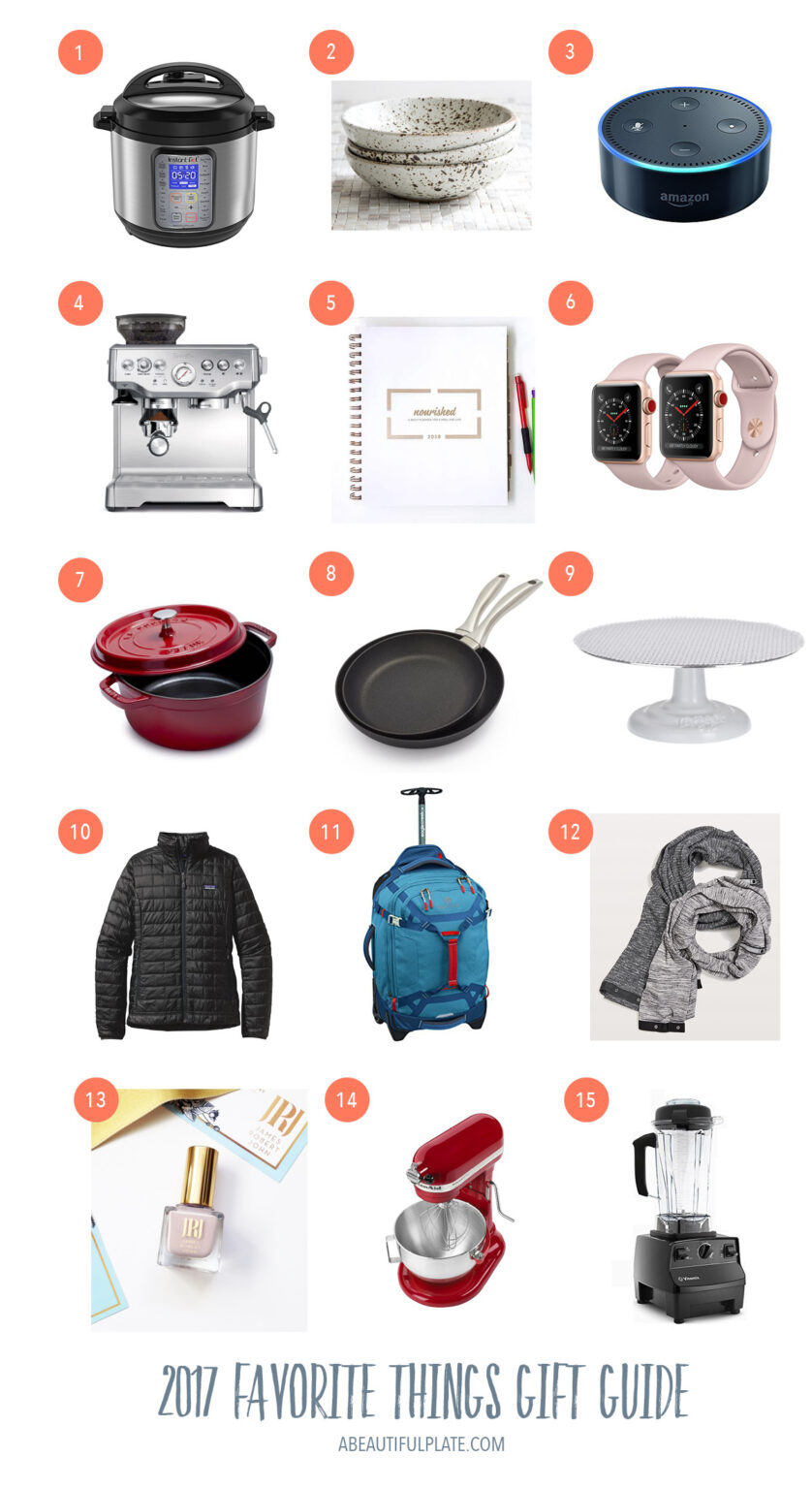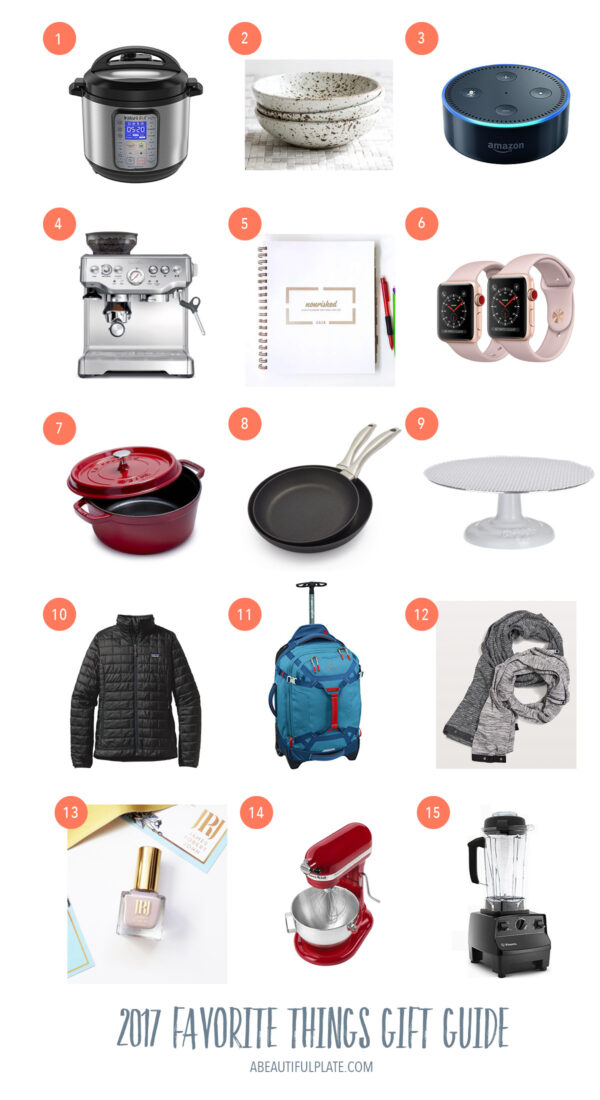 ---
This post contains affiliate links. 
I'm back with my final holiday gift guide of the year! This is my favorite guide to date as it contains all of my most-loved items (with a handful of wish list items!) from 2017. I've repeated a handful from last year, because I love them that much and continue to use them on an everyday basis.
Since we're in the swing of Cyber Monday, there are some incredible deals happening on many of these items today. Like, major, major deals. As much as I hate the pressure to shop after the holidays, it really is the best time to snag higher-priced items.
To make things easier for you, I've put * signs next to ones that have special sales right now. If you have any personal favorites from the past year, be sure to share them below in the comments! 
Check out my Cookbook Gift Guide and Affordable Stocking Stuffers Gift Guide for more ideas.
---
Favorite Things Gift Guide
Instant Pot* – If you've been holding out on an Instant Pot, today is one of the best days to buy one. I was shocked by how much I used this kitchen device over the past year. It is a lifesaver for cooking dried beans, braising tougher cuts of meat, making stock, etc. I plan on sharing more Instant Pot recipes on the blog next year!
Sarah Kersten Ceramics – Every time I share a photograph of any recipe in this dish, I always get questions about who makes them. These are my favorite homemade ceramic bowls ever. The speckled egg finish varies from batch to batch. I just love them so much.
Echo Dot* – I've been holding out on buying any sort of smart home device for more than a year, but I might just cave today and buy this one. It is less of an investment than the larger Echo and can be paired with an existing Bluetooth speaker too. I love the idea of being able to use this in the kitchen, for playing Spotify, etc. It is only $29.99 right now!
Breville Barista Express – Gosh. I can't even count how many times we've used this machine over the past two years. I share this device on Instagram Stories a lot and people always ask me about it. If you're a cappuccino freak like me, your life will never be the same after you get one of these. I love all of my Breville products so much.
2018 Nourished Planner* – This is my favorite everyday planner right now. It is an affordable price and has a wonderful mixture of goal planning and white space to allow you to do your own thing. I love the new design updates since last year!
3rd Generation Apple Watch – I never really understood the value of an Apple Watch when it required you to have your phone within arm's reach. The newest generation allows you to leave your phone at home, which I absolutely love.
Staub 4-Quart Cocotte* – My favorite Dutch oven brand is selling their 4-quart cocotte for an amazing price of just $99.99 right now. While this isn't large enough for some tasks, this is an incredible versatile size for so many other things: small batches of no-knead bread, soups and sauces, etc. I use mine several times a week.
ScanPan Non-Stick Pans* – These are my go-to brand for nonstick cookware. I use these on an everyday basis for so many things. While cheaper non-stick pans can be tempting, they never last very long and are often made with poor quality materials.
Revolving Cake Stand – While I don't use this cake stand that often, it is a lifesaver whenever I do. If you love baking cakes (or know someone who does), this is the best-quality revolving cake stand. The base is made out of cast-iron, which makes it very sturdy, and it looks just as great as a serving piece too. You can see more photos of it in this London Fog Cake post.
Patagonia Nano Puff Jacket* – I shared this jacket a month or so ago in a Weekly Mix post, but it is the most versatile  outerwear piece that I own. BackCountry also happens to be selling it $80 off the list price today too. It takes up almost no space at all, which makes it perfect for traveling, but keeps you very warm too. I wear mine in temperatures ranging from the low 30's to high 50's.
Eagle Creek Load Warrior* – This is my favorite brand of luggage and I particularly love these carry-on size bags. They are lightweight, come with a lifetime guarantee from wear and tear, and can hold so much more than you think.
Lululemon Vinyasa Scarf – My dad gifted me this scarf last year for Christmas and it is my most used winter accessory item. It can be configured in a crazy variety of ways (seriously!) and keeps me very, very warm without making me itchy or too hot. I love that it is made from sweat-wicking material too.
James Robert John 'Busy Making Memories' Nail Polish – I was gifted this nail polish color during my fall trip to Columbus, Ohio and it is my favorite nail polish color ever. I don't even consider myself a nail polish person, but this one will last for days without chipping. The 'Busy Making Memories' color is crazy flattering on all skin tones too. I love it.
KitchenAid Stand Mixer* – While you can certainly live without one of these (and I did for many years), a stand mixer is essential if you love to bake. It also happens to be beautiful enough to leave on a kitchen countertop. Target is offering a crazy low price on the professional series right now.
Vitamix 5200 Blender* – I use my Vitamix all the time and really can't imagine living without it. In my opinion, they are 100% worth the investment, especially if you love to make smoothies, homemade soups, flours, etc. I have this model, which is a bit too tall for fitting under traditional kitchen cupboards, but is no-frills and very easy to use. Amazon is having an incredible sale on these today (I've literally never seen this low of a price), so if you've been eying one for yourself or a loved one, today's the day to grab one!
None of these items have been sponsored. This post contains Amazon and RewardStyle affiliate links. This means that I will earn a very small commission (at no cost to you!) if you purchase an item through my links. 
This post contains affiliate links, which means that I make a small commission off items you purchase at no additional cost to you. Please read my
privacy policy
for more information.