Olive Tapenade Swirl Bread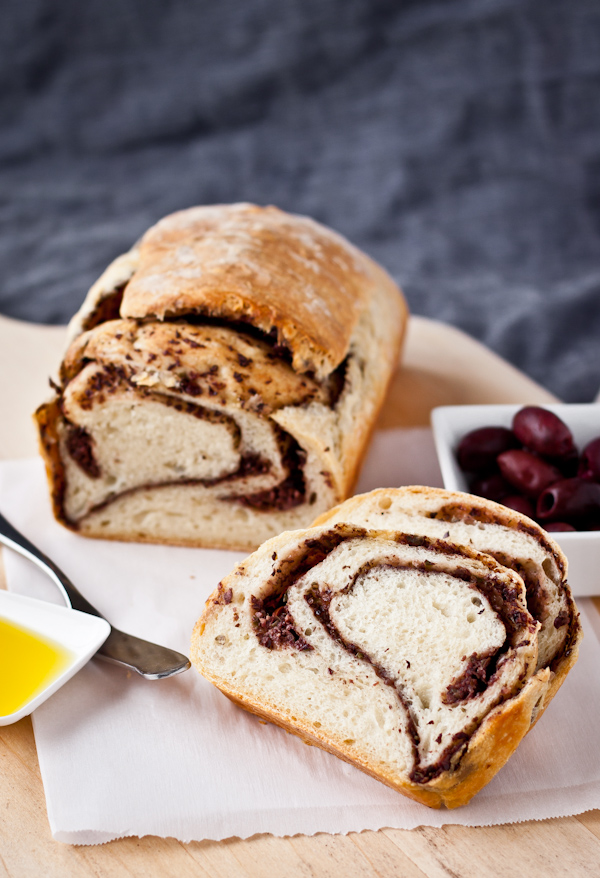 I'll be honest.  This recipe was developed purely for selfish reasons.
It involves two of my favorite things: freshly baked bread and olive tapenade.  Together, they are truly a match made in heaven.  Give me a crusty loaf of bread and bowl of olive tapenade and I'll pretty much go to town.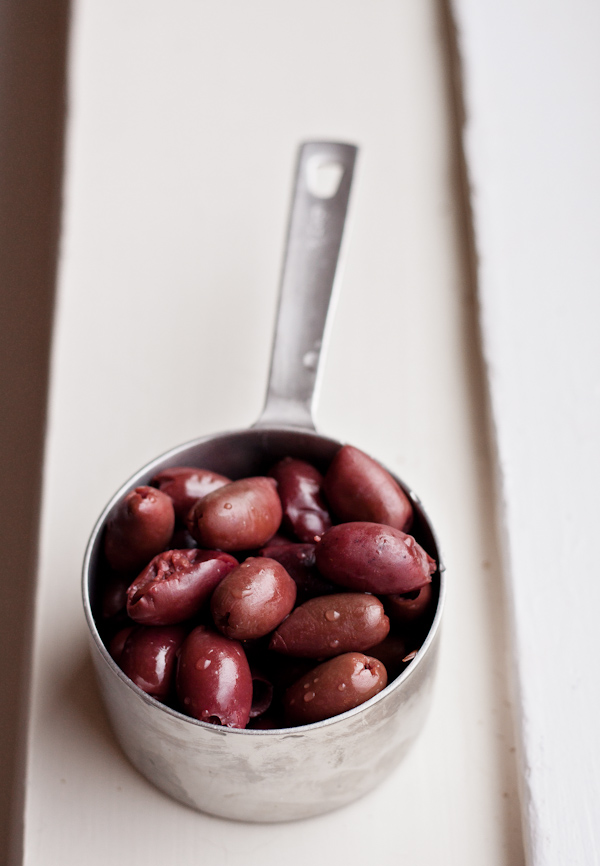 Well, I figured out a way of combining them into one thing.  Sort of like regular olive bread, but even better.  A lot better.
Plus, this eliminates the need of having to physically slather bread with homemade tapenade (my previous method) because the tapenade is in the bread.  Swirled, actually.
It's like a two-for-one deal!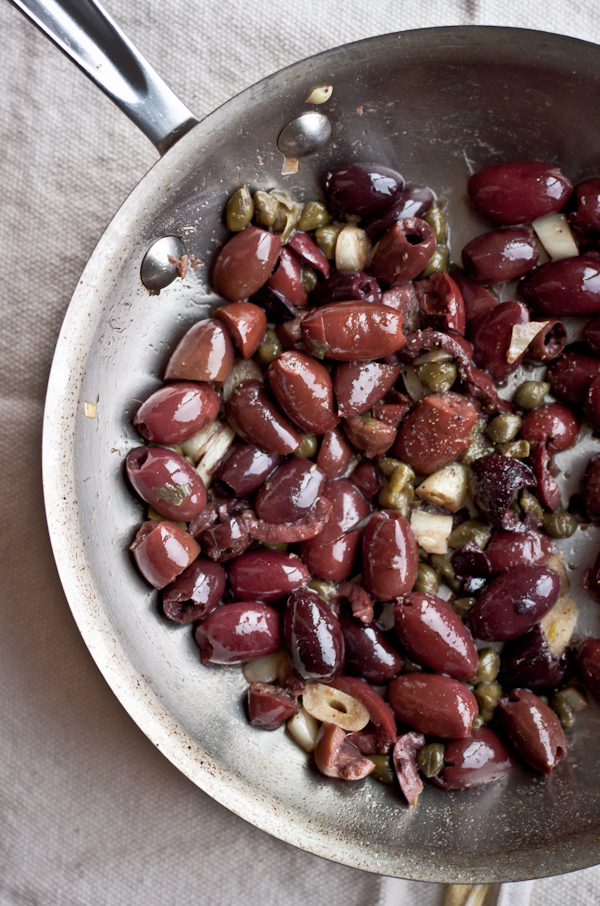 I'll admit, I'm a little bit of a purist when it comes to olive tapenade.
Traditionally, tapenade is a paste made out of olives (in this case, kalamata), capers, olive oil, garlic, and anchovies.  Very, very simple.  This recipe calls for lightly sauteing the ingredients together in olive oil–it's my favorite method and I've been making this version for years.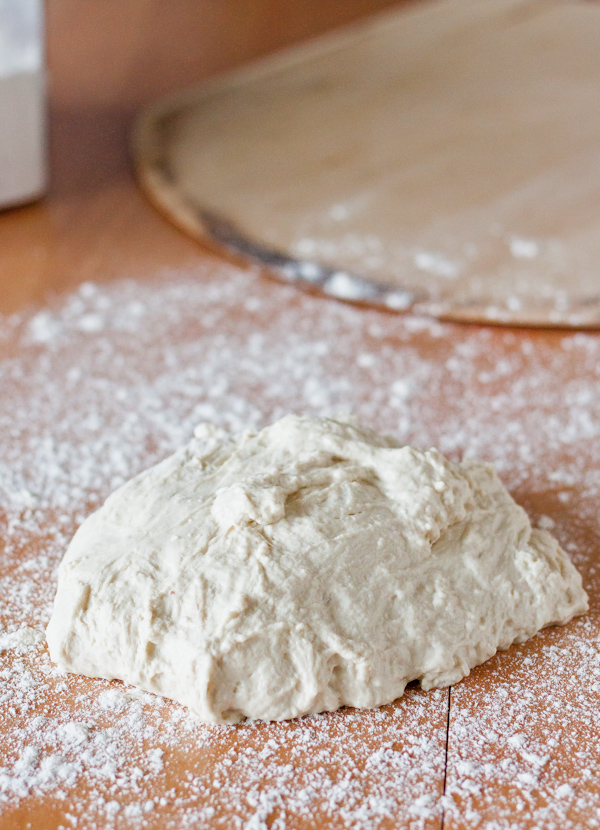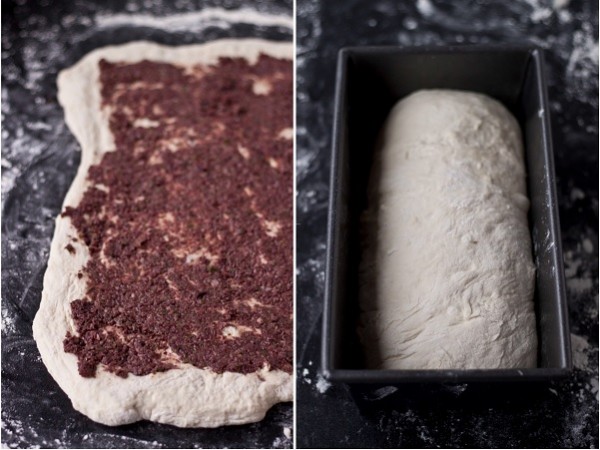 As for the "bread" component of the recipe, I've been making a lot of dough over the last week or so. There was the one time where it pretty much took over my entire fridge.  That was fun to clean up.
And then the time I tried to stubbornly shape it into a classic boule shape (and even added nice slits on the top), which let's be honest, ended up tasting equally as good, but resulted in the strangest looking loaf of bread ever.  Plus, the tapenade swirl-factor was practically non-existent.
At one point, Connor and I literally sat down and drew bread diagrams.  It was quite sad.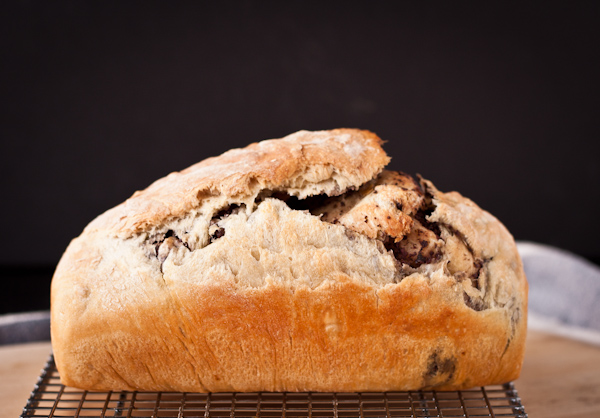 In the end, I decided to go with the classic loaf shape.  Constraining the dough in a loaf pan not only helps the bread stay together better and results in a more uniform shape (as the dough is relatively wet and loose to begin with), but this method results in the best and most uniform marbling.
Obviously, every loaf will turn out a bit differently every time, but that's part of the fun!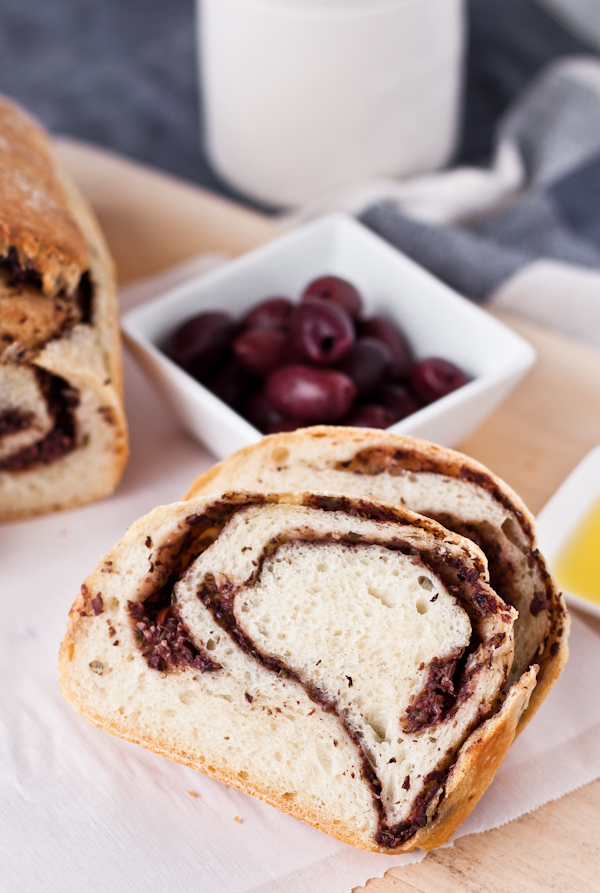 The resulting bread has just enough of a crust, but is still incredibly soft and doughy on the inside. The ribbons of tapenade swirled throughout it simply take this bread over the top!  I promise that you won't be able to resist multiple slices.
Not to mention, your house will smell really, really, really good.  Enjoy!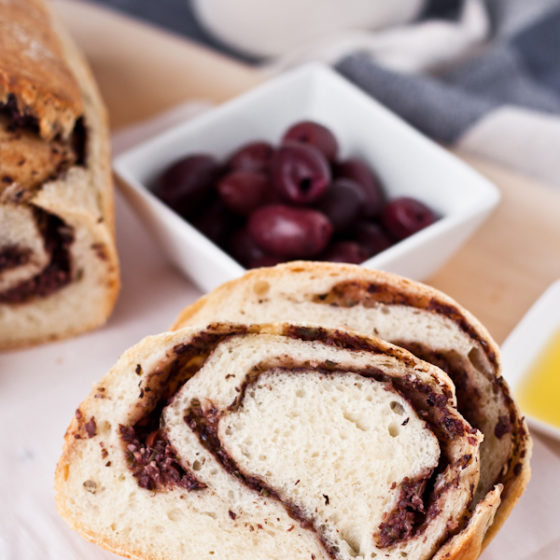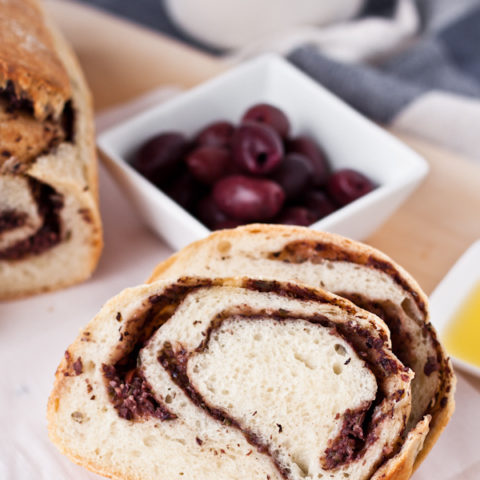 Olive Tapenade Swirl Bread
Yield: 1 (9 x 5) Loaf
This homemade olive tapendade swirl bread has a lovely crust, but is still incredibly soft and doughy on the inside. The ribbons of tapenade swirled throughout it simply take this bread over the top!
Prep Time: 3 hours
Cook Time: 1 hour
Total Time: 4 hours
Ingredients
Olive Tapenade (Yields 1 Cup):
1 tablespoons extra virgin olive oil
3 garlic cloves, roughly chopped
1 tablespoon capers (rinsed)
3 whole anchovy fillets (in olive oil), roughly chopped
1 cup pitted kalamata olives (rinsed)
kosher salt
freshly ground black pepper
Bread Dough:
1 1/2 cups lukewarm water
2 teaspoons + 1/4 teaspoons active dry yeast
2 teaspoons + 1/4 teaspoons salt
3 cups + 1/4 cup unbleached all-purpose flour (plus more for dusting)
Instructions
Prepare Tapenade: Heat the oil in a small skillet over medium heat. Add the garlic and saute for 1-2 minutes, stirring constantly. Add the remaining ingredients and saute for an additional 3-4 minutes.
Remove from heat and allow to cool down in pan until lukewarm or room temperature. Add to bowl of a small food processor.
Pulse several times, stopping to scrape down the sides of the bowl, until the mixture becomes a coarse paste. Transfer to a container and either use immediately (if room temperature) or chill in fridge. Tapenade can be made up to a day in advance and kept in a covered container in the fridge.
Prepare Dough: In large container (with non-airtight lid), whisk together warm water, yeast, and salt. Slowly add in flours, mixing with wooden spoon. When dough becomes too difficult and thick to stir, mix together with hands until all the flour comes together and dough is uniform. The dough should be very wet and sticky. Do not knead. Cover lightly and allow to rise at room temperature for at least two hours. Place in refrigerator and allow to chill overnight.
Preheat the oven to 425 degrees. Grease a 9 x 5 inch loaf pan and set aside.
Place the dough on a liberally floured countertop. Dust with flour–and using a floured rolling pin, roll into a 10 x 13 inch rectangle (don't worry if its not perfect)–move the dough periodically to ensure that it doesn't stick to the countertop.
Spread 1/2 cup of tapenade on top of the dough (leaving 1/2″ borders on the side). Roll up the dough–short end to short end–and pinch the seam together at the end.
Place seam side down in the loaf pan–and allow to rest, covered lightly with a kitchen towel, for an additional 15-20 minutes.
Bake for 50-60 minutes, or until internal temperature reads 190-200 degrees. Allow to cool in pan on rack for 10 minutes, before removing. Allow loaf to cool completely before slicing.
Notes
Dough can be made ahead of time and kept in the refrigerator in a covered, non-airtight container for up to one week.
Basic dough proportions adapted from Artisan Bread in Five Minutes a Day.
Nutrition Information:
Yield: 8
Serving Size: 1
Amount Per Serving:
Calories: 71
Total Fat: 6g
Saturated Fat: 1g
Trans Fat: 0g
Unsaturated Fat: 5g
Cholesterol: 1mg
Sodium: 329mg
Carbohydrates: 5g
Fiber: 1g
Sugar: 0g
Protein: 1g
A Beautiful Plate provides nutritional information, but these figures should be considered estimates, as they are not calculated by a registered dietician.
P.S.  Of course, this bread tastes excellent on its own, but it would also make an excellent base for a grilled cheese sandwich.  Or pretty much, any sandwich.  I'm imagining one filled with prosciutto, fresh mozzarella, and arugula, but that's just one of many ideas.