Easy homemade tart dough is free-formed into a beautiful, easy cranberry raisin tart! A great Thanksgiving dessert for the holiday season.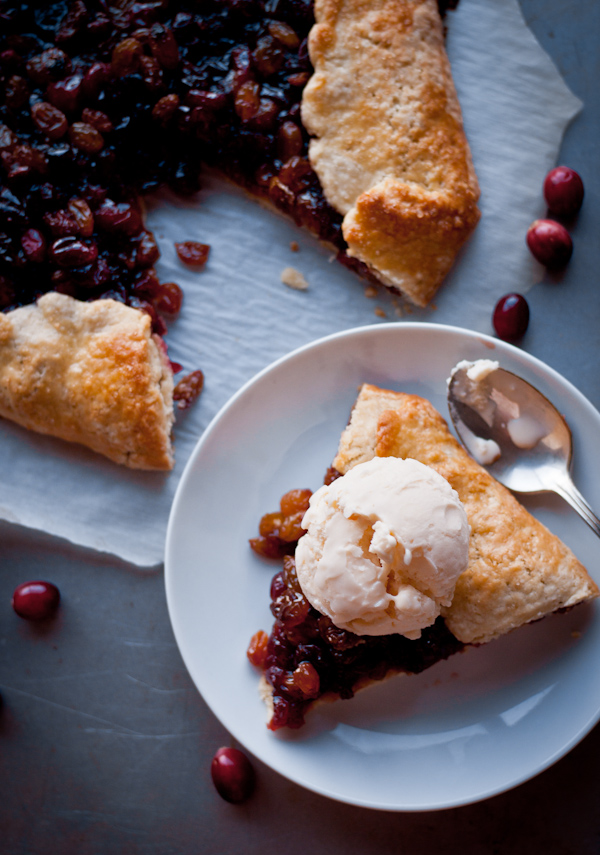 Raise your hand if you feel like you've already OD'ed on Thanksgiving food? I'm just going to keep going and pretend that several of you already have, wherever you may be.
But, seriously. The day hasn't even arrived and I already feel like I've been stuffing my face with turkey, mashed potatoes, and pumpkin for months. So…naturally, I decided to throw another Thanksgiving-esque recipe in your direction.
One more can't hurt, right? There's no such thing as too many dessert options on Thanksgiving.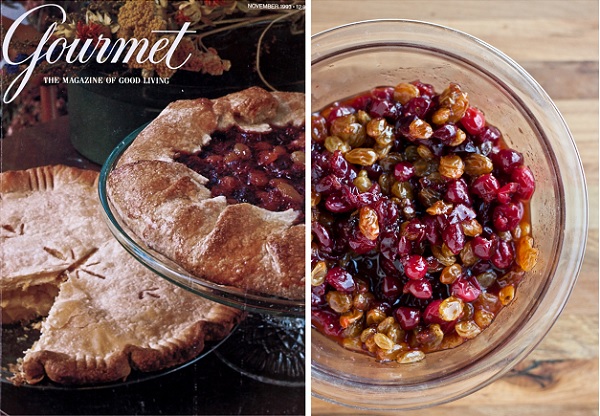 If the name didn't already give it away, this cranberry raisin tart does have raisins in it. Shocking, I know. But apparently, there are a whole lot of people out there that hate raisins. Like totally despise them. Maybe you're one of those people.
Does the fact that these are golden raisins make a difference? I'm assuming the answer to that question is an unequivocal no, but I figured it was worth a shot.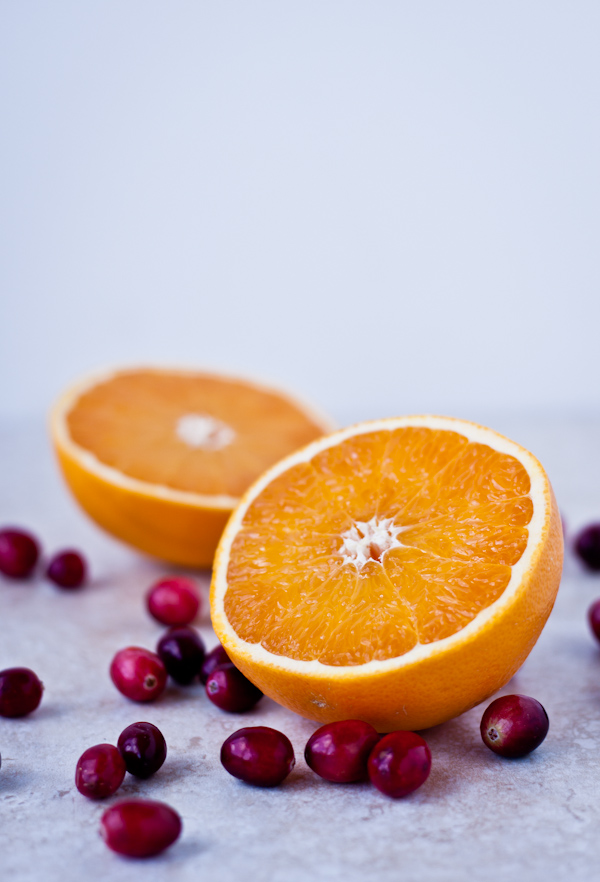 Obviously, as evidenced by this post, I don't fit into the raisin-hating camp. But, if you do, don't worry, because the raisins are totally the supporting act in this dessert.
The cranberries are the star of the show. And while I haven't tried this dessert without them, I'm fairly confident that you could skip them all together and add another 3/4 – 1 cup of cranberries, perhaps a touch more sugar, and have yourself a raisin-free cranberry tart. All is well in the world.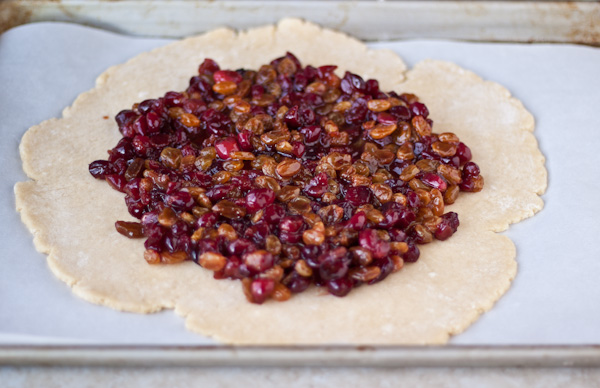 This recipe was discovered in a November 1993 issue of Gourmet magazine. I had been rifling through magazine issues looking for a unique Thanksgiving Day dessert and this tart caught my eye. It also happened to be a cover recipe (see pic above), which definitely helped.
For one, it is a free-form tart (or gallette), which means it is a lot easier to put together (especially if you are intimidated by homemade pies)–and it bakes extremely quickly.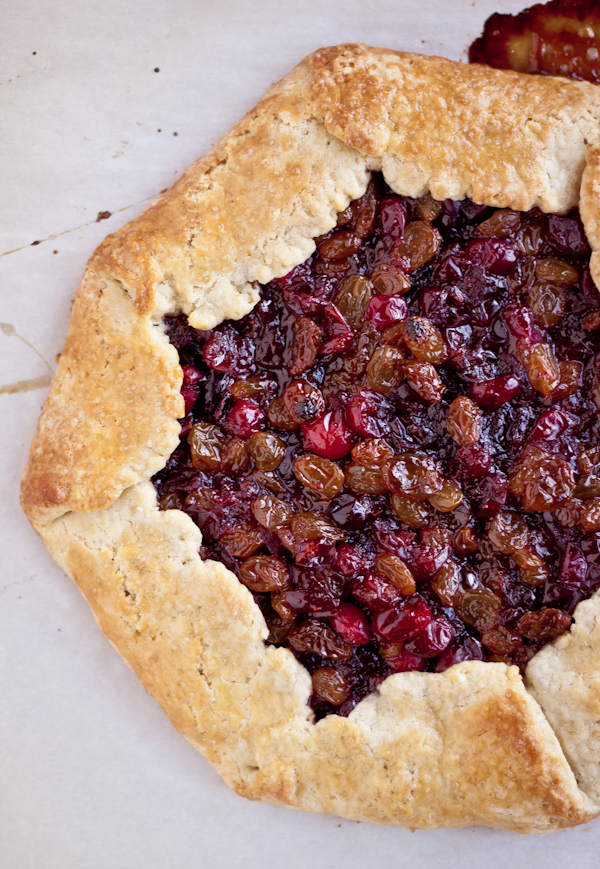 As in, you can have this out of the oven in about 20 minutes. The filling–a simple combination of fresh cranberries, raisins, fresh orange juice and zest, brown sugar, and a small amount of cornstarch–as well as the dough, can be made up to a day or two in advance up.
That frees up a lot of valuable oven time, especially on a day like Thanksgiving, when oven space is in high demand.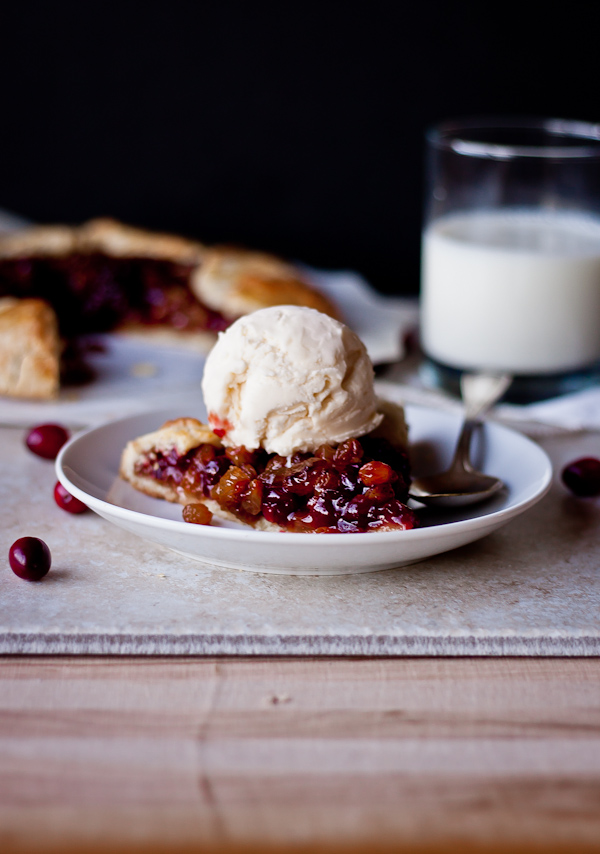 The end result is deliciously tart, yet still sweet from the addition of raisins (see substitution idea above) and brown sugar, and goes perfectly with a big scoop of vanilla ice cream.
Plus, it makes a festive, new, and slightly different, addition to the Thanksgiving dessert table! Enjoy.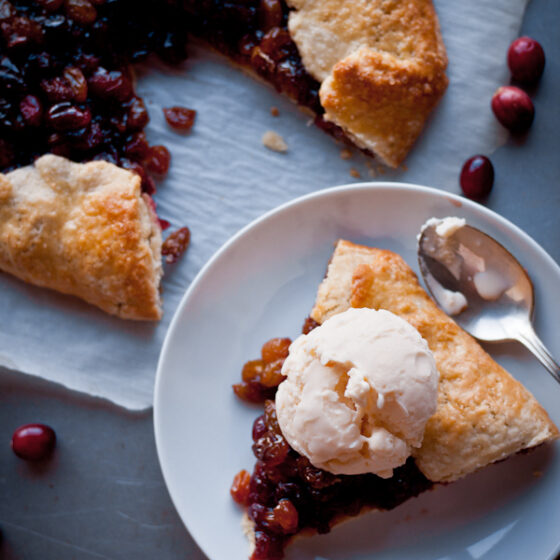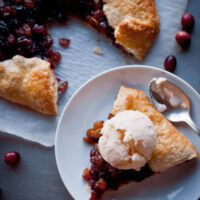 Cranberry Raisin Tart
Yield: One 10-Inch Tart
Easy homemade tart dough is free-formed into a beautiful, easy cranberry raisin tart! A great Thanksgiving dessert for the holiday season.
Prep Time: 1 hour 30 minutes
Cook Time: 25 minutes
Additional Time: 5 minutes
Total Time: 2 hours
Ingredients
Cranberry Raisin Filling:
1/2 cup firmly packed brown sugar
1 tablespoon cornstarch
1 teaspoon freshly grated orange zest
1/4 cup fresh orange juice (from ~2 oranges)
2 cups fresh cranberries, picked over
1 cup golden raisins (soaked in hot water for 5 minutes and drained thoroughly)
1/4 teaspoon salt
Dough:
1 1/4 cups all-purpose flour
3 tablespoons granulated sugar
1/4 teaspoon baking powder
1/8 teaspoon salt
6 tablespoons unsalted very cold butter, cut into small pieces
1 large egg
1 tablespoon cold water
Egg Wash:
1 egg + 1 tablespoon water
turbinado sugar (for shine)
Instructions
Prepare Filling: Combine all of the filling ingredients in a small saucepan and stir together. Bring mixture to a low boil over medium-high heat and simmer for 4-5 minutes, or until the cranberries begin to burst and mixture begins to thicken slightly.
Remove from heat, transfer to heatproof bowl, cover, and allow to cool completely in the fridge (you make the filling up to a day or two in advance to save time).
Make Dough:  Combine flour, sugar, baking powder, and salt into bowl of a large food processor. Add the butter. Place entire bowl in the freezer for about 5 minutes to thoroughly chill. Meanwhile, whisk together the (cold) egg and water in a small bowl.
Remove the bowl from the freezer and pulse several times, or until the butter is in very small pieces and the mixture resembles coarse meal.
While pulsing, slowly add the egg and water mixture and continue to pulse until the dough just comes together (be careful not to overwork the dough).
Press the dough together and flatten into a small disc, cover tightly with plastic wrap, and allow to rest in the fridge for at least an hour.
Prepare Tart: Preheat the oven to 425 degrees Fahrenheit–and line a large baking sheet with parchment paper. Set aside.
Remove the dough from the fridge, place on a lightly floured counter top, and roll into a 12-inch circle (don't worry if its not exactly round or edges are slightly jagged)–moving the dough as you go to ensure that it doesn't stick to the counter top.
Place the rolled out dough on the lined baking sheet and chill in the fridge or freezer for another 5-10 minutes. Spoon the filling into the center of the dough–leaving a 2 1/2 – 3 inch border on the sides. Fold the edges of the dough over, pleating them slightly, but leaving the center of the tart exposed.
Lightly brush the exposed dough with the egg wash and sprinkle lightly with turbinado sugar.
Bake for 20-25 minutes, or until the pastry is golden brown. Allow the tart to cool (on the baking sheet) completely on a cooling rack.  Serve room temperature (or slightly warm) with vanilla ice cream!
Notes
Recipe barely modified from November 1993 issue of Gourmet magazine.
Nutrition Information:
Yield: 8
Serving Size: 1
Amount Per Serving:
Calories: 244
Total Fat: 3g
Saturated Fat: 1g
Trans Fat: 0g
Unsaturated Fat: 1g
Cholesterol: 50mg
Sodium: 149mg
Carbohydrates: 52g
Fiber: 2g
Sugar: 30g
Protein: 4g
A Beautiful Plate provides nutritional information, but these figures should be considered estimates, as they are not calculated by a registered dietician.