Peaceful Positano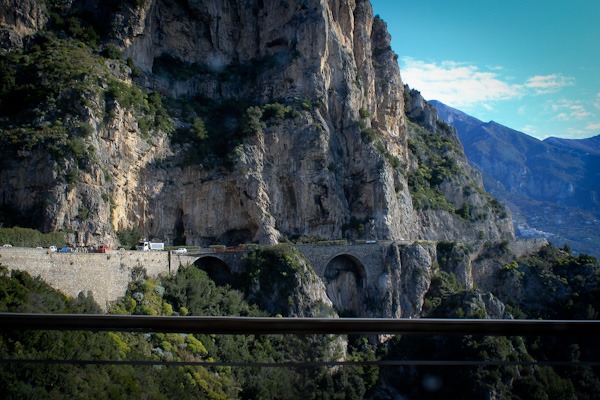 After spending four nights in Sorrento, we woke up early on Wednesday morning to head to our next destination…Positano.
We checked out of our hotel, grabbed the car, and headed onto the road.  Of course, it involved getting lost once again (despite the fact that there is only one highway), but eventually we figured it out and were heading along the coast.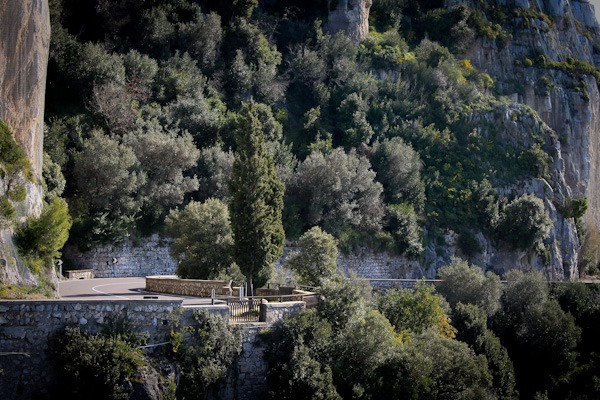 The roads were steep and windy, but it was a clear day and we encountered no traffic (and better yet, no big tour buses), which was definitely in our favor.
About 45 minutes later, we were in sight of Positano and catching the first glimpses of our adorable boutique hotel, Villa Franca.  The hotel was positioned at the very tip top of town—giving it some of the town's best views.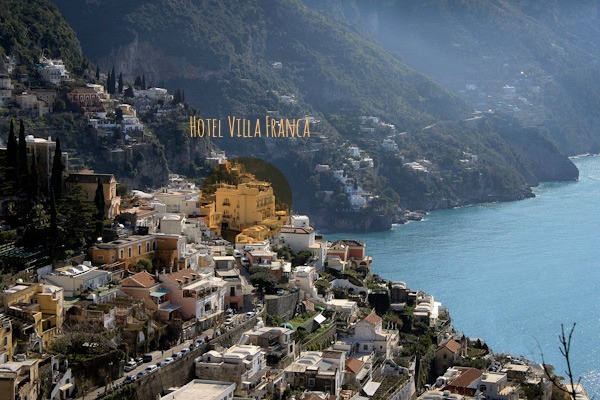 From the Amalfi Coast highway, there is only one one-way road that goes through town, which is actually a very good thing, because it is very narrow and windy. 
Parking is pretty scarce, but luckily our hotel offered (paid) parking in a lot a few hundred feet away, where we left the car for the remainder of our days there (except to drive to our dinner spot, which was a few miles down the coast).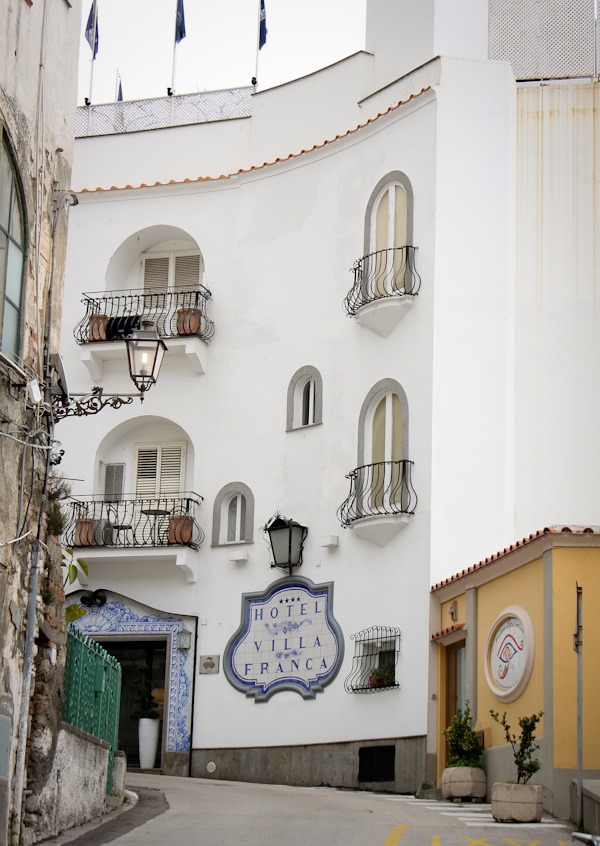 As I mentioned in my first post, the trip was actually bought through a Groupon Deal and included our flight, car rental, hotel accommodations.  I didn't mention this in my previous posts, but our original hotel in Sorrento ended up being over-booked, which resulted in them arranging us to stay at another hotel.  It was perfectly adequate and nice (after all, we barely spent any time in it), but not very memorable.  It ended up working out very well, because the new hotel was actually closer into town—but it got me a bit worried that we would face another similar issue in Positano. 
Before leaving for the trip, I was really excited about our hotel in Positano, since it appeared to be much more boutique-y, unique, and a bit more special.  Luckily, we faced no issues with our booking at Hotel Villa Franca. And it completely exceeded our expectations!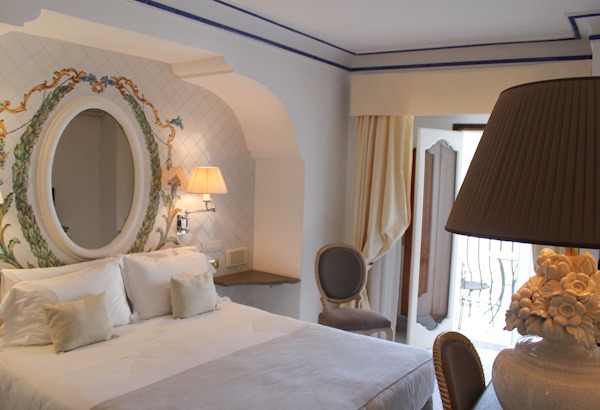 Our booking included two nights in a standard room, which are all described as having a partial view, whatever that is.    
Well…our partial view ended up being this… 
Yeah, I'll take it!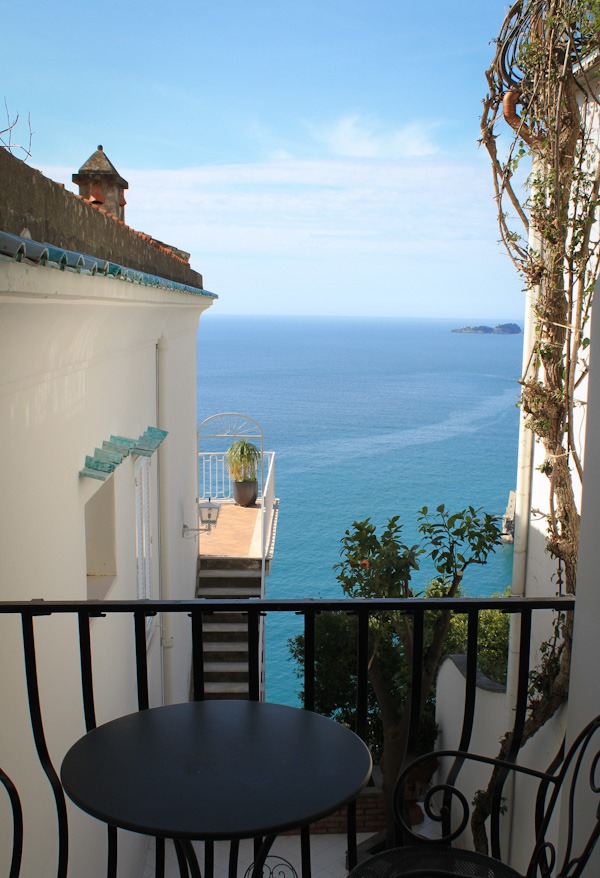 Once we settled in, ooh-ed and aah-ed over the view, bathrobes, and free slippers, we went to check out the lobby and rest of the hotel.
Complete with this gorgeous restaurant dining room. 
Unfortunately, it wasn't opening for a few more weeks, but Connor and I ended up sitting at one of the tables to read a bit that afternoon.   All of the windows (and ceiling) open up in the summer months!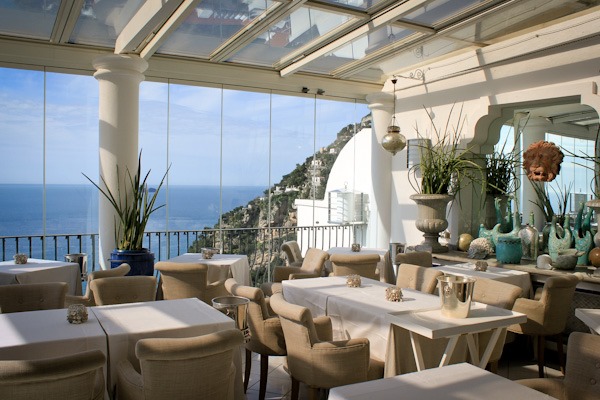 Right away, we decided to leave and explore the town.  Positano is amazing and so unique in the sense that everything is built along the cliffs on either side of a small coast inlet.  Besides one long winding road, the only way to explore the town is on a variety of narrow stairwells located all over town.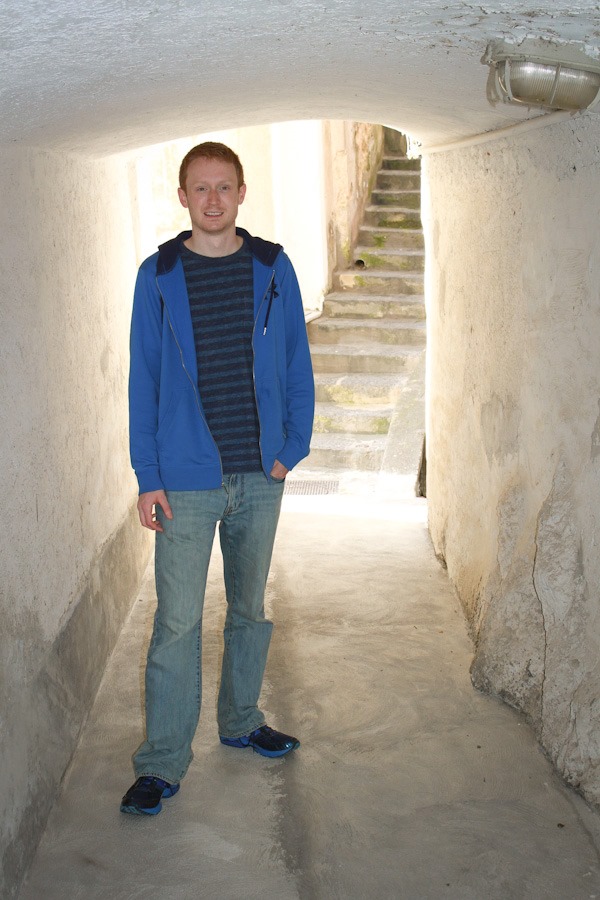 They twist and turn revealing snippets of amazing views along the way. 
Just when you think you've reached the bottom (or top—in the case of returning to our hotel), more stairs emerge.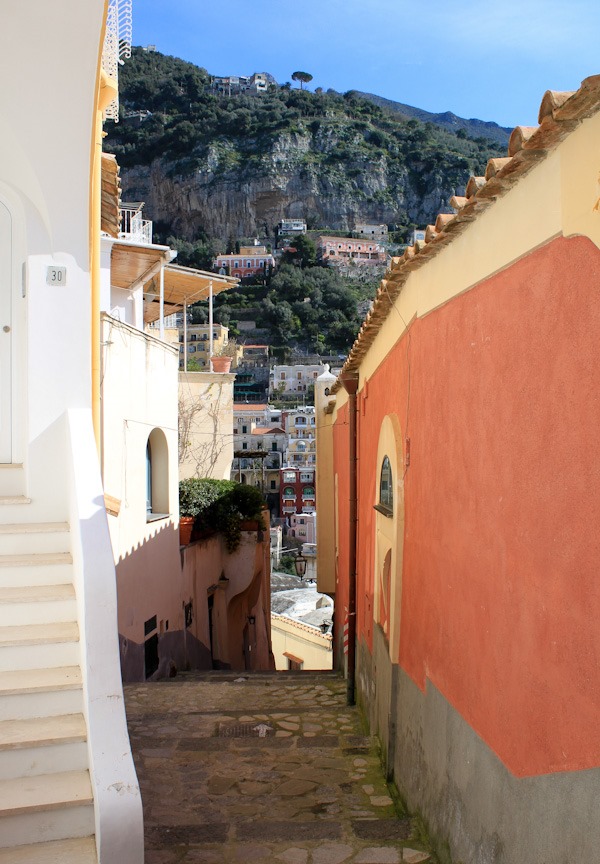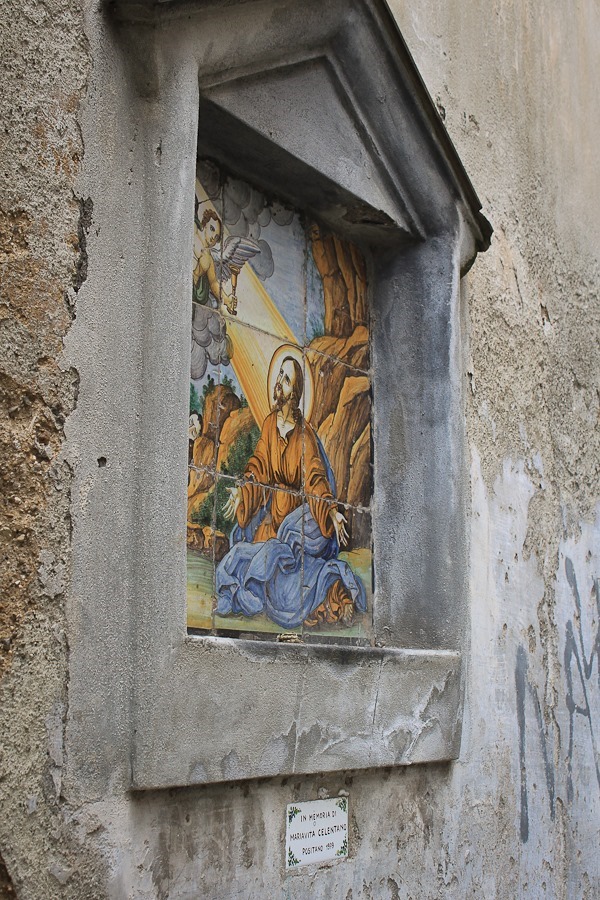 I don't think I've climbed so many stairs in my entire life…
As our hotel concierge told us when she showed us the hotel gym, "We don't really use the gym here…"  Understandably! 
Eventually, we saw the church Santa-Maria Assunta in full-view and knew we weren't far away…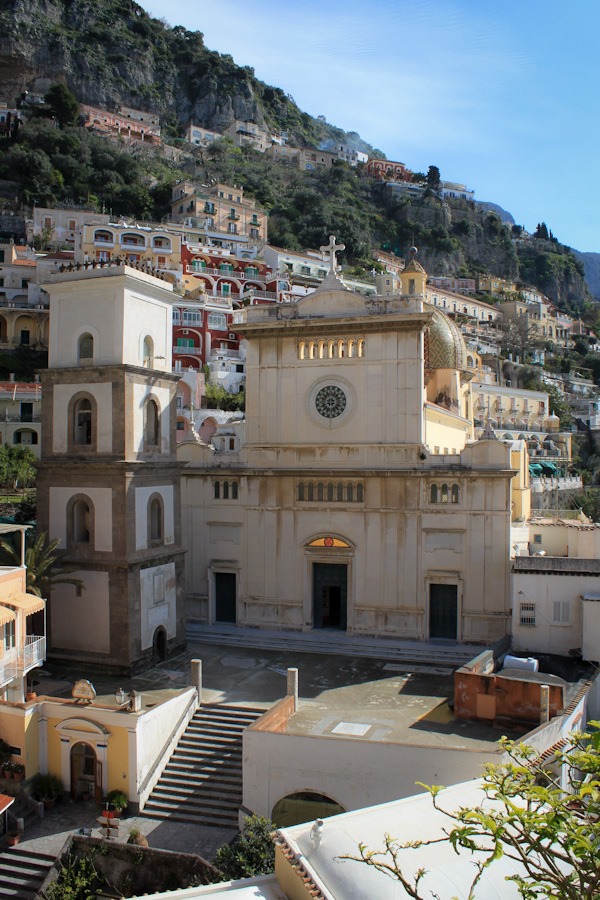 We then passed a local cat hang-out, conveniently located next door to a fish shop.  Can you spot all six of them?  I'm not even sure if that was all of them!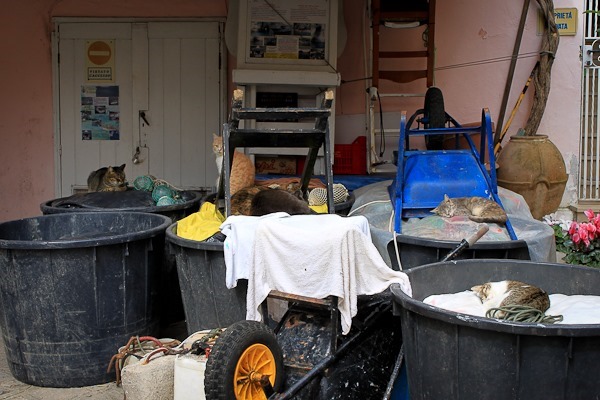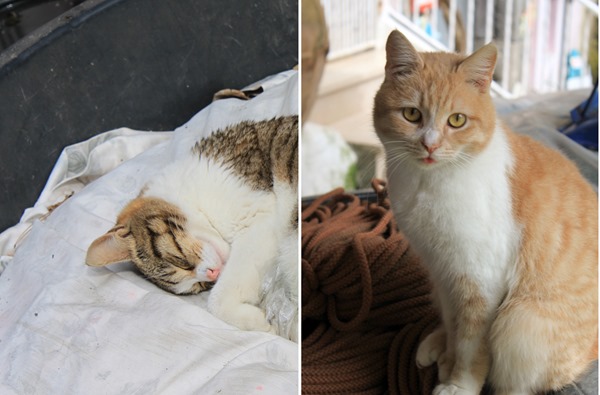 A few flights of stairs later, we reached the main promenade and beach.
In the summer months, beach chairs fill this space up, but for us, it was quiet and peaceful.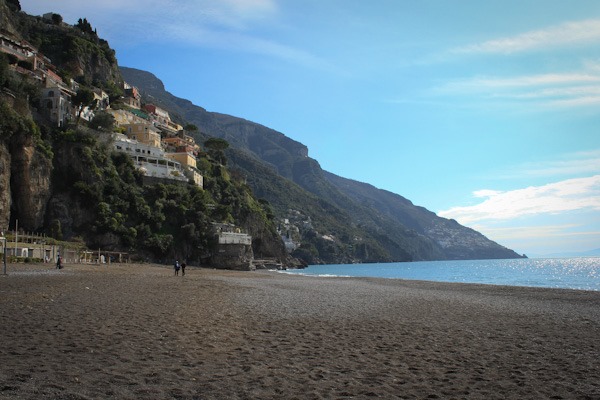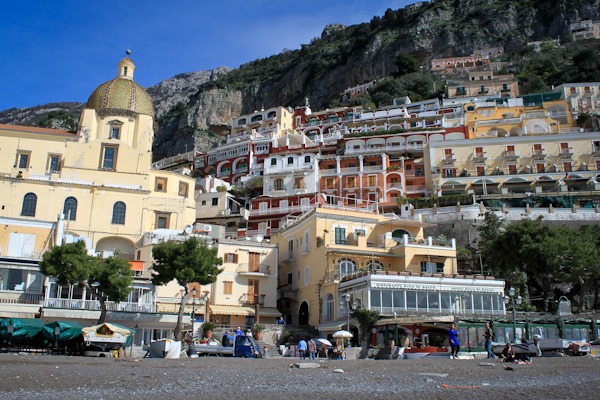 You see that white building at the very tippy-top of the cliff in the photo below?  That is our hotel.  Now you probably have a better idea of the number of the stairs that I'm talking about…
One of the most beautiful things about Positano is the sheer number of colors—almost every building and house is a different shade of yellow, pink, red, and orange.  After digging around a bit in our guide books, we learned that the various colors might have been a way for fishermen to recognize their homes while out on sea.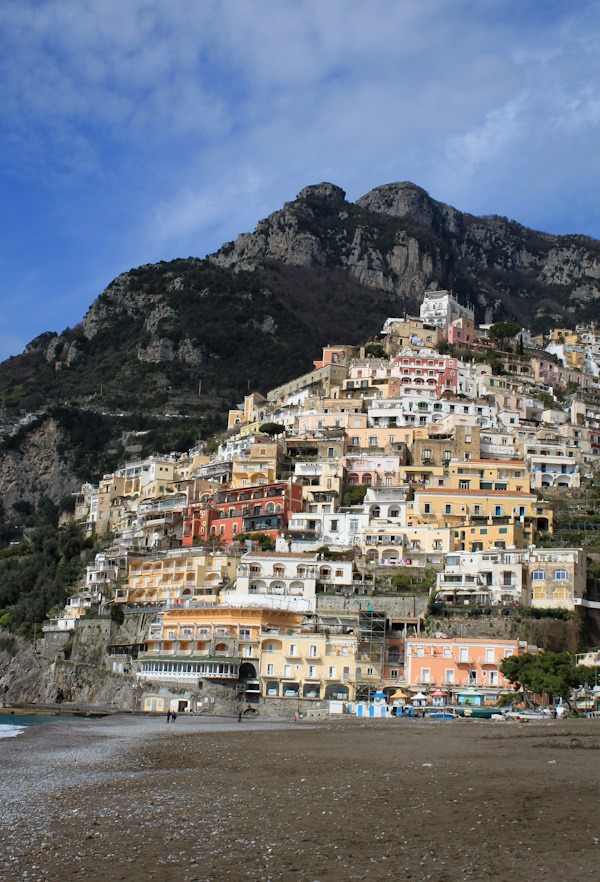 Positano is considered to be one of the most beautiful towns on the Amalfi Coast—and in the world—and I have to agree, nothing is quite like it.
Staring up at the cliff-hugging buildings, it's hard to imagine how they even built the town.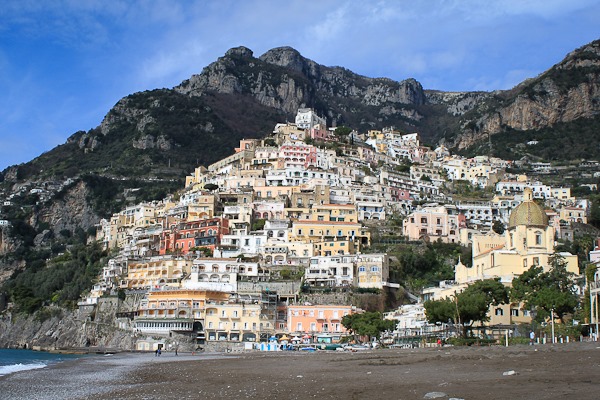 It's diffcult to believe, but Positano (originally a poor fishing village) really only became well-known among travelers in the 1950s, partially due to a famous essay, by John Steinbeck, in the May 1953 issue of Harper's Bizarre, in which he shared this now-famous quote to describe the town:
"Positano bites deep.  It is a dream place that isn't quite real when you are there and becomes beckoningly real after you have gone."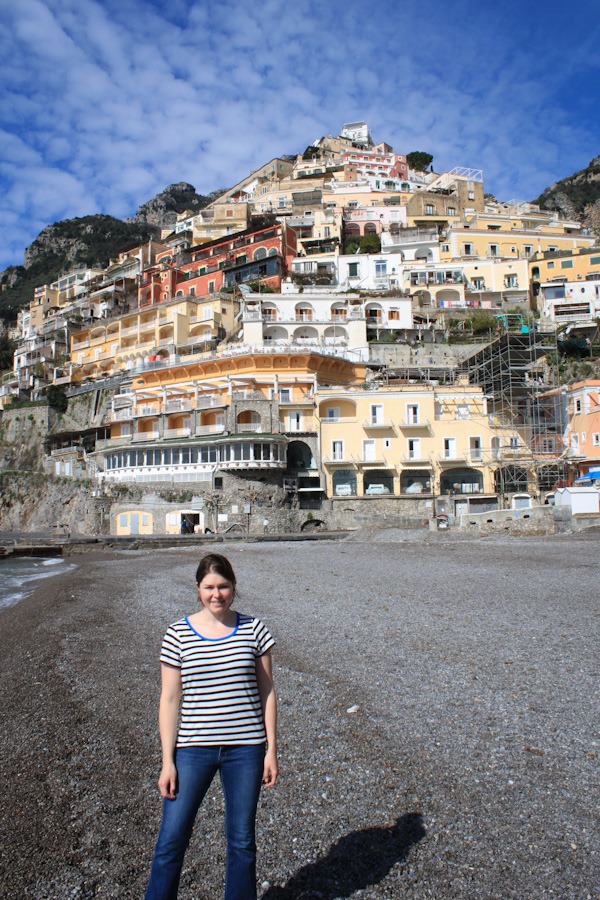 That quote definitely holds true.
We ended up walking along the beach (dipping our hands into the water—which wasn't nearly as cold as I expected it to be) and going out on some rocks on the other side to lounge for a bit.
Can you guess what's next??
Yep, that's right…cappuccino time!  Typical.  Instead of sticking along the beach and paying way too much for one at a restaurant, we decided to keep walking and find a casual spot (with some views, hopefully).  For some reason, this was a pretty difficult task and it took us a while to actually find an (open) cafe to sit down.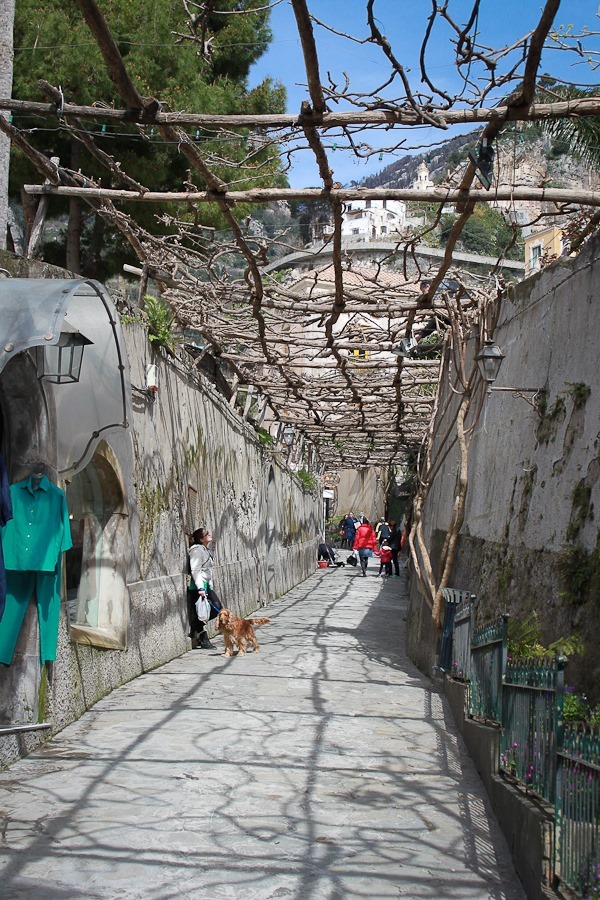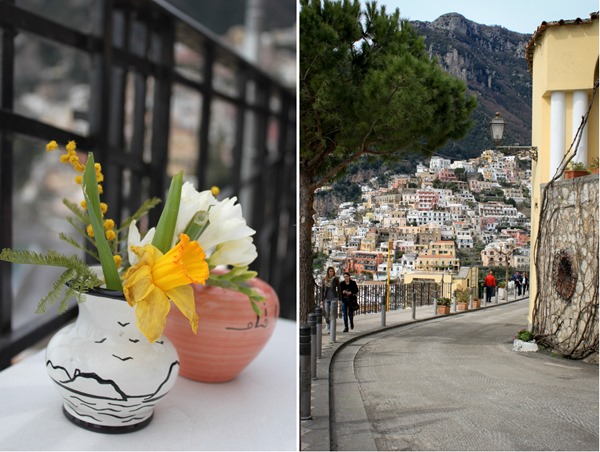 Eventually after heading up on the other side of the town, we finally found a perfect spot.  Excellent cappuccino real-estate!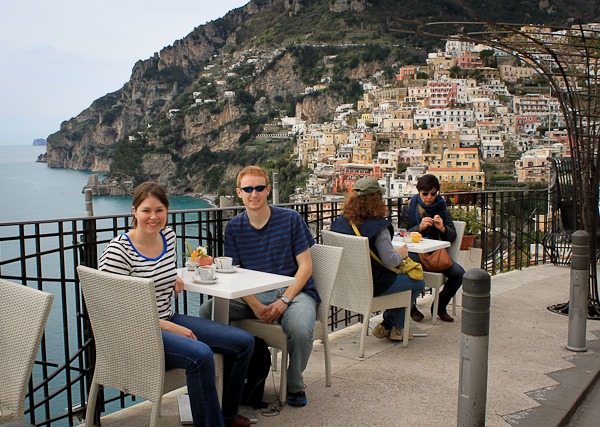 Followed by more walking, before heading back up to the hotel to get a recommendation for a lunch spot nearby.
Can you tell how excited Connor was to walk back up all the stairs to the hotel?  And this picture was taken only about 10 feet up from the very bottom…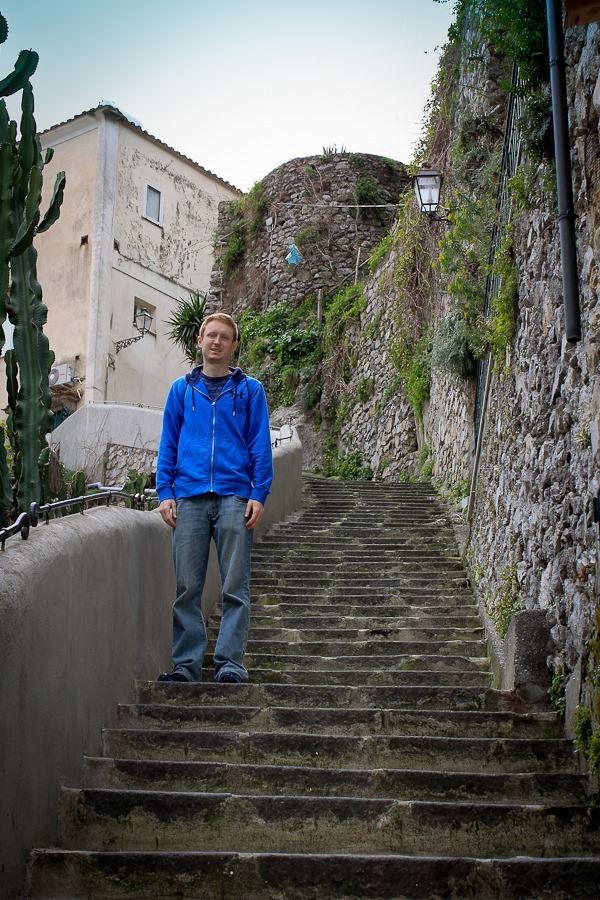 Once we finally got to the top, our hamstrings were burning and we were starving!  The hotel recommended walking a few hundred meters down the road, where there were a few casual lunch spots to choose from.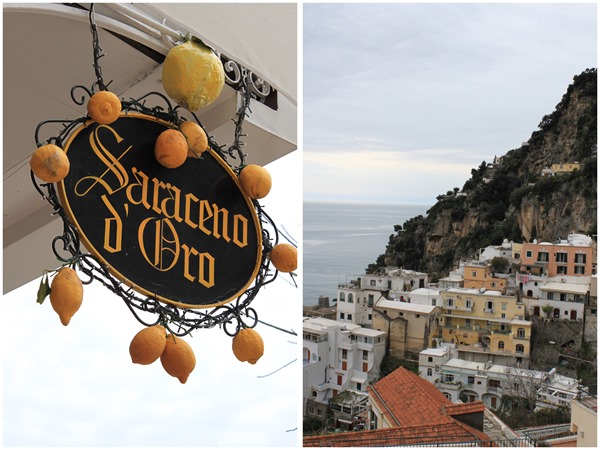 We decided to share a pizza—surprise, surprise!–and a bunch of vegetable antipasti, including grilled pumpkin (with fresh mint, olive, and vinegar)…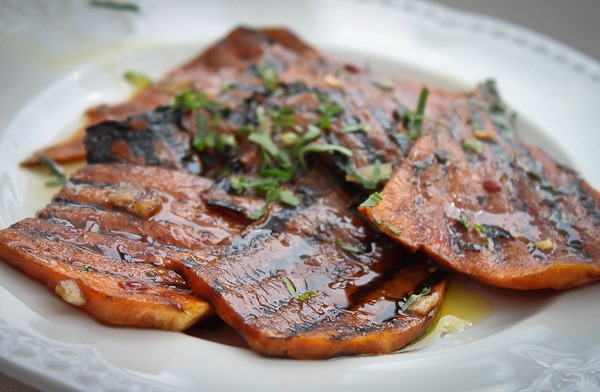 And simple grilled eggplant (my favorite!) with olive oil and garlic, as well as some fried zucchini. Unlike the fried zucchini I've had in the past, this version was actually fried completely plain—no flour.  It was all delicious!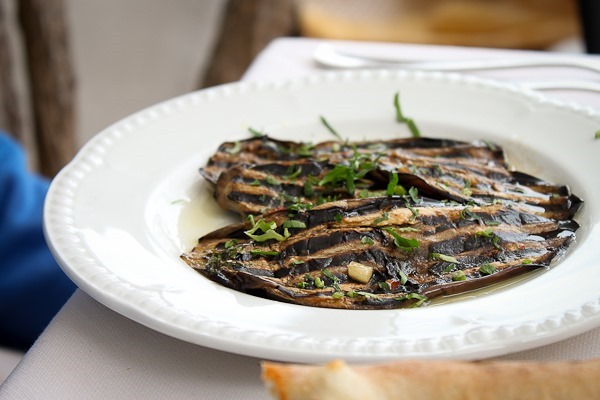 The rest of the afternoon was spent checking out the area around our hotel, reading our books and lounging a bit at our hotel, and enjoying an afternoon cappuccino, while writing postcards to friends and family, at the local hang-out, Bar Internazionale.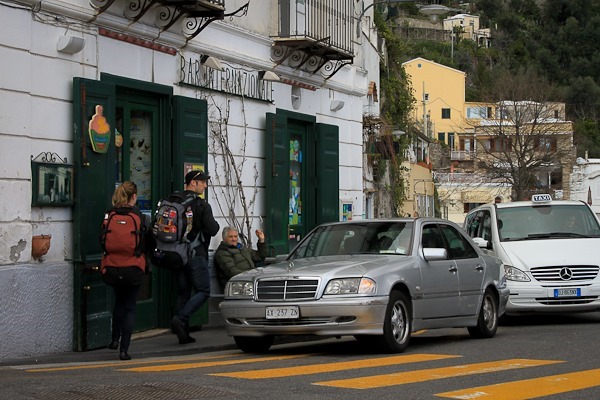 We finally found the cheapest cappuccinos of the trip—1.50 euros—and took advantage of this discovery for the rest of our time in Positano.
Reading this back, it really does sound like all we did was eat and drink cappuccinos, but I promise everything took place over a nine hour period!  Not that the alternative sounds bad to me…
More to come! 
This post contains affiliate links, which means that I make a small commission off items you purchase at no additional cost to you. Please read my
privacy policy
for more information.