Our Last Day on the Amalfi Coast
Before I start telling you about everything we did on our last day (tear) on the Amalfi Coast, I absolutely must tell you about our first dinner in Positano!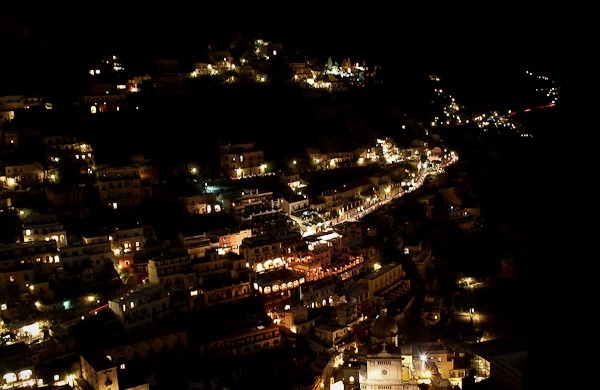 After getting a bunch of recommendations (—> thank you, Carly!), we decided to go to La Taverna del Leone.  The restaurant is located off the beaten path, a few miles outside of town, which required using the car–however, it was totally worth the trouble.  We'd had good food up to this point along the coast—but this place definitely blew every other place away.  Everything we had there was very good, but the pastas and gnocchi were incredible.
For our first course, I ordered a white-truffle and proscuitto carbonara topped with crushed pistachios.  And Connor ordered the artichoke gnocchi…

Mouth-watering, creamy, and totally lick-the-bowl-worthy.  These (unfortunate) iPhone pictures do them absolutely no justice!  That is how good they were.  The carbonara was so memorable that we both ended up ordering it again the following night.  I am absolutely committed to recreating this at home as soon as possible.
The gnocchi was incredibly fluffy and light and accompanied with generous amounts of purple artichoke pieces.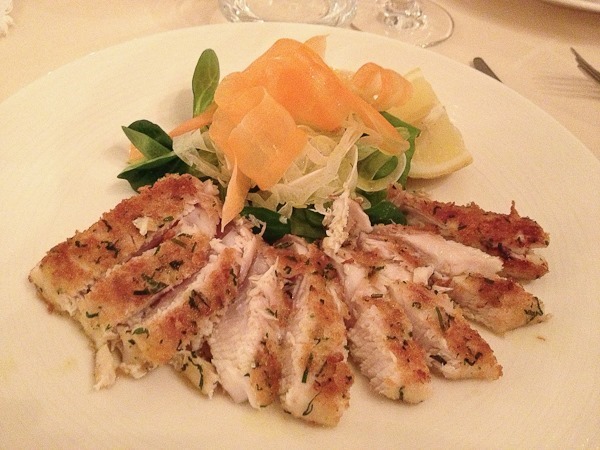 Followed by a lightly breaded local fish accompanied by a simple carrot and fennel salad for me, and grilled calamari with a potato puree for him.  Tentacles for the win!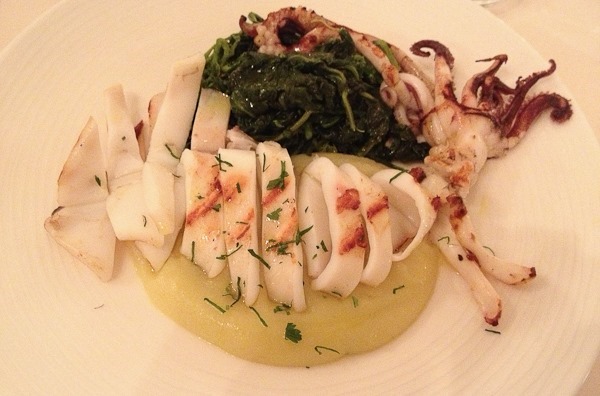 And an amazing buffalo-milk ricotta cheese cake shared between the two of us for dessert…
Normally, cheesecakes are not high up on my most-loved dessert list, but this demonstrated how good a cheesecake can actually be.  Silky smooth and light!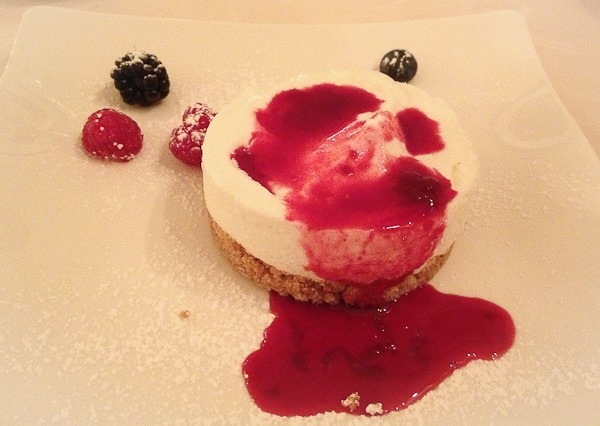 Ok…now that I've totally made myself hungry (and nostalgic) looking back at those photos, a little recap of what we did on our last day on the Amalfi Coast!
After getting a great night's sleep (dreaming of spaghetti carbonara), we woke up the next morning ready to take full advantage of our last day in Positano.  Complete with a lovely (included) breakfast at our hotel…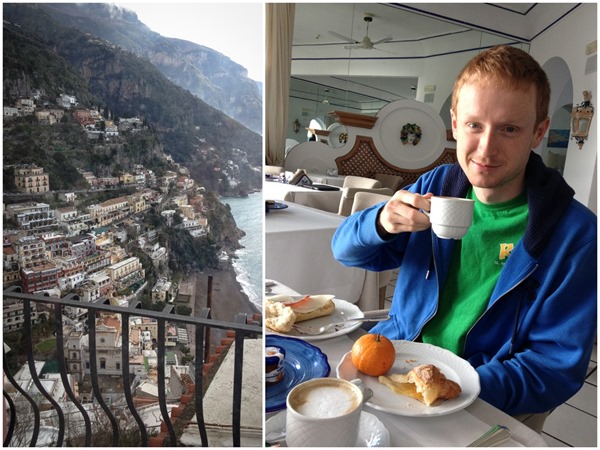 Can't get much better breakfast views than that!  There was a large variety of breakfast options, including yogurt, salami, cheese, breads, and lots of pastries, including a delicious chocolate cake (don't mind if I do), fresh clementines, and croissants.
And cappuccinos—> unfortunately, we assumed these would be an extra cost and refrained from ordering more—only to find out later that they were included and we could have ordered as many as we wanted.  Cappuccino fail.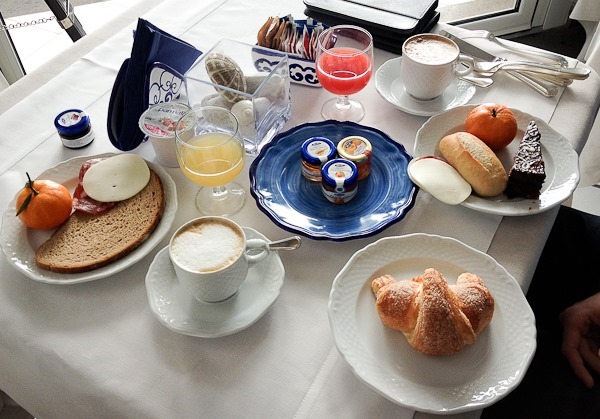 After filling up on breakfast, we headed out.  We decided to spend the first part of the day hiking on some paths above Positano.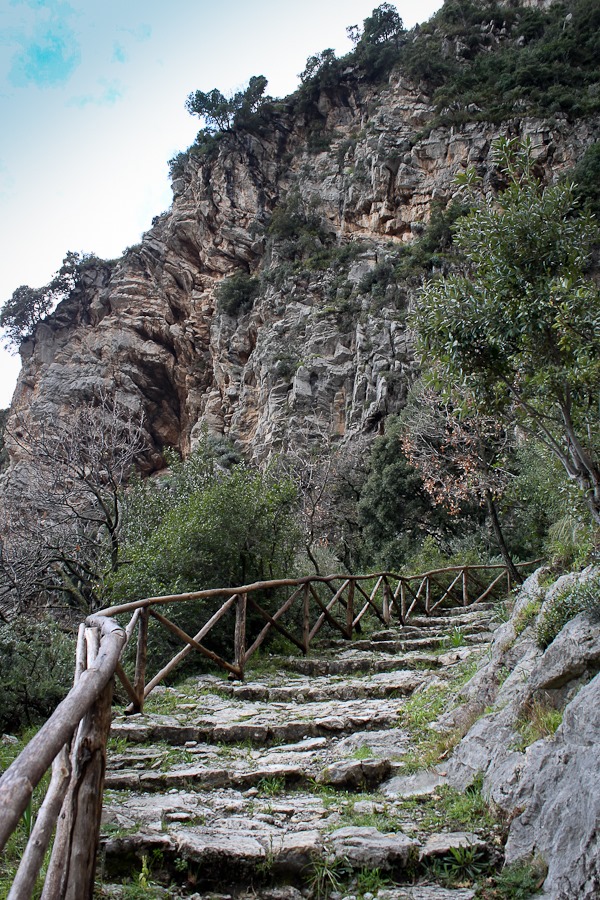 We both found this map sort of funny—just a bunch of squiggly lines that in no way corresponded to the trial ahead.
We ended up having to stop before the very top, due to signs ahead indicating rock slides—but we think we got pretty close.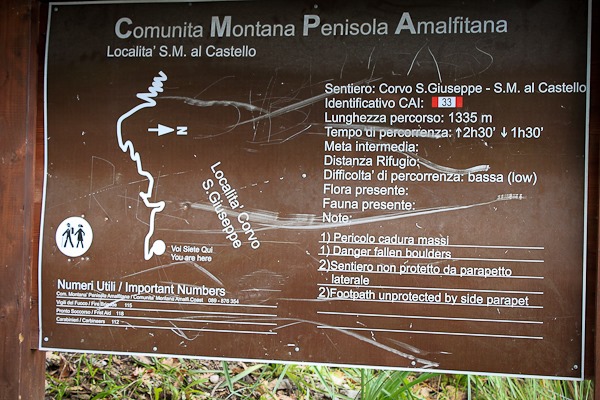 The views just got better…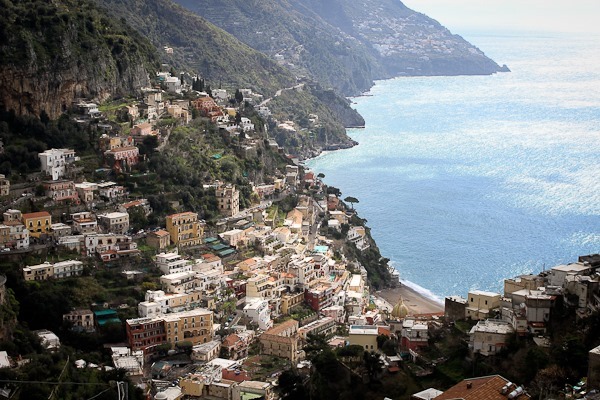 better…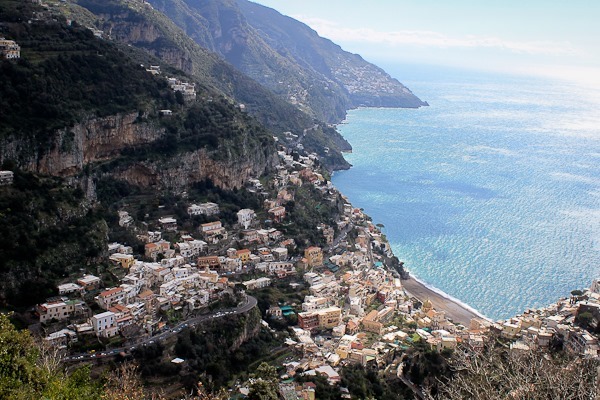 and better!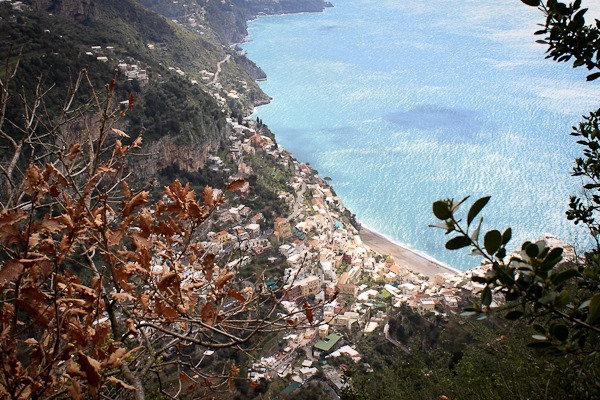 After hiking for more than an hour or so, we decided to head back down to town.  Along the way, we met an adorable little puppy, who appeared out of nowhere!
We didn't see anyone else during the entire hike (even though he had a collar), so I have a feeling this guy was either a wanderer or lost—he seemed pretty thrilled with life though.  So we adopted him for the remainder of the walk and encouraged him to follow us back to town, assuming his home was that direction.   I think he thought he was a mountain goat or something, because he continuously bounded right off of the path.  It was horrifying!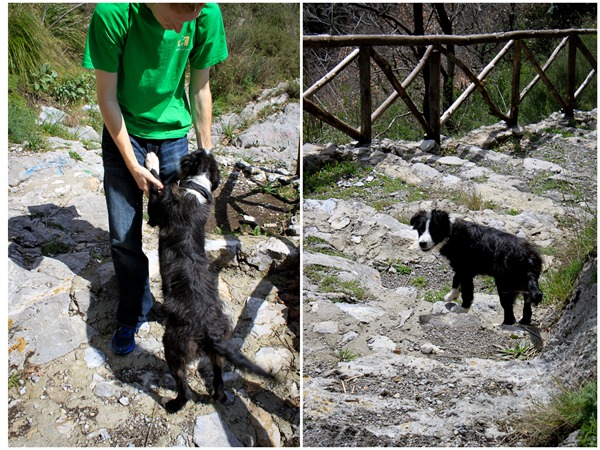 Once we got back to town (and the dog ditched us), we decided to forgo finding a restaurant or café for lunch and instead, grab food from some small grocery stores in town and go enjoy it on our hotel balcony.
Look at everything we got?  Cherry tomatoes, bread, fresh mozzarella, pesto, strawberries, salami, and bresaola (air-dried and salted beef).  All of this was only twelve dollars, I couldn't believe it.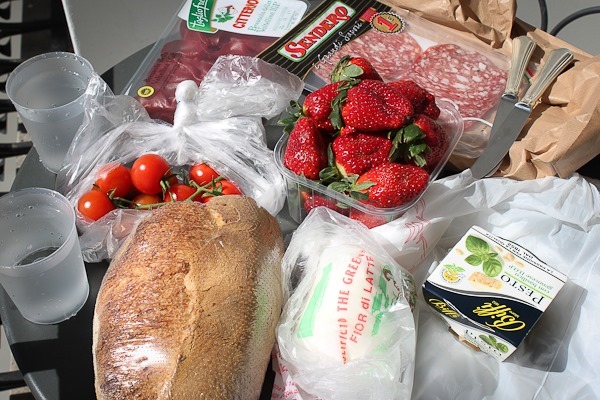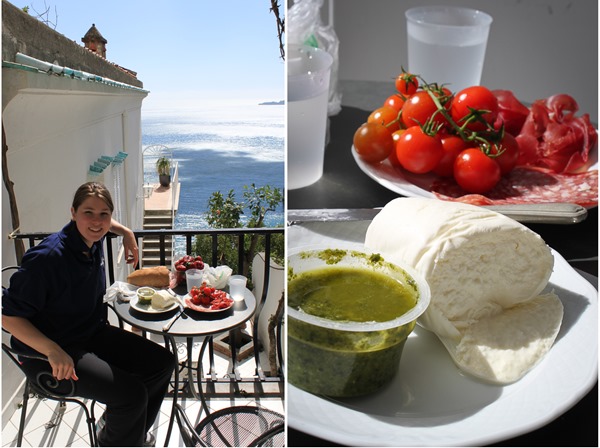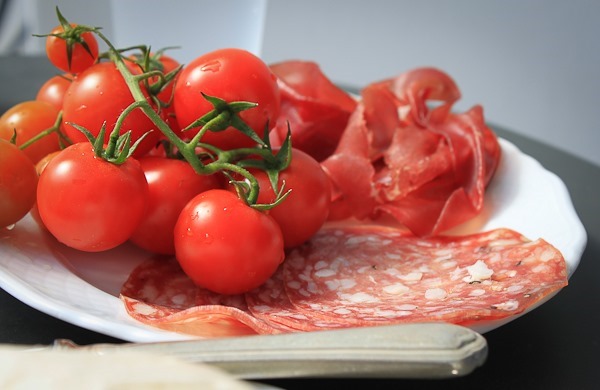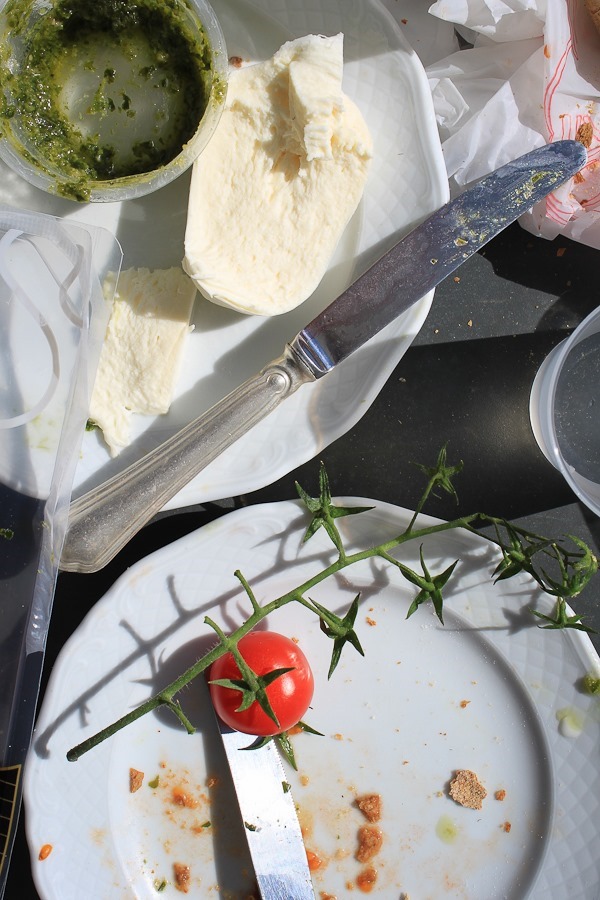 Yum!  It ended up being a really good decision.
We then decided to brave the stairs once (well, really twice) more and head back down to the beach one last time.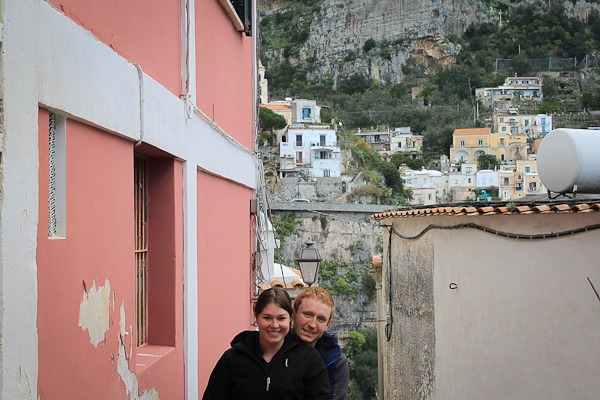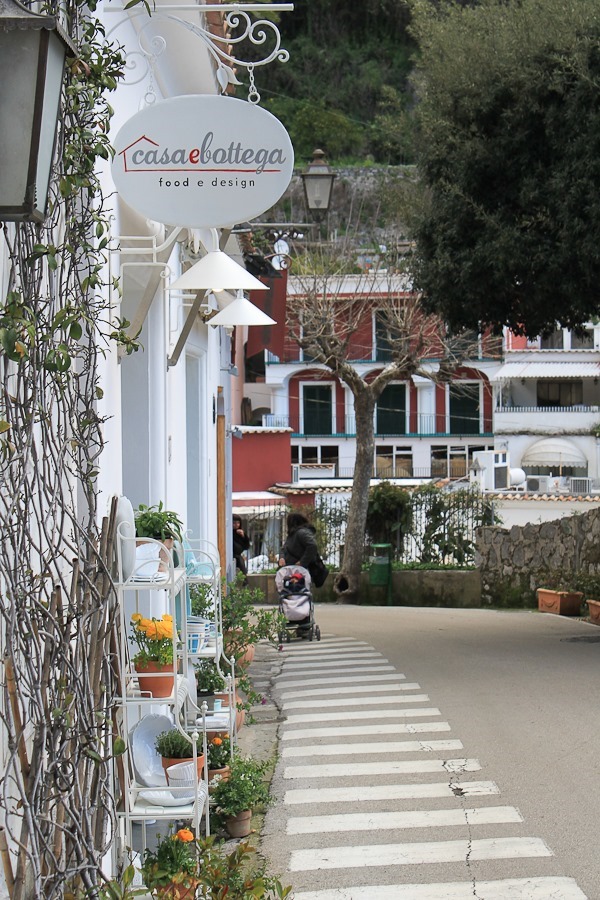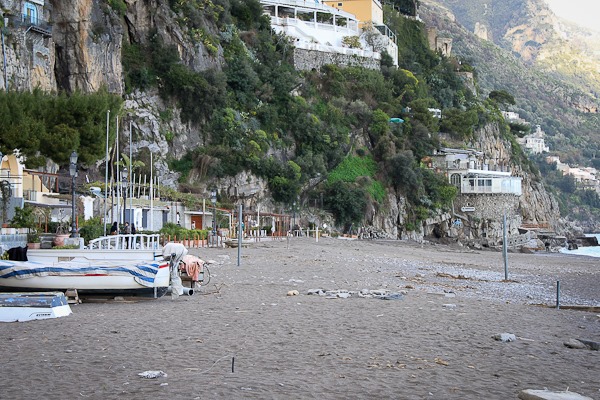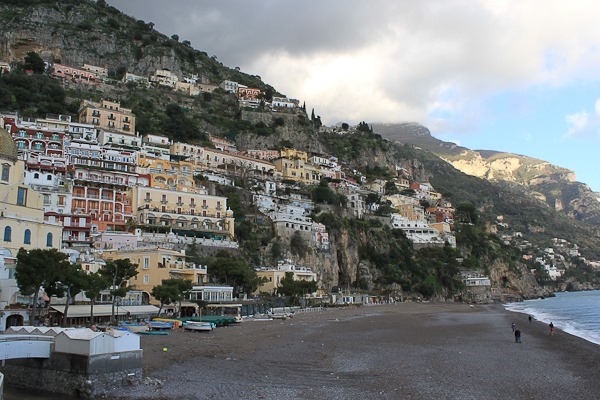 The next morning, we reluctantly packed up our suitcases, got into the car, and braved the Italian roadways one last time to head back to Naples…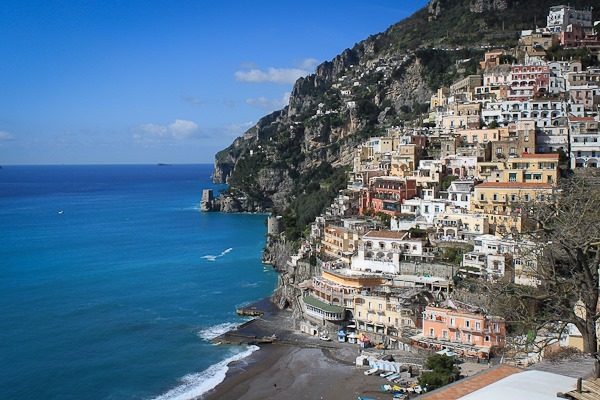 This post contains affiliate links, which means that I make a small commission off items you purchase at no additional cost to you. Please read my
privacy policy
for more information.