Pineapple Basil Rum Fizz
Fresh pineapple puree is combined with lime juice, fresh basil leaves, rum, and club soda to create a fizzy refreshing tropical cocktail.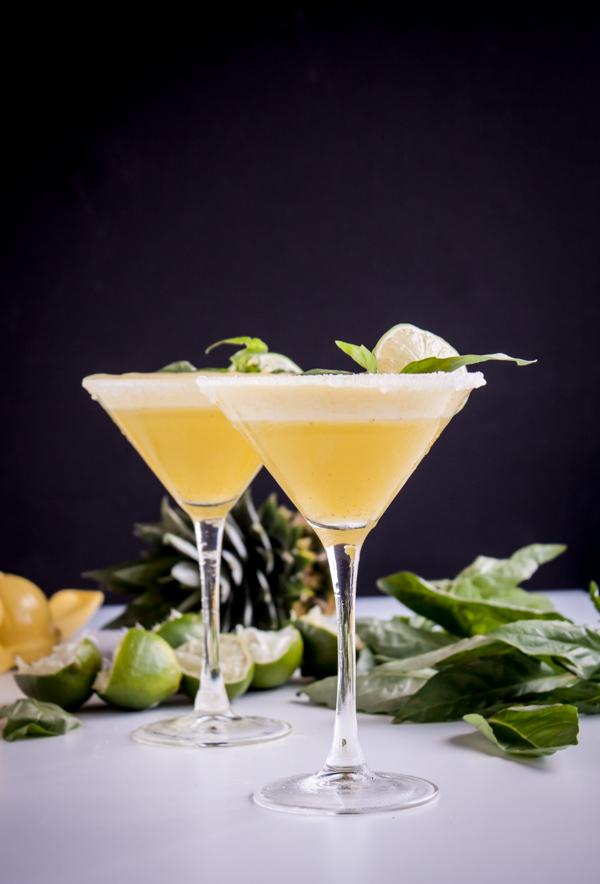 It's Wednesday!
Let's drink booze together…because Friday is only two days away! Because I picked my wedding dress on Tuesday night! Because our engagement photos were cancelled for the fifth time (wahh)! Because…well, just because.
We deserve it.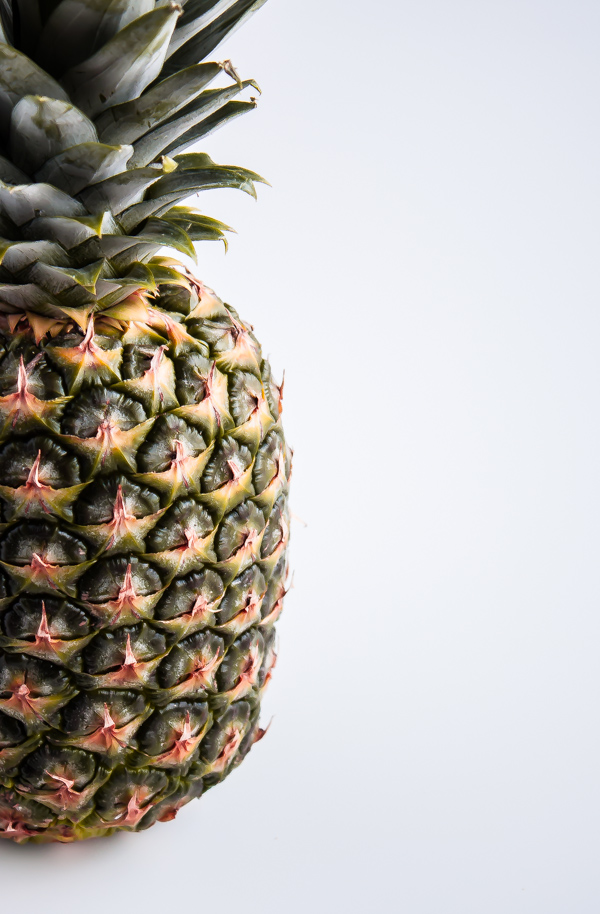 If you're looking for a new summer cocktail recipe, this pineapple-basil rum fizz is it. It's refreshing, it's a little funky, and it's fun!
Pineapple and I have become really good friends this year–mainly because of this roasted pineapple dish. It stole my heart, and I've been meaning to create another pineapple recipe ever since.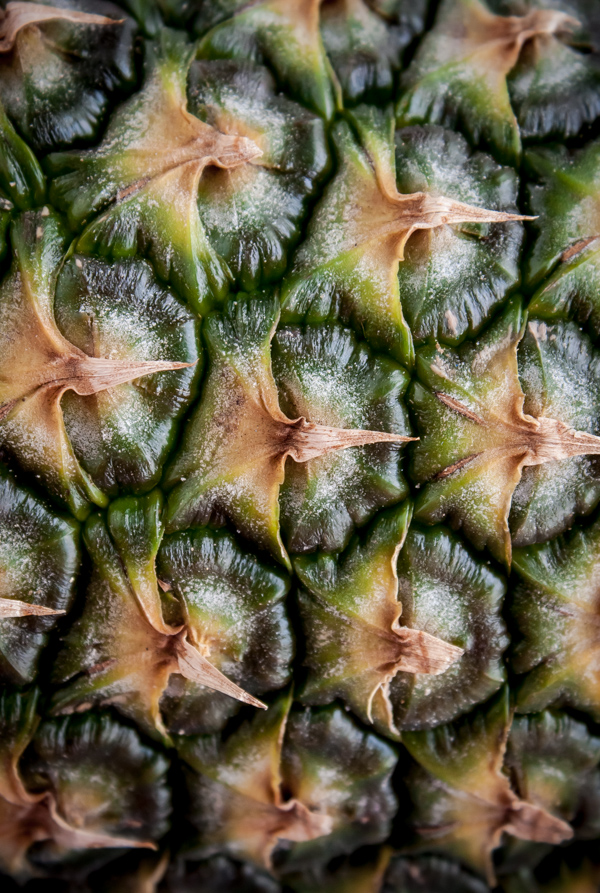 I think when most people think of pineapple, they immediately think of cocktails. The two just go hand in hand.
Sadly, most cocktails are made with canned pineapple juice. It is definitely an adequate option, and perfectly acceptable–but I decided to forgo that route and make fresh pineapple juice instead.
And by that, I simply mean that I took a whole pineapple, cut it into chunks, and pureed the heck out of it in my blender.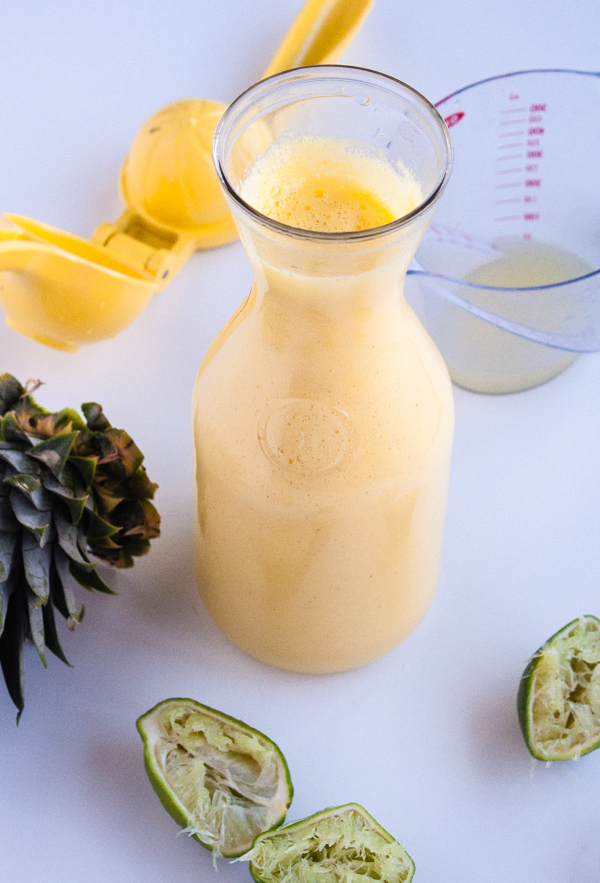 Technically, it is more of a fruit puree, but since pineapples have a high water content, the puree resembles the texture of a slightly thicker orange juice. Totally drinkable on it's own–and trust me, you will want to drink it on its own.
I had to literally stop myself from chugging the entire bottle in one sitting.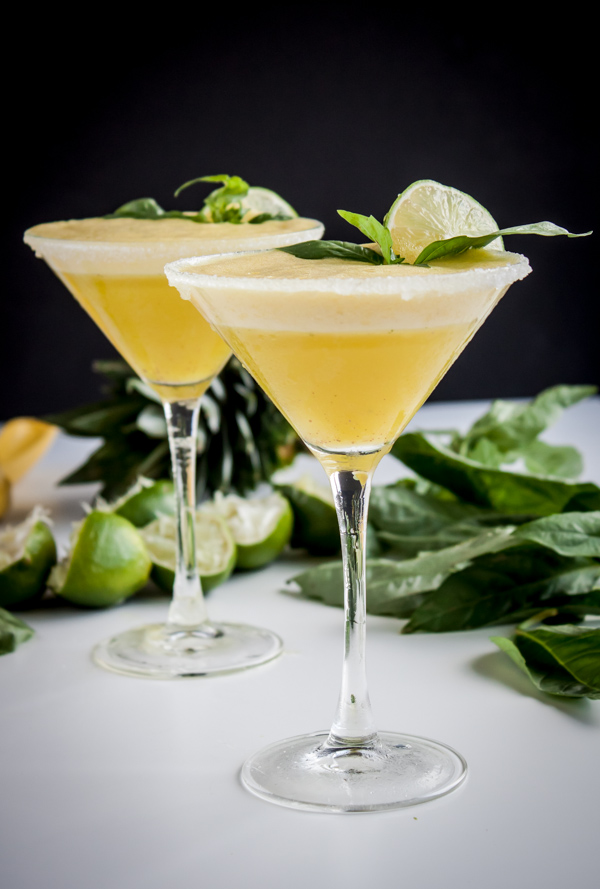 Combine this with a fresh lime juice and basil leaves (pureed together until very smooth) and rum, and you have one very special drink. A splash of club soda adds just enough pizazz.
The basil is not at all overpowering (don't worry–this drink does not taste like pesto), and really takes this drink to the next level. I'm a huge fan of basil in sweet applications. Since it is related to mint, it lends as similarly sweet minty freshness to whatever it is paired with and I can't get enough of it.
Drink up!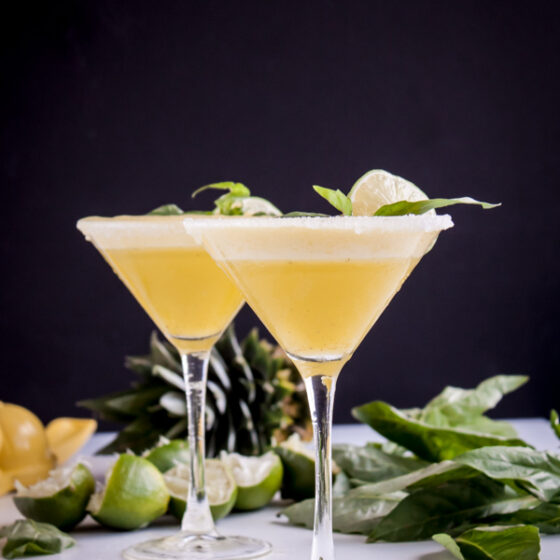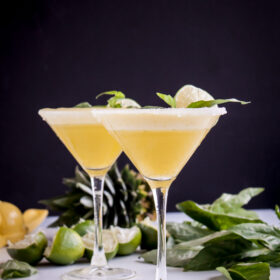 Pineapple Basil Rum Fizz
Fresh pineapple puree is combined with lime juice, fresh basil leaves, rum, and club soda to create a fizzy refreshing tropical cocktail.
Ingredients
1 large pineapple
¼ cup (60 mL) fresh lime juice roughly 3 juicy limes
5-6 large basil leaves
6 ounces light rum
club soda as needed
granulated sugar as needed
Instructions
Peel and core the pineapple.  Cut into chunks.  Place the pineapple into a high-powered blender, such as a Vitamix, and puree for 1 to 2 minutes until completely smooth. Use a tamper if necessary. This should yield roughly 4 cups (1 quart) of fresh pineapple juice. The texture should be similar to a thick pulpy orange juice. Transfer the pineapple juice to a large container or pitcher, and allow it to chill in the fridge.

Place the lime juice and basil leaves in a clean blender container. Blend until the basil has been incorporated fully and no pieces remain. Combine 3½ cups (840 mL) of pineapple juice, the lime-basil mixture, and rum in a large pitcher. Stir thoroughly.

Moisten the edges of chilled glasses with lime juice and dip into granulated sugar. Distribute the drink evenly among glasses, leaving roughly ½ to 1-inch of space. Finish with club soda. Garnish the glass with a sprig of fresh basil and slice of lime if desired. Serve immediately.
Serving: 1serving, Calories: 82kcal, Carbohydrates: 5g, Sodium: 1mg, Sugar: 3g
This post contains affiliate links, which means that I make a small commission off items you purchase at no additional cost to you. Please read my
privacy policy
for more information.