Polenta Al Forno with Collard Greens, Cheddar and Ricotta
This post contains affiliate links.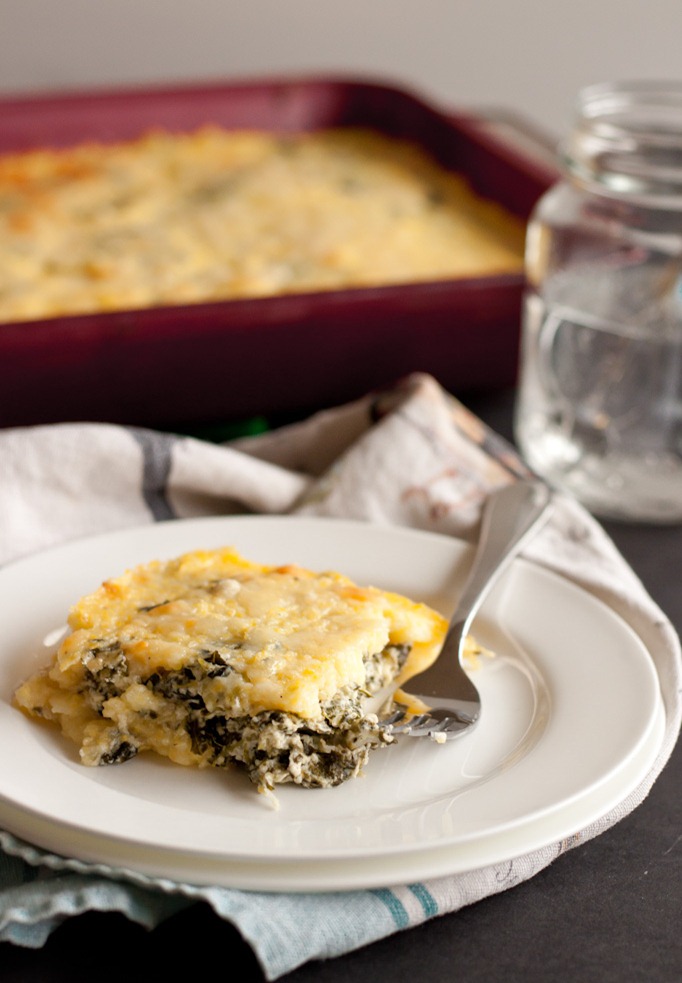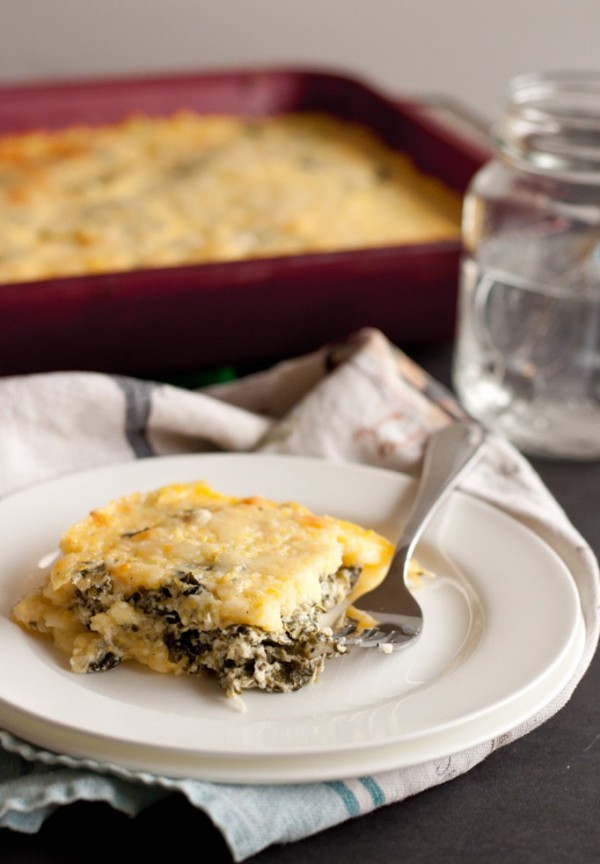 Polenta al forno. A fancy way of saying "oven-baked" polenta, but the name adds a certain je nais se quoi, am I right?
Polenta and ricotta seem to be making quite an appearance in my life lately…not that I'm complaining (even a little bit). This dish combines both and is the epitome of rustic, comfort Italian food.
Plus, it involves cheese, which is always a good thing.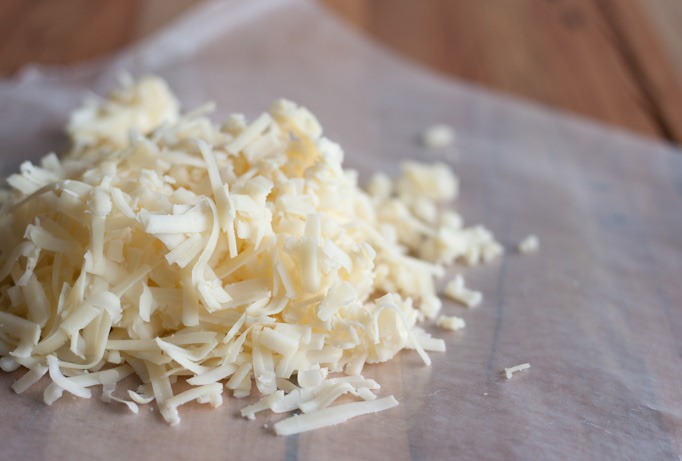 That batch of homemade ricotta you just made? Well, this dish is perfect for that. And, remember the leftover whey liquid, which you probably wanted to toss, but I convinced you to keep and store in the fridge this whole time?
Yep, this dish uses up all of that too. You're welcome!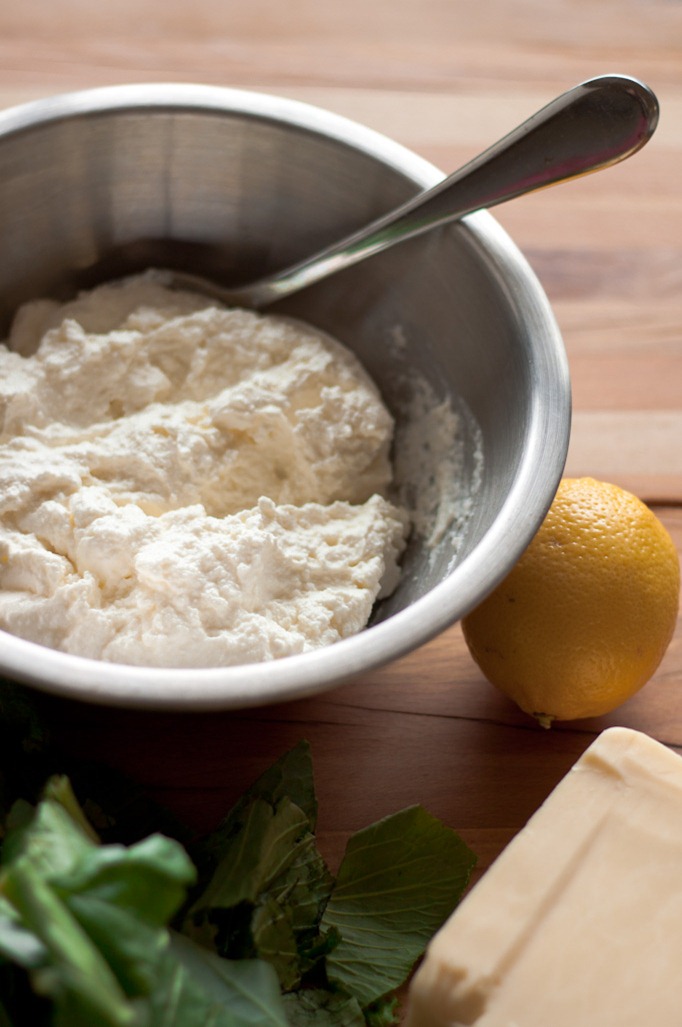 This dish is similar to the idea behind lasagna.  Using a base (in this case, soft polenta), creating layers of flavors in between, topping it with a bit more cheese, and baking it in the oven until it has turned a lovely golden brown color.
In this case, there is only one layer: a mixture of cooked collard greens, cayenne pepper (for a kick of heat), nutmeg, lemon zest, grated cheddar, parmesan, and of course, homemade ricotta to bring it all together.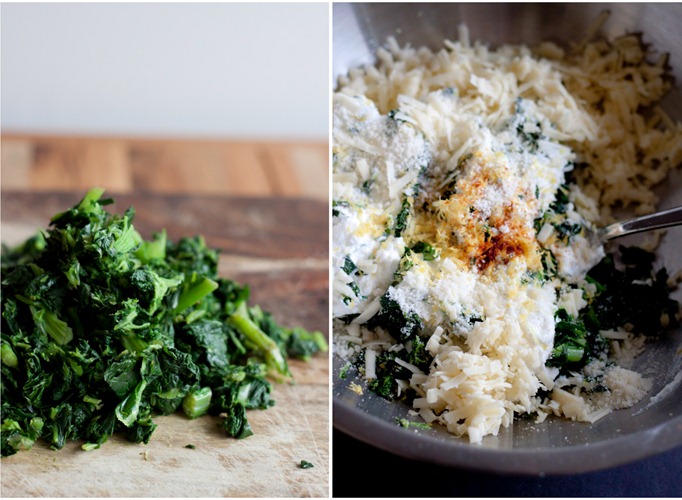 Since the dish is relatively hearty and rich (yet not overly so), I recommend making it the star of your meal.  Might as well, you put in all the hard work!   It goes wonderfully with a big hearty salad, but also tastes great on top of some homemade tomato sauce—which is exactly how I served mine.
Though the dish takes a bit of time to put together (about 2 hours from start to finish, though most of the time is not active), it can be made and refrigerated ahead of time.  It also makes quite a lot, giving you lots of leftovers for future meals, which is always a good thing!  Enjoy.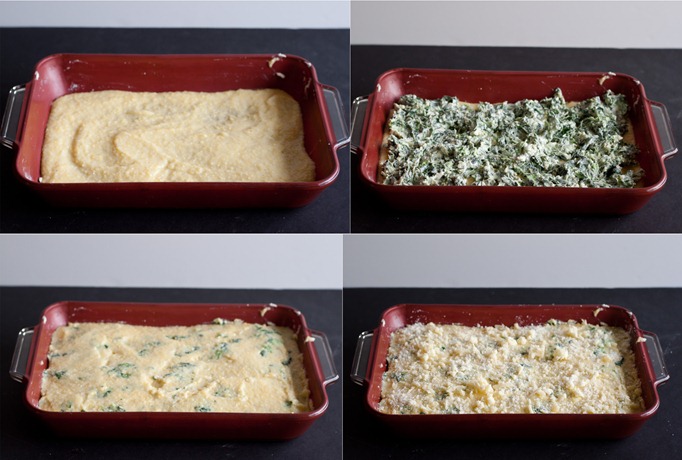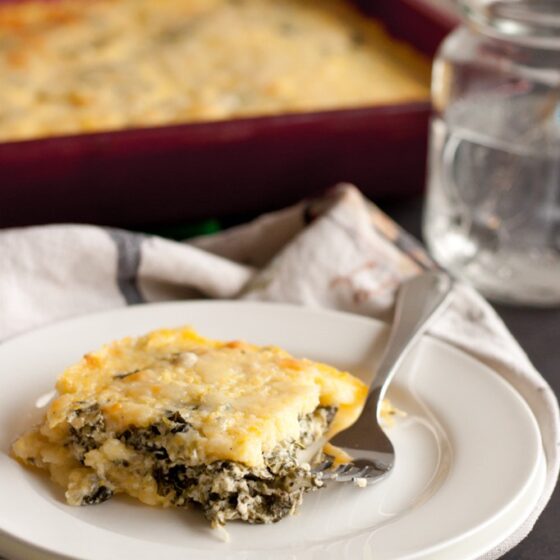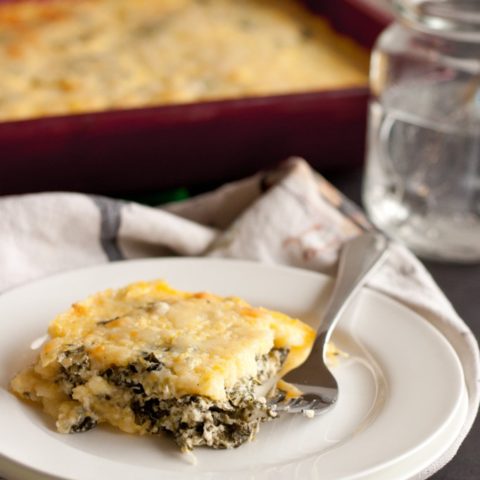 Polenta Al Forno with Collard Greens, Cheddar and Ricotta
Yield: 6-8 Servings
Prep Time: 15 minutes
Cook Time: 1 hour 15 minutes
Total Time: 1 hour 30 minutes
Ingredients
1 pound collard greens, cut into about 1" strips with tough stems removed
2 cups homemade whole-milk ricotta, or store-bought
1/8 teaspoon cayenne pepper
1/8 teaspoon freshly grated nutmeg
zest of 1 lemon
5 tablespoons grated parmesan cheese
4.5 ounces extra-sharp cheddar cheese, freshly grated
kosher salt
freshly ground black pepper
basic soft polenta (see recipe below), kept warm
Basic Soft Polenta:
1 cup medium or fine polenta/cornmeal
5 cups leftover whey liquid (from homemade ricotta) or water (plus additional water, as necessary)
1 tablespoon unsalted butter
kosher salt
freshly ground black pepper
Instructions
Clean collard greens and remove any tough stems (I personally like to keep a little bit of the stem on). Roll several leaves at a time—similar to a chiffonade technique–and cut into about 1-inch strips. Doesn't have to be exact, but try to keep the pieces relatively consistent in size.
Fill a large pot with water and bring to a boil. Add all of the collard greens and blanch for two minutes. Drain in a large colander and allow to cool down completely.
Meanwhile, begin to cook the soft polenta using the instructions below. **Important Note: Be sure to have collard green filling completely ready by the time the polenta is finished cooking, as you want to assemble the dish right away at that point).
If baking immediately, preheat the oven to 375 degrees Fahrenheit.
Once the collard greens are cool to the touch, using your hands, grab a handful of a time and over the sink, squeeze repeatedly to remove excess moisture—set aside on a large cutting board. Repeat with remaining collard greens.
Chop all of the collard greens, going back and forth with your knife repeatedly until consistent in size. Set aside in a large bowl.
Combine collard greens with ricotta, lemon zest, nutmeg, cayenne pepper, 3 tablespoons of parmesan cheese, and all but 3 tablespoons of the grated cheddar and mix well with a large spoon. Taste and season with salt and pepper. Set aside.
Lightly butter a 9 inch x 13 inch baking dish (similiar dimensions will also work). Spoon half of the batch of soft polenta into the baking dish and spread out with an offset spatula to make a thin layer. Spoon the collard green mixture evenly over the surface and again, lightly spread out with the spatula. Top with the remaining soft polenta and spread to smooth the surface. The polenta layer will seem very thin, don't worry if some of the collard green mixture can be seen though the top. **May be made ahead at this point, covered, and refrigerated. Allow to come to room temperature before baking.
Sprinkle the top with two tablespoons of parmesan and the remaining three tablespoons of grated cheddar cheese.
Bake, uncovered, at 375 F for 40-50 minutes, until lightly golden brown on top. Remove from oven and allow to rest for 5 minutes before serving.
Prepare Polenta:
Add liquid to a medium-sized saucepan (4 quarts or larger) and bring to a boil. Add the salt and stir with a spoon.
Slowly pour in the polenta, in a steady fine stream, into the boiling liquid, stirring continuously with a stiff, metal whisk or wooden spoon.
Whisk continuously for an additional three minutes, until the polenta begins to slightly thicken.
Turn down the heat to a low simmer and cook for an additional 40-45 minutes, stirring every 10 minutes or so, until the polenta is cooked completely. Depending on your stove, check regularly to ensure that the polenta is not sticking to the bottom of the pan.
If the polenta gets too thick or difficult to stir, add a small amount of water at a time (you may need to add up to an additional cup of liquid) to thin it down.
Once the polenta is completely cooked, stir in the butter and season with salt and pepper to taste. Start assembling the dish immediately (see Step 8 above).
Nutrition Information:
Yield: 8
Serving Size: 1
Amount Per Serving:
Calories: 391
Total Fat: 13g
Saturated Fat: 7g
Trans Fat: 0g
Unsaturated Fat: 4g
Cholesterol: 42mg
Sodium: 535mg
Carbohydrates: 15g
Fiber: 5g
Sugar: 4g
Protein: 57g
A Beautiful Plate provides nutritional information, but these figures should be considered estimates, as they are not calculated by a registered dietician.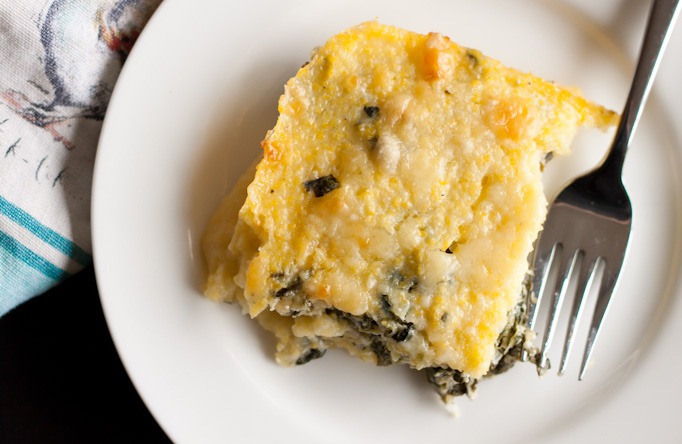 Hmm…cheesy goodness.
This post contains some affiliate links, which means that I make a small commission off items you purchase at no additional cost to you. Please read my
disclosure policy
for more information.