How to Make Homemade Ricotta Cheese
Learn how to make homemade ricotta cheese with this simple tutorial.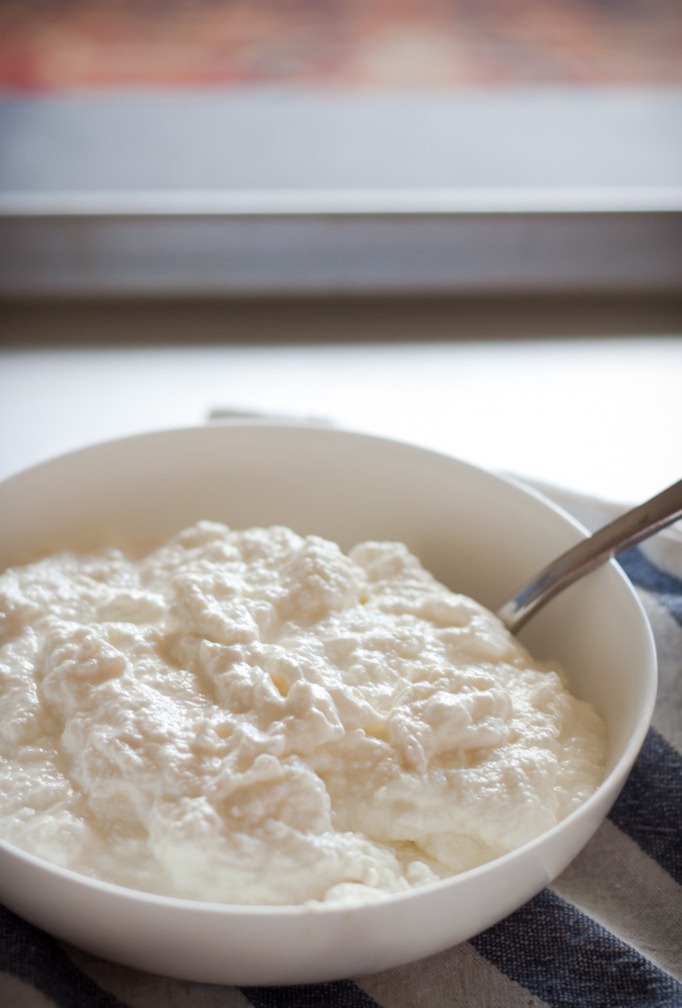 Remember that time I took a cheese making class during culinary school and I promised I would share the process with you guys? Well, that's exactly what I'm doing today.
Over the years, I've forgotten just how easy it is to make homemade ricotta. The texture and flavor is fantastic too.
Is it as easy as buying store-bought ricotta? Absolutely not. But in the grand scheme of things, it is one of the easiest cheeses to make at home.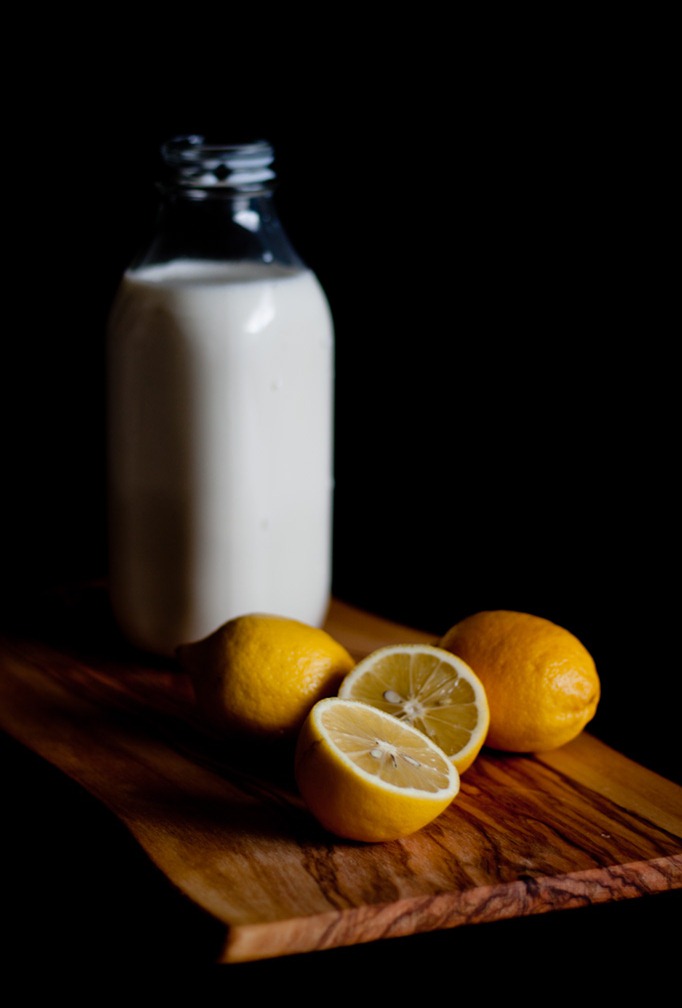 How is Traditional Ricotta Made?
Just one spoonful of this silky smooth homemade ricotta will convince you to make it more often. Technically, traditional Italian ricotta cheese isn't made from whole milk, which is what recipes calls for.
Traditional Italian ricotta is made by reheating whey ('ricotta' in Italian which means twice-cooked) and originated as a clever by-product of the cheese-making process. However, nearly all American ricottas are made from milk, so this version will most likely taste familiar.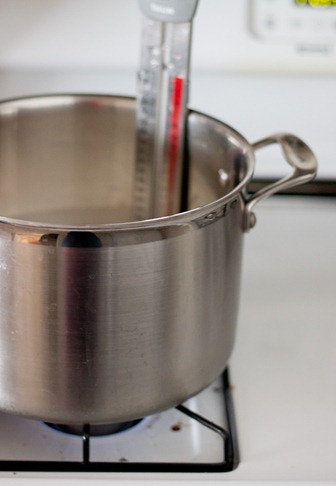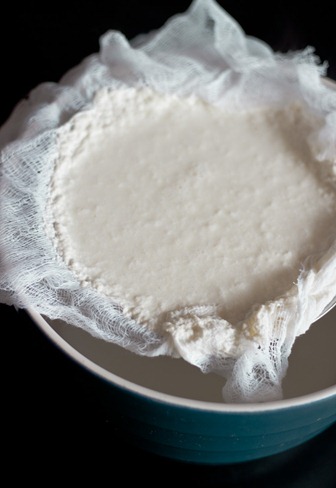 What Makes Homemade Ricotta Better:
Homemade ricotta is simple to make and tastes fantastic. The active cooking time is 15 to 20 minutes total. It is also significantly smoother in texture and does not have the graininess that you'll often find in store-bought ricottas, which can contain stabilizers or gums.
As an added bonus, homemade ricotta cheese is quite affordable. You can use ricotta in many ways, including desserts (ricotta beignets), pastas, polenta, or simply spread on crostini.
Be sure to save the cooking whey and use it for cooking grains or polenta, such as in this Polenta Al Forno dish!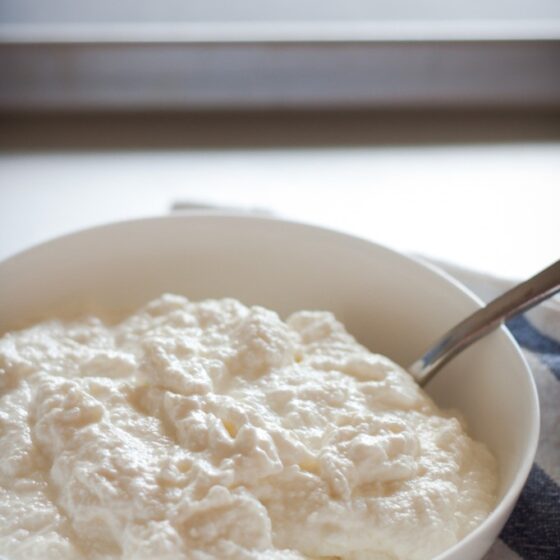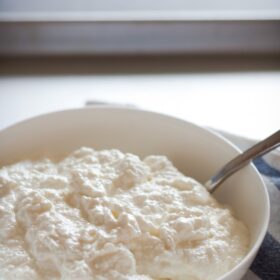 Homemade Ricotta Cheese
Learn how to make homemade ricotta cheese with this simple tutorial. Not only is it delicious, but the texture is superb. Use in your favorite Italian recipes! Be sure to save the whey from the cooking process and use it for cooking grains, such as in this Polenta Al Forno recipe.
Equipment
candy thermometer

cheesecloth

large fine-meshed sieve
Ingredients
8 cups (2 quarts; 1.9 L) whole milk do not use ultra-pasteurized for this recipe
½ cup (120 mL) heavy cream
½ teaspoon kosher salt
¼ cup (60 mL) fresh lemon juice roughly 2-3 juicy lemons
Instructions
Combine the milk, heavy cream, and salt in a large non-reactive (stainless steel) pot and place over medium-high heat.

Using a candy thermometer, preferably one that can be clipped to the side of the pot, bring the mixture to 190°F (88°C), stirring occasionally with a spoon to prevent the milk was scorching on the bottom of the pot.

Once the milk mixture has reached temperature, remove from the heat and pour in the lemon juice. Stir once or twice to incorporate and allow mixture to sit - without disturbing - for an additional 10 minutes.

Meanwhile, line a large fine-meshed sieve with a double layer of cheesecloth and set over a large, deep bowl. Carefully and slowly pour the ricotta mixture into the cheesecloth-lined sieve. Allow to drain at room temperature for 90 minutes.

Transfer ricotta to a container and use immediately or refrigerate for up to 2 to 3 days.
Tips for Success:
Do not throw out the whey (drained liquid), use it for this polenta al forno recipe.
Inspired by my Cheese-Making Class. Method adapted from Smitten Kitchen's
Rich Homemade Ricotta
.
Serving: 1serving, Calories: 204kcal, Carbohydrates: 13g, Protein: 8g, Fat: 13g, Saturated Fat: 8g, Polyunsaturated Fat: 4g, Cholesterol: 41mg, Sodium: 243mg, Sugar: 13g
This post contains affiliate links, which means that I make a small commission off items you purchase at no additional cost to you. Please read my
privacy policy
for more information.