Green Pork Chili
This Green Pork Chili is creamy, thick, smoky, citrusy, and has just the right amount of kick. Tender pork and beans make it extra special!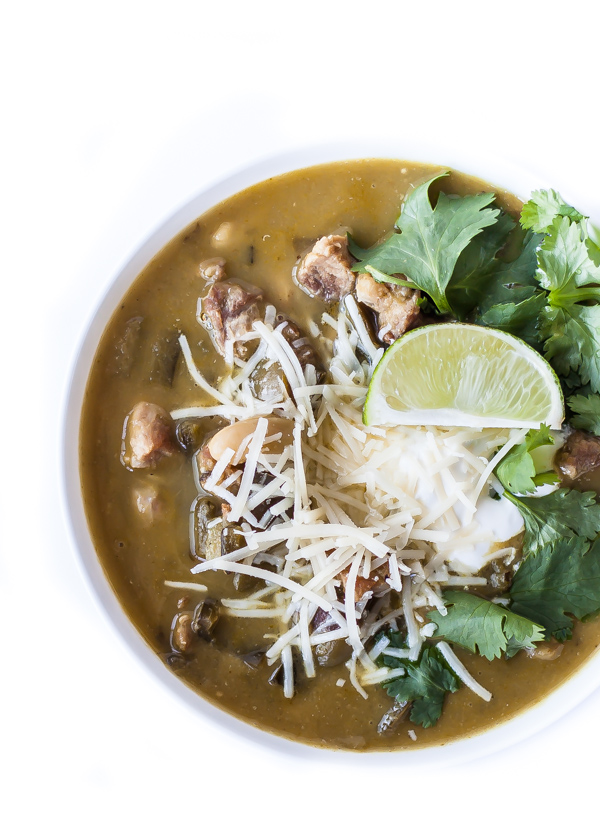 Would it have been nice of me to share this pork and green chili recipe with you last week? You know before that little football game called the Super Bowl?
Absolutely. Let's face it though, green pork chili is appropriate any day of the week.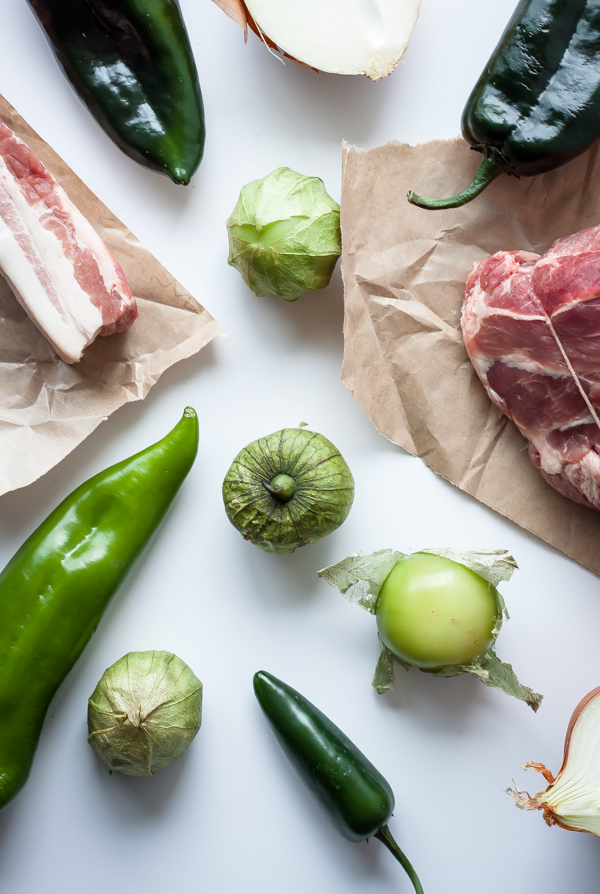 I actually had a really good excuse this time too. You see, I got my first Besh Box early last week and I really, really wanted to share it with you.
If you're unfamiliar, it is a monthly recipe subscription box. It was created by John Besh, the well-known chef and restauranteur from New Orleans. Each box is filled with recipes, tools, specialty ingredients, and cooking inspiration revolving around a monthly theme.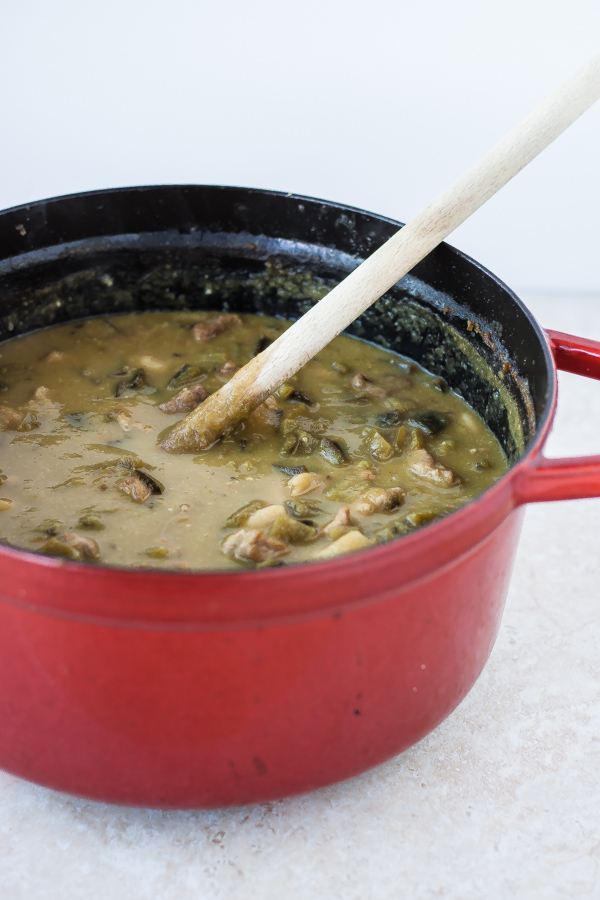 I was given a subscription from my in-laws for Christmas and became incredibly giddy last week when I arrived home from work and was greeted with my first box.
It was filled with everything from a beautiful, handcrafted pot scoop, cook's towel, jalapeño corer, cornmeal, arugula seeds, Mexican oregano, and heirloom cannellini beans.
So I went to the grocery store and got the rest of the ingredients for this Green Pork Chili. Unlike red chilis, the first step in this recipe involves making the base, which is made from sautéed onions, tomatillos, garlic, and cumin, cilantro and chicken broth.
We'll then brown pork shoulder chunks before adding chopped poblano and Anaheim peppers, oregano, dried cannellini beans, and the pureed tomatillo-broth mixture.
You'll want to braise this chili for 3 to 4 hours until the pork and beans are very tender.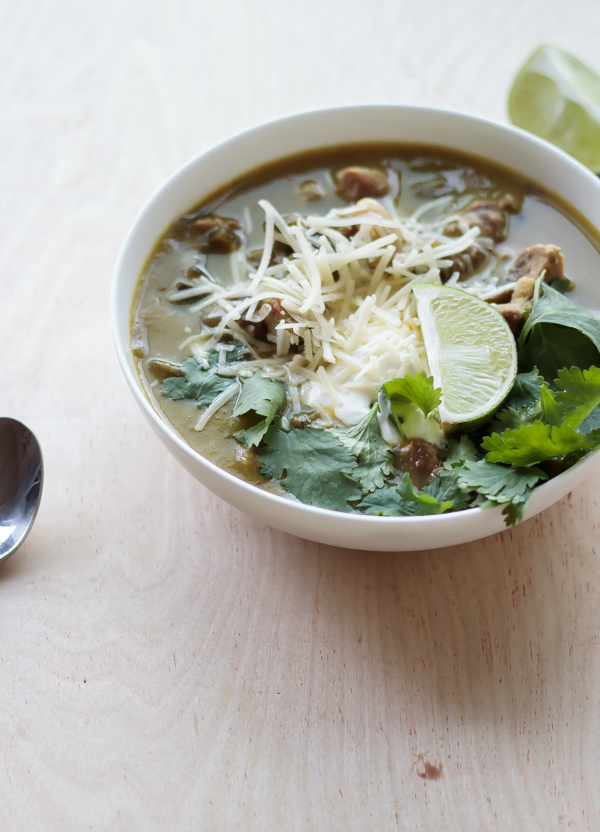 While it isn't a weekday friendly recipe, the long cook time helps make the pork extra tender and provides the beans with a much better texture. Short cook times and great chili don't mix.
The resulting chili is creamy and thick, smoky, a little citrusy (from the tomatillos), and has just the right amount of kick. The chunks of tender pork and beans throughout make it extra special. If you are lucky enough to find Mexican crema and cotija cheese, pile them on top!
Or simply top it off with lime juice, grated sharp cheddar, cilantro, and sour cream.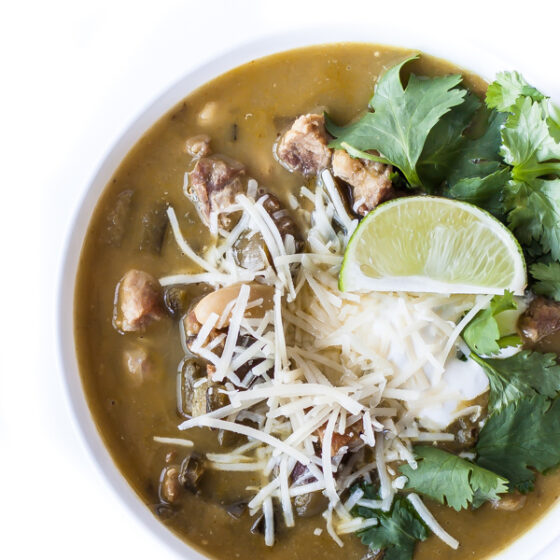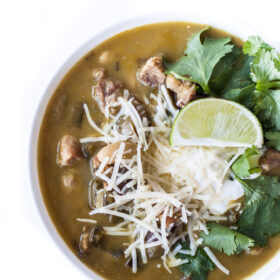 Green Pork Chili
This Green Pork Chili is creamy, thick, smoky, citrusy, and has just the right amount of kick. You'll want to braise this chili for 3 to 4 hours until the pork shoulder and cannellini beans are very tender. 
Ingredients
1 jalapeño pepper
¼ cup rendered bacon fat
1 lb (16 oz) tomatillos husks removed and quartered
2 teaspoons ground cumin
5 garlic cloves roughly chopped
4 green onions ends trimmed and roughly chopped
2 large white onions diced
1½ quarts (48 oz) low-sodium chicken stock
⅓ bunch of fresh cilantro plus more for garnishing
2 lbs pork shoulder diced into ¾-inch chunks
2 teaspoons dried oregano
3 poblano peppers seeded and diced
2 Anaheim peppers seeded and diced
1 cup dried heirloom beans, rinsed cannelini or other small white beans
kosher salt
black pepper
Garnish:
fresh lime wedges
sour cream
grated sharp cheddar cheese
cilantro leaves
Instructions
Roast the jalapeño over an open flame (using a gas burner) or in the broil until blackened on all sides.  Place in a bowl, cover, and allow to cool for 5 to 10 minutes.  Peel, seed, and finely chop.  Set aside.

In a heavy Dutch oven or soup pot, heat 2 tablespoons of the rendered bacon fat. Add the tomatillos and cumin, and cook over medium-low heat for 2 to 3 minutes. Add the garlic, scallions, and onion, and continue to cook, stirring occasionally, until onions are soft and translucent.

Add the chicken broth, cilantro, and the diced roasted jalapeño, and continue to cook over medium heat for another 4 to 5 minutes. Remove and blend mixture (in stages) in a blender or using an immersion blender until smooth.  Reserve and set aside.

Season the pork shoulder chunks with salt and pepper. Wipe pot clean and return to high heat. Add the remaining bacon fat.  Once hot, add the pork shoulder - you'll want to brown the pork in batches to avoid over crowding the pan - and brown on all sides. Set the browned meat aside on a large plate as you work.

Once all of the meat has been browned, return it to the pot. Add the oregano, poblano and Anaheim pepper, and dried beans.  Stir in the tomatillo mixture and remaining chicken stock. Bring mixture to a boil and reduce to a very low simmer. Continue to simmer, stirring occasionally, for an additional 3 to 4 hours, or until the pork and beans are very tender.

Season soup with salt and pepper, finish with fresh lime juice, and serve with cilantro, sour cream, and grated sharp cheddar cheese for topping.
Recipe and method adapted lightly from John Besh's Besh Box recipe.
Serving: 1serving, Calories: 511kcal, Carbohydrates: 21g, Protein: 32g, Fat: 34g, Saturated Fat: 13g, Polyunsaturated Fat: 18g, Cholesterol: 114mg, Sodium: 366mg, Fiber: 5g, Sugar: 9g
This post contains affiliate links, which means that I make a small commission off items you purchase at no additional cost to you. Please read my
privacy policy
for more information.