Chocolate Coconut Sundaes with Black Sesame Seed and Macadamia Nut Caramel
Chocolate coconut sundaes with black sesame seed and macadamia nut caramel. Ice cream sundaes just got elevated!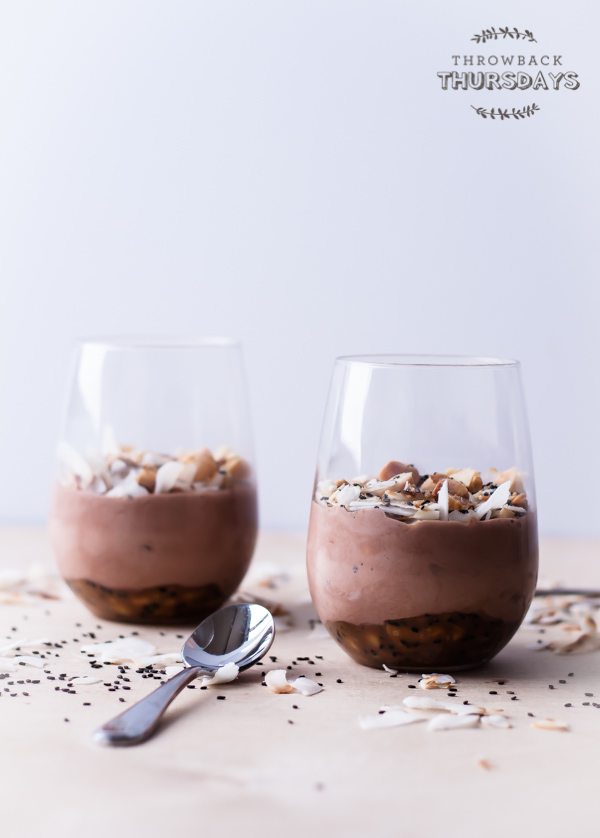 Ok, so remember how I was telling you the other day that I'm forgetful and old?  Well…these chocolate coconut parfaits have pretty much confirmed that for me.
The original version was supposed to have coffee ice cream.  Not chocolate.  I even made a grocery list and everything–and somehow, within ten feet of walking out of the store, realized that I had neglected to even glance at the list and had forgotten half of the items on it.
Does that happen to anyone else?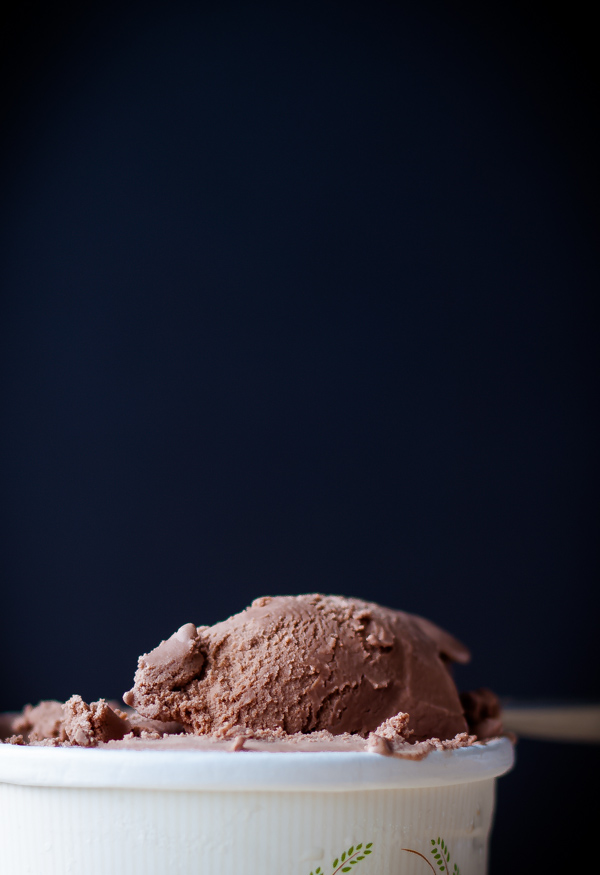 So I went back into the store, stood in front of the freezer section for the next ten minutes trying to find coffee ice cream (apparently no one makes it anymore), finally found one, got back in line, and headed out.
All proud of myself for catching my mistake and remembering at the last minute.
Then I got home, unpacked everything, glanced at the carton and realized I had bought chocolate ice cream.  Apparently, I'm blind too.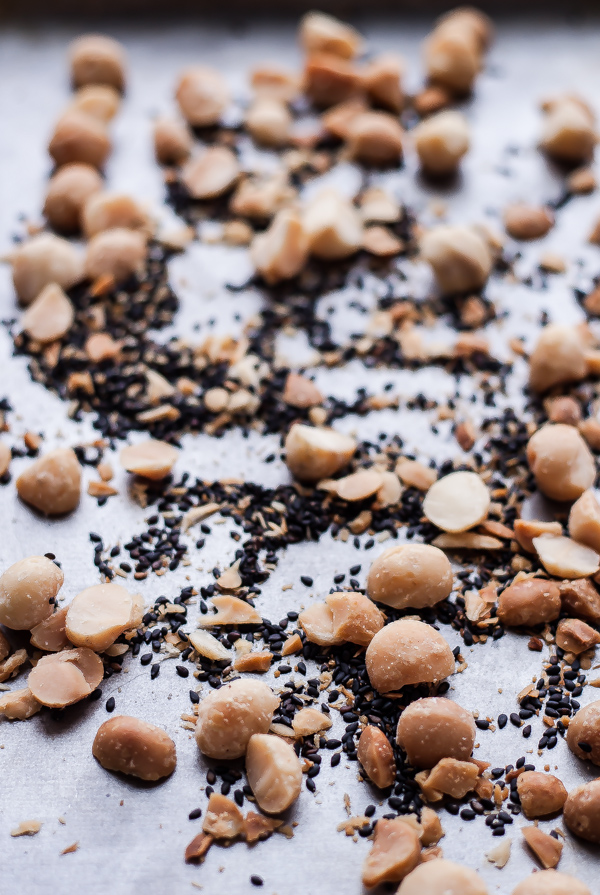 I was all annoyed with myself for about 15 seconds, before I realized that it was the best mistake ever.  This dessert was inspired by a coffee coconut parfait recipe from the February 1994 issue of Bon Appetit magazine.  I say inspired because well…I sort of took the idea and ran with it.  Basically sprinted.  But isn't that what this whole thing is about?
I realized along the way that parfaits and ice cream don't mix.  The layer process gave me anxiety–and well, who has the time to fill a cup with softened ice cream, top it with caramel sauce, create layers, and then sit around while it freezes again.
Instant gratification is so much better.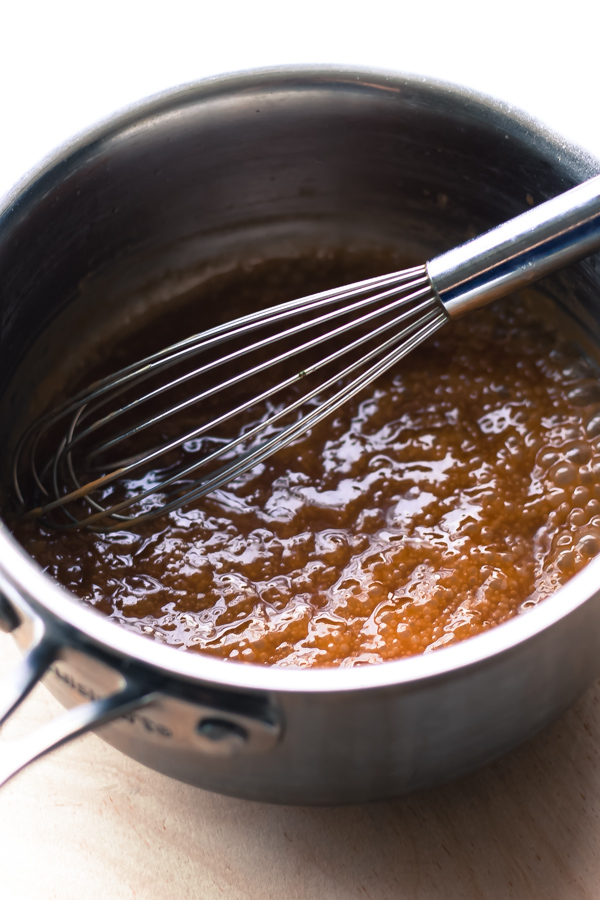 So I made an executive decision and decided to make it into a sundae.  As is the case with any sundae, this one is all about the toppings.  Specifically, the black sesame seed and macadamia nut caramel.
Obviously, you can substitute these with regular, white sesame seeds…but I went for a bag of black sesame seeds that I picked up at my local Asian supermarket months ago.  And oh my goodness…aren't the black ones so much prettier?!  The contrast!  I'm totally obsessed.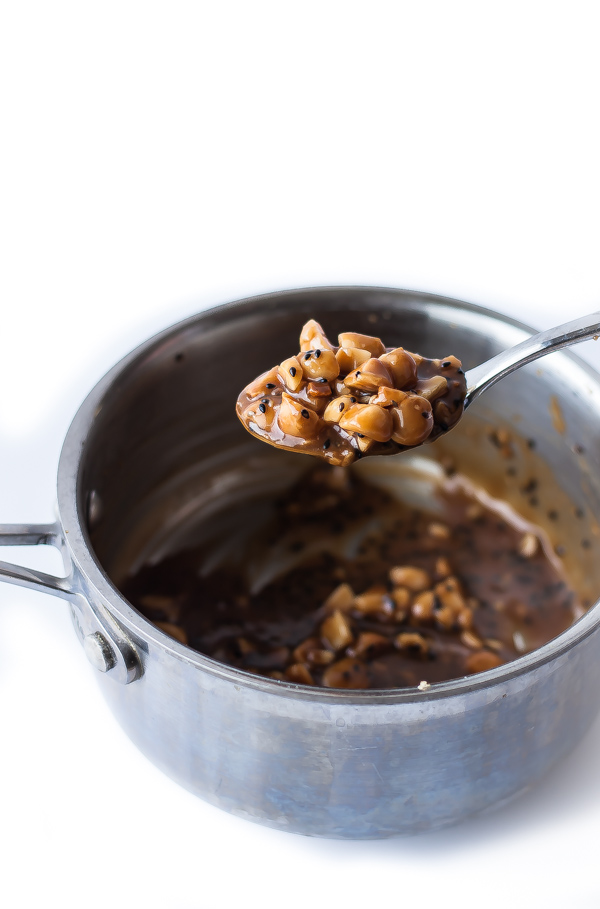 The macadamia nuts and sesame seeds are toasted together in the oven, and then stirred into homemade caramel sauce at the last minute.  It gives the caramel the best texture–you'll want to eat it with a spoon…sans ice cream.  But don't.
Instead, swirl it generously on top of chocolate ice cream and top it off with toasted coconut flakes.  The big, unsweetened fat ones.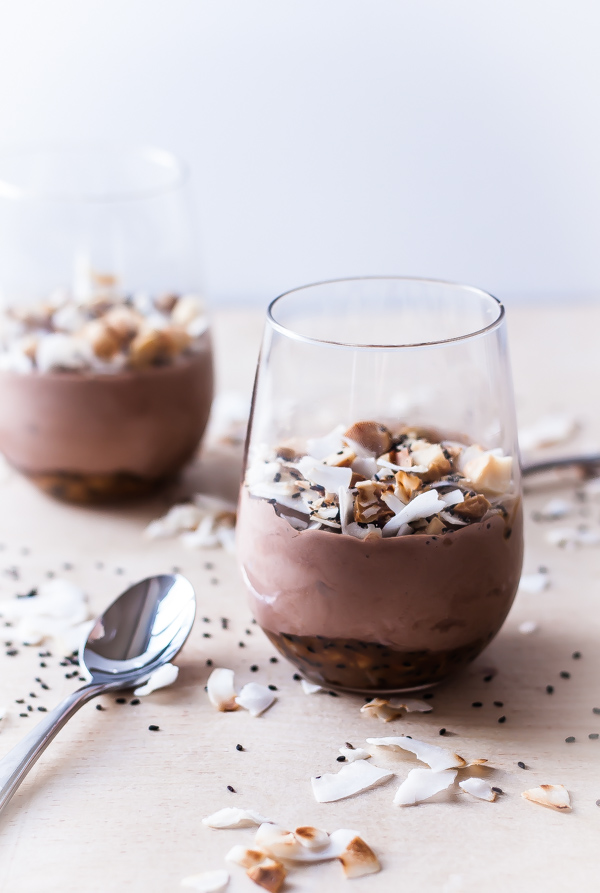 This recipe prepares just enough for two servings.
Eat it all by yourself, or be nice and share one with your special person for Valentine's Day next week.  You know, if you're feeling extra generous.  But why would you want to go and do that?