Presidents Day Feast
This weekend was filled with lots of great food! My sister and brother-in-law came down from NYC to join in on the festivities and we planned a big dinner at my parent's house. The menu was planned weeks ahead, which is often the case in our house—what can I say?  We love food. To make it a bit more fun and manageable, we decided to divide up the courses amongst my sister, my mom, and myself.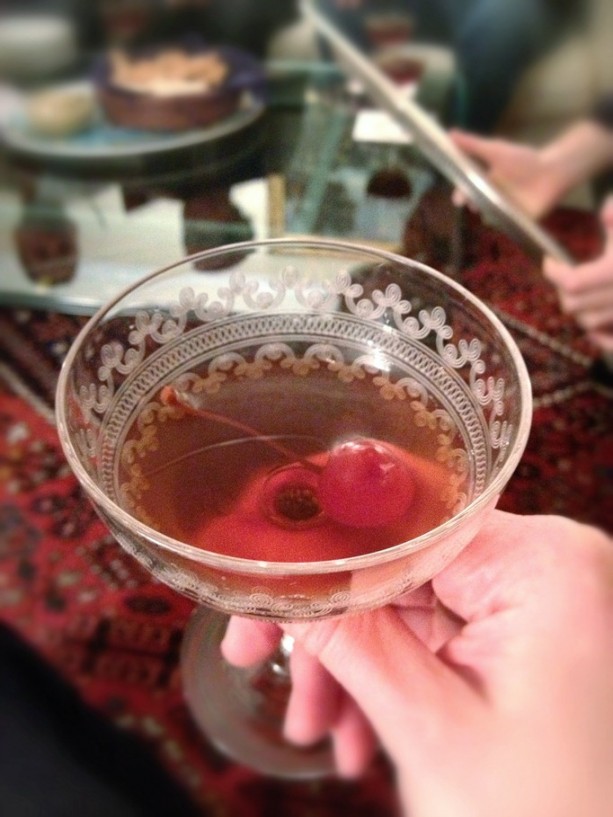 Sam and Judy, my godparents, took the lead in making a signature cocktail for the night.  Mixology is definitely a specialty of theirs—a skill I have yet to, and most likely never will, master.  The drink included lillet blanc, Pimms, sweet vermouth, bourbon, angostura bitters, and possibly some other things that I no longer remember.
My mom was responsible for starters and the first course.  All of which were slight adaptations of recipes we've never tried before, including a mushroom toast spread (How to Cook Everything by Mark Bittman), made from dried and fresh mushrooms, shallot, garlic, and as weird as it may sound, cooked with some eggs and cream.  It sounded a bit odd, but it tasted great!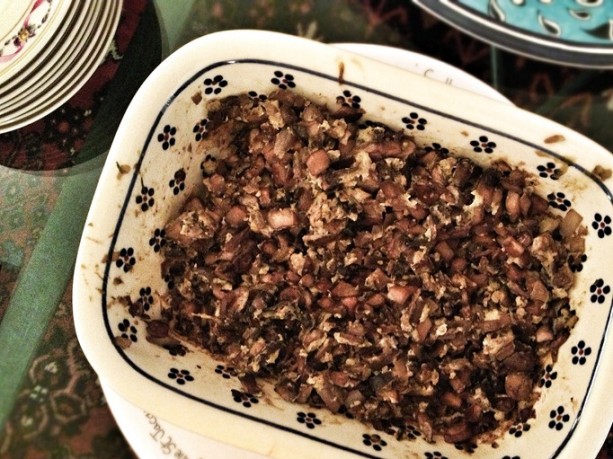 …and an eggplant dip (also from How to Cook Everything), which was made from roasted eggplant, lemon juice, olive oil, garlic, and some grated parmesan.   Definitely a keeper!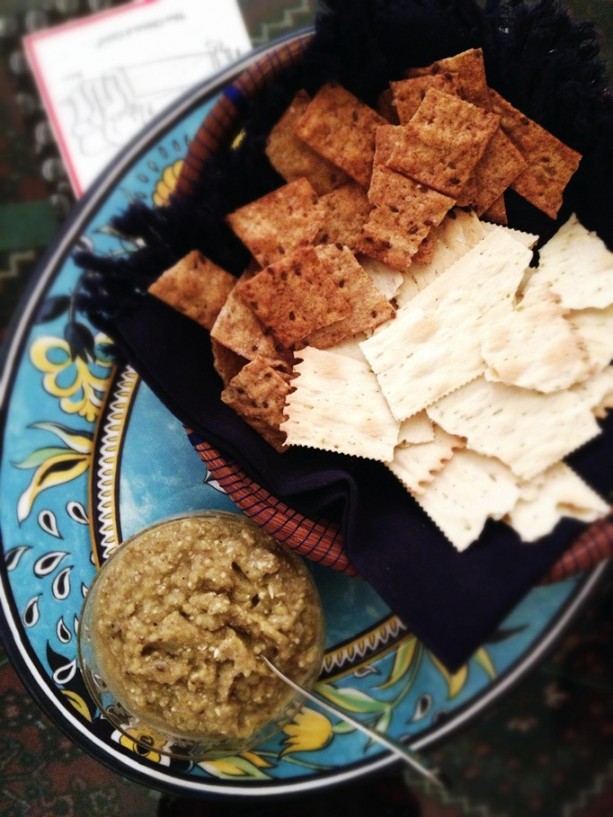 Our first-course was a Butternut Squash Salad with Hazelnuts from Food & Wine Magazine (February 2009 Issue).  Roasted butternut squash, prosciutto, arugula, mesclun greens, and toasted hazelnuts were tossed with a warm-vinaigrette made from balsamic vinegar and hazelnut oil. 
The saltiness of the prosciutto, sweetness of the squash and balsamic, and peppery arugula went really well together!  Definitely will be making this again…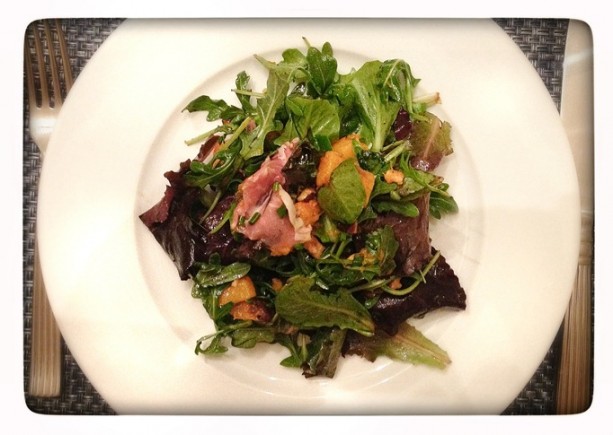 My sister was in charge of coming up with a main course—braised short ribs (based on this recipe from Dorie Greenspan)  with creamy polenta—along with a side of fresh steamed haricot verts.  The sauce was an insane reduction made from an entire bottle of port, red wine, and tons of beef stock—which cooked down all day to only two cups worth.  Reminds me culinary school, I must say!
The polenta was a variation of this no-stir recipe from the New York Times.  Polenta generally involves standing over the stove for the entire cooking process, but this version eliminates the need for that (perfect for when you're entertaining) and you can't even tell the difference.  Our variation included adding milk and grated parmesan to make it extra creamy and delicious!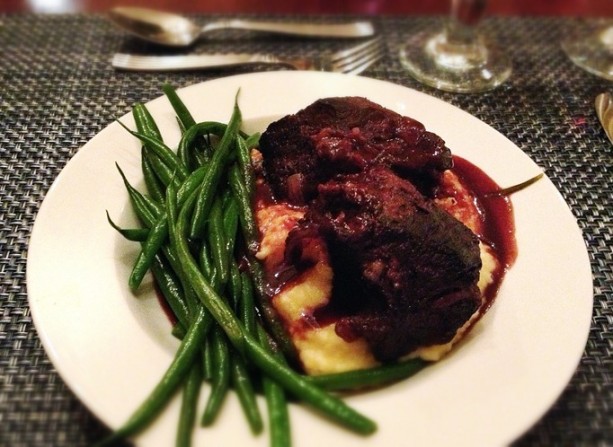 Lastly, it was my job to come up with a dessert that wasn't too heavy or filling!  I've been wanting to make an ice cream recipe out of the cookbook, Jeni's Splendid Ice Creams at Home, for ages, so that was my initial source for brainstorming.  There were many great options to choose from, but I ended up deciding on the lime and cardamom frozen yogurt.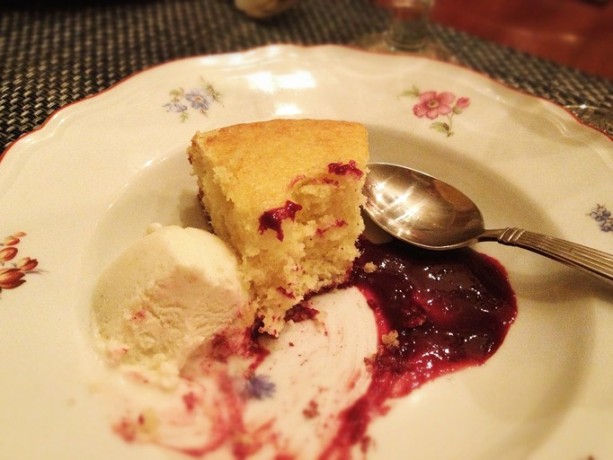 To go with it, I made a very simple olive oil and ricotta cake from the Smitten Kitchen cookbook, as well as a basic mixed berry coulis (totally winged that—no recipe, sorry!). The cake was very simple and not too fussy—which allowed the frozen yogurt to stand out and not get lost in the dish.  They actually all ended up going well together!
Overall, it was a really nice evening with lots of great food!  It's always fun trying new dishes for lots of family and friends and they were all winners.
** Disclaimer: This post includes some Amazon affiliate links for cookbooks that I own and love.  Thanks for your support!
This post contains affiliate links, which means that I make a small commission off items you purchase at no additional cost to you. Please read my
privacy policy
for more information.