Pumpkin Chocolate-Chunk Espresso Muffins with Coffee Glaze Drizzle
Pumpkin Chocolate-Chunk Espresso Muffins with Coffee Glaze Drizzle. This easy muffin recipe is a hit during the holidays!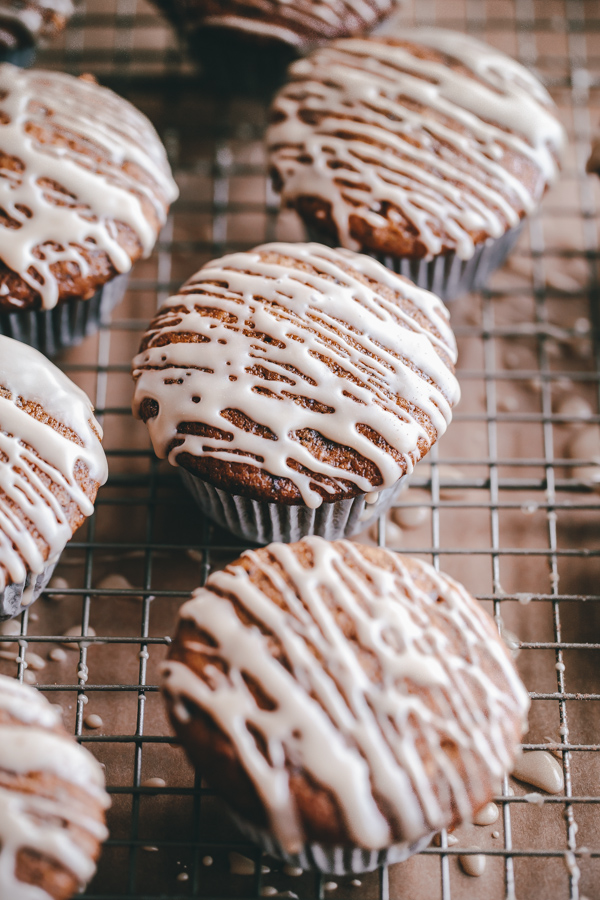 I can't decide what I love more about these muffins. The pumpkin, big chunks of bittersweet chocolate, distinct espresso aroma and flavor, or that dreamy coffee glaze (with a hint of flowery vanilla).
Hint: It's not the pumpkin.
If I'm being completely honest, this might be one of the last pumpkin recipes I share until next year. Maybe one or two (max) more? I have a feeling that statement will be met with either love or contempt. Where do you fall on the pumpkin love spectrum? Really, I'd love to know!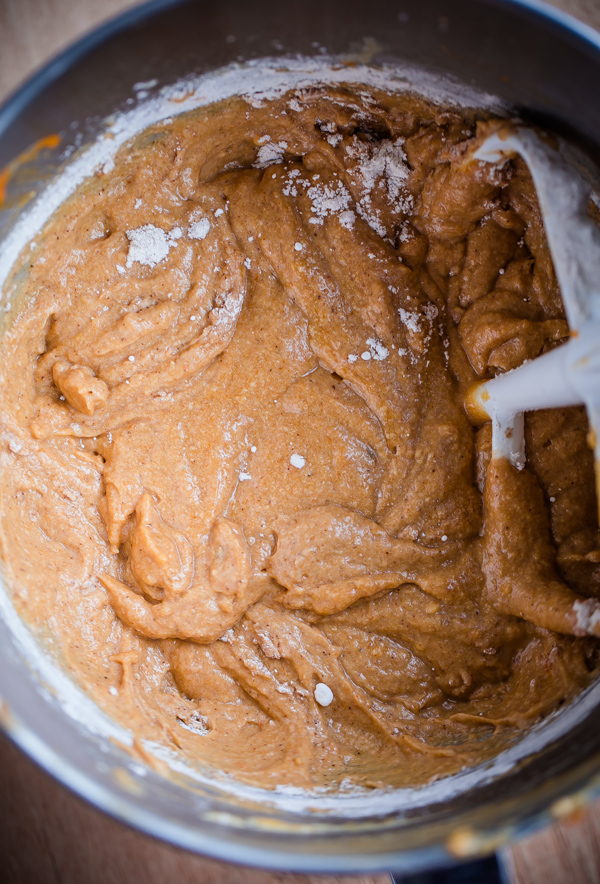 The world has totally OD'ed on pumpkin stuff lately. I know that is a controversial statement, but I'm woman enough to come out and say it. Seriously, pumpkin spice hummus? No, just no. Some things are not supposed to be pumpkin flavored! Stop forcing it, people. Not cool.
You're ruining it for the rest of us. I'm talking to you Trader Joe's. Seriously, could they have any more pumpkin spice products if they tried?
I miss the old days when you could barely find pumpkin-flavored anything and we all got the annual craving out of our systems by baking a loaf of pumpkin quick bread and calling it a day.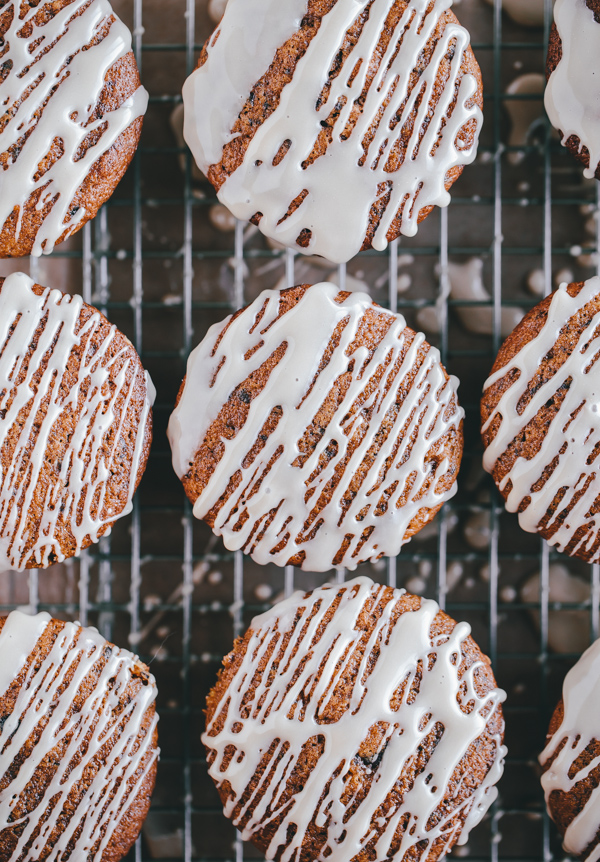 Truthfully, I think pumpkin and coffee is one of the better flavor pairings that has emerged out of this world-wide pumpkin phenomenon! And no, I don't mean pumpkin spiced lattes (although really good ones are really good).
I just mean the combination of coffee and pumpkin. They work really well together. You know what's even better? Pumpkin and dark chocolate! And on that note, coffee and dark chocolate! Now let's combine all of those things into one over-the-top muffin.
Now we're talking! These are curl up on the sofa with a good book muffins, if you know what I mean.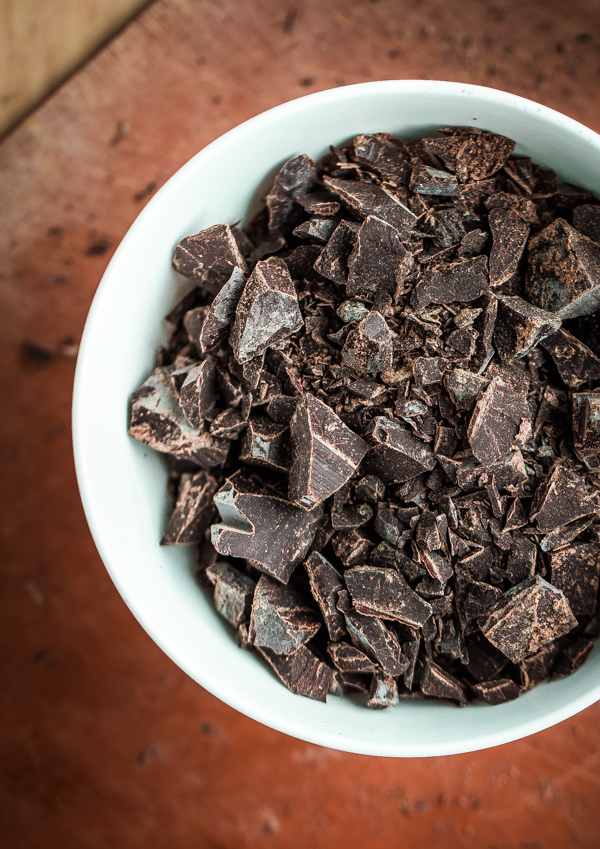 The coffee flavor comes from the addition of instant espresso powder. Instant espresso powder is absolutely horrible for making espressos (don't try it!), but it is a powerhouse when it comes to imparting pure coffee flavor into baked goods.
Straight instant espresso powder is added to the dry ingredients in the muffin recipe, as well as mixed with hot water (this essentially creates a coffee extract in liquid form) to infuse the light and beautiful mocha-colored glaze.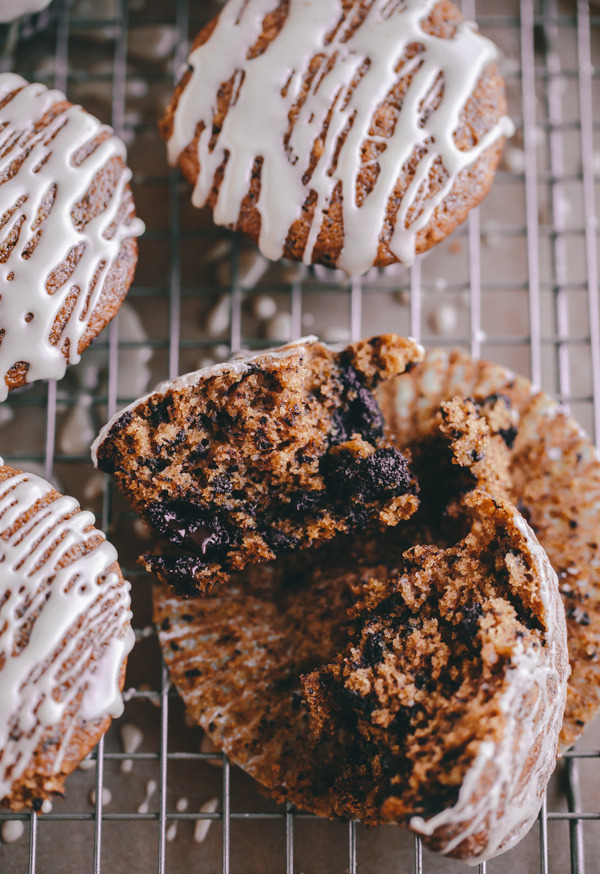 To prevent the glaze from overpowering the muffin, I just made a small amount of it and drizzled it back and forth over the top of the muffins.
It is the type of glaze that will set, crinkle, and stay put! It reminds me a good donut glaze. I could probably drizzle it on everything and be set for life. Hope you like these!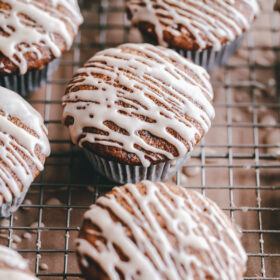 Pumpkin Chocolate-Chunk Espresso Muffins with Coffee Glaze Drizzle
Ingredients:
1 and 1/2 cup (180 g) all-purpose unbleached flour
1 and 1/2 teaspoons instant espresso coffee powder (such as Medaglia D'Oro)
1 teaspoon baking soda
3/4 teaspoon kosher salt
1/2 teaspoon ground cinnamon
1/4 teaspoon baking powder
6 tablespoons (90 g) unsalted butter, softened at room temperature
1 and 1/3 cup (267 g) granulated sugar
2 large eggs, room temperature
3/4 teaspoon pure vanilla extract
1 cup (244 g) canned pumpkin puree (not pumpkin pie filling)
1/3 cup whole (or low-fat) milk
3 ounces bittersweet (or semisweet) chocolate, chopped *or semi-sweet chocolate chips
Coffee Glaze Drizzle:
1/4 teaspoon instant espresso coffee powder (such as Medaglia D'Oro)
1/2 teaspoon hot water
3/4 cup powdered sugar, sifted
1 tablespoon whole milk
1/4 teaspoon pure vanilla extract
Directions:
Prepare Muffins: Preheat the oven to 350 degrees Fahrenheit. Line a standard muffin pan with liners or grease the pan  lightly. Set aside.
In a medium bowl, whisk together the flour, espresso powder, salt, baking soda, baking powder, and cinnamon.
Place the softened butter in a stand mixer, fitted with paddle attachment. Beat the butter at low speed for about 30 seconds. Turn the mixer to medium speed and slowly add the granulated sugar, creaming the butter and sugar until it is light in color—about 3-4 minutes. Add one egg at a time, and mix until each egg is incorporated fully. Scrape the bowl to ensure that all of the ingredients are incorporated evenly.
Add the pumpkin puree and vanilla, and mix over low speed until just blended (the mixture will look slightly broken). Add the flour mixture in 3 parts, alternating with 2 additions of milk. Beat at low speed until just combined. Scrape the bottom of the mixing bowl to ensure that all of the ingredients are incorporated. Stir in the chopped bittersweet chocolate.
Using a spoon or large scoop, divide the batter evenly among the muffin pan. Bake at 350 degrees (on center rack) for 23-26 minutes, or until the muffins are springy to touch and a toothpick inserted in the center comes out clean. Place muffin tin on cooling rack, and allow the muffins to cool in the pan for 5-7  minutes. Remove the muffins from pan, place on a cooling rack, and allow the muffins to cool completely before glazing.
Prepare Coffee Glaze: In a medium bowl, combine the espresso powder and hot water and whisk until the powder is fully dissolved. Add the sifted powdered sugar, milk, and vanilla extract and whisk until the glaze is relatively thick (and will set easily), yet drizzles freely. If the glaze is too thin, add a little more powdered sugar. If the glaze is too thick, add a little more milk.
Place the cooled muffins on a rack over a large sheet of wax paper. Using a small whisk or spoon, drizzle the glaze back and forth across the tops of the muffins (you'll want to do this about a foot above them, to make sure it falls evenly). Allow the glaze to set for 10-15 minutes, or serve immediately.
Leftover muffins can be stored in an airtight container (or Ziploc bag) and kept at room temperature for 2 to 3 days. Instant espresso powder (such as Medaglia D'oro brand) can be found in the coffee or baking aisle of most grocery stores.
All images and text ©
.