This incredibly easy and nutritious Instant Pot Apple Sauce can be prepared in less than 30 minutes, requires zero peeling, and has no added sugar. 
Cue the confetti! I'm sharing my very first Instant Pot recipe on the blog. Instant Pot apple sauce!
This spiced apple sauce is the perfect balance of sweet and tart (we're going to discuss apple varieties below), requires zero peeling, and contains no added sugar. Crisp autumn apples and warm baking spices are the star of the show. If you've gone a bit crazy with apple-picking this year, this recipe is for you.
Ok, so here's the deal. I've owned this handy pressure cooker appliance [this one –> affiliate link] for almost one entire year. It happened to be on sale around the holidays and my self-control wavered.
To be completely transparent, I wasn't sure if I would use it all that often, but I was intrigued by the staggering number of positive reviews.


Flash forward one year later and I have used it more times than I can count.
While I'm still skeptical of its rice cooking ability, I love that the instant pot functions as several appliances in one, freeing up valuable space in the kitchen.
You can sauté and sear, slow cook (this bolognese sauce, wink wink!), pressure cook, steam, and even make your own yogurt. If there is one thing that I've learned in the year since I bought it, it is that people are straight-up obsessed with their instant pots.
While you can certainly prepare homemade apple sauce on the stove-top, the pressure cooker reduces cook time significantly and requires zero attention. You're literally going to dump all of the apples, spices, and liquid in the pot, turn it on, and walk away. No stirring required.
Major bonus? This recipe will make your home smell fantastic.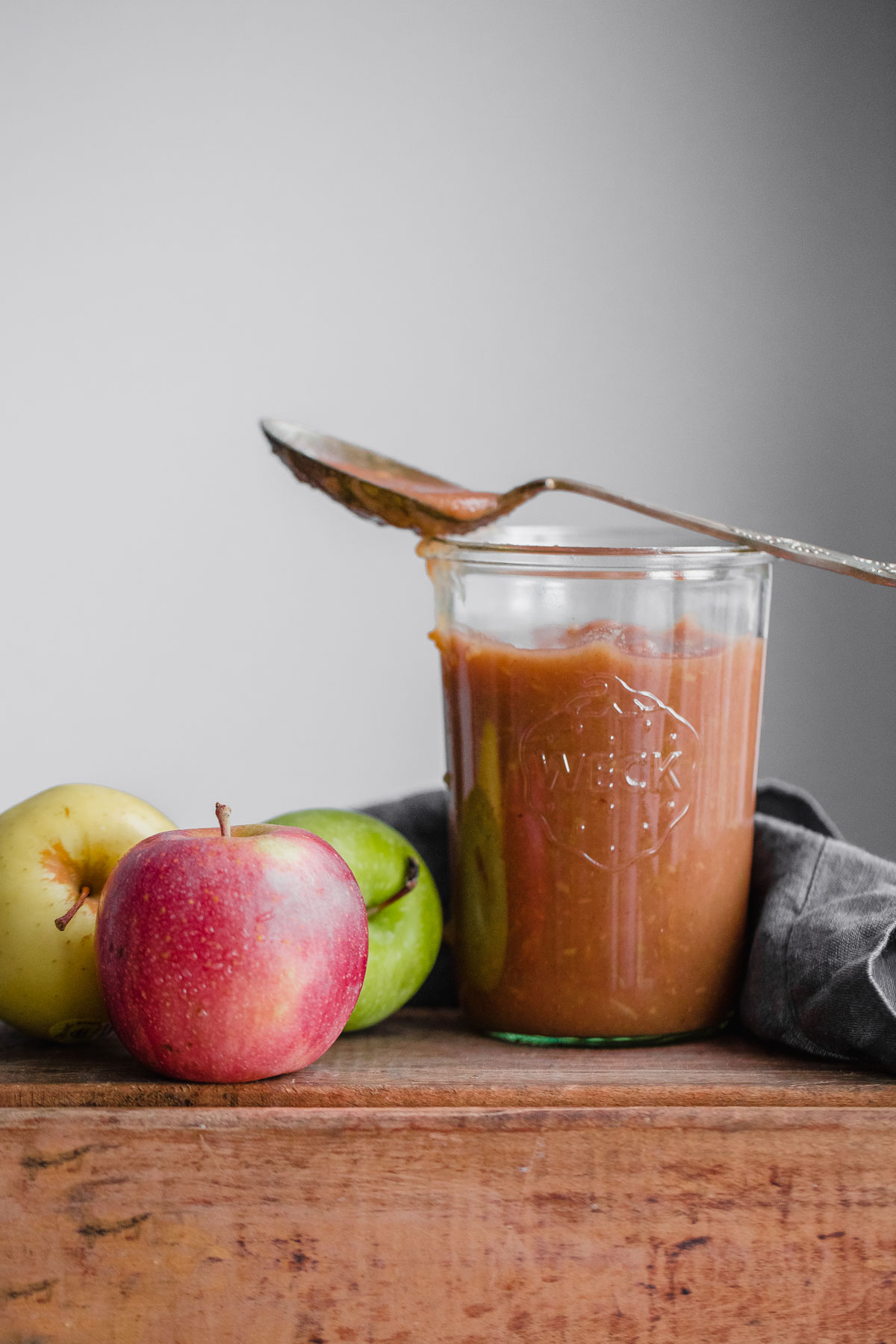 Ingredient Breakdown: Variety of Apples
Ok, here's the deal. As when making apple pie, you'll want to use a few varieties of apples in your homemade apple sauce. Different types of apples will contribute varying levels of sweetness, tartness, and overall texture.
Unlike apple pie, where you want to use apple varieties that hold their shape fairly well once cooked (eg. Granny Smith, Honeycrisp, etc.), homemade apple sauce benefits from apple varieties that become tender easily and release a fair amount of liquid once cooked.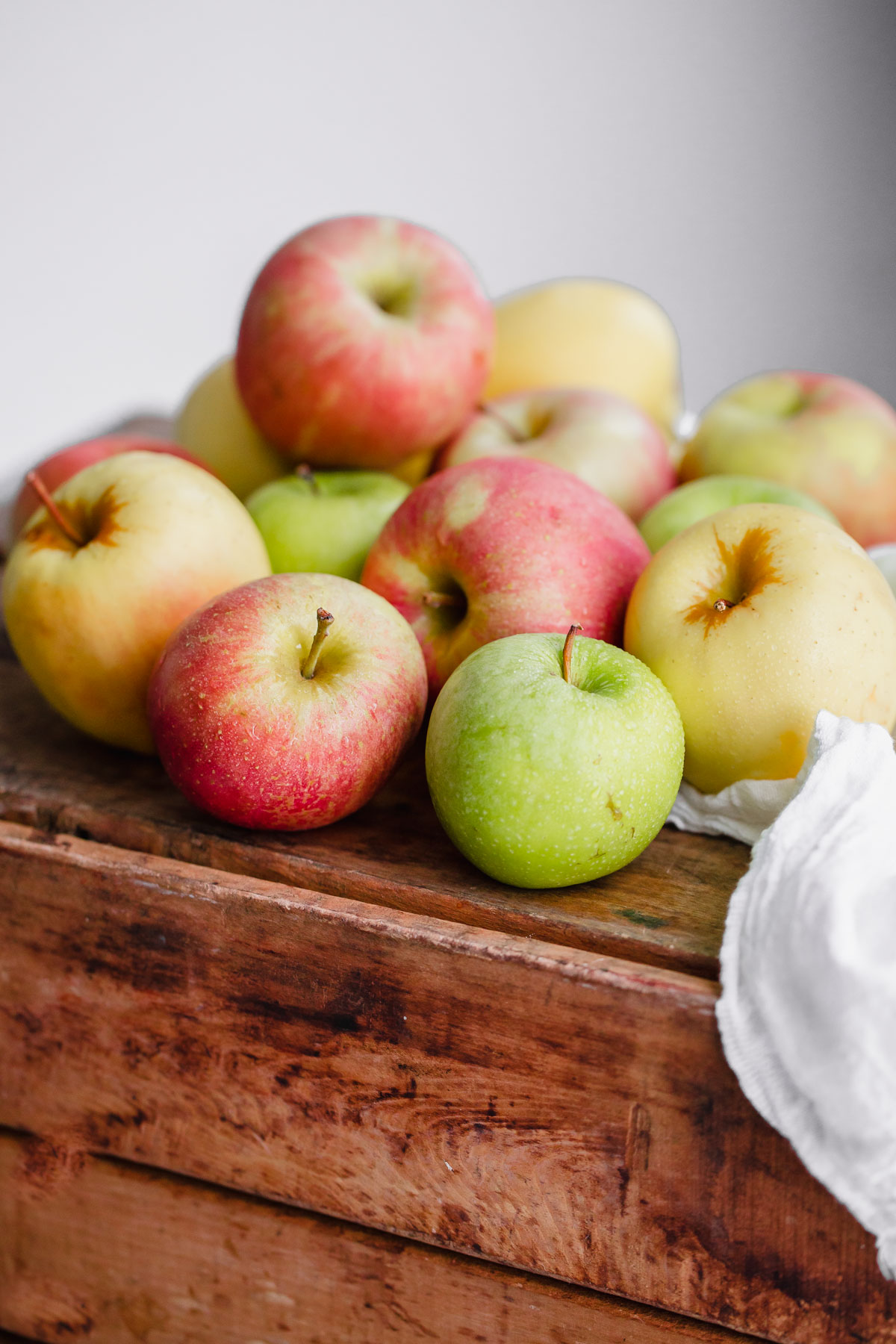 Fuji and Golden Delicious are considered great apples for apple sauce as they both tend to lose their shape quickly and contribute sweetness. Granny Smiths add that signature tartness that balances the overall flavor.
I noticed an improved texture and overall flavor in the apple sauce when using a combination of several apples.
This recipe uses Fuji, Golden Delicious, and Granny Smith, producing an applesauce that has a smooth texture and great balance of natural sweetness and tartness.
If you find most generic, unsweetened apple sauces too sweet, you're going to love this preparation.


Tips for Success:
You'll be able to make this instant apple sauce in just 7 minutes of high pressure cooking time. This recipe calls for 5 pounds of fresh apples, so it is important to use at least a 6-quart capacity pressure cooker for this recipe.
This applesauce recipe will make two full quarts of homemade apple sauce, which can be stored in a container in the refrigerator for up to 10 days.
I promise, you'll go through it much faster than this.
For added flavor, we'll be adding ground cinnamon, cardamom, and vanilla extract. If you'd prefer an applesauce designed for more savory applications, reduce the spices. Don't forget a few pinches of my favorite kosher salt too! It makes a big difference.


Peeled vs. Unpeeled
Most apple sauce recipes call for peeled apples, which takes a lot of prep time, especially if you are using a large quantity as this recipe does. This recipe does not require any apple peeling. I repeat, zero apple peeling.
While the apple sauce will look a little bit of a hot mess once cooked (bottom left photo), the cooked apple peels blend extremely easily with an immersion blender, food processor, or high-powered blender.
Since most dietary fiber and nutrients within apples is found in the skin, you'll also be left with a more nutritious and filling apple sauce.
On that note, I highly recommend using organic apples, particularly if you are choosing to leave the apples unpeeled as recommended for this recipe. Apples are considered one of the Dirty Dozen and generic ones have high levels of pesticides.
How to Use This Instant Pot Apple Sauce:
straight-up on its own as a snack
our favorite way to use it: spooned or layered with Greek yogurt and topped with crunchy granola. instant, nutritious breakfast bowl. for whatever reason, I've never thought to pair apple sauce with yogurt in the past and it is my new favorite thing. make your own DIY yogurt pots by layering yogurt and apple sauce in small glass jars and storing covered in the fridge.
spoon it on top of warm steel cut oats or waffles!
served slightly warm on vanilla ice cream. yes, please.
use it in your favorite baked goods in lieu of lieu of store-bought apple sauce. just remember to reduce any other baking spices to account for the added flavor.
reduce the baking spices and serve it alongside savory dishes, like pork or chicken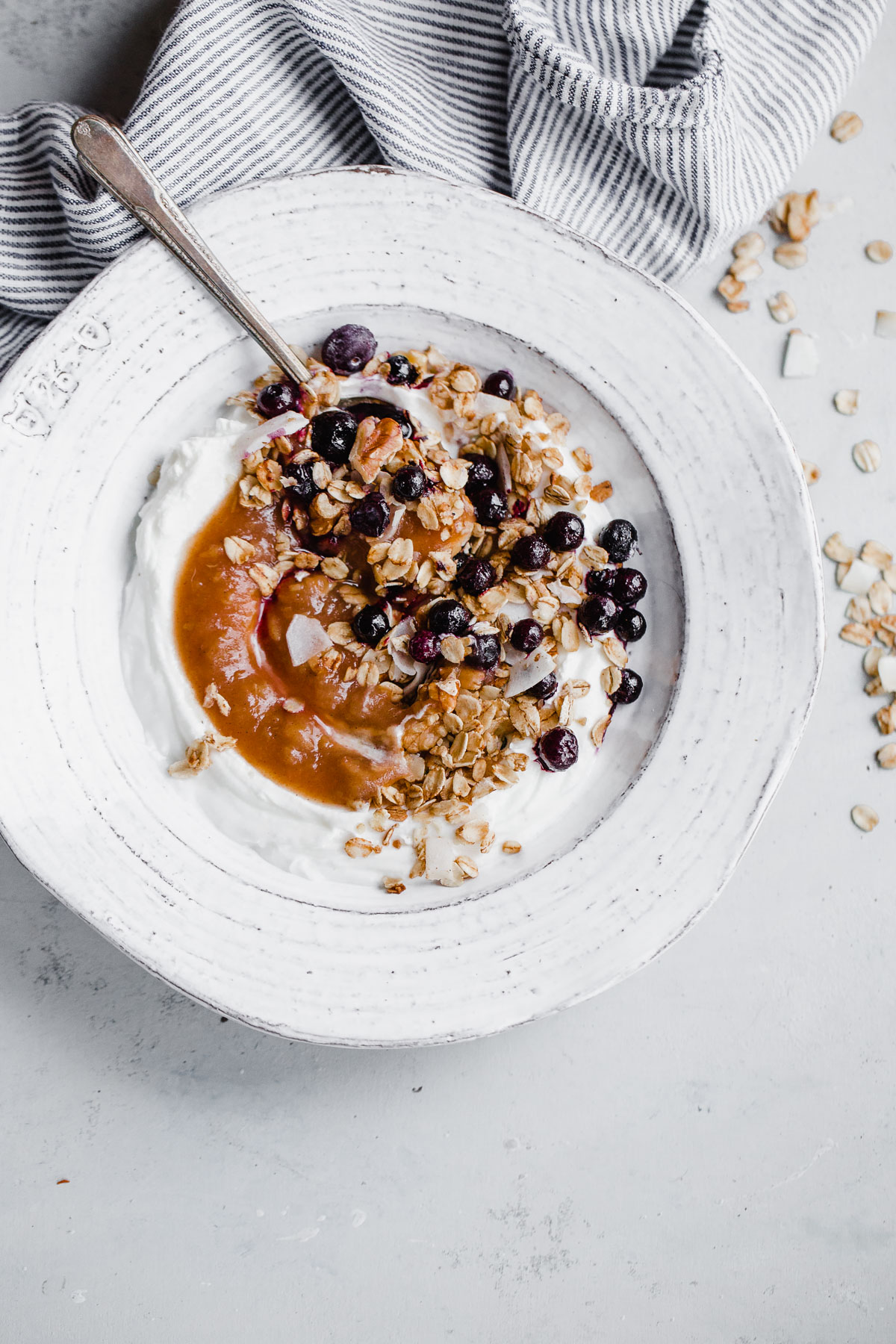 Products Used for this recipe:
(may include affiliate links)