Raspberry Soufflés
These raspberry soufflés. I might have just discovered my least favorite thing to photograph in the entire world. Ugh.
Talk about a major race against time! I think I lost that race (and gained a few gray hairs in the process), but don't worry, a slightly fallen soufflé tastes just as good as a puffy, just-out-of-the-oven soufflé.
I promise.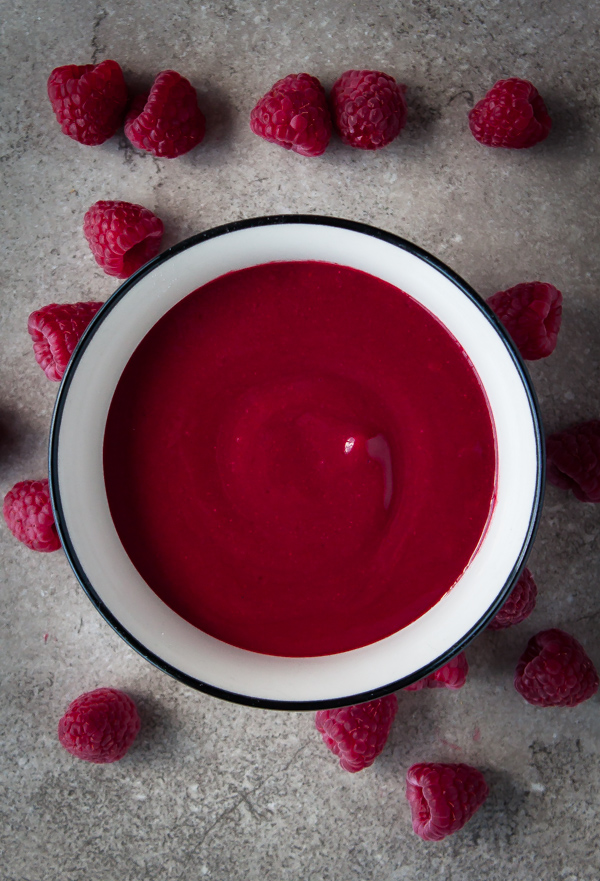 Can you believe it has been almost a month since I shared a dessert recipe? Obviously, I had to do something about that, and that is how these soufflés came into the picture.
My brain has been on a one-track mind lately when it comes to summer desserts (pies, and more pies), but I really wanted to do something a bit different.
Fruit soufflé? Perfect solution.
The first time I ever had a soufflé was back when I was about 10 years old. We were on vacation in Los Angeles, and my family and I had just gone to a fancy restaurant. [P.S. Coincidentally, this is also where I had the best Caesar salad of my life!]
I distinctly remember my parents giving me a 2-minute saga all about soufflés–and being blown away by the concept of a dessert that required you to order it at the beginning of the meal.
My ten-year-old brain didn't know what to expect, but I knew it was going to be special. I mean, just the word soufflé is special, am I right?
It was dramatic, rich, yet light and spongy. I was in love. That was my first soufflé experience.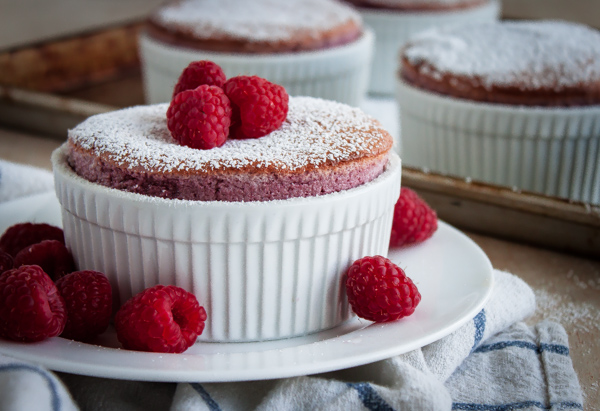 My second soufflé experience (well, besides eating them) was in culinary school. We made a lot of soufflés over the course of those six months and trust me when I say this, the intimidation factor never diminished for me.
Soufflés aren't complicated, but they are intimidating. I always said a little prayer whenever I put a soufflé into the oven.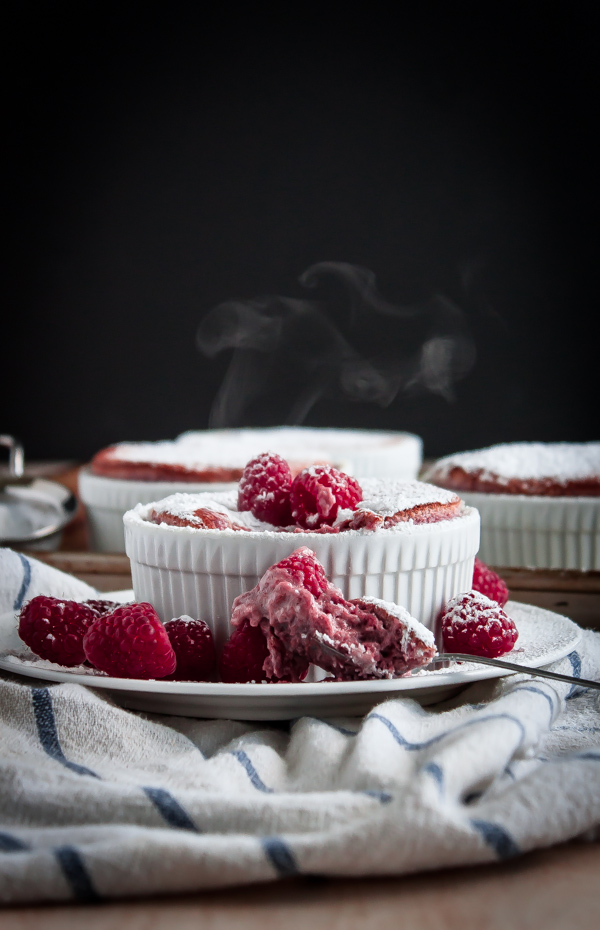 The good news?
The great things about soufflés definitely outweigh the scary things. You can prepare them in advance (and just pop the ramekins into the oven before you serve dessert), the flavors and options are pretty endless, they contain very few ingredients, they are naturally gluten-free (for those interested!), they have a very short baking time (16-20 minutes), and well….they are impressive!
These raspberry soufflés get their intense flavor and natural color from raspberry puree. I recommend making the puree from frozen raspberries, because they are much less expensive and the flavor is indistinguishable. Save the fresh ones for garnishing!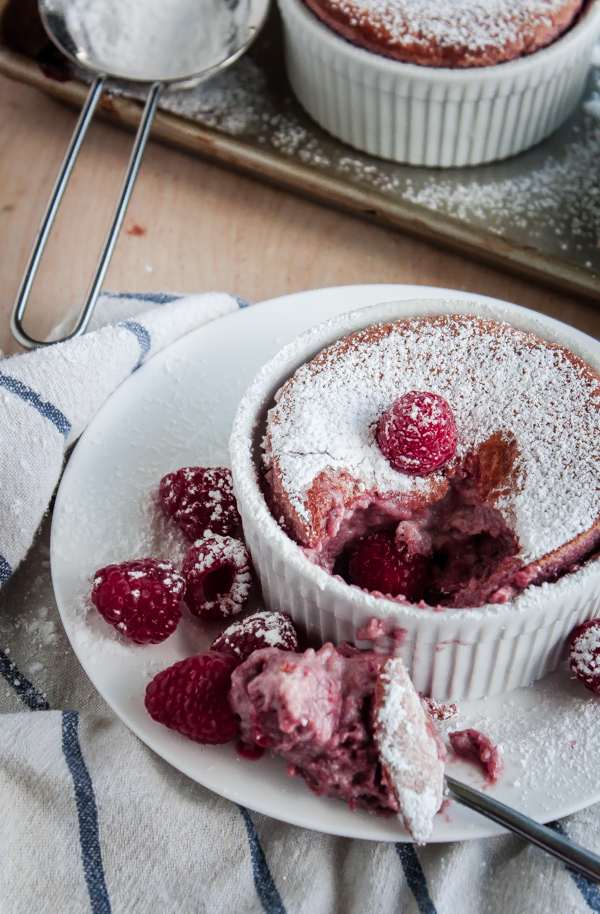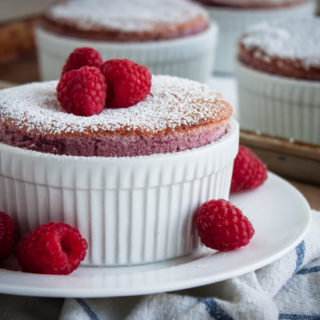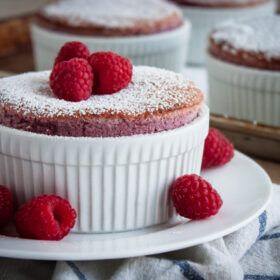 Raspberry Soufflés
A classic French raspberry soufflé recipe made with fresh raspberry puree! This beautiful pink soufflé makes an elegant summer time dessert!
Ingredients
For the Raspberry Puree:
12 ounces frozen raspberries thawed
For the Soufflé:
4 large egg yolks
2½ ounces (70 g) granulated sugar
1½ tablespoons cornstarch
4 ounces raspberry puree see above
juice of one lemon
4 egg whites room temperature
pinch of cream of tartar
pinch of kosher salt
1 ounce (28 g) granulated sugar
powdered sugar for dusting
fresh raspberries for garnishing
Instructions
Preheat oven to 400°F (204°C). Grease four 10-ounce (roughly 4½-inch wide) soufflé ramekins generously with butter, and then coat the ramekins with a thin layer of granulated sugar - shaking to remove any excess sugar. This step will help the soufflé rise and brown evenly. Place the ramekins on a small baking sheet and set aside.

Prepare purée: Purée the thawed frozen raspberries in a blender until very smooth. Strain through a fine meshed sieve. Discard the seeds and reserve four ounces of raspberry puree to the soufflés.

In a bowl, whisk together the egg yolks, first amount of sugar, and cornstarch until thick and pale yellow in color. Whisk in the raspberry puree and lemon juice. Set aside.

In the bowl of a stand mixer, fitted with a whisk attachment, combine the egg whites, cream of tartar, and salt, and whisk over low speed until foamy. Increase the speed to medium-high and slowly add the granulated sugar. Continue to beat the egg whites until they reach soft peaks.

Add a small amount of beaten egg whites to the egg yolk mixture, and whisk in gently. Fold in the remaining egg whites (some white streaks may remain).

Pour the mixture carefully into the centerof the ramekins, and smooth the tops with a spatula. Run your finger along the edges of the ramekins to remove any excess batter from the sides (this can cause the soufflés to rise unevenly).

Carefully place in the oven and bake for 16 to 20 minutes, or until golden brown on top. Remove, dust with confectioners sugar, and garnish with raspberries. Serve immediately.
This recipe will yield extra raspberry puree. Add the extra puree to your favorite smoothie mix.
Serving: 1serving, Calories: 358kcal, Carbohydrates: 73g, Protein: 8g, Fat: 5g, Saturated Fat: 2g, Polyunsaturated Fat: 3g, Cholesterol: 184mg, Sodium: 98mg, Fiber: 7g, Sugar: 60g
This post contains affiliate links, which means that I make a small commission off items you purchase at no additional cost to you. Please read my
privacy policy
for more information.