Readers' Favorite Recipes of 2014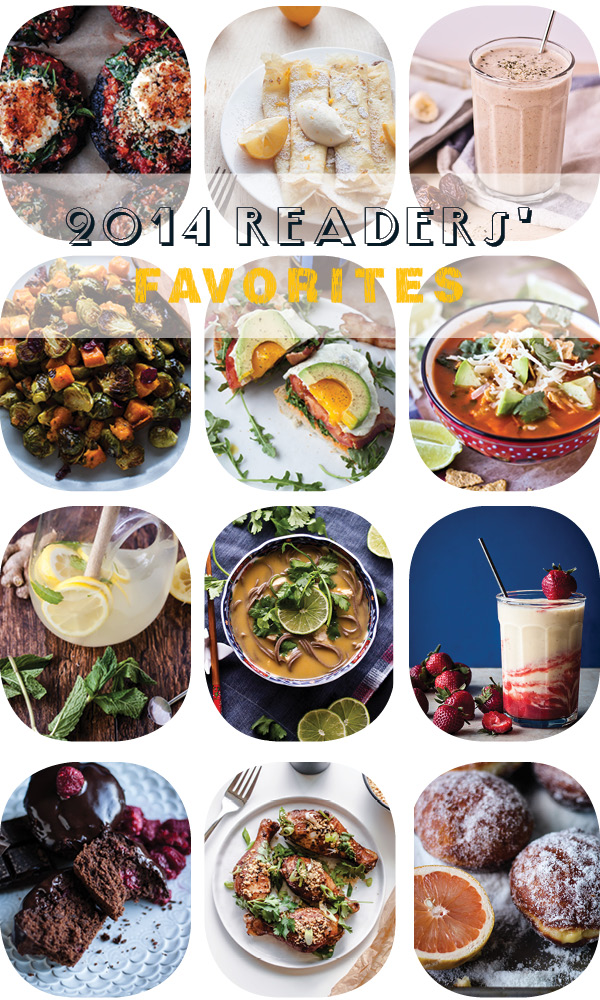 This past year has flown by, and I can't believe we are already saying goodbye to 2014 and welcoming a new year! 2014 was full of amazing changes and challenges: I quit my full-time job to work on the blog, started to plan a wedding, and traveled quite a bit!
If it is at all possible, 2015 has even more exciting, nerve-wracking, and fun things on the agenda! I'll become an aunt for the first time in February, we're getting married in April, traveling to Africa for our safari honeymoon in May, Connor will graduate from medical school and officially be a doctor, and we will most likely be moving to a new city by the end of June! I'm exhausted just thinking about it all, but looking forward to this next chapter in our lives.
I'm also thrilled to get the opportunity to continue to work on this site! While I love creating and sharing recipes with you all, I love this little community even more–and couldn't be here without your support! Thank you, thank you!
On that note, here are your favorite recipes from 2014!
1.  Stuffed Portobello Mushrooms with Crispy Goat Cheese — the number one reader favorite of 2014–and one of my favorites as well! A testimonial from reader, Barbara: "Thank you so much for sharing this recipe! I made it today and it is absolutely delicious!!! The flavors, textures – incredible! I could go meatless with recipes like this…"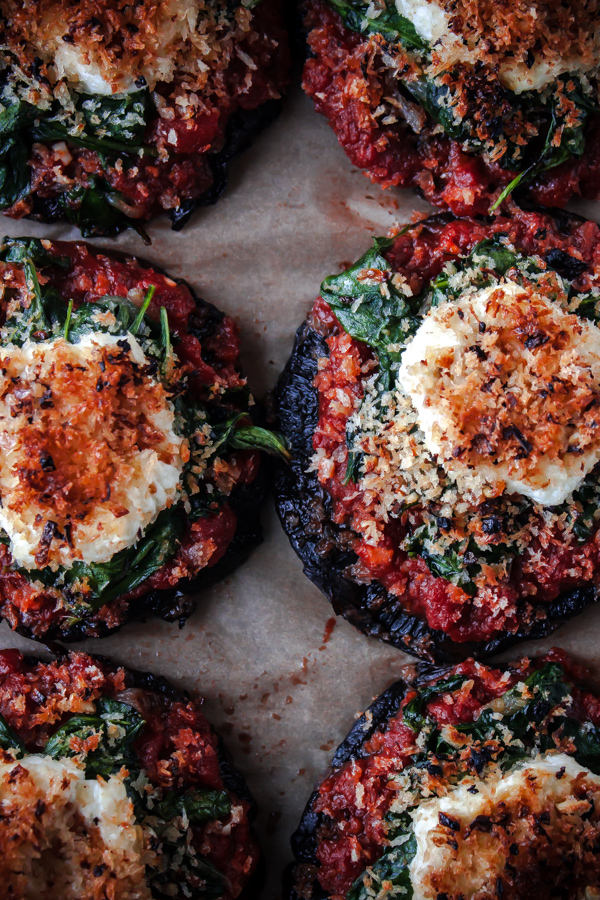 2.  Crepes with Whipped Meyer Lemon Ricotta — a spin on lemon ricotta pancakes, these crepes are the next best thing! Also, Meyer lemons are totally in season right now. It's meant to be.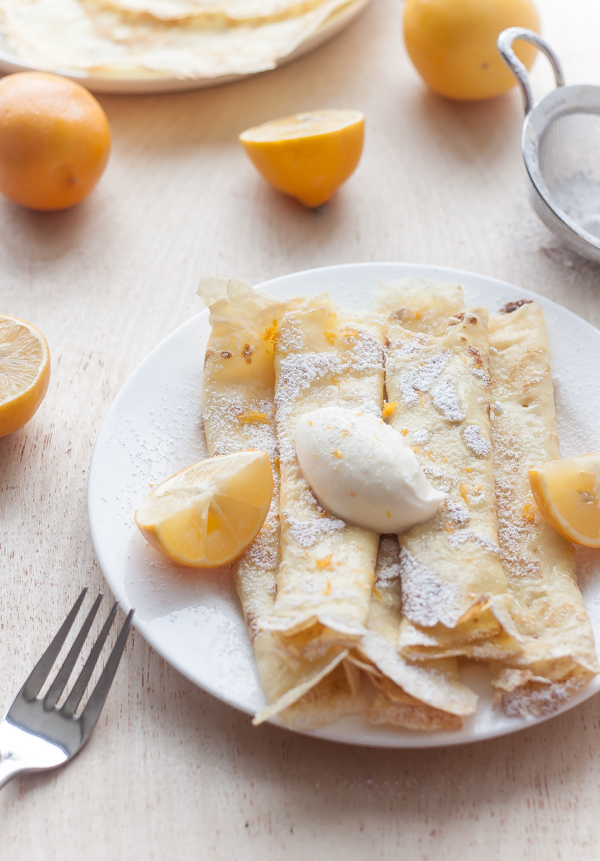 3.  Rise & Shine Smoothie — inspired by a trip to New York City last year, this might be my favorite smoothie recipe of all time. It tastes like banana bread (I swear!) and is packed with tons of healthy ingredients like hemp seeds, dates, almond butter, and coconut water.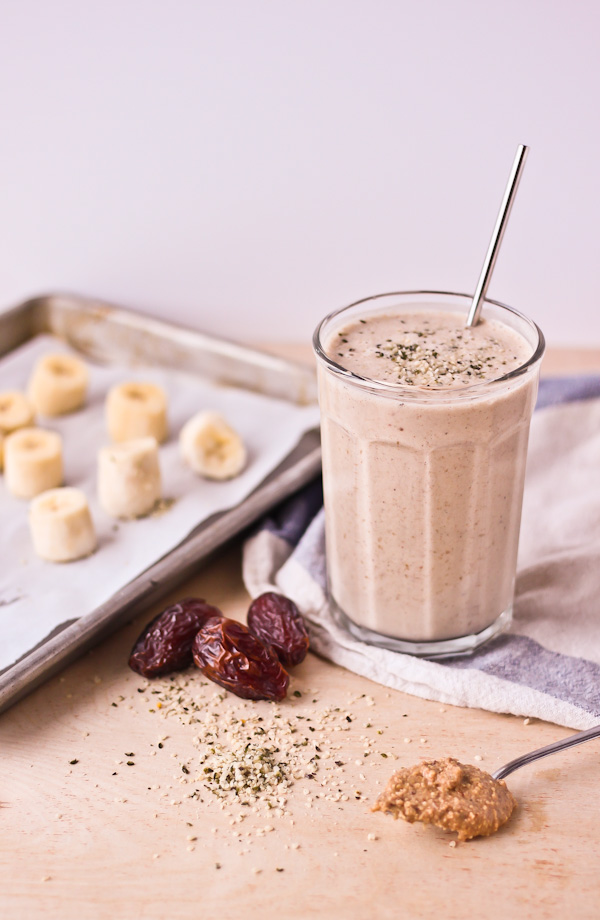 4.  Roasted Squash and Brussels Sprouts with Dried Cranberries and Dijon Vinaigrette — this side dish was shared only a month ago, and is already one of readers' top five recipes this year! You all know my love for Brussels sprouts has no bounds. #BrusselsSproutsWeek forever and ever.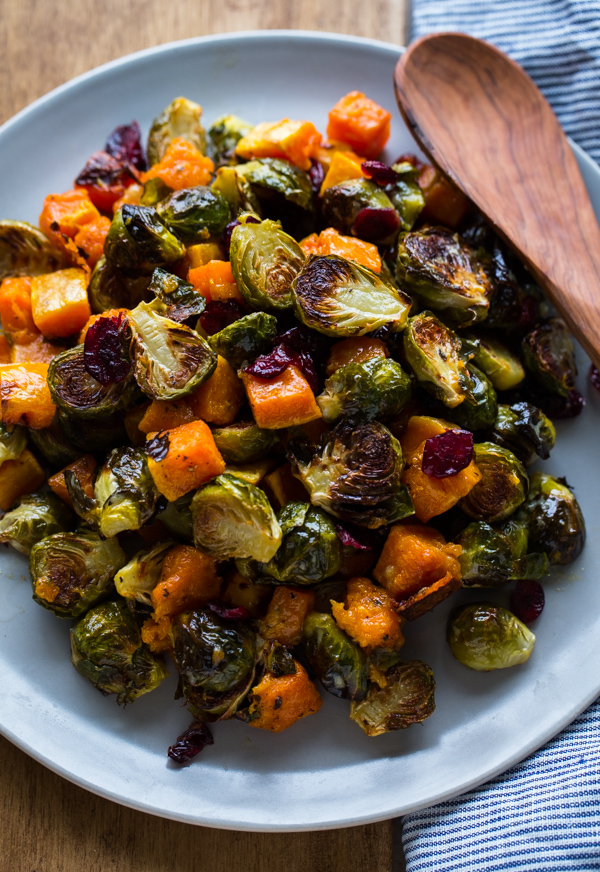 5.  Spicy Peanut Ginger Drumsticks — a testimonial from reader, Ivy: "I made this tonight. I added a little garlic in the marinade. I could not find garlic flavored bean sauce. I used a spicy bean sauce. I also used both drumsticks and chicken breasts. It was FANTASTIC. My family loved it. Thank-you for sharing. I've made numerous recipes from pinterest. This is one was the best chicken recipes I've tried."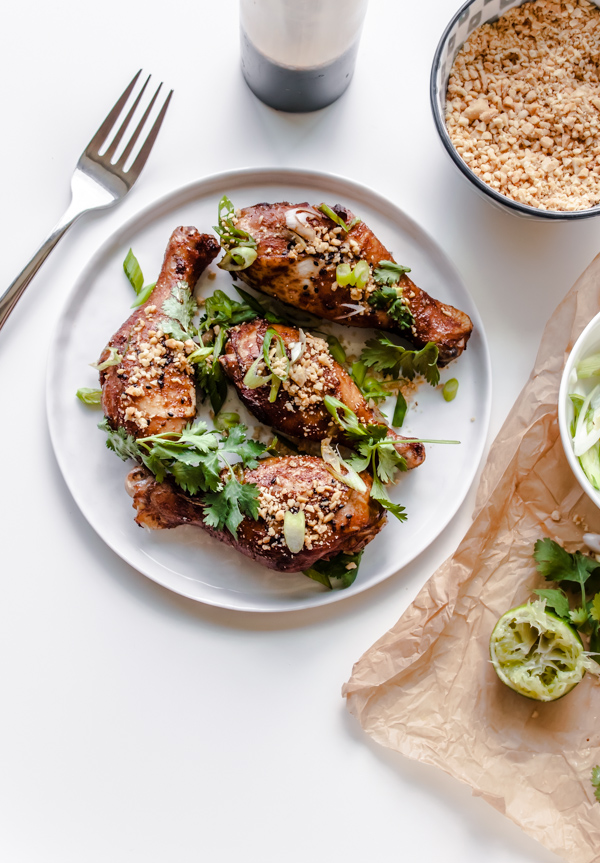 6.  Strawberry-Banana Mango Lava Flow — this smoothie makes me want to hop on a plane and head to the beach! Inspired by my favorite summer beach drink, this version is made with Greek yogurt, bananas, mango, and fresh strawberry puree.
7.  Connor's Ultimate BLT –I'm fairly positive this Connor-approved sandwich needs no explanation. And I'm never not topping a BLT with a fried egg ever again.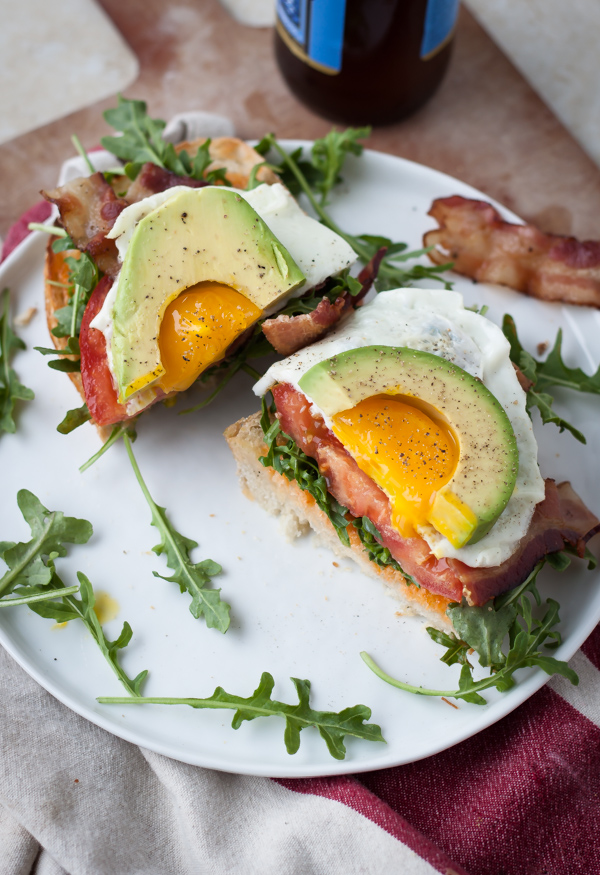 8.  Fresh Mint Ginger Lemonade — fresh ginger simple syrup, torn mint leaves, and lots of freshly squeezed lemon juice make for an incredibly refreshing twist on a classic lemonade. Testimonial from reader, Mell: "Thanks so much for sharing! This lemonade is INCREDIBLE! Our guests agree that it is the best they've ever had. Thanks again!"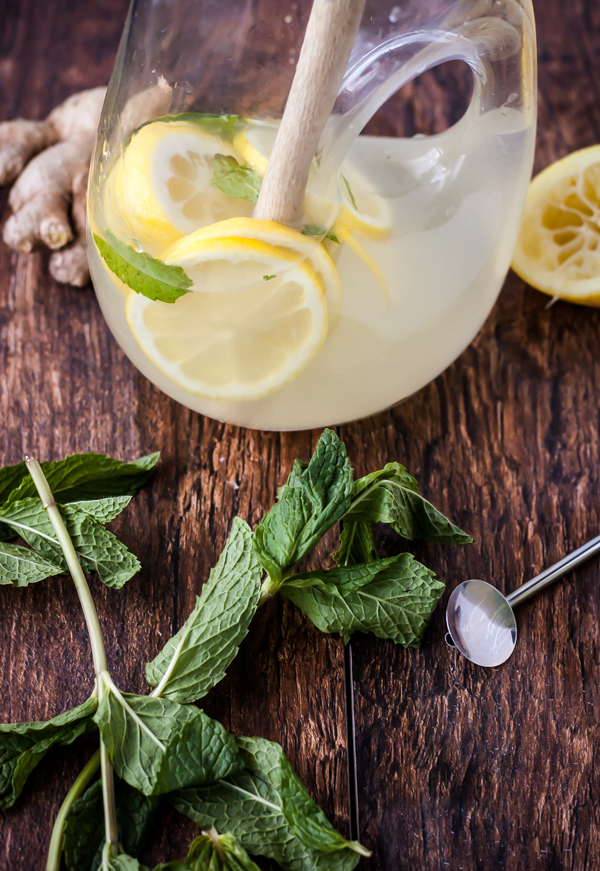 9.  Classic Mexican Tortilla Soup — this is one of my favorite soup recipes of all time (and the best Mexican tortilla soup out there!), and I quite literally make it…all the time! Seriously, I've probably made this soup at least ten times in the past year alone. I might have even made it twice in one week at one point. Please, please make it!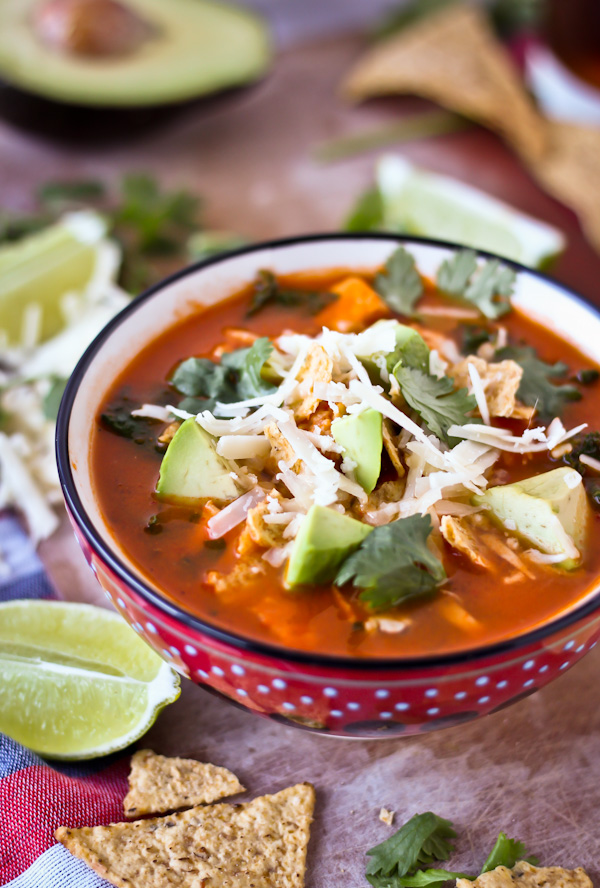 10.  Thai Coconut Chicken Noodle Soup — the ingredients for this soup are a little tricky to find, but this is another one of my favorite recipes from the past year! This recipe comes together very quickly too!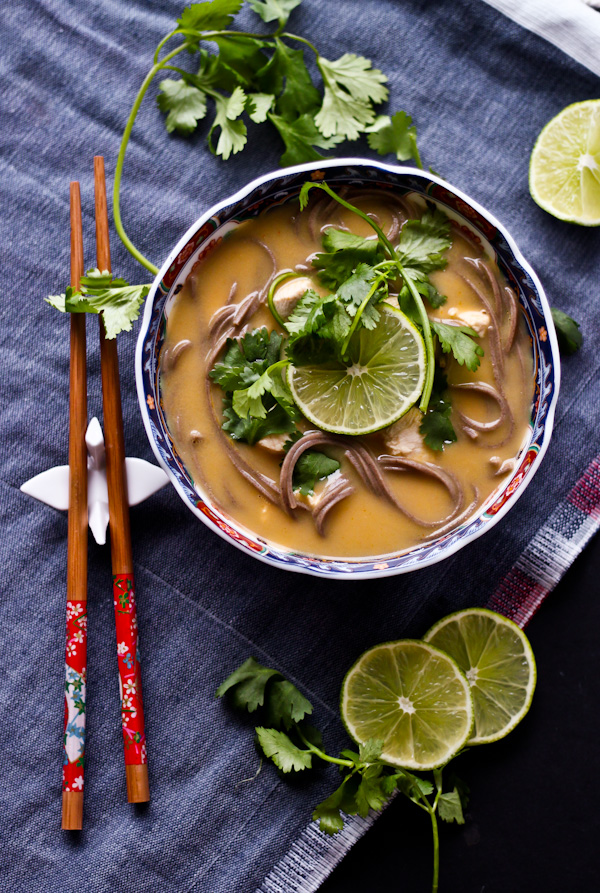 11.  Grapefruit Curd Stuffed Doughnuts — this doughnut recipe was one of the first recipes shared in 2014, and I'm so thrilled that it happened to make the list! A new grapefruit recipe is on my agenda for the coming year.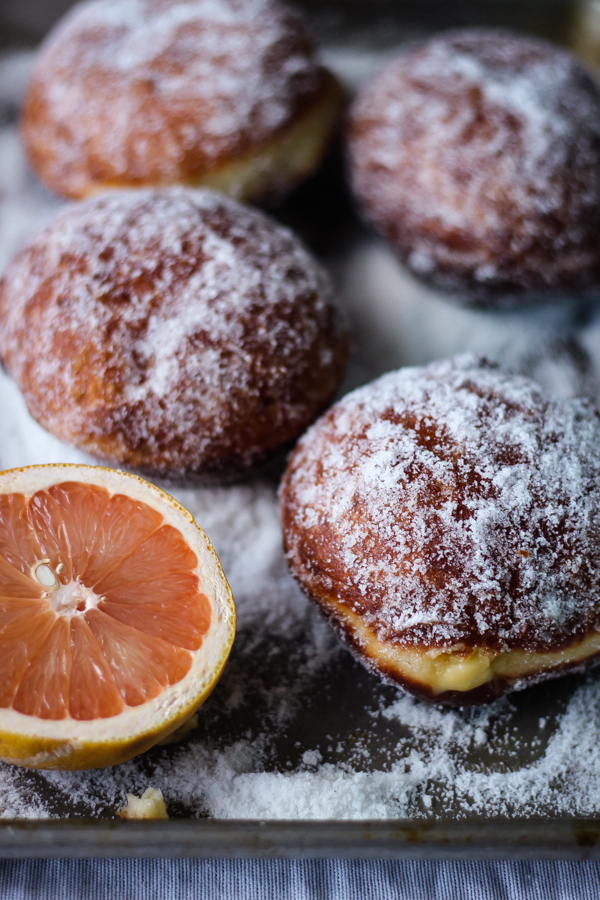 12.  Dark Chocolate Chunk Raspberry Muffins — the time that I convinced you to make dark chocolate muffins stuffed with chocolate chunks and raspberries, and eat them for breakfast. I should do that more often.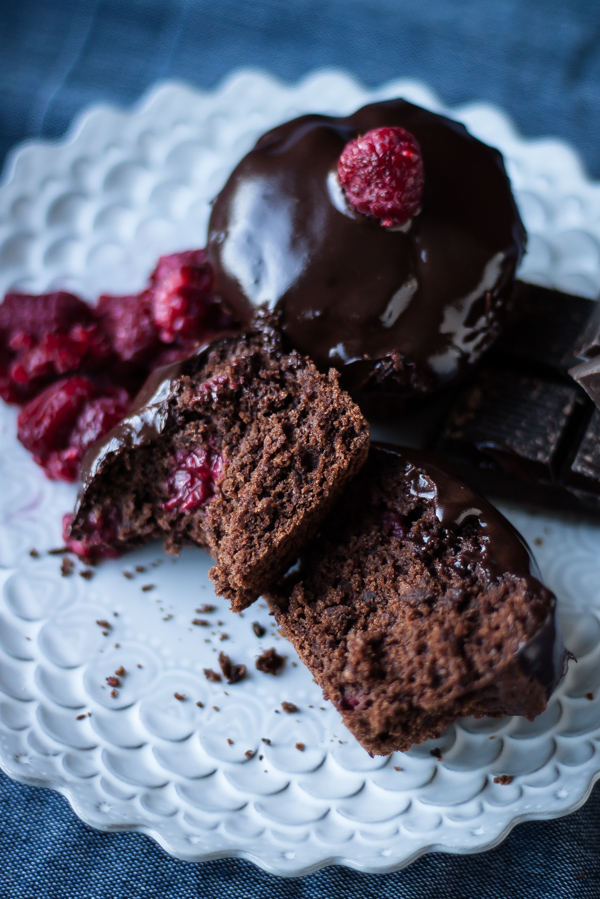 Hope everyone has a safe and fun New Year's! Thank you all so much for taking the time to visit this site, leave feedback, and make this all possible. Here's to an exciting year ahead!
This post contains affiliate links, which means that I make a small commission off items you purchase at no additional cost to you. Please read my
privacy policy
for more information.