Butternut Squash Leek Soup with Crispy Prosciutto and Creme Fraîche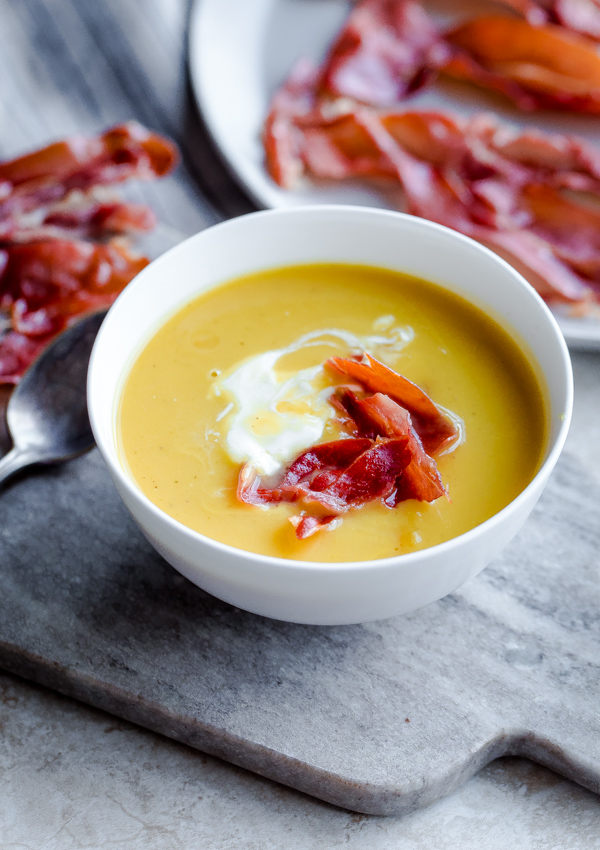 Soups one of my favorite things to make in the kitchen. In my mind, there is no better way to start off a new year than with a big bowl of hot soup.
This Butternut Squash and Leek Soup is the first of the year and I have to admit, I couldn't be more pleased with it. The soup is creamy and rich, yet nutritious and versatile. If you want to make this vegetarian or vegan friendly, simply swap the chicken stock for vegetable broth.
For a touch of indulgence, the soup is garnished with creme fraiche and crispy prosciutto. It makes this dish a bit more fancy and elegant, particularly if you are looking to serve it as a first or main course.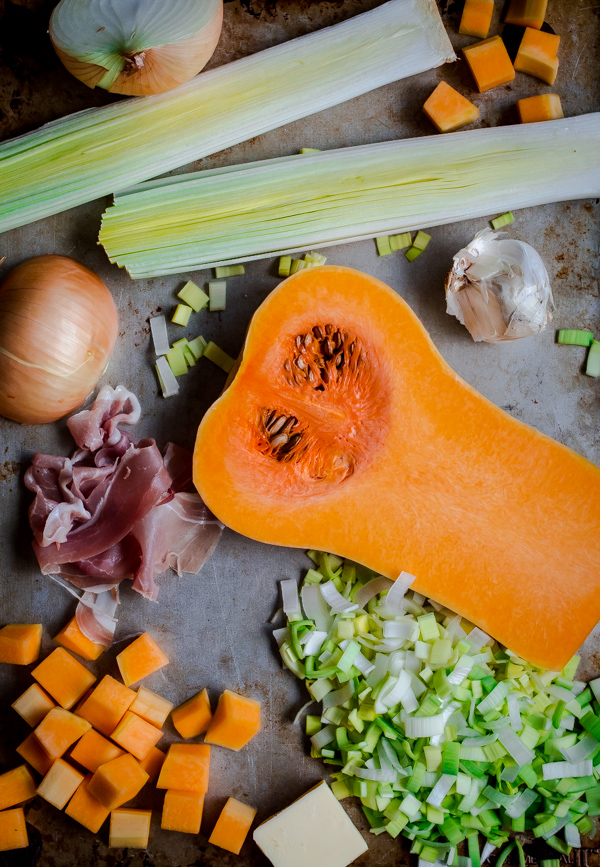 In fact, this might just be one of my favorite soups that I've ever made? That type of proclamation always makes me a bit nervous, but I'm sticking with it. Particularly this time.
Some vegetables are made for soups and butternut squash and leeks are two of my favorite soup staples. Squash seems to produce one of the creamiest textures for soup.
Leeks are equally as special. Onions are great in a pinch (in fact, this recipe uses a bit of onion as well), but whenever I am making or creating soup recipes, such as this Asparagus Soup, that use just two or three main ingredients, I turn to leeks.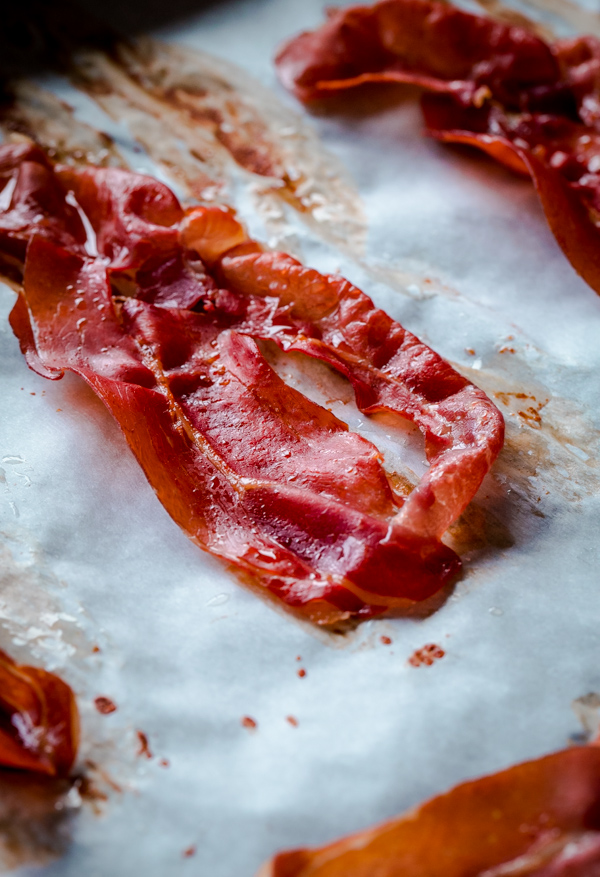 Crispy prosciutto is a welcome addition to this soup.
Since this addition is a garnish (and not used in the soup at all), I chose Italian prosciutto, because it is paper-thin, not quite as smoky as bacon or pancetta which can sometimes over power more delicate flavors. It also quickly crisps up in the oven.
How to Make Crispy Prosciutto:
To make extra crispy prosciutto, lay individual prosciutto slices on a lined half sheet pan and bake at 375°F (190°C) for roughly 15 minutes. They crisp, darken in color, and can be served whole or broken into small pieces or crumbles.
Since the crispy prosciutto is best served immediately, I recommend prepping it just before serving.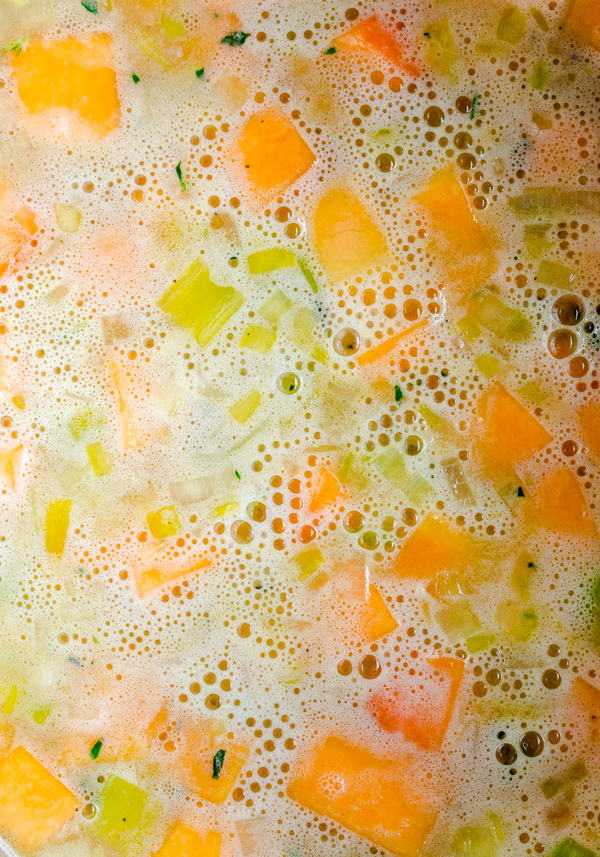 Garnishes are the accessories of the food world.
Sure, you could live without them. But they can really pull a dish together and give it that extra 'wow' factor. I guarantee you that most people will be more excited and grateful to see that you made soup for dinner if it is accompanied by a huge slice of crispy prosciutto.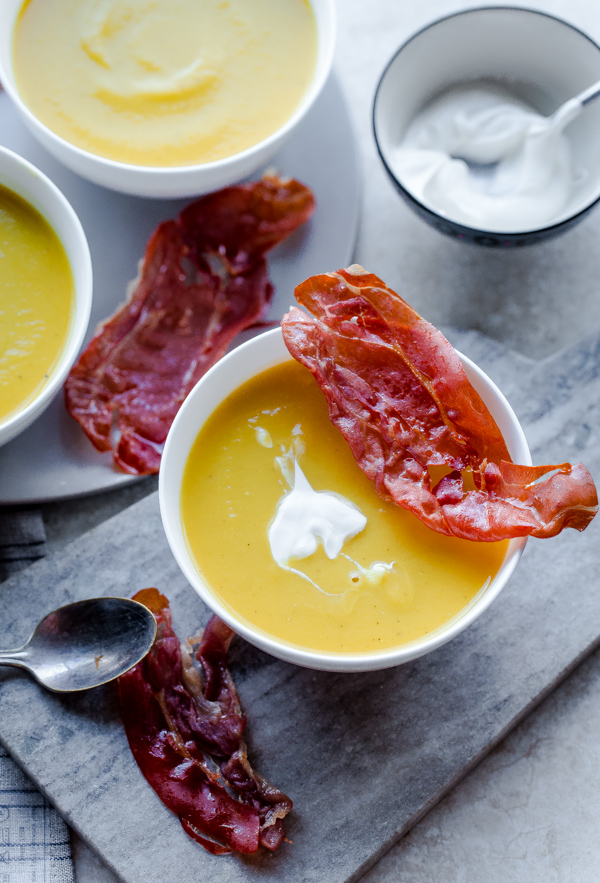 This soup can be thrown together in less than 45 minutes and is perfect for any day of the week. It can also be made ahead and reheated later.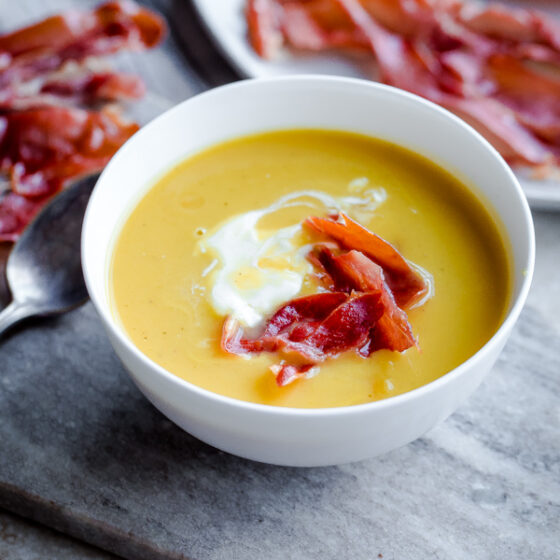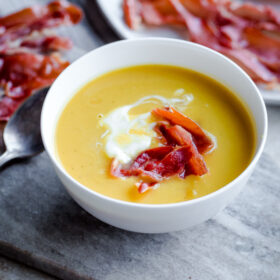 Butternut Squash Leek Soup with Crispy Prosciutto and Creme Fraîche
Creamy butternut squash and leek soup topped with crispy prosciutto and creme fraîche. This elegant soup comes together in less than an hour! The soup is naturally creamy, yet nutritious and versatile. If you want to make this vegetarian or vegan friendly, simply swap the chicken stock for vegetable broth.
Ingredients
6 Prosciutto di Parma slices optional
2 tablespoons extra virgin olive oil
2 tablespoons (30g) unsalted butter
½ medium yellow onion finely diced
2 large leeks white and light green parts only, thinly sliced, roughly 6 ounces
2 large garlic cloves finely minced
2 teaspoons finely chopped fresh thyme leaves about 3 to 4 sprigs
2½-3 lb whole butternut squash peeled and chopped into ¾-inch chunks
1 quart (4 cups; 960 mL) low-sodium chicken or vegetable broth
kosher salt
freshly ground black pepper
1 teaspoon fresh lime juice see recipe notes
Garnishes:
creme fraîche for dolloping
Instructions
Prepare the Crispy Prosciutto Slices: Preheat the oven to 375°F (190°C) with a rack in the center position. Line a half sheet pan with parchment paper or foil. Carefully lay the prosciutto slices flat onto the lined sheet pan, leaving space between them. Bake the prosciutto, flipping halfway, for 15 to 20 minutes or until they are very crispy and have darken in color. Place slices on a paper-towel lined plate to absorb any excess oil and set aside to cool while you finish preparing the soup.

Make the Butternut Squash Leek Soup: Heat the olive oil and butter in a large soup pot over medium-low heat, or until it just begins to bubble and sizzle slightly. Add the chopped onion and leeks, a pinch of salt, cover, and sauté over medium-low heat for 8 to 10 minutes, stirring every few minutes, until the onions and leek are very soft and translucent. Uncover the pot, add the garlic and thyme and saute for another 1 to 2 minutes, stirring constantly.

Add the chopped butternut squash and sauté for an additional 2 to 3 minutes. Add the chicken broth and bring to a boil. Reduce heat to low and simmer the soup, uncovered, for 20 to 30 minutes or until the squash is very tender.

Carefully transfer the soup to a high-powered blender, such as a Vitamix, and pureé until very smooth. Return the soup to the pot and simmer for an additional 10 to 15 minutes or until it has thickened slightly. Season to taste with salt and pepper (soups usually need quite a heavy hand of salt to be well-balanced) and stir in the lime juice. Serve the soup piping hot with a slice of crispy prosciutto and a dollop of creme fraiche.
Tips for Success: 
Fresh lime juice is one of my favorite 'trick' ingredients for soups! It is a bit more delicate than lemon, and helps balance flavors extremely well. If you don't have it on hand, feel free to leave it out.
Serving: 1serving, Calories: 244kcal, Carbohydrates: 23g, Protein: 15g, Fat: 12g, Saturated Fat: 5g, Polyunsaturated Fat: 6g, Cholesterol: 43mg, Sodium: 773mg, Fiber: 6g, Sugar: 6g
This post contains affiliate links, which means that I make a small commission off items you purchase at no additional cost to you. Please read my
privacy policy
for more information.