Butternut Squash and Leek Soup with Crispy Prosciutto and Creme Fraiche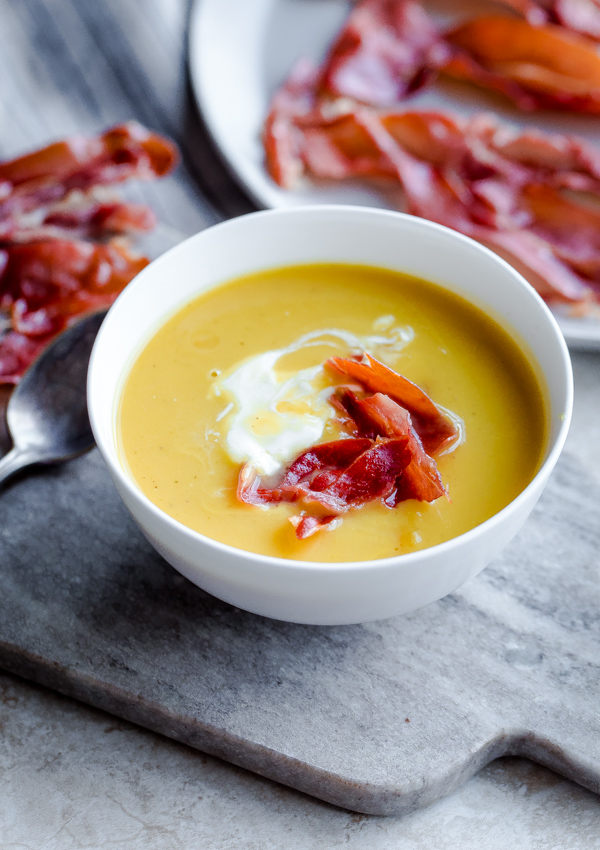 The very first recipe of 2015. That idea seemed a little intimidating at first, but my mind immediately fixed itself on soup! Not only are soups one of my favorite things to make in the kitchen (top five for sure!), but in my mind, there is no better way to start off a new year than with a big bowl of hot soup.
In fact, another soup week may be in order in the next month or so. What do you guys think? I'm clearly biased.
But back to this soup! This butternut squash and leek soup is my first recipe of 2015–and I have to say, I couldn't be more pleased with it! The soup itself is creamy and rich, yet extremely healthy, and ridiculously versatile. If you need to make this vegetarian or vegan, simply swap chicken stock for vegetable broth.
For a touch of indulgence, I garnished the soup with a spoonful of creme fraiche and some crispy prosciutto. I know, I know…it's a New Year! But a girl's gotta live. It makes the soup a bit more fancy and upscale, particularly if you are looking to serve it as a first or main course for a nice dinner. However, if you don't feel like bothering with an extra step or you simply want to make this soup easier on the wallet, these additions are completely optional.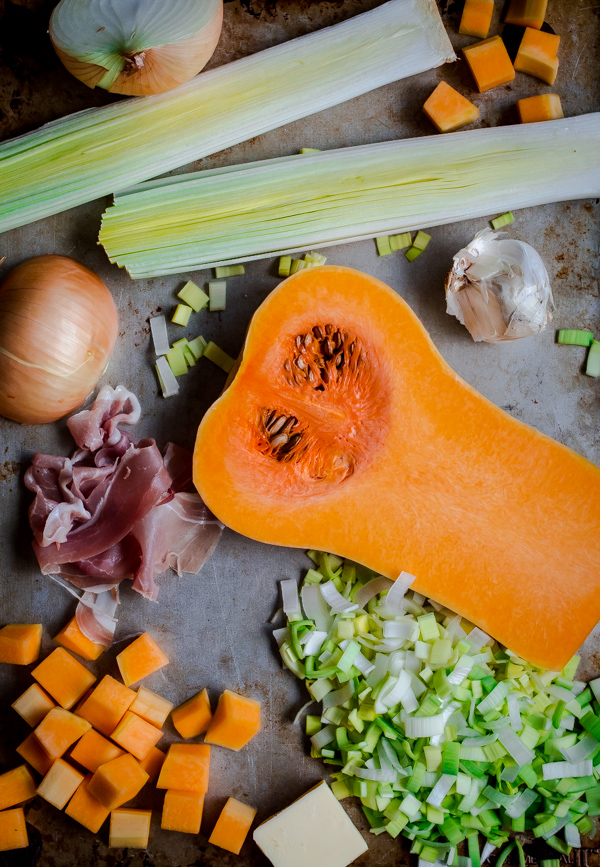 In fact, this might just be one of my favorite soups that I've ever made? That type of proclamation always makes me a bit nervous, but I'm sticking with it. Particularly this time.
Some vegetables are made for soups, and butternut squash and leeks are two of my absolute favorites! No other squash or vegetable produces quite the same creamy texture and seemingly 'rich' (yet light) flavor or of butternut squash. It is the star of all winter squashes, particularly for soups.
Leeks are equally as special, and another one of my go-to soup ingredients. Onions are great in a pinch (in fact, this recipe uses a bit of onion as well), but whenever I am making or creating soup recipes that use just two or three main ingredients, leeks are one of my must-have ingredients.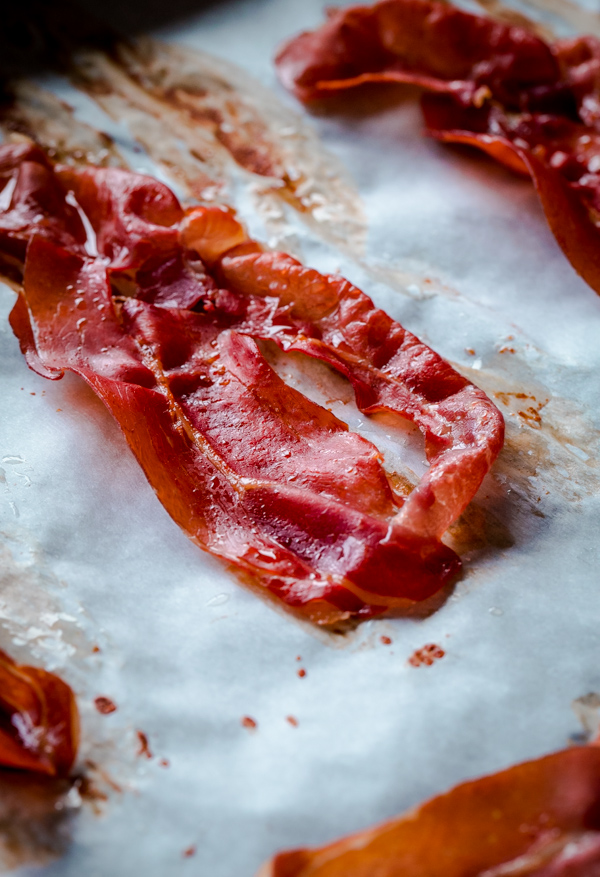 And nothing quite goes better with butternut squash or leeks than…you guessed it…crispy prosciutto! Or basically any type of crispy pork situation.
Since this addition was simply a garnish (and not used in the soup at all), I chose Italian prosciutto, because it is paper-thin, not quite as smoky as bacon or pancetta (which can sometimes over power more delicate flavors) and perfect for crisping up in the oven in a relatively short time.
It couldn't be more easy! To make extra crispy prosciutto, just lay the individual prosciutto slices on a lined baking sheet and bake them at 375 degrees Fahrenheit for just over 15 minutes. They dry out, darken and redden in color, and are great for breaking into small pieces or crumbles, or simply laying across the rim of the soup bowl.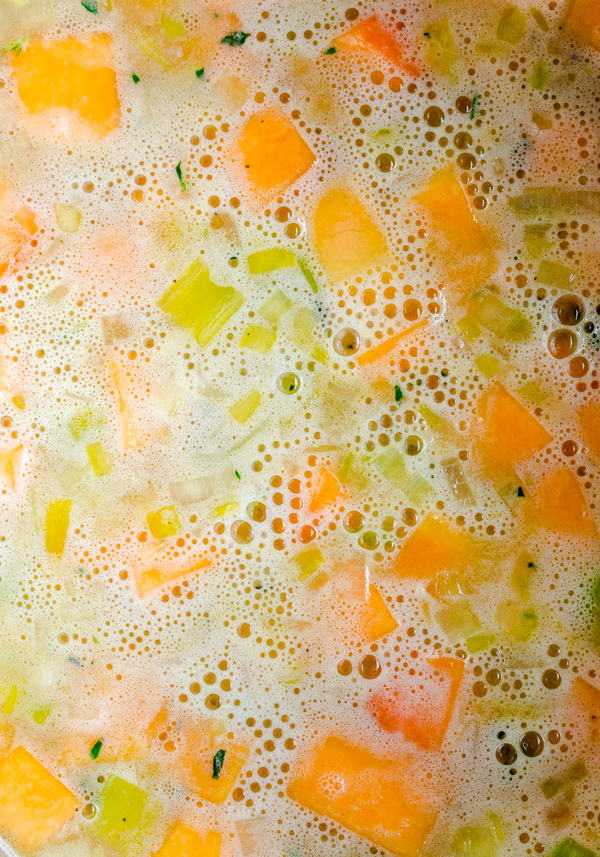 Garnishes are the accessories of the food world.
Sure, you could live without them. But they can really pull a dish together and give it that extra 'wow' factor. I guarantee you that most people will be more excited and grateful to see that you made soup for dinner if it is accompanied by a huge slice of crispy prosciutto.
No question.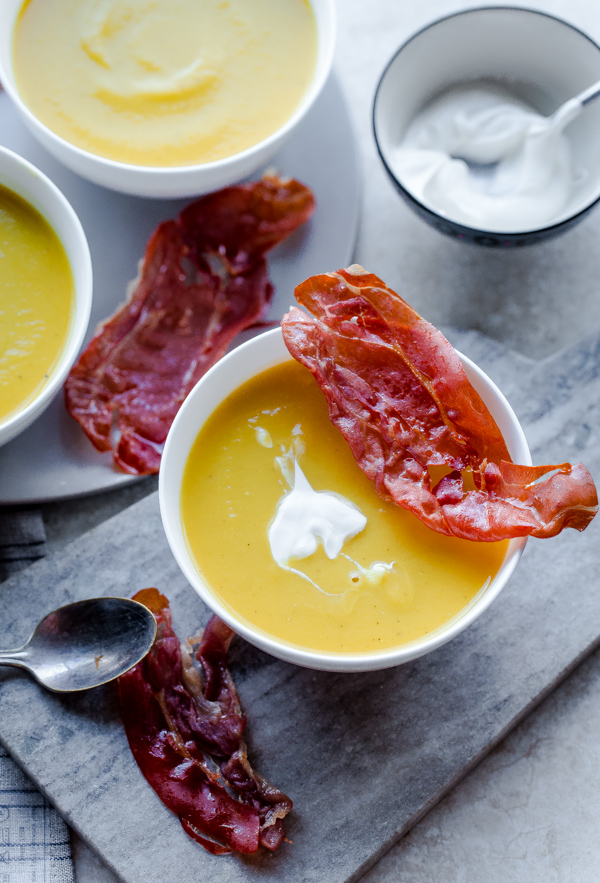 This soup can be thrown together in less than 45 minutes, and is perfect for weekdays or making ahead on the weekend and serving throughout the week for work lunches or leftovers!
Since the prosciutto is best served fairly quickly after it is crisped, I recommend not saving any for leftovers–unless you are making a new batch. Enjoy!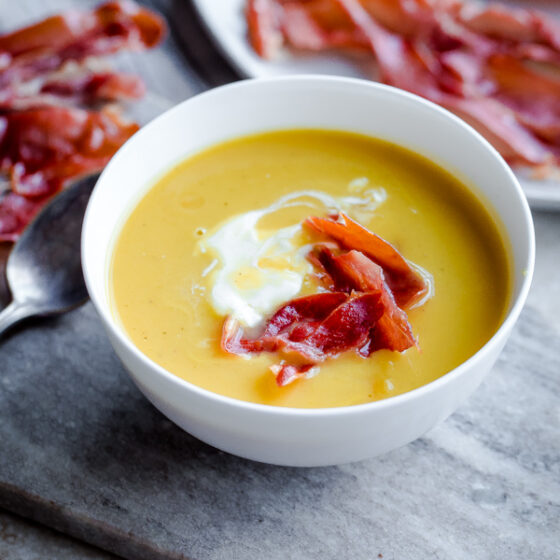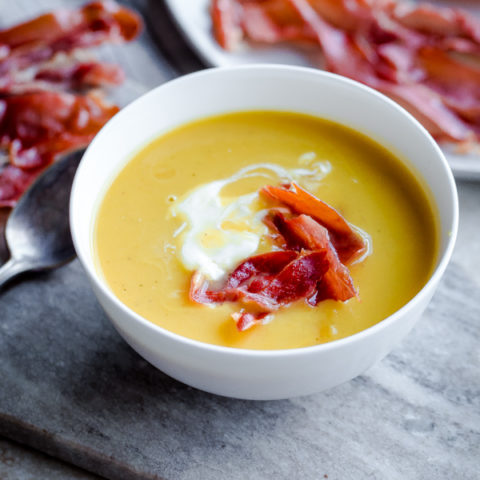 Butternut Squash and Leek Soup with Crispy Prosciutto and Creme Fraiche
Yield: 4-6 Servings
Prep Time: 15 minutes
Cook Time: 30 minutes
Total Time: 45 minutes
Ingredients
6 thin slices of prosciutto di parma (optional)
2 tablespoons extra virgin olive oil
2 tablespoons unsalted butter
1/2 medium yellow onion, finely diced
2 large leeks (white and light green parts only, roughly 6 oz), thinly sliced
2 large cloves of garlic, finely minced
2 teaspoons finely chopped fresh thyme (3 to 4 sprigs)
2 lbs chopped butternut squash (3/4-inch chunks–roughly 2.5 – 3 lb squash)
4 cups low-sodium chicken or vegetable broth
kosher salt
freshly ground black pepper
1 teaspoon freshly squeezed lime juice
creme fraiche, for garnishing (optional, but recommended highly)
Instructions
Prepare the Crispy Prosciutto Slices: Preheat the oven to 375 degrees Fahrenheit. Line a baking sheet with parchment paper, foil, or a Silpat mat. Carefully lay the prosciutto slices flat onto the lined baking sheet–leaving space between them. Bake the prosciutto for 15-20 minutes (flipping the slices with a tong halfway through) or until the meat has darkened into a deep reddish brown and they are very crispy. Place slices on a paper-towel lined plate and allow to cool completely.
Prepare the Soup: Heat the olive oil and butter in a large soup pot over medium-low heat, or until the it just begins to bubble slightly. Add the onion and leeks, a pinch of salt, cover, and saute over medium-low heat for 8 to 10 minutes, stirring every few minutes, until they are very soft and translucent. Add the garlic and thyme, uncover, and saute for another 2 to 3 minutes.
Add the butternut squash chunks, and saute for another 2 to 3 minutes. Add the chicken broth and bring to a boil. Reduce heat to low, and simmer the soup (uncovered) for 20 to 30 minutes.
Carefully transfer the soup to a blender and puree until very smooth. Return the soup to the pot and simmer for another 10 to 15 minutes, or until it has thickened slightly. Season to taste with salt and pepper (soups usually need quite a heavy hand of salt to be well-balanced), and add the lime juice. Serve the soup piping hot with a slice of crispy prosciutto and a dollop of creme fraiche.
Notes
Fresh lime juice is one of my favorite 'trick' ingredients for soups! It is a bit more delicate than lemon, and helps balance flavors extremely well. If you don't have it on hand, feel free to leave it out.
Nutrition Information:
Yield: 6
Serving Size: 1
Amount Per Serving:
Calories: 244
Total Fat: 12g
Saturated Fat: 5g
Trans Fat: 0g
Unsaturated Fat: 6g
Cholesterol: 43mg
Sodium: 773mg
Carbohydrates: 23g
Fiber: 6g
Sugar: 6g
Protein: 15g
A Beautiful Plate provides nutritional information, but these figures should be considered estimates, as they are not calculated by a registered dietician.