Roasted Fingerling Potatoes with Tarragon-Shallot Butter
An easy, impressive, and incredibly flavorful side dish that can be prepared in less than 30 minutes! Serve with grilled or roasted meat, poultry, or seafood.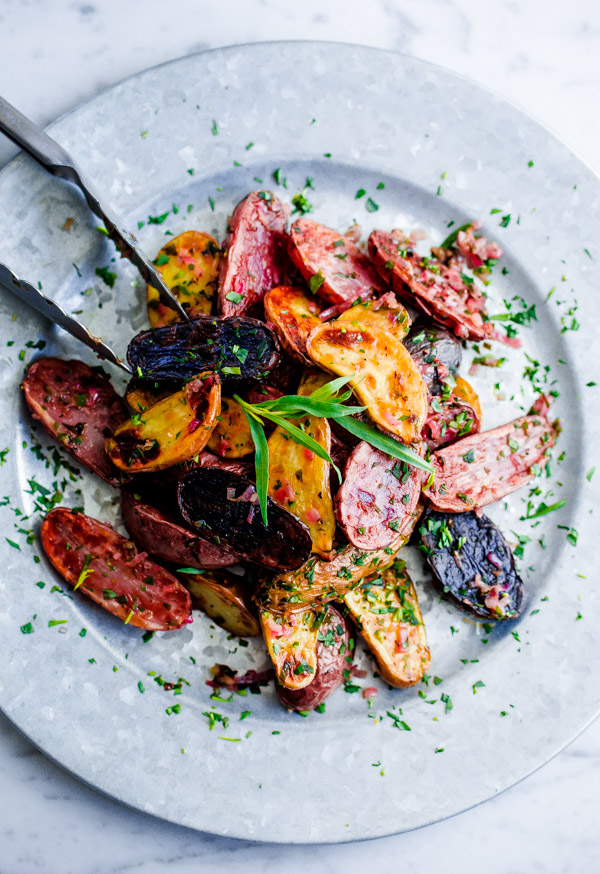 Roasted fingerling potatoes with tarragon-shallot butter. Otherwise known as the recipe that made me eat almost 1.5 lbs of potatoes in one sitting. Really, though. This job is dangerous sometimes.
I kept sneaking back for more and more.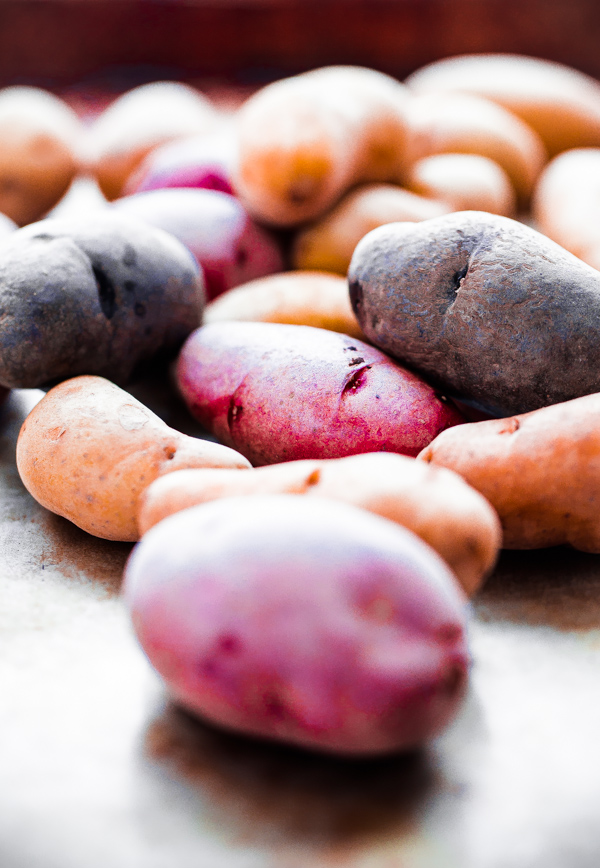 Let's talk about tarragon for a moment. As of a few years ago, I almost never used it! Up until a few months ago, I didn't actually think I even liked tarragon. It reminded me a bit of licorice (something I detest with a passion), and I couldn't quite wrap my head around it.
Now…I'm obsessed. I single-handedly blame this dish for making me a tarragon fanatic. If you're impartial to tarragon, try these potatoes and then we'll talk.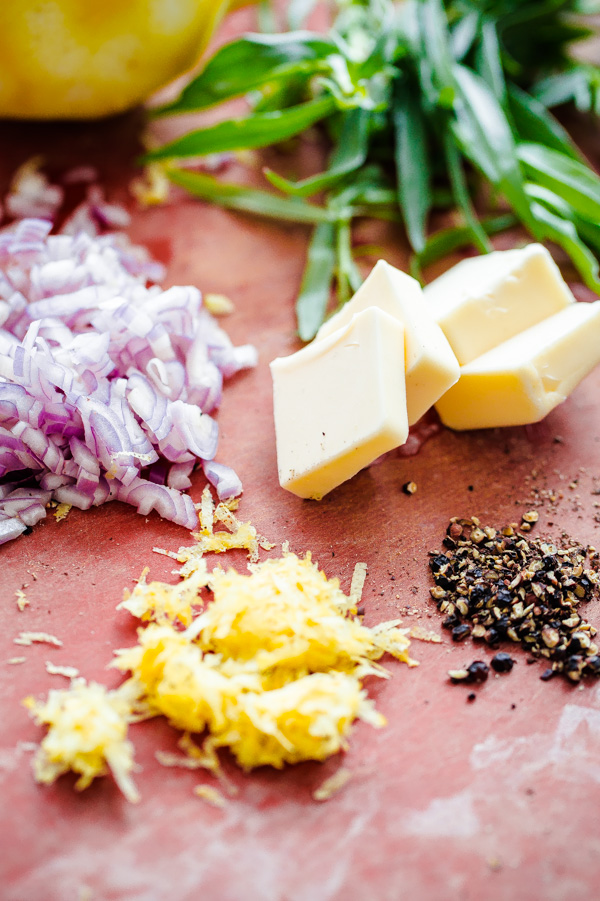 Ok, so here is the deal for this dish. Although the recipe title sounds like you be making a tarragon-shallot compound butter, you don't need to do any such thing!
It's actually more of a melted butter sauce situation, and it's glorious. The sauce is poured over the roasted, crispy potatoes and voila! You're done.
The whole dish can be prepared in under 30 minutes, and you will want to serve it with everything and anything. Grilled or roasted steak, seafood, or chicken. These fingerling potatoes will go with it all.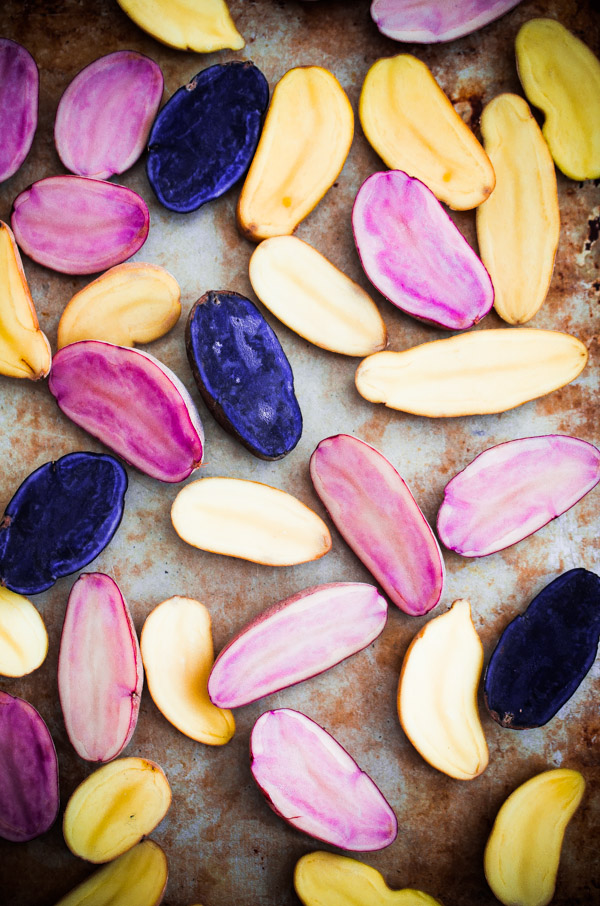 I used a combination of yellow, red, and blue fingerling potatoes, which I found at my local supermarket! When it comes to potatoes, the more colors, the merrier. My motto in life. If you can't find one or the other, grab whatever you can. It's definitely more of an aesthetic choice, than one made for flavor's sake!
Fingerling potatoes are my go-to potato for easy side dishes or roasting. Their small size allows them to cook extremely very quickly, they hold their shape once cooked, and they are beautiful for serving!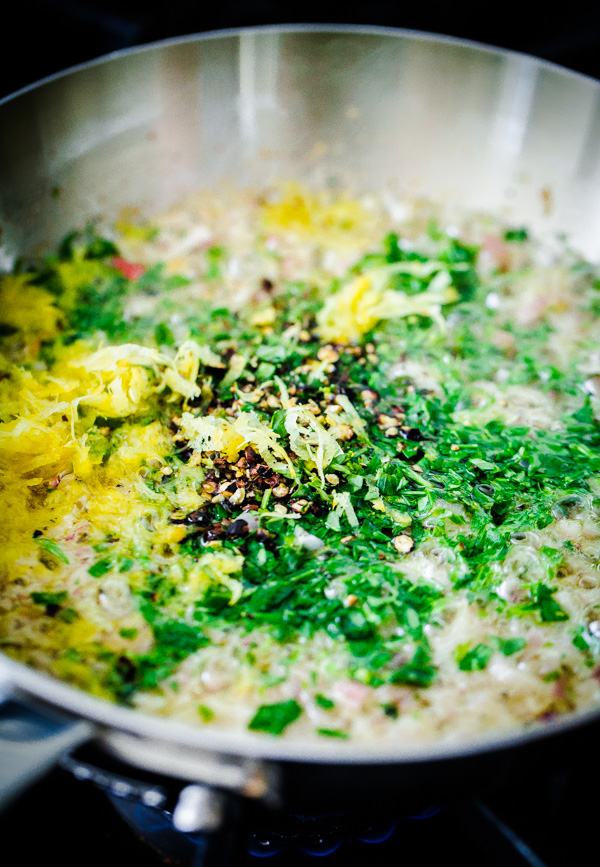 Before roasting, I always slice the fingerlings lengthwise to maximize as much surface area as possible. Then I deliberately roast them cut-side up and cut-side down to ensure that they get as crispy and evenly browned as possible.
As the potatoes are finished roasting, you'll want to make that crazy tarragon-shallot sauce! The actual sauce is made up of only five ingredients: unsalted butter, finely chopped shallot, crushed black peppercorns, lemon zest and juice, and finely chopped tarragon. [Oh, and don't forget to season this with salt.]
Ugh, I love it so, so much. I know I say that a lot, but I'm feeling particularly infatuated with these potatoes at the moment.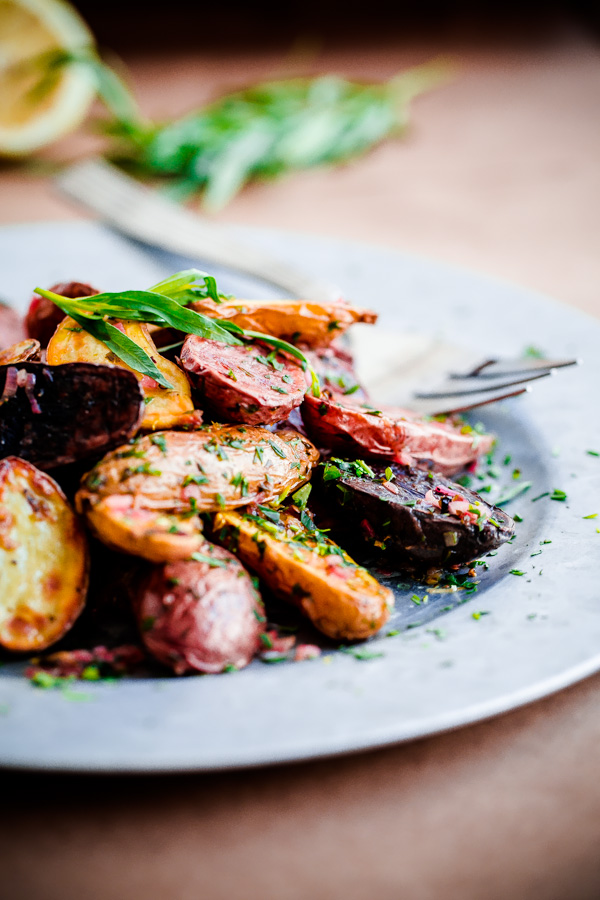 Once the sauce is ready, you'll want to grab a bowl, add the roasted potatoes, pour all of that glorious, reduced butter sauce on top of it, season to taste with salt and pepper, and gently toss to coat.
I mean, really, how could you go wrong?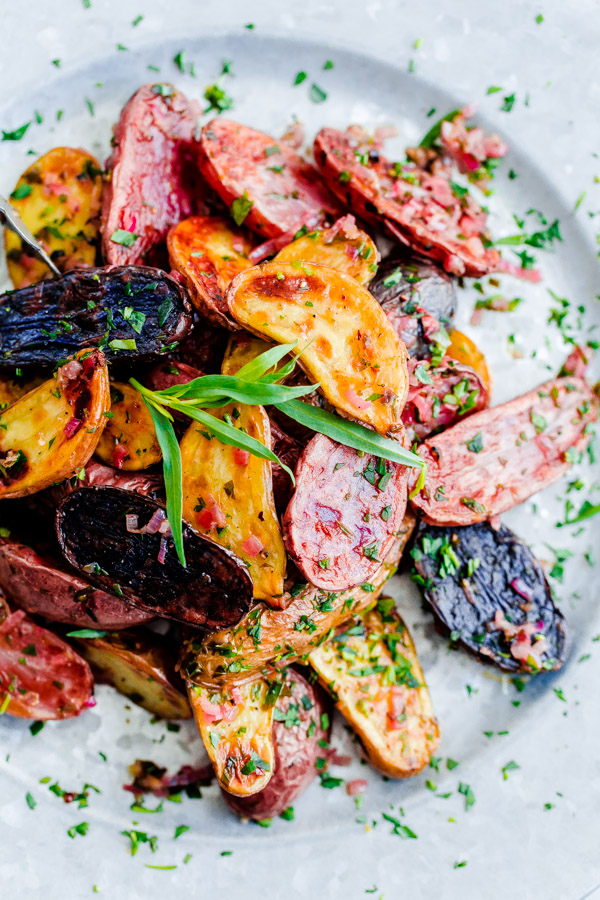 Make this happen in your kitchen immediately. Ok, bye!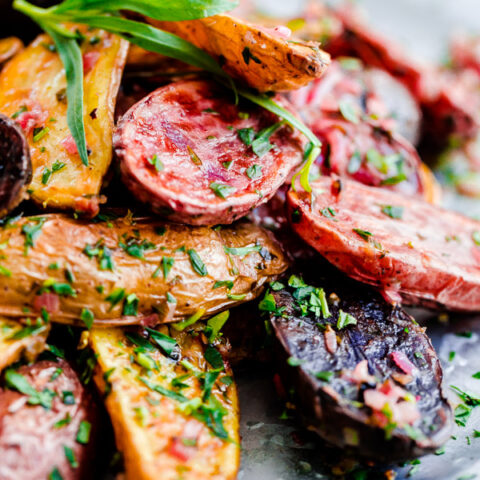 Roasted Fingerling Potatoes with Tarragon Shallot Butter
Yield: 4 Servings
Prep Time: 10 minutes
Cook Time: 20 minutes
Total Time: 30 minutes
Ingredients
Roasted Fingerling Potatoes:
1.5 lbs fingerling potatoes (mixture of yellow, red, and blue, if possible!)
1 tablespoon extra virgin olive oil
freshly ground black pepper
sea salt
Tarragon-Shallot Butter:
3 tablespoons unsalted butter
1 large shallot, finely diced
½ teaspoon whole black peppercorns, coarsely chopped
2 teaspoons freshly grated lemon zest
3 large sprigs of fresh tarragon, leaves removed and finely chopped (plus 1 additional sprig for garnishing)
juice of half a lemon
kosher salt
Instructions
Roast Fingerling Potatoes: Preheat oven to 450 degrees Fahrenheit. Rinse and dry the potatoes thoroughly. Slice the fingerling potatoes in half lengthwise. Toss on a large baking sheet with the olive oil, pepper, and salt.
Place the potatoes cut-side up and spread them out evenly on the baking sheet. Roast at 450 degrees (F) for 15 minutes. Flip the potatoes and roast for an additional 10 minutes, or until the potatoes are caramelized, crispy, and fork-tender. Remove the potatoes from the oven, place on a rack, and allow them to cool slightly while you prepare the tarragon-shallot butter.
Prepare Tarragon-Shallot Butter: In a small skillet, heat the butter over medium heat. Once the butter has melted fully and is bubbling slightly, add the shallot and sauté, stirring frequently, for 1 to 2 minutes, or until soft and translucent.
Add the chopped peppercorns, lemon zest, tarragon, and lemon juice. Reduce heat to low, and continue to reduce the sauce for an additional minute or so. Season sauce to taste with salt and pepper.
Place the roasted potatoes in a medium, shallow heat-proof bowl. Add the warm tarragon-shallot butter (scrape the skillet with a spatula to remove any bits), and toss the potatoes gently with a spoon or tongs until they are evenly coated in the sauce. Garnish with the remaining tarragon, season to taste with salt and pepper, and serve.
Notes
This side dish pairs extremely well with any number of main courses, including grilled or roasted meat, poultry, or seafood!
Nutrition Information:
Yield: 4
Serving Size: 1
Amount Per Serving:
Calories: 301
Total Fat: 12g
Saturated Fat: 6g
Trans Fat: 0g
Unsaturated Fat: 6g
Cholesterol: 23mg
Sodium: 337mg
Carbohydrates: 46g
Fiber: 4g
Sugar: 10g
Protein: 4g
A Beautiful Plate provides nutritional information, but these figures should be considered estimates, as they are not calculated by a registered dietician.