Blueberry Peach Slab Pie
This flaky slab pie, packed with yellow peaches and fresh blueberries, is baked in a quarter sheet pan, making it easy to slice and perfect for pie crust lovers. Serve warm with vanilla ice cream!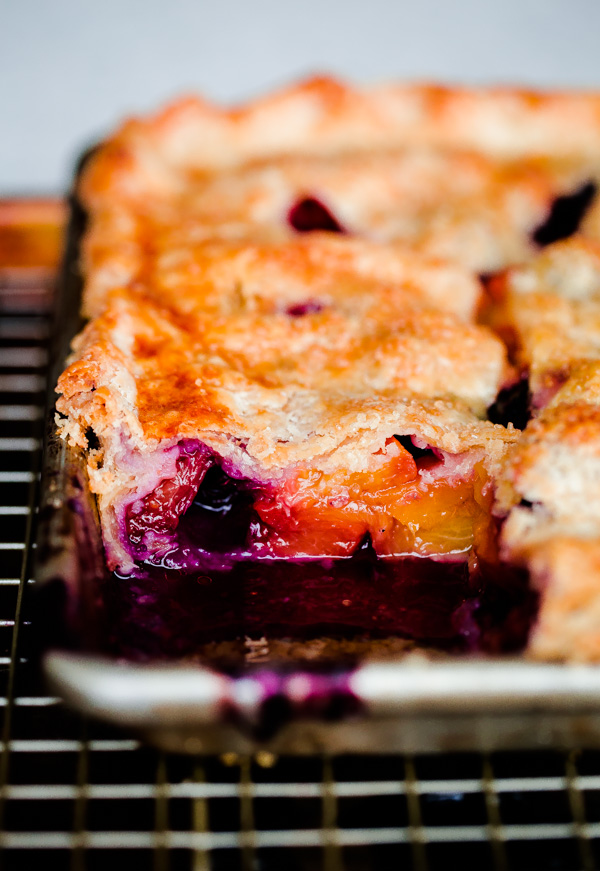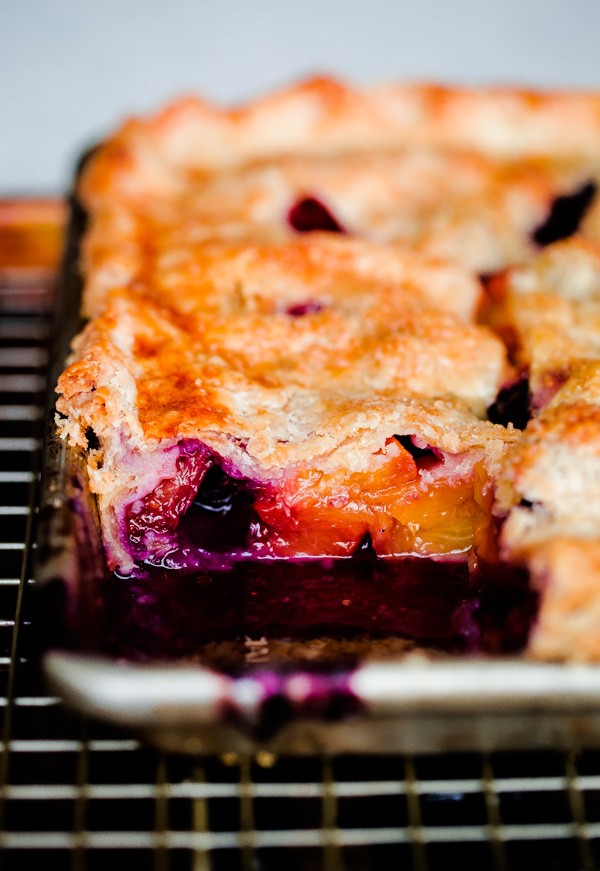 Let's cozy up in this blueberry peach pie filling and stay forever. Ok?
If you haven't made a peach pie this summer, get in the kitchen and make one as soon as possible. Put it on your weekend agenda.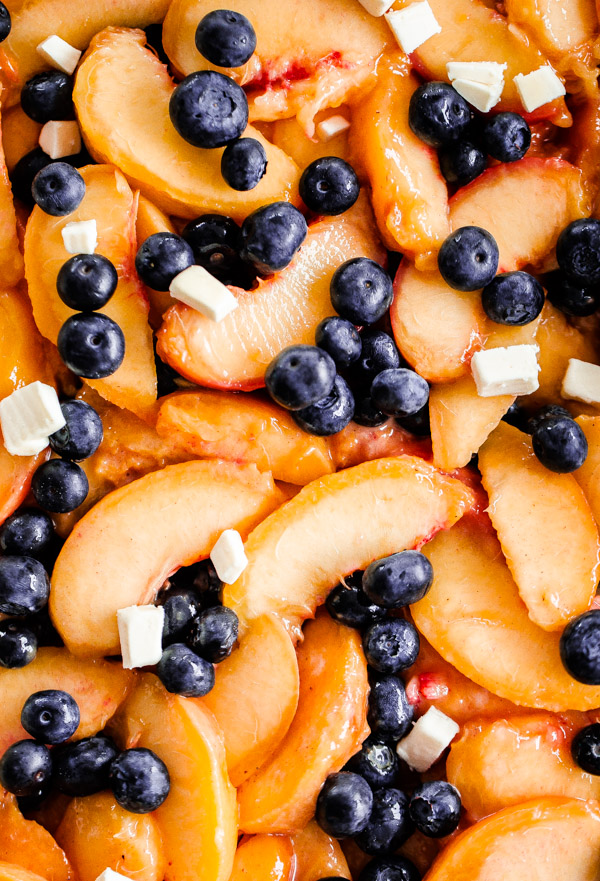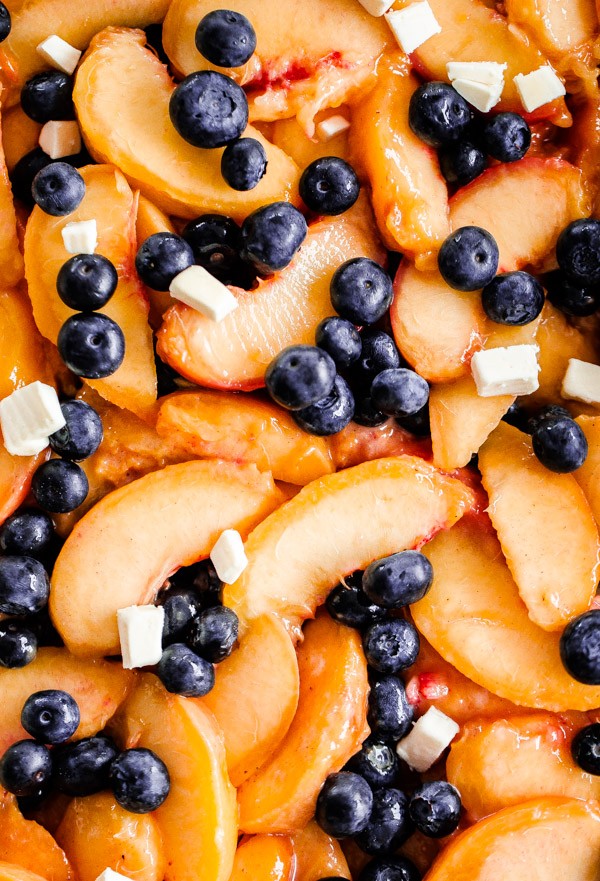 Don't be intimidated by the length of this recipe. It looks extremely long; however, I tried to be as detailed as possible in order to eliminate any confusion.
Traditional pies and slab pies are nearly identical, but are prepared in different equipment. Instead of using a traditional pie dish, this Blueberry Peach Slab Pie is prepared in a quarter sized sheet pan measuring roughly 9 x 13-inches in size.
Hence, a slab of pie.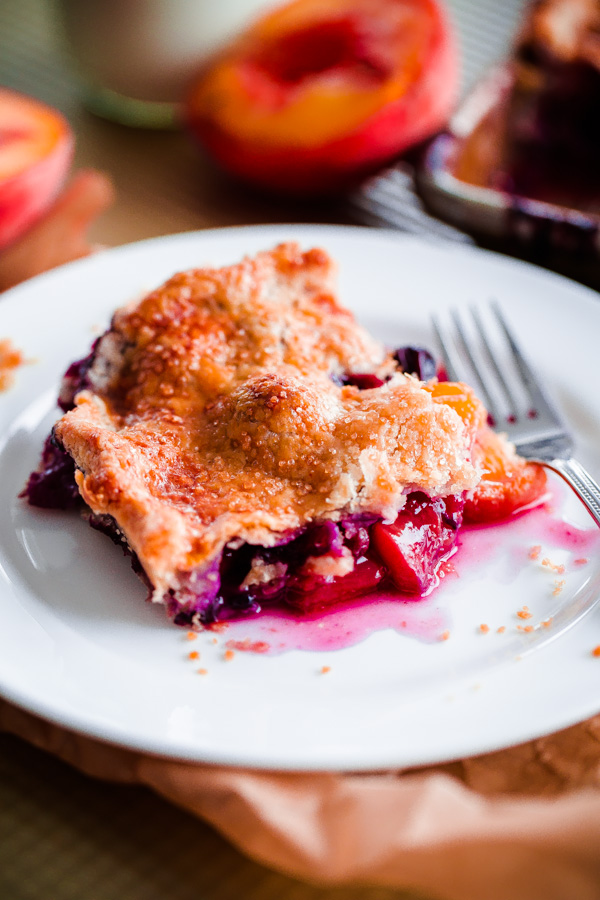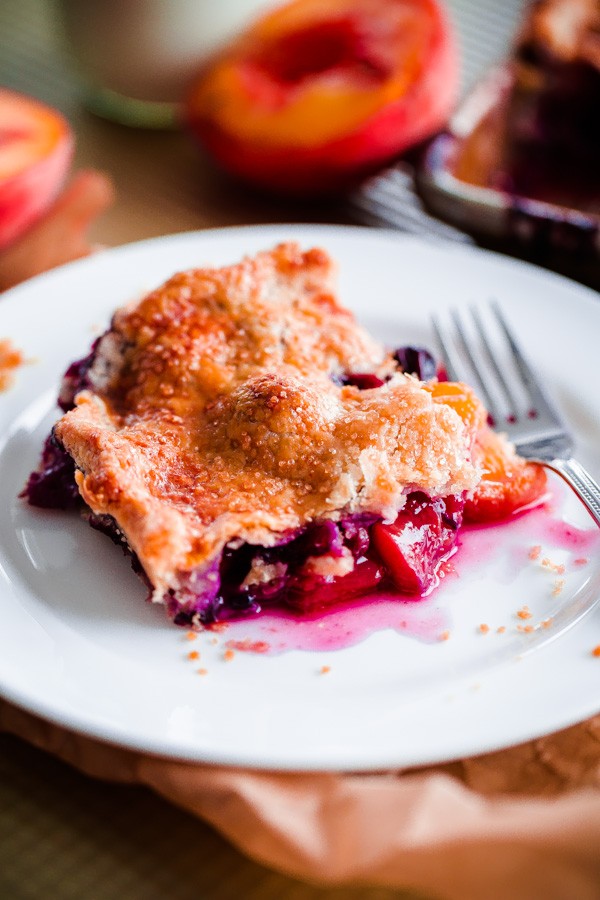 This pie serves roughly 8 to 10 people.
One of the reasons why I love preparing slab pies is that they are infinitely easier to slice and serve (and even transport) than traditional pies.
They also offer a higher crust-to-pie-filling ratio if you enjoy flaky pie crust.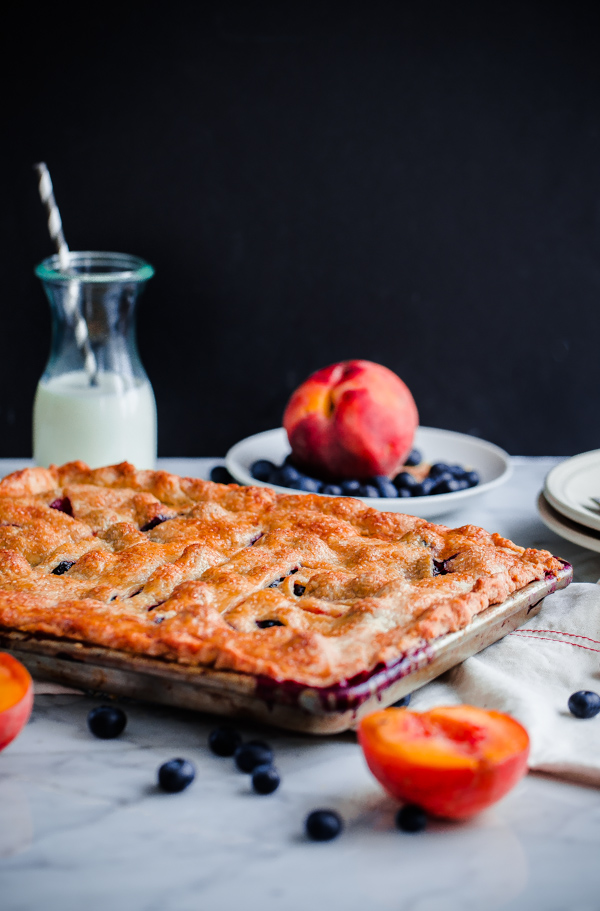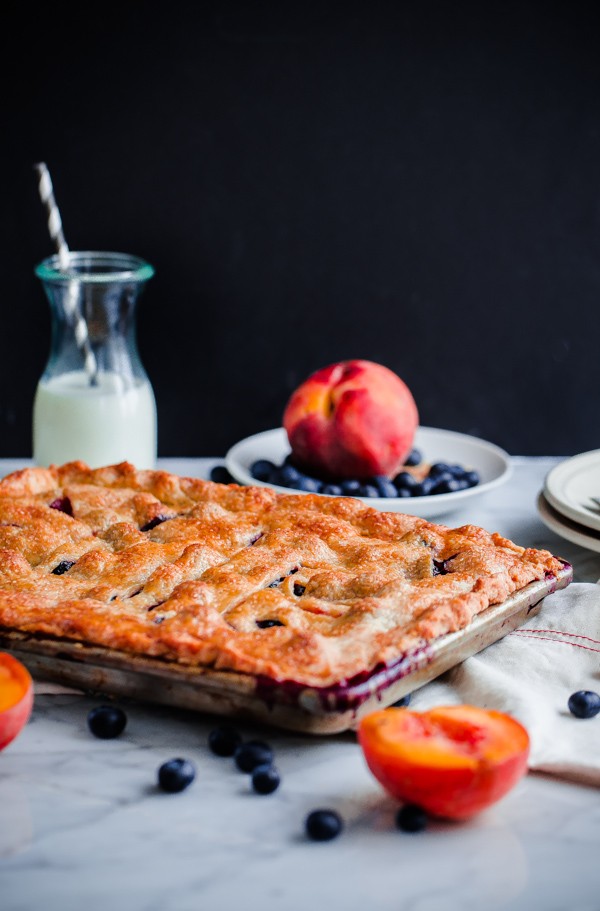 My Favorite Way to Peel Peaches:
One of the most time-consuming parts of homemade peach pie is peeling ripe peaches. Most recipes call for briefly blanching peaches in boiling water, but I find that to be cumbersome and prone to error.
My favorite method for peeling peaches is to lightly score the bottoms of the peaches with an 'X', place them in a very large bowl, and pour boiling water over them. Allow the peaches to sit in the hot water for about 10 minute and the skin will start to gently peel away from the flesh.
It is my favorite trick. It saves time and hassle, and leaves you with firm peeled peaches for slicing.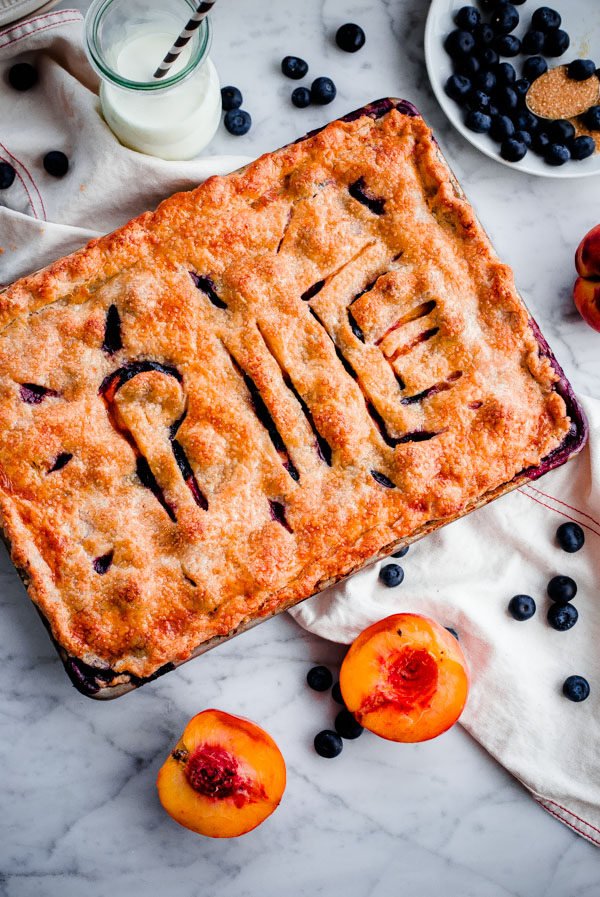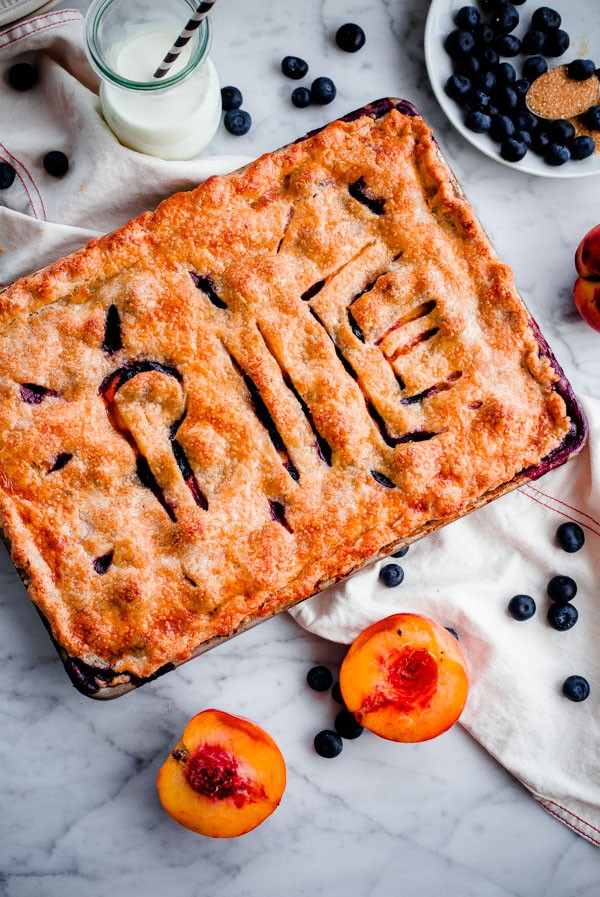 Be sure to allow the baked pie to cool and set for at least 2 to 3 hours before slicing. Slicing into a hot pie too early will result in a loose and runny fruit filling.
Serve warm with scoops of vanilla ice cream!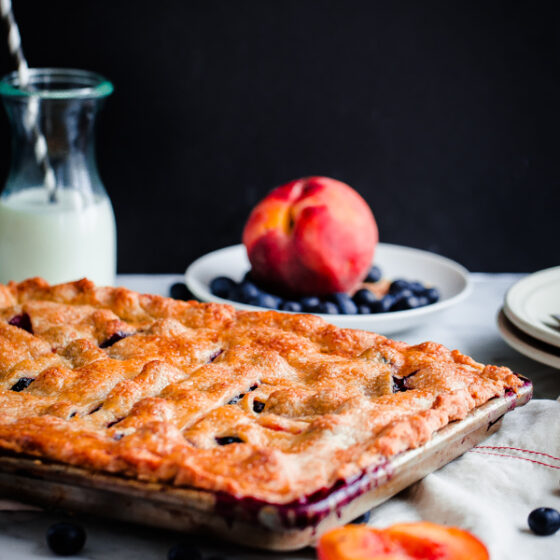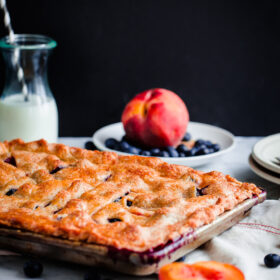 Blueberry Peach Slab Pie
This flaky slab pie, packed with fresh blueberries and yellow peaches, is baked in a quarter sheet pan, making it easy to transport and slice, and perfect for pie crust lovers. Serve warm with scoops of vanilla ice cream!
Ingredients
Double Crust Pie Dough:
2½ cups (315g) unbleached all-purpose flour
1 tablespoon (12g) granulated sugar
¾ teaspoon Diamond Crystal kosher salt
8 ounces (230g) cold unsalted butter cut into ½-inch cubes
½ cup (120 mL) ice water more or less as needed
Blueberry Peach Pie Filling:
3 lbs ripe, but firm yellow peaches roughly 6-7 peaches
8 ounces fresh blueberries roughly 1½ cups
3 tablespoons granulated sugar
2 tablespoons cornstarch
1 teaspoon fresh lemon juice
½ teaspoon freshly grated nutmeg or 1/4 teaspoon ground nutmeg
½ teaspoon ground cinnamon
⅛ teaspoon ground cardamom
pinch kosher salt
1 tablespoon cold unsalted butter cut into small cubes
Egg Wash: 
1 large egg
1 tablespoon heavy cream or whole milk
sparkling sugar for sprinkling (optional)
Instructions
Prepare Pie Dough: Combine the flour, sugar, and salt in the bowl of a large food processor. Pulse several times to mix thoroughly.

Add the cold cubed butter and pulse several times until the butter is thoroughly incorporated and the texture resembles that of a coarse meal. The butter pieces should be in varying sizes, some small and others slightly larger. This will result in the flakiest crust.

While pulsing, slowly add the ice water (add a little bit at a time, as you may need less or more depending on humidity) and continue to pulse until the dough just begins to clump together loosely. Transfer to a countertop and knead briefly until the pie dough comes together. Divide the dough into two roughly equal sized pieces. Flatten each piece into a square disc and wrap tightly in plastic wrap. Refrigerate for at least 2 hours or, ideally, overnight.

Prepare the Filling and Assemble: Set a half sheet pan on the lower third rack of the oven and preheat the oven (and sheet pan) to 425°F (220°C). Lightly butter a quarter-size sheet pan (9 x 13-inch). Set aside.

Bring a large pot of water to a boil. Set aside a large ice bath near the stove. Using a paring knife, make a small shallow 'X' incision onto the bottom of each peach and carefully drop into the boiling water. Allow the peaches to blanch for roughly a minute (depending on the ripeness of your peaches) or until the skins begin to slightly peel away from the flesh. Using a skimmer or large spoon, transfer the peaches to the ice bath (this will prevent them from cooking any further) until cool enough to handle. Transfer to a paper towel-lined plate and set aside.

Peel the peaches, remove the pits, cut them in half, and cut each half into roughly eight equal-sized wedges. Place peach wedges in a large mixing bowl. Add the blueberries, sugar, cornstarch, lemon juice, nutmeg, cinnamon, cardamom, and pinch of salt. Stir mixture together gently.

Meanwhile, remove one disc (the larger of the two, if their size varies slightly) of chilled pie dough from the fridge. Allow it to sit at room temperature for 5 to 10 minutes. Using a lightly floured rolling pin, roll the dough into roughly a large rectangle, roughly 11-inches wide x 15-inches long (don't worry if the edges are not perfectly straight, try to work quickly to avoid overheating the dough).

Use your rolling pin to carefully transfer the dough to the greased baking sheet. You want to drape the dough gently into the baking sheet, so that it fills out the edges and corners, but still overhangs the sides a bit. Avoid stretching the dough, as this will cause the dough to shrink once baked. Cover with plastic wrap and refrigerate while you roll out the remaining pie dough into a rectangle that is just over 9-inches wide and 13-inches in length.

In a small bowl, prepare the egg wash by whisk together the egg and heavy cream (or milk) until smooth. Set aside.

Remove the shaped pie dough from the fridge. Spoon the peach blueberry filling into the bottom crust, spreading it into an evenl layer. Sprinkle the top with the cubed butter. Drape the rolled out top pie dough over the filling, folding the bottom crust overhang over the top crust. Crimp to seal. Brush the top crust and edges with egg wash. Sprinkle evenly with sparkling sugar. Use a sharp knife to make several 1-inch slits in the top crust to allow the pie to vent during baking.

Bake: Transfer the shaped pie onto the preheated half sheet pan in the oven. Immediately reduce the oven temperature to 375°F (190°C). Bake for 50 to 60 minutes, or until the crust is golden and the filling is lightly bubbling.

Transfer pan to a wire rack and allow to cool and set for at least 2 to 3 hours. If you do not allow the pie to cool sufficiently, the filling will be more runny. Serve the pie slightly warm or at room temperature with vanilla ice cream.
Tips for Success: 
Fruit pies can be kept at room temperature (loosely covered) for up to two days or in the refrigerator for up to a week.
Serving: 1serving, Calories: 198kcal, Carbohydrates: 20g, Protein: 3g, Fat: 12g, Saturated Fat: 8g, Polyunsaturated Fat: 4g, Cholesterol: 50mg, Sodium: 317mg, Fiber: 1g, Sugar: 13g
This post contains affiliate links, which means that I make a small commission off items you purchase at no additional cost to you. Please read my
privacy policy
for more information.