Roasted Red Pepper and Goat Cheese Tart
An impressive roasted red pepper and goat cheese tart that can be served for breakfast, brunch, lunch, or dinner.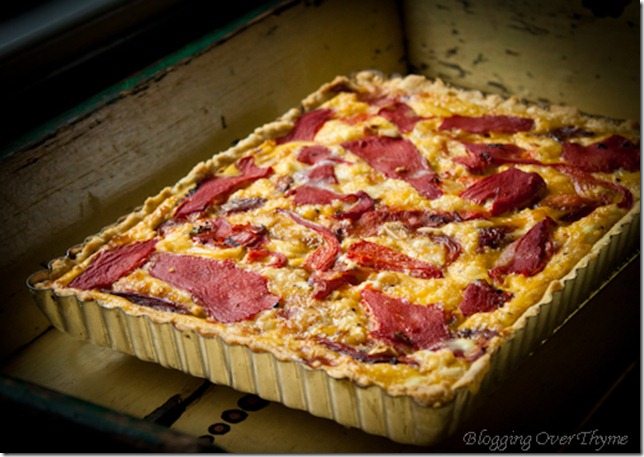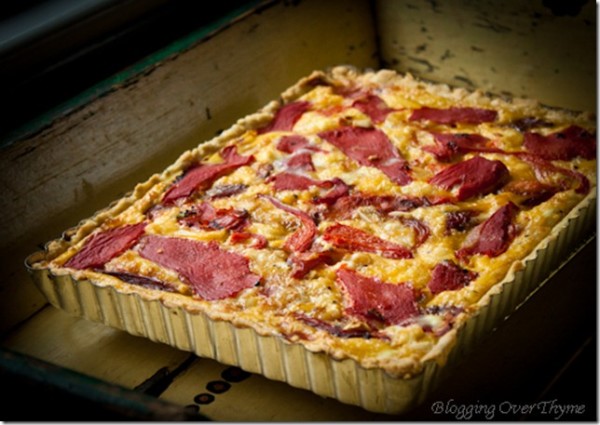 This is probably the most exciting thing that I have made at home in months.  It sounds complicated and fancy, but in reality, it is a cinch to put together.  The pie crust can be made in about 5 minutes and placed into the fridge ahead of time until right before you want to serve this.  In fact, the longest part of this recipe involves roasting the red peppers!  Although they are delicious made from scratch, if you would like to save even more time, buy several jars of roasted red peppers at the store and skip this step.  Don't worry, I won't tell anyone.  But I will request a dinner invite just to be fair…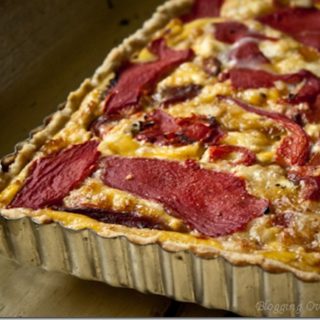 Roasted Red Pepper and Goat Cheese Tart
Yield: 1 (10-11 Inch) Tart
An impressive roasted red pepper and goat cheese tart that can be served for breakfast, brunch, lunch, or dinner.
Prep Time: 30 minutes
Cook Time: 30 minutes
Additional Time: 15 minutes
Total Time: 1 hour 15 minutes
Ingredients
Olive Oil Savory Dough:
1 1/2 cups unbleached all-purpose flour
1/2 teaspoon sugar
1/2 teaspoon kosher salt
1/2 teaspoon baking powder
1/4 cup extra virgin olive oil
1 large egg
1 large egg yolk
2 tablespoons water
Peppers:
4 medium bell peppers (2 lbs)
2 tablespoons olive oil
kosher salt
1 garlic clove, peeled and thinly sliced
Filling:
6 large eggs
10 ounces soft goat cheese, crumbled
roasted red peppers (see above)
Instructions
Olive Oil Savory Dough: Combine dry ingredients in food processor. Pulse until well mixed.
Add oil, egg, yolk, and water. Pulse until dough forms shaggy ball. Don't overmix.
Place dough on floured surface, dust with flour, and press into 1/2 inch rectangle. Roll and turn at 90 degrees until dough reaches desired size (about 1-2 inches wider and longer than tart pan).
Transfer dough to greased pan and press into pan well. Trim overhanging dough and use thumb to press along rim.
Cover with plastic wrap and allow to chill in fridge while you prepare the peppers.
Prepare Peppers: Preheat the oven broiler. Place bell peppers on a foil-lined baking sheet and slide under the broiler. Allow peppers to char completely on all sides, rotating them with tongs as you go.
Transfer peppers to bowl and allow to cool until comfortable to touch–de-stem, de-seed, and peel.
Place peppers into bowl with olive oil, garlic, salt and pepper. Allow to marinate while you assemble the tart shell.
Assemble Tart: Preheat oven to 375 degrees Fahrenheit.
Whisk the eggs, salt and pepper in a bowl.
Remove the tart shell from the fridge and sprinkle bottom with half of the goat cheese. Add a layer of roasted red peppers. Repeat with cheese and remaining peppers.
Pour egg mixture into crust. Place tart pan on baking sheet and bake at 375 degrees until filling is set and crust is baked through–about 30 minutes. Cool tart on rack and serve warm or room temperature.
Nutrition Information:
Yield: 12
Serving Size: 1
Amount Per Serving:
Calories: 248
Total Fat: 16g
Saturated Fat: 6g
Trans Fat: 0g
Unsaturated Fat: 9g
Cholesterol: 150mg
Sodium: 315mg
Carbohydrates: 16g
Fiber: 1g
Sugar: 2g
Protein: 11g
A Beautiful Plate provides nutritional information, but these figures should be considered estimates, as they are not calculated by a registered dietician.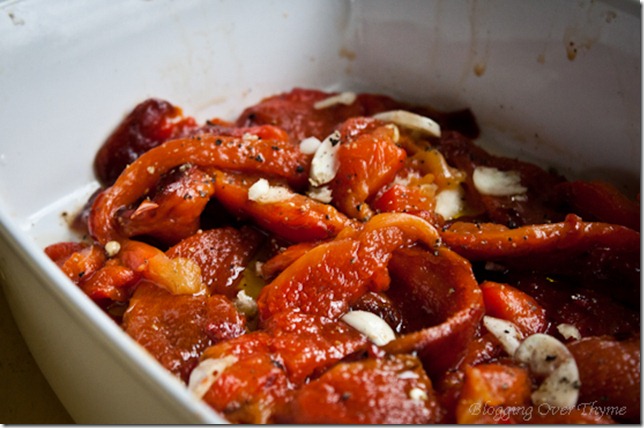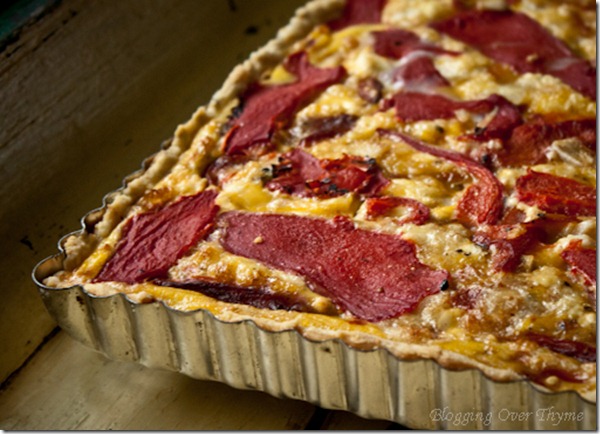 This made a great dinner—which is exactly how we enjoyed it at my house—served with a nice salad.  Or brunch dish!  While I was eating this, I couldn't help but think of the endless possibilities you could do with it.  Spinach and feta?  Tomato and basil?  Asparagus and goat cheese?  Grilled zucchini and mozzarella?  You get the drift…
Next time, I'm definitely going to try substituting whole wheat pastry flour for a good portion of the tart crust as well to add a dose of healthy fiber.  Yum!