Roasted Red Pepper and Goat Cheese Tart
Homemade Roasted Red Pepper and Goat Cheese Tart. This impressive, easy-to-make vegetarian quiche is perfect for breakfast or dinner!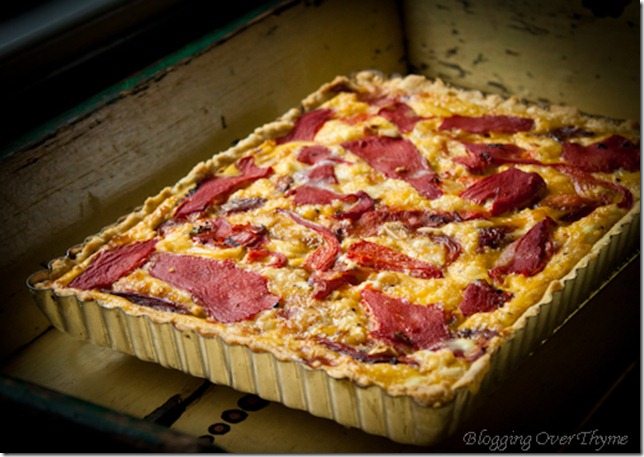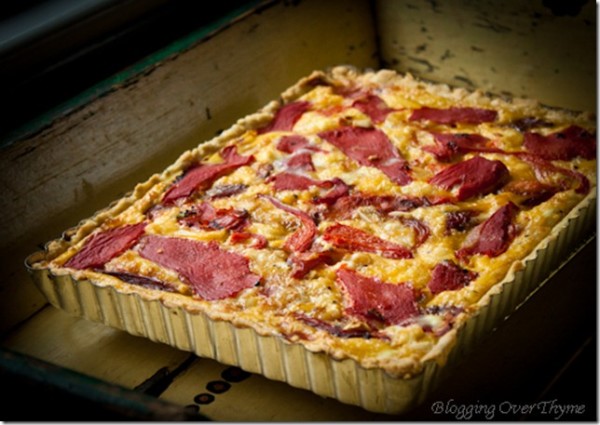 This Roasted Red Pepper and Goat Cheese Tart sounds complicated, but in reality it is a cinch to put together. It is prepared with an olive oil tart dough and filled with roasted and marinated red peppers, crumbled goat cheese, and whisked eggs.
The olive oil tart dough can be prepared in about 5 minutes and chilled in the refrigerator right before assembly. In fact, the longest part of this recipe involves roasting the red peppers.
Although they are delicious prepared from scratch, if you would like to save even more time, feel free to use jarred roasted red peppers.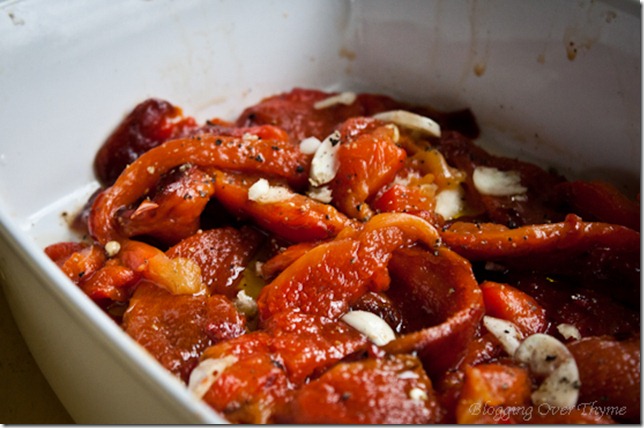 This tart can be served for breakfast or dinner alongside a simple green salad.
In addition, the filling can be adapted in a variety of ways. Here are just a number of ideas to spark inspiration: spinach and feta, roasted tomato and basil, asparagus and goat cheese, grilled zucchini and mozzarella, etc.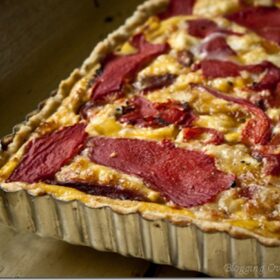 Roasted Red Pepper and Goat Cheese Tart
Homemade Roasted Red Pepper and Goat Cheese Tart. This impressive, easy-to-make vegetarian quiche is perfect for breakfast or dinner!
Ingredients
Olive Oil Tart Dough:
1½ cups (180g) unbleached all-purpose flour
½ teaspoon (4g) granulated sugar
½ teaspoon Diamond Crystal kosher salt
½ teaspoon baking powder
¼ cup (60 mL) extra virgin olive oil
1 large egg, plus 1 large yolk
2 tablespoons (30 mL) water
Roasted Peppers:
4 medium red bell peppers roughly 2 lbs
2 tablespoons extra virgin olive oil
kosher salt
1 garlic clove thinly sliced
Tart Filling:
6 large eggs
10 ounces soft goat cheese crumbled
roasted red peppers see recipe above
Instructions
Lightly grease a 10 or 11-inch tart pan with a removable bottom. Set aside.

Olive Oil Savory Dough: Combine the dry ingredients in food processor. Pulse until well mixed. Add the olive oil, whole egg, egg yolk, and water. Pulse until the dough forms a shaggy ball. Do not over mix.

Transfer dough to a lightly floured surface, dust with flour, and press into a ½-inch rectangle. Using a lightly floured rolling pin, roll the dough into a thin disc - roughly 10 to 11 inches in diameter, depending on your tart pan size.

Transfer dough to the greased tart pan, pressing the dough into the edges to form the tart shell. Trim any overhanging dough. Cover tightly with plastic wrap and chill in the refrigerator with you prepare the roasted peppers.

Prepare Peppers: Preheat the oven broiler to high. Place the bell peppers on a foil-lined half sheet pan and slide under the broiler. Allow the peppers to char completely on all sides, rotating them with tongs several times. Transfer the roasted peppers to a bowl, cover tightly with plastic wrap, and allow to cool until they're comfortable to touch. Peel the peppers and discard the stems and seeds. Slice into strips and place in a bowl with the olive oil, sliced garlic, and a generous sprinkle of salt and pepper. Allow the peppers to marinate while you assemble the tart.

Assemble and Bake Tart: Preheat oven to 375°F (190°C) with a rack in the center position. Set aside a half sheet pan.

In a mixing bowl, whisk the eggs with a generous sprinkle of salt and pepper until smooth.

Remove the tart shell from the fridge and the crust with half of the crumbled goat cheese. Add a layer of roasted red peppers. Repeat with another layer of crumbled goat cheese and the remaining peppers. Pour the egg mixture into the crust. Set the tart pan on the half sheet pan and bake for 30 minutes or until the filling is set and the crust is baked through.

Place on a wire rack and allow to cool for 10 to 15 minutes. Serve tart warm or at room temperature.
Serving: 1serving, Calories: 248kcal, Carbohydrates: 16g, Protein: 11g, Fat: 16g, Saturated Fat: 6g, Polyunsaturated Fat: 9g, Cholesterol: 150mg, Sodium: 315mg, Fiber: 1g, Sugar: 2g
This post contains affiliate links, which means that I make a small commission off items you purchase at no additional cost to you. Please read my
privacy policy
for more information.