Show Me Your Mussels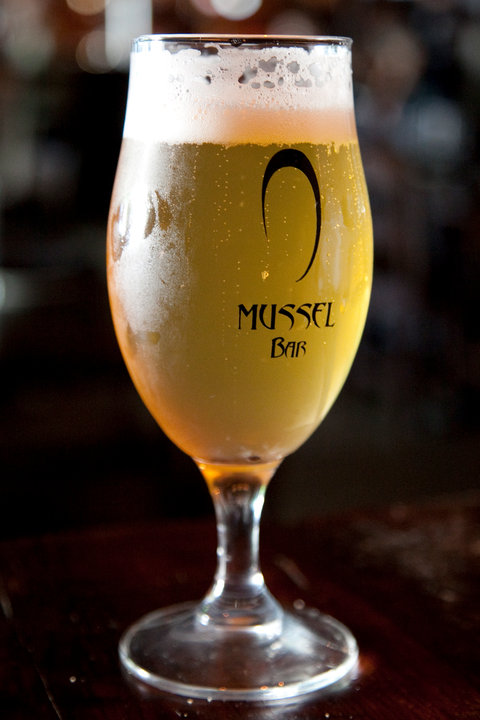 Photo Courtesy of Mussel Bar, Bethesda (identical to my beer!)
Last Thursday, the boyfriend and I decided to try out a new place for dinner.  I really like to try out new restaurants as much as my near-empty wallet allows, especially since the DC area has so many great ones to choose from.  But as an unfortunate side effect of my limited monetary funds, I am particularly picky about what I'm willing to pay for these days.  Thus, I've been tending to crave foods that I can't easily make at home or, at the very least, foods that I don't have very often.  For some reason, sushi is usually at the top of that list.  I definitely haven't tackled homemade sushi at home as of yet and I'm almost 110% sure I would not enjoy it.  Not to mention, it would probably cost me just as much to make at home, as it would to buy it at a restaurant.
But I didn't feel like sushi last week.  I did feel like seafood, however.  And that is what led me to remember, Mussel Bar, a relatively new Belgian inspired restaurant in downtown Bethesda (home of the incredible Dolcezza gelato store and the infamous Georgetown Cupcakes bakery).  The restaurant/bar is incredibly busy on the weekends, but since it was a weekday, we only had to wait about 15 minutes to get a table.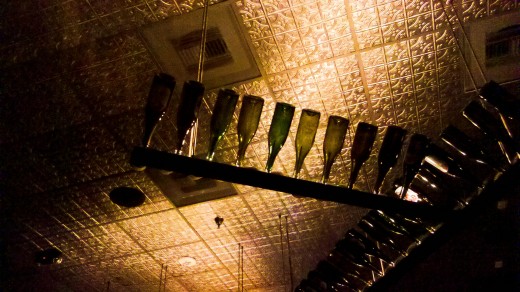 The inside is casual, but with nice touches like a silver tin ceiling and fun light fixtures–yep, those are wine bottles along a wooden plank!  The only downside was that it was quite noisy, so I can't imagine what it is like on its crazier days.  Being at a place called Mussel Bar, I, of course, decided to get the mussels.  But the menu also had a bunch of different options as well, such as salmon, beef, oysters, and maybe one or two vegetarian options.
I just figured…if a place is called Mussel Bar, it better have good mussels.
They also offer about 40-50 different beers, with about 5 on tap, the rest bottled.  If you're a beer aficionado, this is your place.  Our waiter was also really knowledgeable and gave great advice as to which ones would go best with each of our mussel dishes.  He also didn't just point to the most expensive choice on the menu, which I am always wary of at restaurants.  The boyfriend had a particularly delicious beer, Kasteel Triple (11% alcohol–holy moly!).  I had another one on tap called Brabo Pils Pilsner, which is actually exclusively made for their restaurant.  Cool!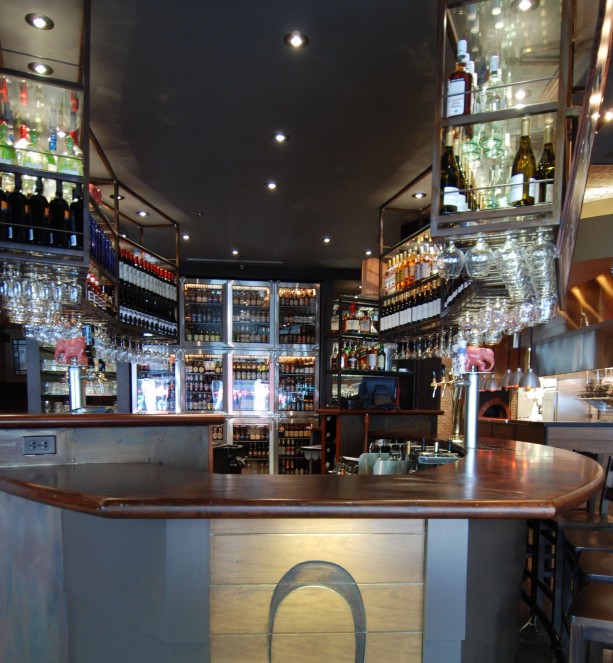 Photo Courtesy of Mussel Bar
I love, love, love mussels! This new love of mine probably developed over the past 5 years, because I definitely was not a fan of them when I was younger, or maybe I just thought I wasn't a fan because I didn't give them a chance and thought the texture would be icky.  Sometimes you forget why you used to steer clear of foods that you now love!  Anyone else feel that way?
Luckily, it has now joined my ever-growing list of foods that I love.  Similar to other shellfish, like crabs and lobster, it's just plain old fun to eat too.  All the mussels at this place were "Blue Bay" Prince Edward Island mussels.
What was even more fun about this place was that they offer about 5-6 different mussel dishes.    Thai green curry? Yep (the boyfriend got that one and loved it).  Provencal style with tomatoes, capers, basil and garlic.  Traditional with Sauvignon Blanc, roasted garlic, and shallots.  And some more creative options, like Red Indonesian Curry with Peanut Essence and Grilled Pineapple with Sweet Chili Garlic. If you're curious, you can check out the whole menu here.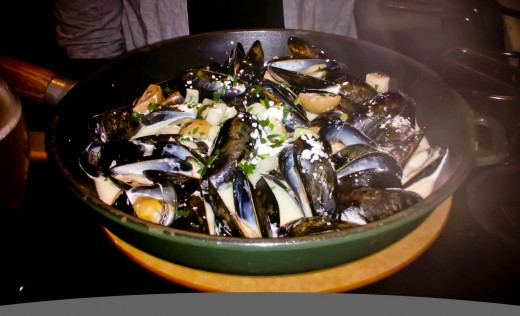 Classic Mussels with Shaved Fennel, Preserved Lemons, Local Goat Cheese, and Shallots (cell phone pic, sorry!)
They also offer a daily special mussel dish!  The day we went it was a take on the traditional, but with a young (and thus, milder) goat cheese, preserved lemons, and shaved fennel.  I decided to go with that one, since the flavor combinations sounded new and different.  I also love me some goat cheese (and fennel, as well).
To my surprise, the mussels came out in the cast iron skillet they were cooked in, including a glass cover.  So essentially the waiter put them down, raised the glass cover, and I was enveloped with the smell of the whole dish.  Well played, Mussel Bar, well played.   It also kept the dish piping hot, which was another major bonus.
Each of the mussel dishes come with a cone of fries and are served with a basket of french baguette for dipping.  Oh yeah, the dipping in the mussel broth is probably one of the best parts about eating mussels too.   If I'm being honest, the fries weren't too exciting.  They weren't hand cut and tasted like ordinary, blah fries–nothing too memorable.  But at least they were incredibly fresh and piping hot!  Apparently the chef used to make hand cut fries, but was unable to keep it up with the ginormous number of them served every day.
Other than that minor complaint, the food was delicious and I would definitely go back.  It also was well priced, with each mussel dish costing $16-$18 dollars.  They were incredibly generous with mussels as well and probably gave 25-30 in each serving.  And yes…I ate every one.  And yes, I was most definitely stuffed by the end of the meal.
I'll definitely be going back at some point, but before I do, I'll need to brush up on my beer knowledge.
Thank you all for your feedback on the photography post!  I was so excited to hear that it was helpful to so many of you.  Happy Friday!
This post contains affiliate links, which means that I make a small commission off items you purchase at no additional cost to you. Please read my
privacy policy
for more information.