Shoyu Ahi Poke
A traditional Hawaiian ahi poke bowl recipe made with sashimi grade ahi tuna, sweet onions, soy sauce, sesame oil, chopped macadamia nuts, and scallions.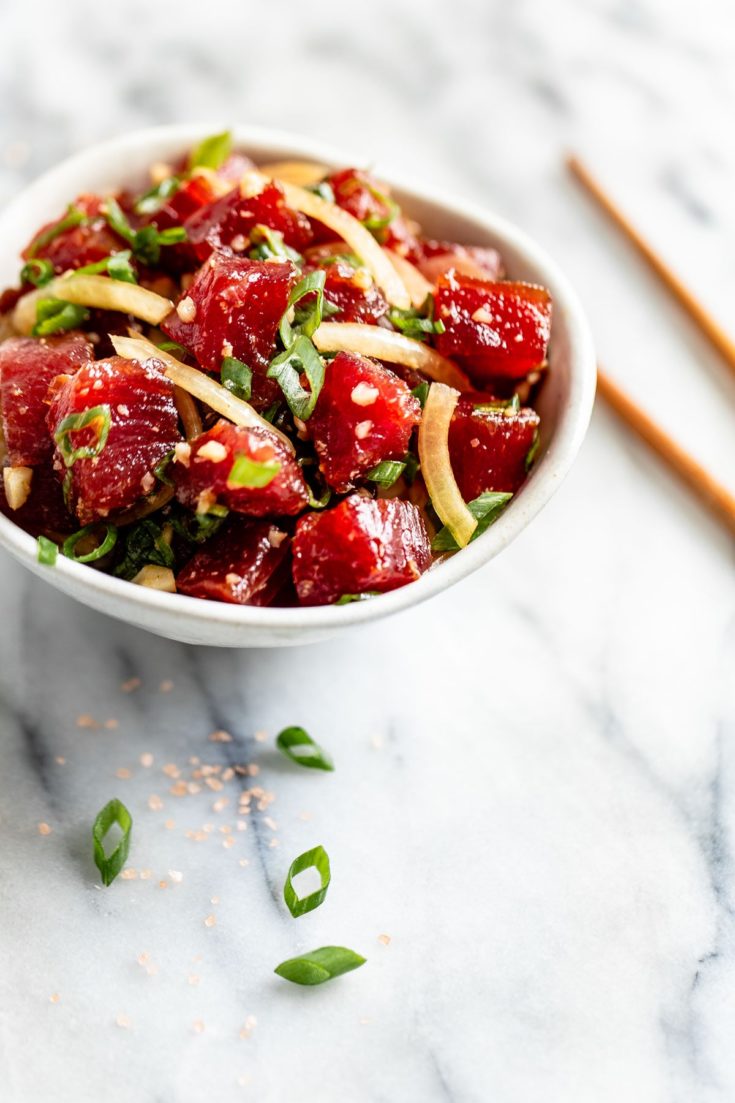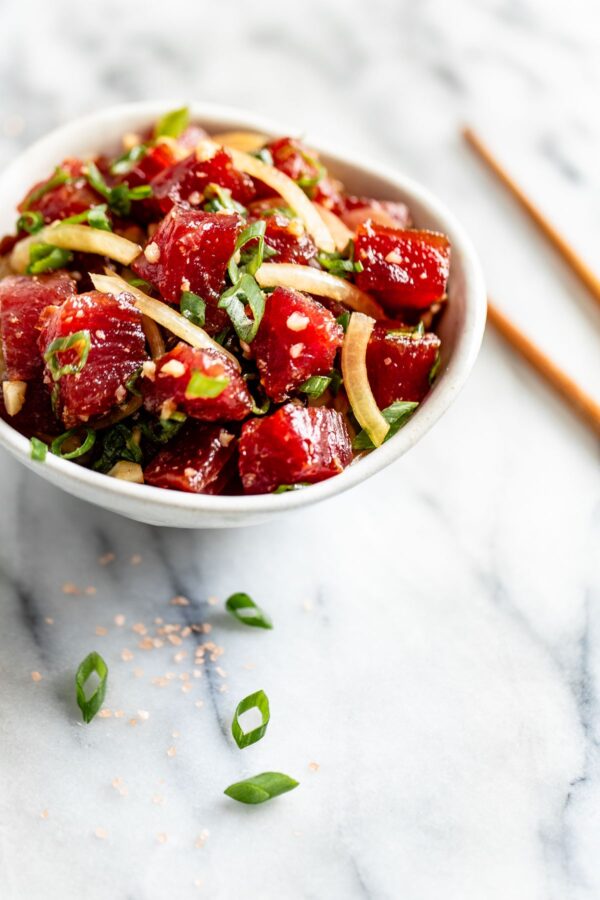 The weather is finally warming up here in Chicago, which means I'm officially on summer mode and gravitating towards meals that are flavorful, satisfying, but quick to come together.
This shoyu ahi poke checks all of those boxes. Simple, crave worthy, and incredibly well balanced in flavor.
As a raw seafood fan, it is no surprise that I have a special place in my heart for poke and this is the best ahi poke bowl that I've had to date.
If you're a poke fan or enjoy raw tuna, you'll absolutely love this recipe and preparation!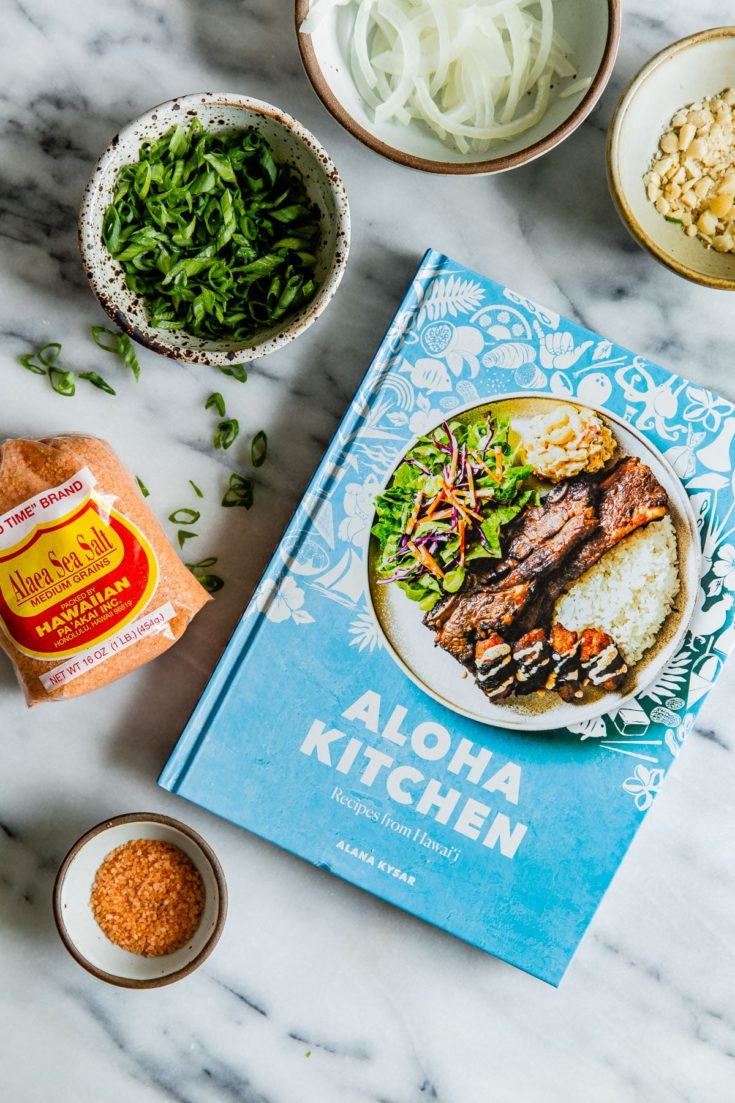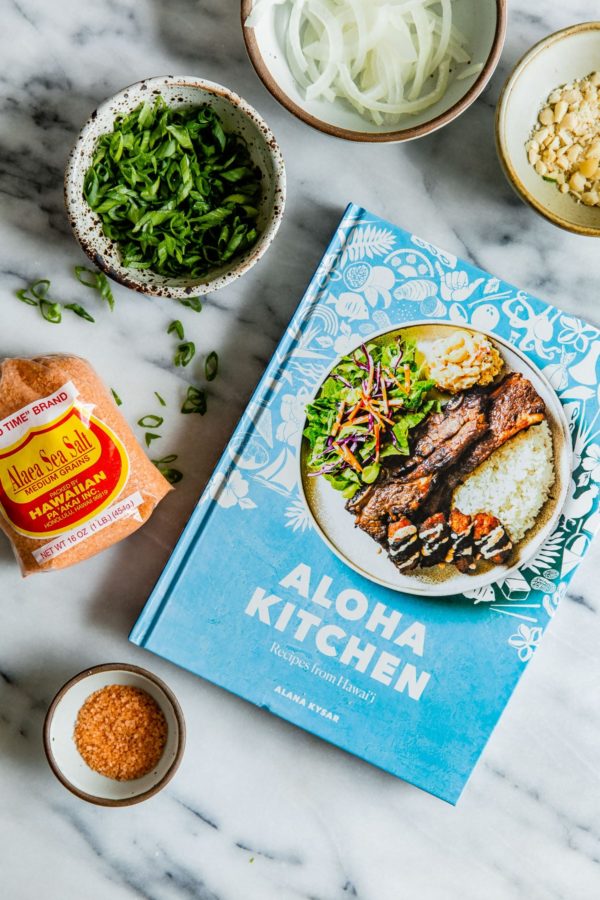 Aloha Kitchen Cookbook:
This classic ahi poke bowl recipe hails from my friend Alana Kysar's new cookbook Aloha Kitchen [affiliate link],which is a beautiful celebration of local Hawaiian cuisine and culture.
Having grown up in Maui, Alana does an amazing job of weaving Hawaiian history (and how its food culture has been shaped) with more than 85 recipes for local Hawaiian food.
You'll find recipes for everything from lumpia to soy-glazed spam musubi, Shoyu chicken, loco coco, haupia pie, to guava cake.


It is a truly stunning book in photography, layout, and design! To be honest, I have very little experience eating, let alone preparing local Hawaiian food (as I've only traveled to Hawaii once and it was many, many years ago), but that is exactly what drew me into the book.
The best cookbooks offer the ability to experience a culture and place through its food, and that is exactly what Alana accomplishes with Aloha Kitchen.
The caveat? You'll want to book a vacation to Hawaii immediately!

What is Poke?
If you're unfamiliar with poke (pronounced PO-kay), it is a Hawaiian dish, served as an appetizer or main course, traditionally made with raw fish. Poke translates to 'section' or 'to slice or cut'.
It can be prepared a number of ways, but I've always preferred simpler preparations like this one that are made without mayonnaise.
Traditional poke is usually made with cubed ahi or yellowfin tuna that is tossed with a soy sauce (shoyu) and sesame oil, and served with raw onion, green onions, and chopped macadamia nuts.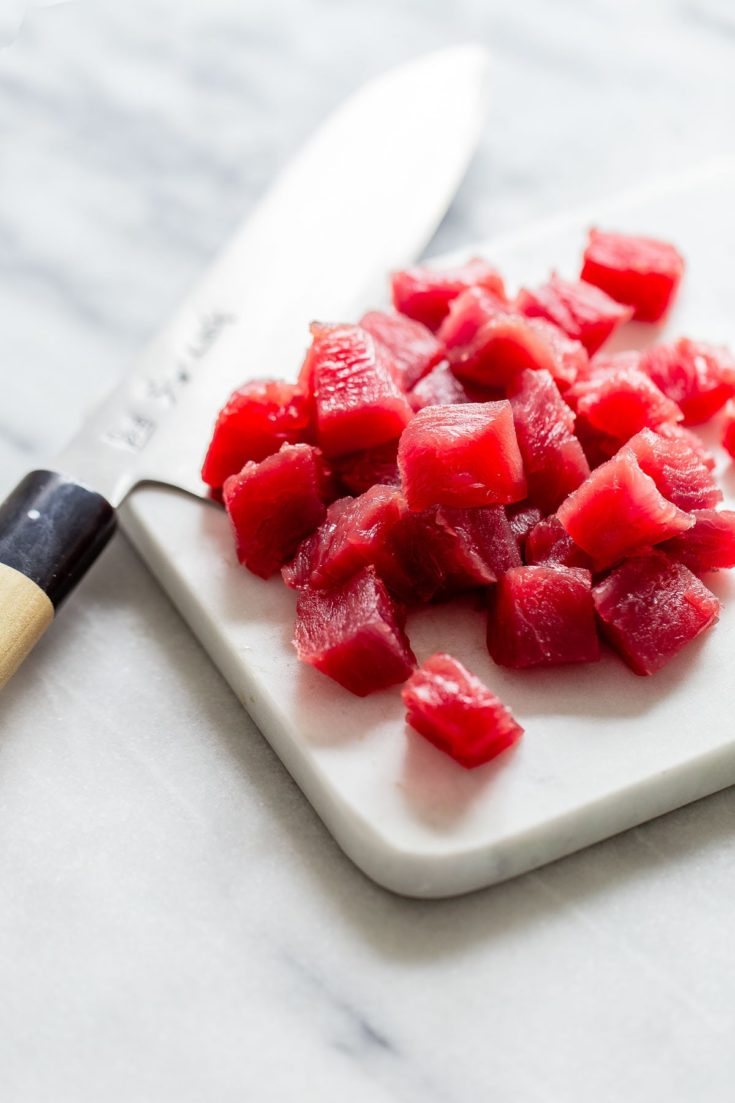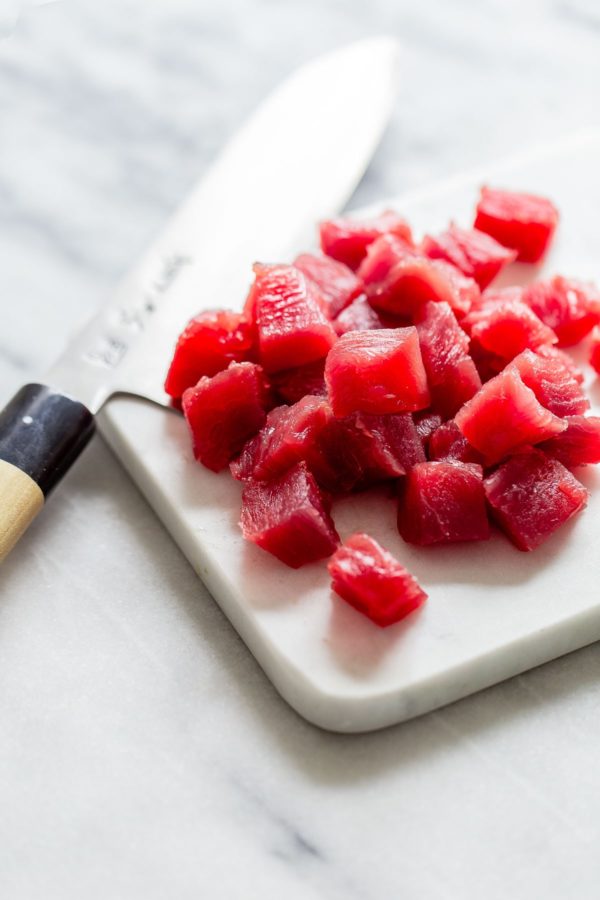 Shoyu Ahi Poke Ingredients:
If you're squeamish or nervous about preparing poke at home, I've includes helpful tips and guidance below.
Ahi or Yellowfin Tuna – since you'll be eating raw fish, it is very important to get your hands on the highest-quality ahi or yellowfin tuna possible. I always recommend sourcing the fish from the best seafood market available (or don't make it at all). Tuna is often labeled sashimi or sushi grade. These are not regulated terms, but can be used to indicate higher-quality cuts/types of of tuna better suited for raw preparations. Tell your fish monger that you'll be preparing poke, and they'll probably point you in the right direction.
Soy Sauce (Shoyu) – use regular soy sauce for this recipe, please do not substitute with low sodium or other popular soy sauce substitutes. Soy sauce, which is made with fermented soybeans, is rich in umami and very important to the overall flavor of the dish.
Sesame Oil – whenever you're preparing a dish with very few ingredients, it's aways important to seek out the best. Sesame oil can become rancid over time, so if you've had a bottle sitting in your pantry or fridge for months, it might be worth double checking. I use and recommend Kadoya brand [affiliate link]. It has a great, pure tasting sesame flavor.
Hawaiian Salt ('alaea) – this recipe calls for alaea sea salt, which is an unrefined sea salt that is mixed with volcanic clay (alaea). It has a unique flavor and is called for in recipes throughout the book, but if you can't find it or don't wish to purchase it, Alana recommends substituting a coarse pink hamalayan salt. You can purchase Hawaiian alaea sea salt on Amazon. [affiliate link.]
Maui or Yellow Onion – traditional poke calls for raw sliced Maui onion. You can use yellow onion in this recipe too.
Green Onions – you'll need lots of sliced green onions (green parts only) for this recipe.
Gochugaru – this recipe calls for a small quantity (1/8 teaspoon) of gochugaru, which is Korean red chili flake. You can substitute it with Aleppo pepper, or finely crushed red pepper flakes. It adds just a touch of heat.
Macadamia Nuts – toasted finely chopped macadamia nuts add texture and flavor.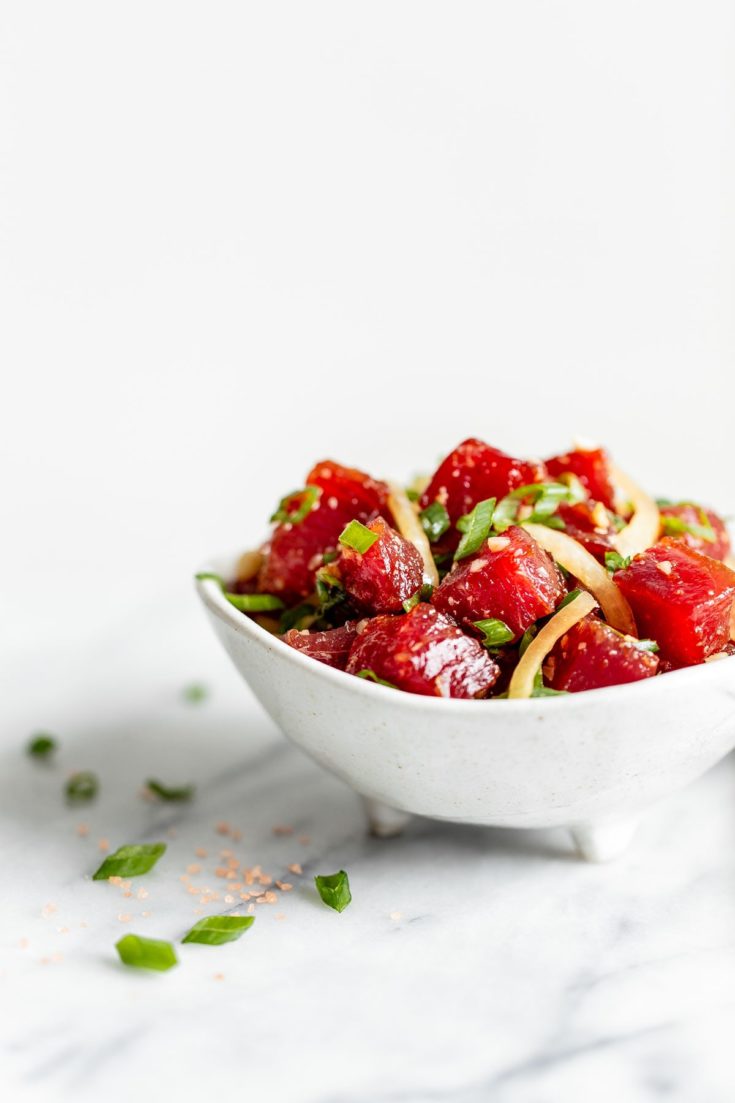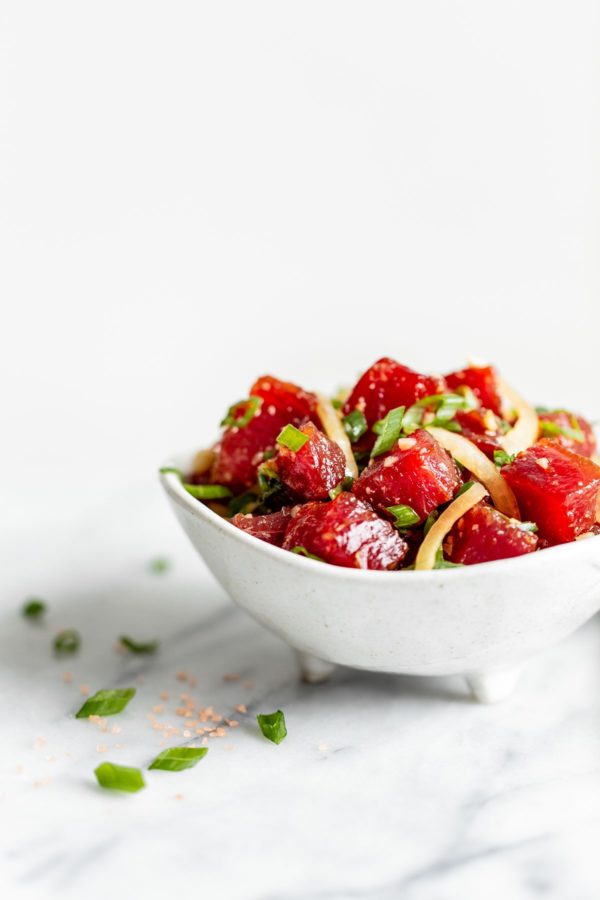 How to Make Ahi Poke:
Since this dish is made with raw tuna, it is very important that you prepare this dish just before serving it (and don't plan on leftovers). In addition, many of the other ingredients, such as the raw onion slices, chopped macadamia nuts, and scallions, will be at their best texture.
For this preparation, you'll want to slice the tuna into 1-inch cubes. Always slice against the grain when cutting tuna (and other meats), as it will yield the best texture and improve tenderness.
While you can enjoy it on it's own, poke is great served with steamed rice! I like to use a sticky sushi rice, just make sure your rice isn't hot when serving.
---
If you enjoy this recipe (we absolutely loved it), be sure to check out Aloha Kitchen for more beautiful Hawaiian recipes!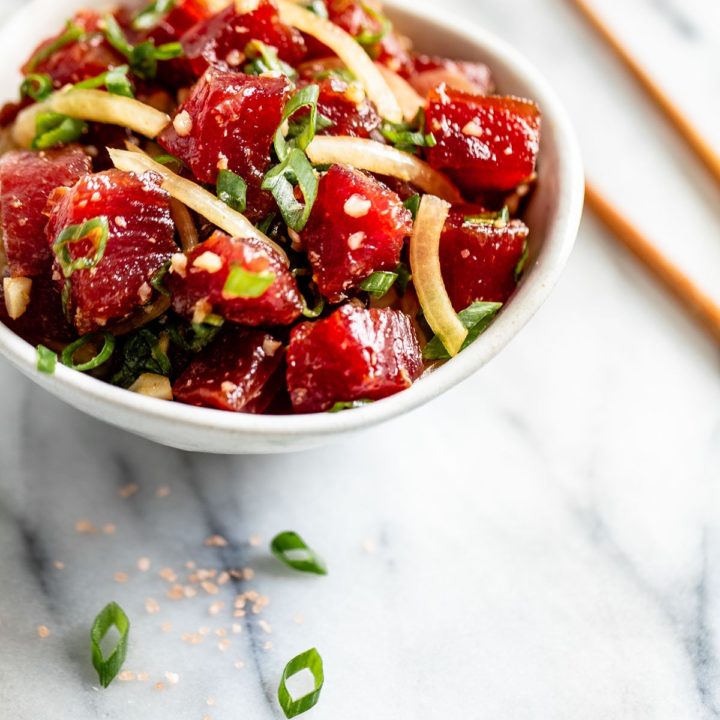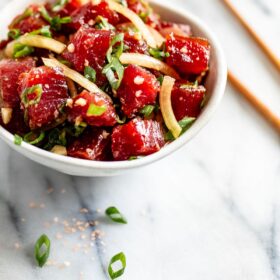 Shoyu Ahi Poke
Shoyu Ahi Poke Recipe - a traditional Hawaiian ahi poke bowl recipe made with sashimi grade ahi tuna, sweet onions, soy sauce, sesame oil, macadamia nuts, and scallions. This amazing recipe from Alana Kysar's Aloha Kitchen Cookbook comes together so quickly and makes you feel like you've been transported directly to Hawaii! Best served with steamed short-grain rice or on its own.
Ingredients
1 lb fresh sashimi-grade ahi steak chilled and cut into 1-inch cubes*
1½ tablespoons soy sauce plus more to taste
1 tablespoon sesame oil
¾ teaspoon Hawaiian salt ('alaea) plus more to taste
¼ cup thinly sliced Maui or yellow onion
½ cup chopped green onions (green parts only)
⅛ teaspoon gochugaru (Korean red chili powder)
1 tablespoon finely chopped toasted macadamia nuts
2 cups steamed rice for serving
Instructions
In a bowl, combine the cubed ahi, soy sauce, sesame oil, salt, Maui (or yellow) onion, green onions, gochugaru, and toasted macadamia nuts and gently toss with your hands or a spoon. Adjust the seasoning to your liking.

Serve over rice and enjoy immediately.
Tips for Success:
Feel free to substitute the gochugaru with Aleppo pepper or finely crushed red pepper flakes.
If you don't wish to purchase Hawaiian alea salt for this recipe, substitute with a coarse sea salt, such as Pink Himalayan. Please keep in mind that differnet kinds of salts have various densities - I advise starting with a small portion (if you're substituting) and always seasoning to taste.
Reprinted with permission from Aloha Kitchen by Alana Kysar (Ten Speed Press, March 2019).
Serving: 1serving, Calories: 476kcal, Carbohydrates: 25g, Protein: 45g, Fat: 21g, Saturated Fat: 6g, Polyunsaturated Fat: 12g, Cholesterol: 165mg, Sodium: 726mg, Fiber: 1g
This post contains affiliate links, which means that I make a small commission off items you purchase at no additional cost to you. Please read my
privacy policy
for more information.