Buffalo Cauliflower
Easy buffalo cauliflower are made with fresh cauliflower florets, dipped in buttermilk batter, baked in the oven, and tossed with a harissa hot sauce.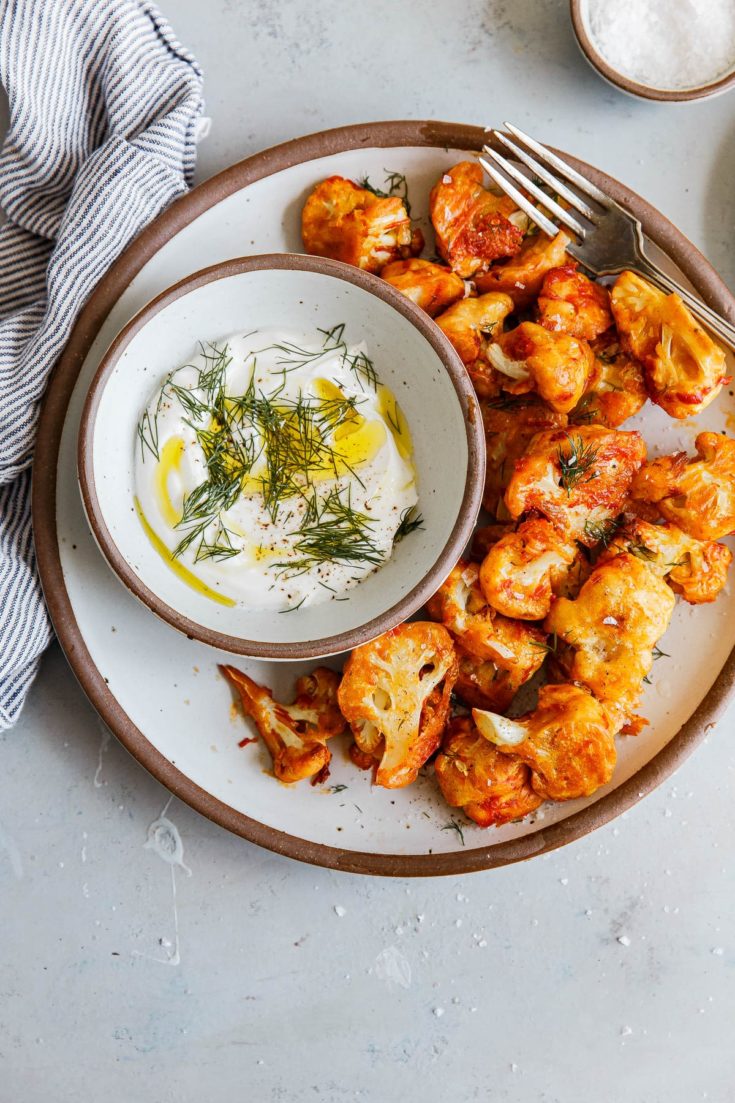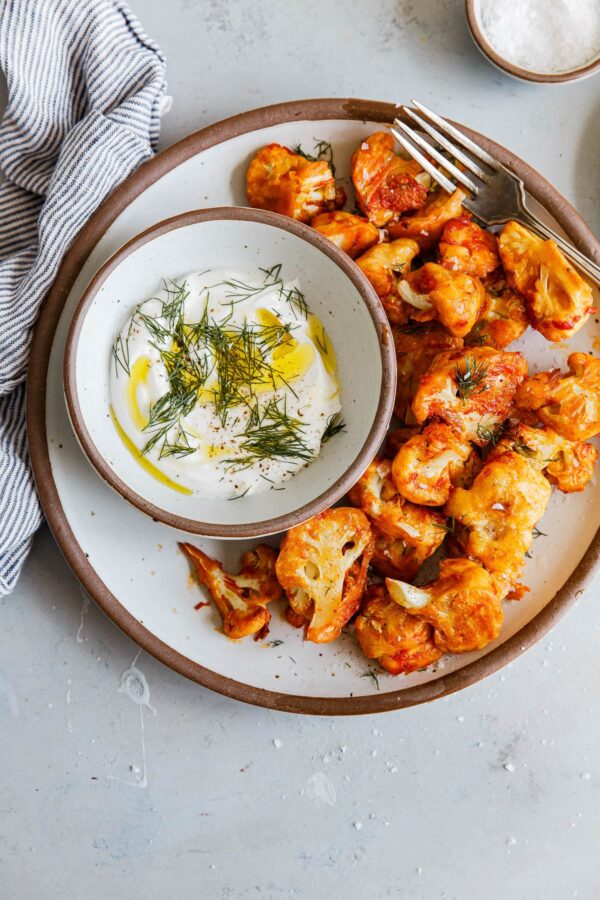 I'm back with another cauliflower recipe!
Last month, we learned how to cut cauliflower and made roasted cauliflower with tahini and fresh mint. This month, we're spicing things up and preparing buffalo cauliflower in the oven.
These roasted buffalo cauliflower bites are a vegetarian and lighter twist on classic buffalo wings. They're spicy and crisp, with just enough heat.
Serve them as a fun appetizer, game day snack, or side dish. Or use them as a filling for tacos or buddha bowls. Get creative!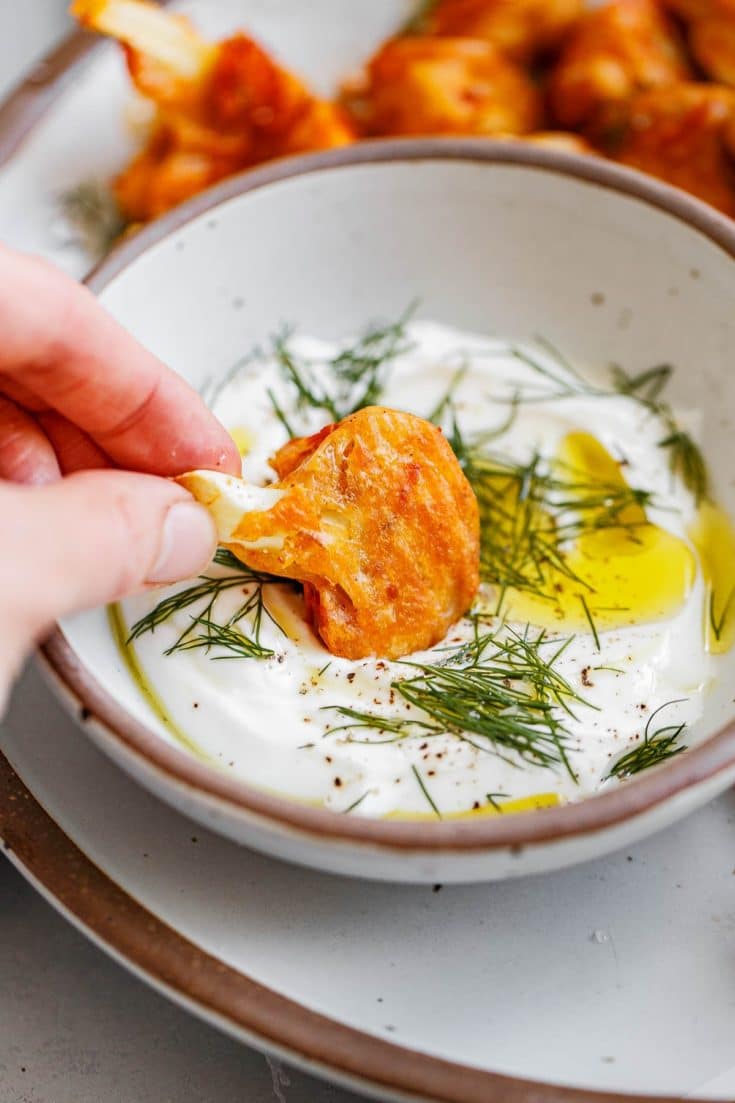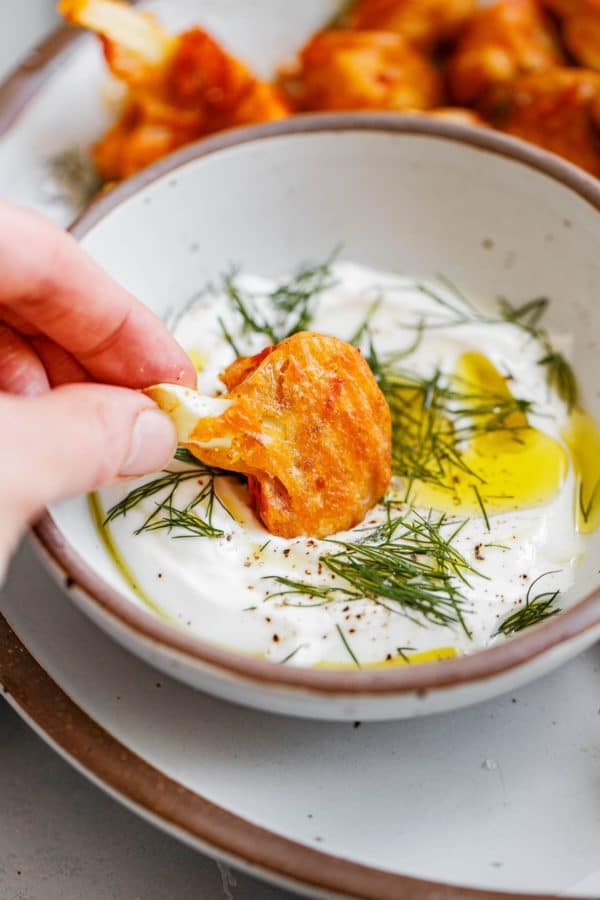 Today's recipe is from the cookbook, Mostly Plants by Tracy, Dana, Lori, and Corky Pollan, which was recently sent to me for review.
Written by the sisters and mother of Michael Pollan, Mostly Plants [affiliate link] is filled with more than 100 flexitarian recipes. Dishes that are not only seasonal, but approachable and realistic.
Their cookbook celebrates plant-based cooking, and provides a lovely mix of dietary friendly recipes, as well as balanced, and vegetable-centric seafood, poultry, and meat dishes. My type of cooking!


When I stumbled upon these cauliflower buffalo wings, I was immediately intrigued!
What Makes This Buffalo Cauliflower Recipe Different?
In lieu of traditional hot sauce, this buffalo cauliflower recipe uses mild or spicy harissa, which has a more nuanced flavor and is lower in sodium.


---
Buffalo Cauliflower Ingredients:
Here's what you'll need to make buffalo cauliflower:
Fresh Cauliflower Florets – use this simple guide on how to cut cauliflower to break down a medium head of cauliflower into bite sized florets.
Unbleached All Purpose Flour – similar to other buffalo cauliflower recipes, the raw cauliflower florets are dipped into a batter made from all purpose flour, spices, buttermilk, and water to thin. This recipe has not been tested with gluten free flour substitutes, but if you're willing to experiment, I would recommend a 1:1 GF flour substitute, such as Bob's Red Mill.
Seasonings – ground paprika, garlic powder, kosher salt, and freshly ground black pepper
Buttermilk – provides acidity and tang! Feel free to substitute with milk or unsweetened nut milks.
Unsalted Butter – a traditional ingredient in classic buffalo wings, butter is combined and melted together with the harissa to give a touch of richness to this dish. Feel free to substitute with dairy free butter substitutes.
Mild or Spicy Harissa – harissa is a North African chili paste, which I happen to love! I highly recommend Mina hot harissa (or mild, if you're sensitive to heat) if you can find it. It has a lovely looser texture that lends itself really well to this application, and the quantity listed in the recipe below. If you're using another brand, be sure to add it sparingly and adjust the quantity by taste.
---


How to Make Buffalo Cauliflower:
There are a few basic steps to making homemade buffalo cauliflower in the oven. You'll need a standard half sheet pan and parchment paper.
First, we'll be roasting the battered cauliflower florets in the oven at a high temperature until they are crisp and lightly golden. Be sure to space the cauliflower florets apart on the baking sheet, and flip them carefully halfway through.
While the cauliflower is roasting, you'll want to prepare the buffalo sauce mixture by combining the harissa and butter, and melting it together on the stove.
We'll then gently toss the roasted cauliflower pieces in the harissa-butter mixture, and roast them at a lower temperature until browned and crisp.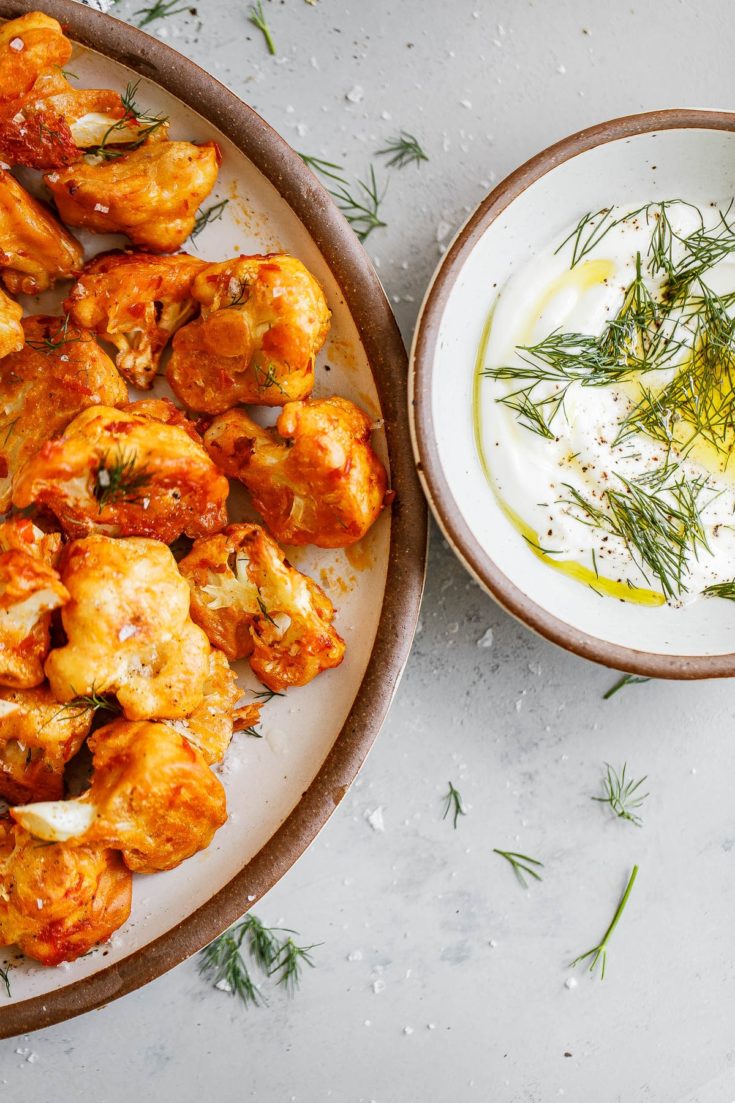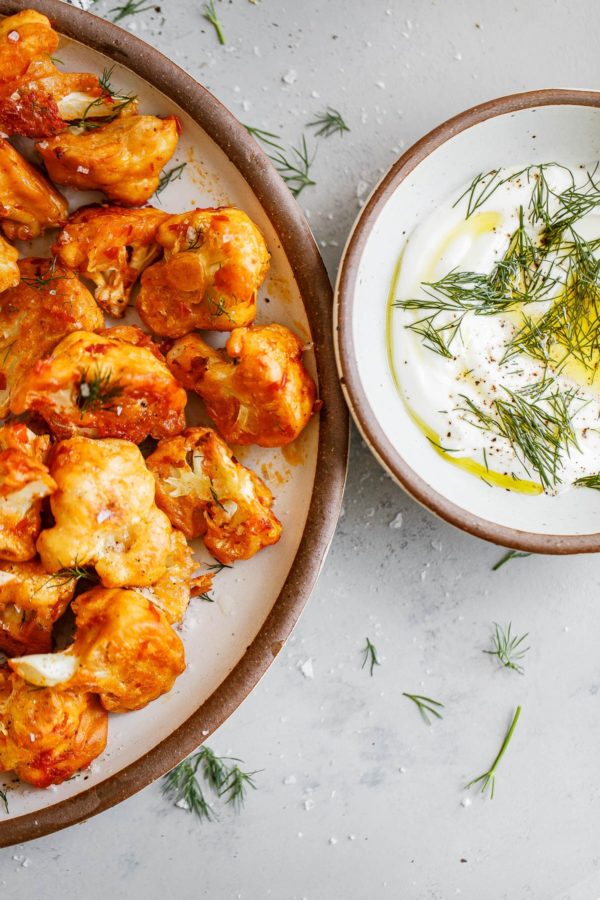 How to Serve Buffalo Cauliflower Bites:
Buffalo cauliflower tastes great with a homemade herb yogurt sauce (tzatziki would also work!) or blue cheese dip. Happy dipping!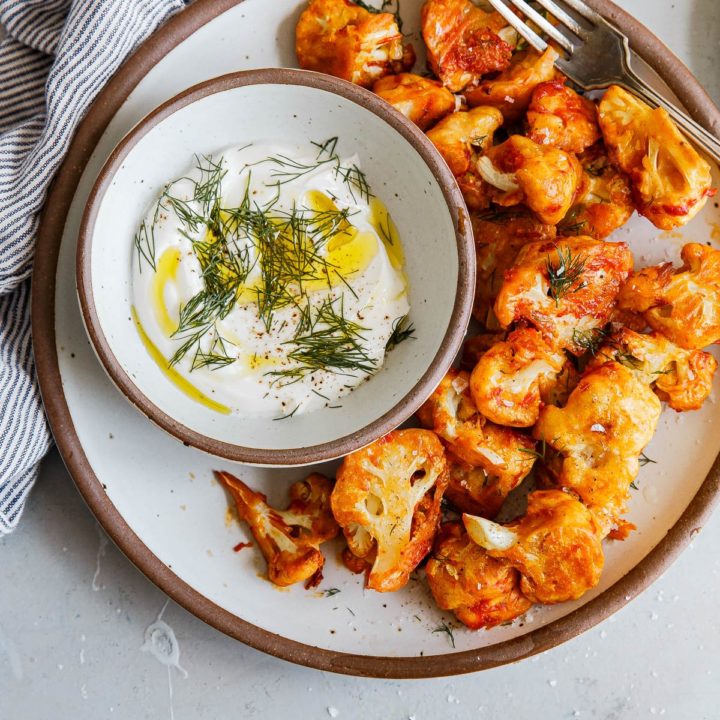 Buffalo Cauliflower
Yield: 4 Servings
Traditional buffalo wings are deep-fried pieces of chicken doused with a spicy sauce that is very high in sodium. These vegetarian buffalo cauliflower bites are made with baked cauliflower, swapping out the hot sauce with harissa, which is not only more complex in flavor but much lower in salt. Cauliflower buffalo wings are great as a crowd-pleasing appetizer or as a side.
Prep Time: 10 minutes
Cook Time: 25 minutes
Total Time: 35 minutes
Ingredients
3/4 cup (95 grams) unbleached all purpose flour
1 teaspoon garlic powder
1 teaspoon ground paprika
3/4 teaspoon kosher salt
freshly ground black pepper
1/2 cup (125 mL) buttermilk
4 cups bite-size cauliflower florets (1 small head of cauliflower)
2 tablespoons (30 grams) unsalted butter
1/4 cup harissa (mild or spicy; I recommend Mina Harissa)
favorite dip, such as yogurt-based ranch, for serving
Instructions
Preheat the oven to 450° Fahrenheit (230°C). Line a half sheet pan with parchment paper.
Place the flour, garlic powder, paprika, 3/4 teaspoon kosher salt, and 1/8 teaspoon pepper in a medium bowl and whisk to combine. Stir in the buttermilk and 1/3 cup water and whisk until smooth (if it's very thick, add another tablespoon of water or so). Place the cauliflower in the batter and toss to coat. One piece at a time, shake off the excess batter and lay the cauliflower florets in a single layer on the sheet pan. Leave enough space between them (about 1/2 inch) so the cauliflower does not get soggy.
Bake until crispy, 6 to 8 minutes. Carefully flip the florets and bake until the other side is browned, an additional 6 to 8 minutes. Remove from the oven and set aside.
Reduce the oven temperature to 350 degrees Fahrenheit (175 C). *Note: I preferred a slightly higher temperature and used 375 degrees to encourage more browning.
Meanwhile, in a small saucepan over medium heat, melt the butter. Remove from the heat and pour into a medium bowl. Add the harissa and stir to combine. Add the cooked cauliflower and gently toss to coat evenly. Discard the parchment paper from the sheet pan and replace with a fresh piece. Return the cauliflower to the baking sheet and and bake for 10 to 15 minutes, flipping halfway through, until browned and crisp. Serve hot, with your choice of dip on the side.
Notes
Reprinted with permission from Mostly Plants by Tracy, Dana, Lori, and Corky Pollan (HarperCollins, Spring 2019)
Tips for Success:
For more tips, check this post on How to Cut Cauliflower.
.If you don't like ranch, this buffalo cauliflower would also taste great with any basic yogurt sauce, including tzatziki.
Recommended Products
As an Amazon Associate and member of other affiliate programs, I earn from qualifying purchases.
Nutrition Information:
Yield: 4
Serving Size: 1
Amount Per Serving:
Calories: 338
Total Fat: 17g
Saturated Fat: 6g
Trans Fat: 0g
Unsaturated Fat: 9g
Cholesterol: 24mg
Sodium: 755mg
Carbohydrates: 39g
Fiber: 6g
Sugar: 8g
Protein: 10g
I received a complimentary copy of Mostly Plants; however, I was not obligated to share a recipe or review. All opinions are my own.