Simple Cauliflower Potato Soup
A simple and comforting cauliflower potato soup topped with frizzled leeks and capers. This soup is incredibly easy to prepare and made with everyday ingredients!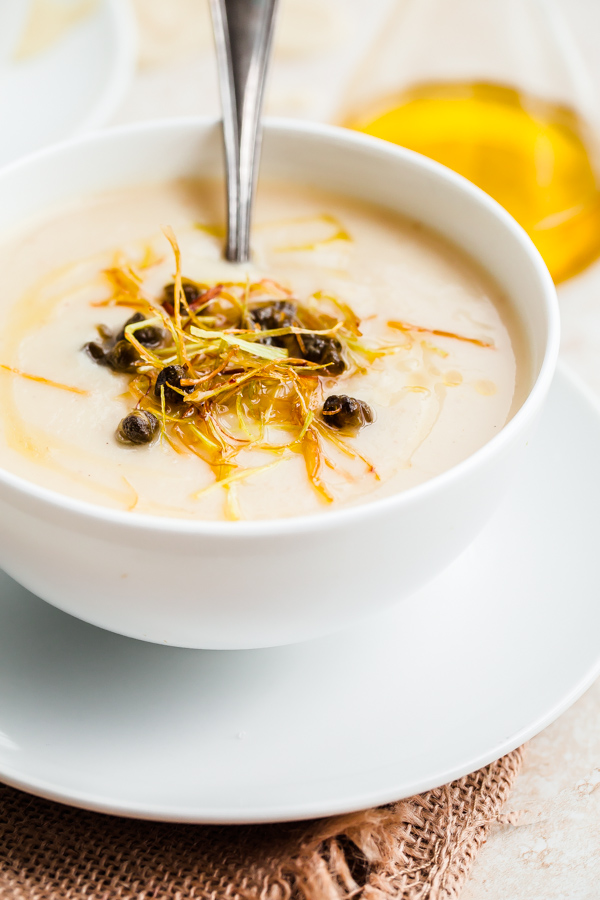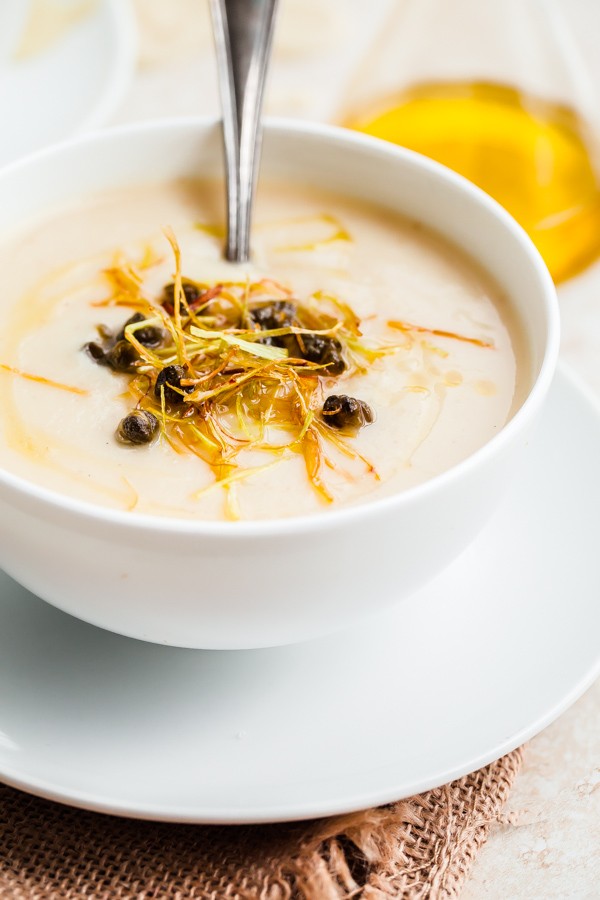 Soup season has officially begun! My favorite time of year (not that this stops me from preparing soup during every other month of the year).
There is nothing I love more than making a big pot soup, grabbing a loaf of my favorite bread, and curling up on the sofa with a bowl and spoon in hand. Today's cauliflower soup is a curl-up-on-the-sofa kind of soup.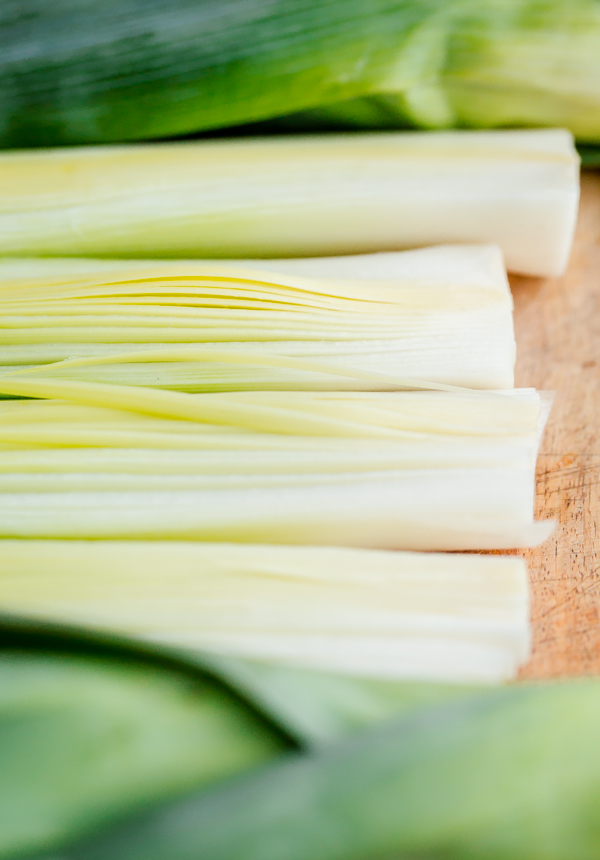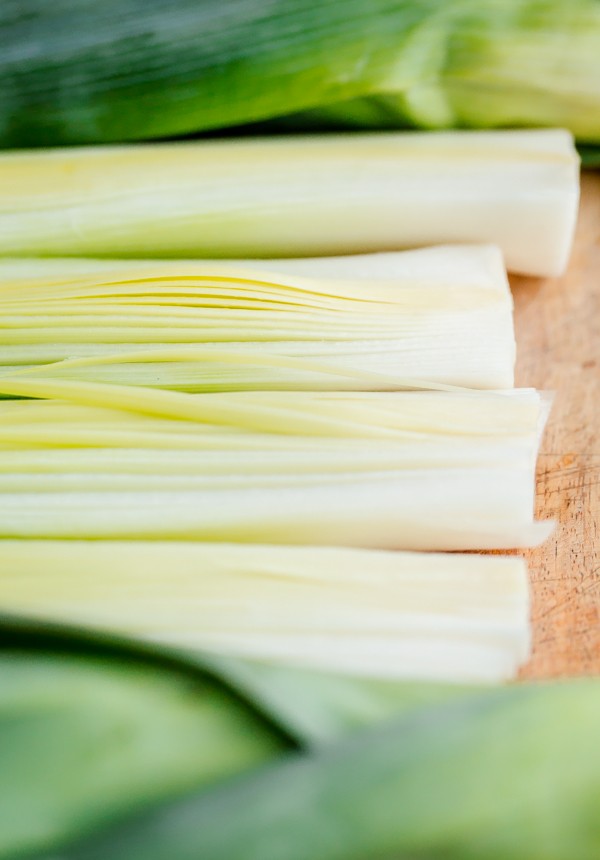 It's hearty, simple, and uses everyday ingredients.
The soup uses an entire head of cauliflower and is naturally creamy without the addition of heavy cream. In other words, it is nutritious and doesn't weigh you down. This is achieved through the addition of fresh leeks, potato, and the teeniest amount of freshly grated parmigiano-reggiano cheese.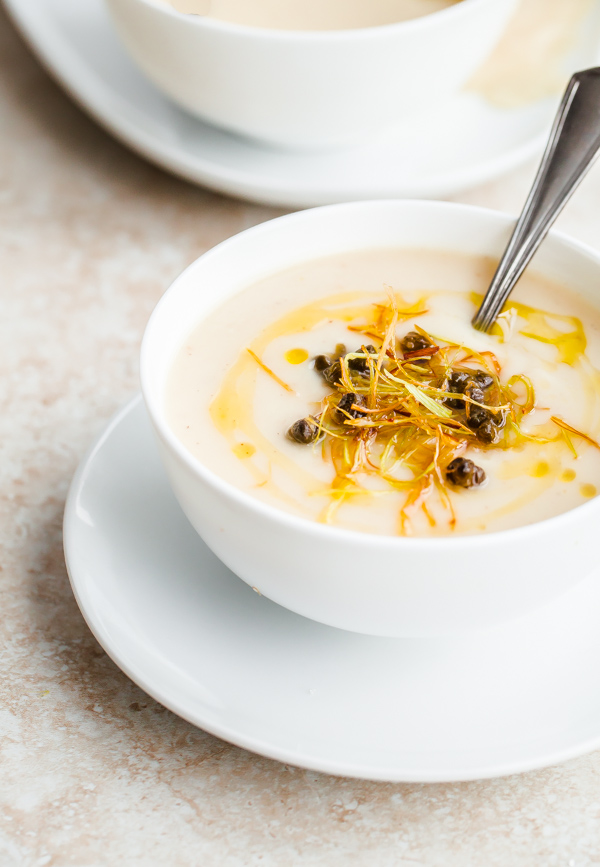 To add a bit of texture, I garnished today's soup with frizzled leeks and capers. Yes, frizzled is a fancy word for fried, but doesn't it sound so much…better? I was first introduced to frizzled leeks at a sushi restaurant and have been dying to make them ever since. I've been a huge fan of fried capers for years!
The frizzled leeks and capers adds that little something-something to this soup, but they do require a little bit more effort, so if you are not feeling it, don't hesitate to leave this out. The soup can stand on its own.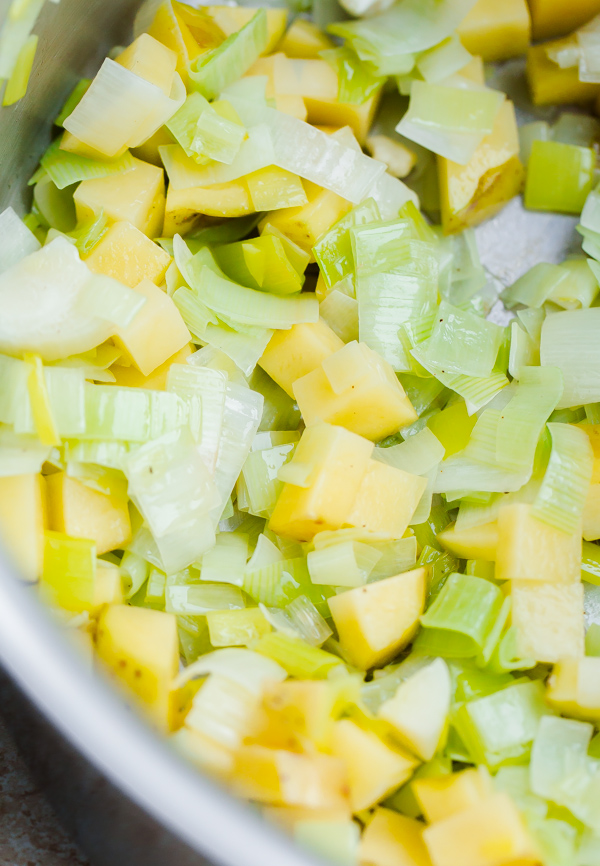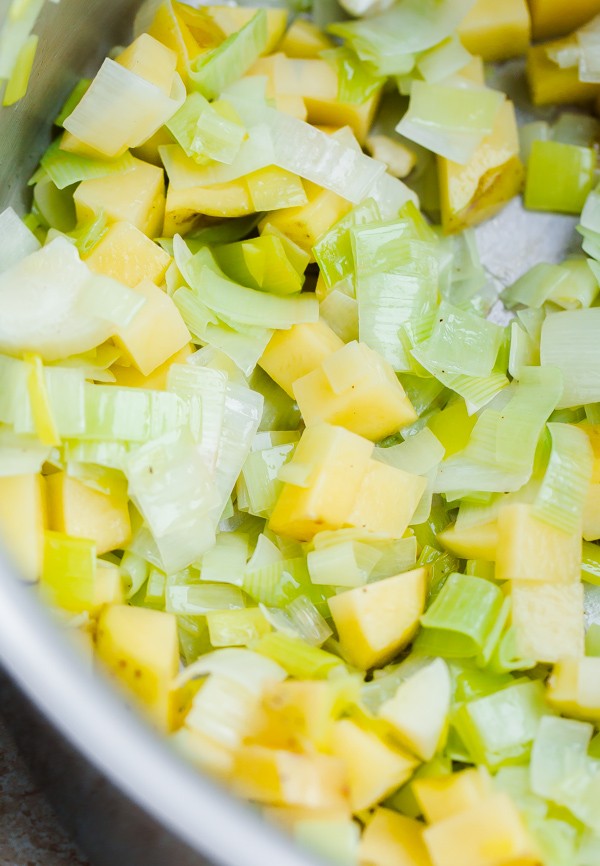 My biggest tip when it comes to homemade soup is to properly season it with salt and pepper. I prefer to use low-sodium chicken broth and control the seasoning on my own, as it gives you a bit more control over the final outcome.
That being said, cauliflower and potato are notoriously bland when under-seasoned (they crave salt!), so don't be nervous if you find yourself adding more salt than you might normally add to other recipes.
My next tip is to taste throughout the cooking process and adjust as necessary. If you take glance at the ingredient list of this recipe, you might be a little weirded out by some of the combinations of flavors (lime juice? Dijon mustard? fresh nutmeg?). All of those ingredients serve a purpose, and I promise it will all come together in the end.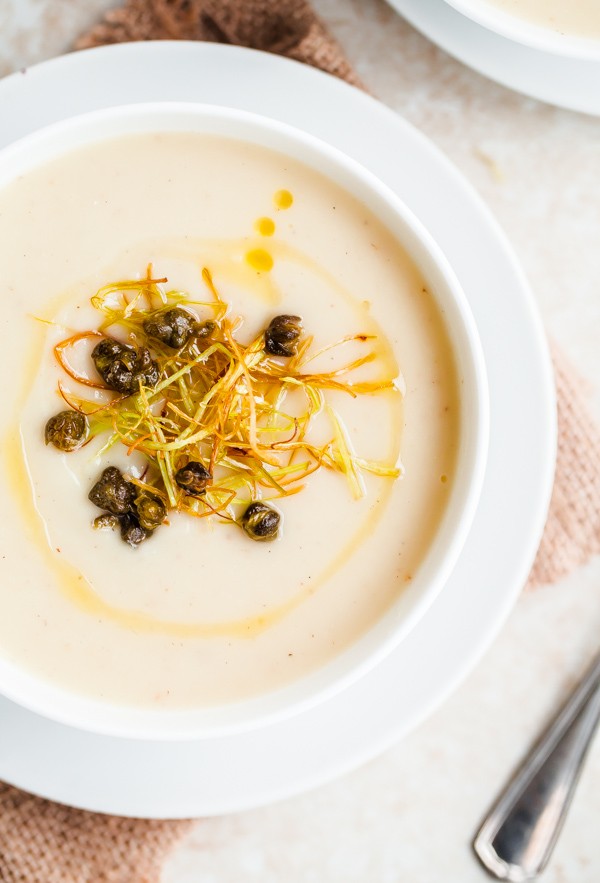 On a separate note, can we all agree that frizzled leeks and capers should be put on everything from this point forward?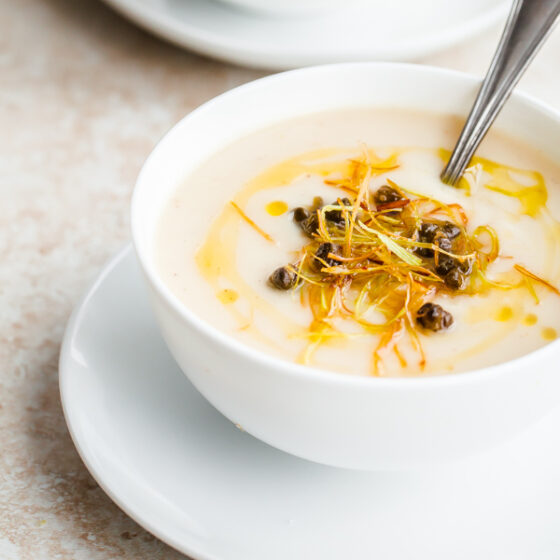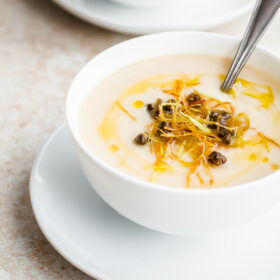 Simple Cauliflower Potato Soup
A simple creamy cauliflower potato soup and finished with an optional topping of frizzled leeks and capers. This soup is incredibly easy to prepare and made with everyday ingredients!
Ingredients
1 tablespoon (15 mL) extra virgin olive oil
1 tablespoon (15 g) unsalted butter
2 medium leeks, white and pale green parts only
8 ounces Yukon gold potatoes (about 1 large potato) diced
1 large head cauliflower roughly 2½ lbs, stalk trimmed and cut into small florets
7 cups (1.6 L) low-sodium chicken broth
1 tablespoon (15 mL) fresh lime juice
1 teaspoon Dijon mustard
¼ teaspoon freshly grated nutmeg
¼ cup grated parmigiano-reggiano cheese
pinch ground cayenne pepper
kosher salt
freshly ground black pepper
Garnish (Optional): 
olive or vegetable oil for frying
2 tablespoons drained and rinsed capers patted dry
kosher salt
Instructions
Prepare Soup: Trim the root ends of the leeks. Slice the leeks in half lengthwise, spread apart the layers, and rinse well under cold water to remove any grit. Set aside a 2-inch length piece of one leek half for frying for the soup garnish. Finely slice the remaining leeks.

Heat the olive oil and butter in a large pot over medium heat. Add the sliced leek and sauté for 8 to 10 minutes, stirring occasionally, until the leeks are very soft and almost translucent.

Add the diced potato and saute for an additional 2 to 3 minutes, stirring every minute or so. Add the cauliflower florets to the pot along with the chicken broth and bring to a boil. Lower the heat and simmer the soup for 20 to 25 minutes, uncovered, or until the potatoes and cauliflower are soft and cooked through.

Transfer the soup to a high-powered blender, such as a Vitamix, and blend until very smooth. Transfer the soup back into the same pot, heat over low, and add the lime juice, Dijon mustard, fresh nutmeg, parmigiano-reggiano cheese, and pinch of cayenne. Season the soup to taste with salt and pepper. 

Note: Potatoes and cauliflower require a large amount of salt in order to be seasoned properly. If the soup is too thick, add a touch of any leftover chicken broth. Keep the soup on low while you prepare the garnish of frizzled leeks and capers (optional)

Prepare Garnish: Line a small plate with a paper towel and set aside. Take the 2-inch piece of leek that you reserved earlier, splay the layers, and flatten them against a cutting board. Using a sharp knife, slice the leeks lengthwise into very thin strips. Set aside the capers.

Heat roughly 1 cup (240 mL) oil in a small saucepan until it reaches 360°F (180°C). Fry the leeks in small batches, stirring the leeks in the oil with a slotted spoon to ensure they fry evenly, until they are golden brown (this will take anywhere from 10 to 20 seconds per batch). Transfer the leeks to the paper towel lined plate, sprinkle lightly with salt, and allow to cool until very crispy. Repeat with the remaining leeks, followed by the capers. The capers will take slightly longer to fry and will turn light brown in color when done.

Serve the hot soup and garnish each serving with a small amount of frizzled leeks and a few capers.
Tips for Success:
If you choose not to prepare the frizzled leek and caper garnish, finely slice the remaining piece of leek and simply add it to the soup along with the rest of the leeks.
Serving: 1serving, Calories: 274kcal, Carbohydrates: 27g, Protein: 13g, Fat: 15g, Saturated Fat: 4g, Polyunsaturated Fat: 10g, Cholesterol: 10mg, Sodium: 725mg, Fiber: 6g, Sugar: 6g
This post contains affiliate links, which means that I make a small commission off items you purchase at no additional cost to you. Please read my
privacy policy
for more information.