Simple Herb-Roasted Chicken with Mixed Vegetables (and Tips & Tricks!)
This post contains affiliate links.
So apparently this is #roasteverything week on the blog! I honestly never intended to post so many 'crank up the oven, and roast everything in sight' recipes in a row, it just seemed to work out like that.
For those of you living in warm climates, I apologize profusely. You're probably still drinking ice coffee, wearing shorts and t-shirts, and cranking up the air conditioning. You may even feel like punching me in the face right now. That's cool. I get it.
For those living in places that are chilly (or those that have already seen snow, craziness!), let's crank up our ovens together and roast all the things! (Cue DC heat wave).
Starting with this simple herb-roasted chicken…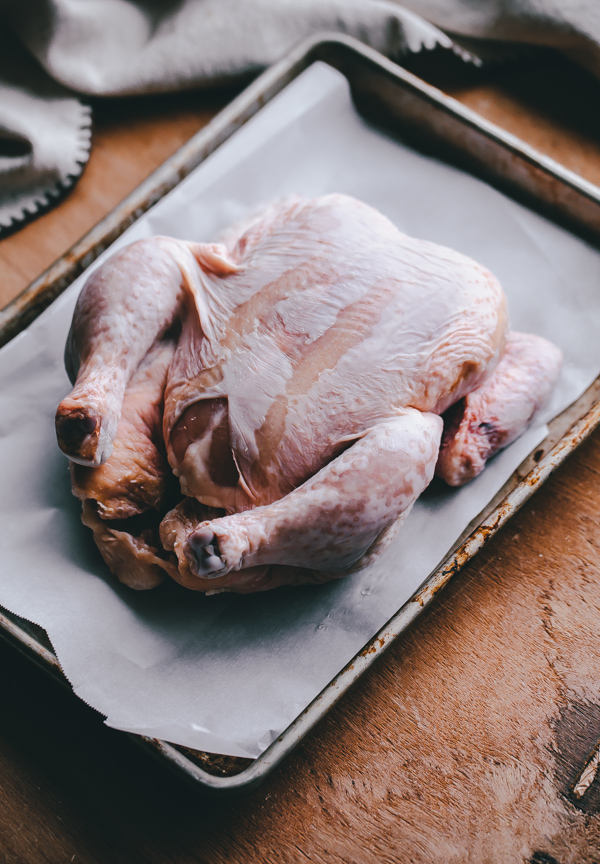 Roasting is one of my favorite cooking methods. If I could roast everything, I probably would.
It makes your house smell amazing, it generally involves very little active time in the kitchen, and it is pretty straight-forward and foolproof.
I realized a few weeks ago that I had never shared a simple roast chicken recipe on the blog before. What the heck?! Sometimes I get so distracted trying to come up with new ideas and recipes that I forget to make the basic, equally as delicious, ones. I'm trying to get better at that, promise!
[Also, does anyone find that picture up there of the naked chicken creepy? I did not buy a very pretty chicken for these photos. Oops.]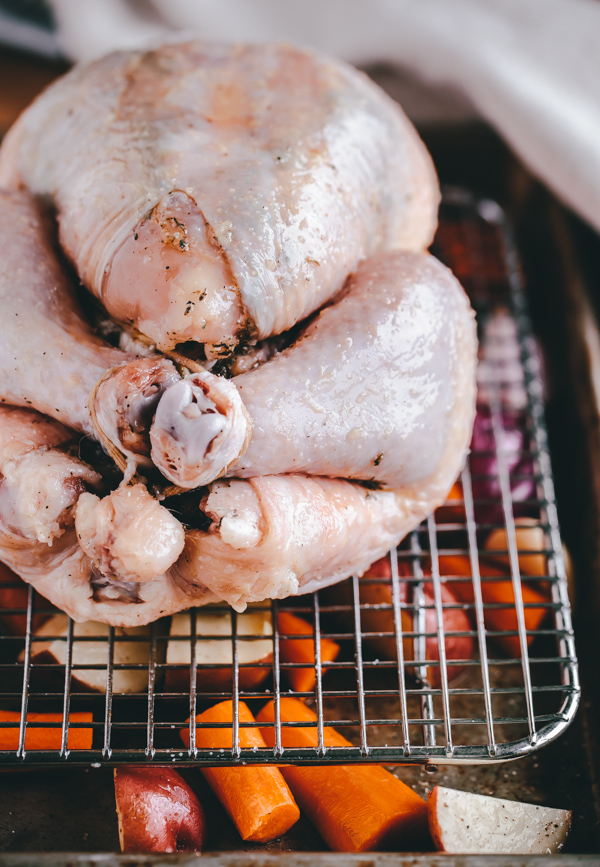 This simple roast chicken is seasoned with a mixture of fresh and dried herbs and spices, and accompanied by a mixture of root vegetables, including carrots, onion, and potatoes. Seriously simple. Feel free to mix up the vegetables (parsnips, turnips, rutabaga, etc, would all be great!) depending on what you have on hand!
I love adding vegetables and potatoes to the roasting pan because they crisp up and are the perfect accompaniment to the meal. No need to dirty up another pot or pan. It is a complete meal unto itself.
I also stuffed the cavity with pierced lemon halves for an extra boost of flavor!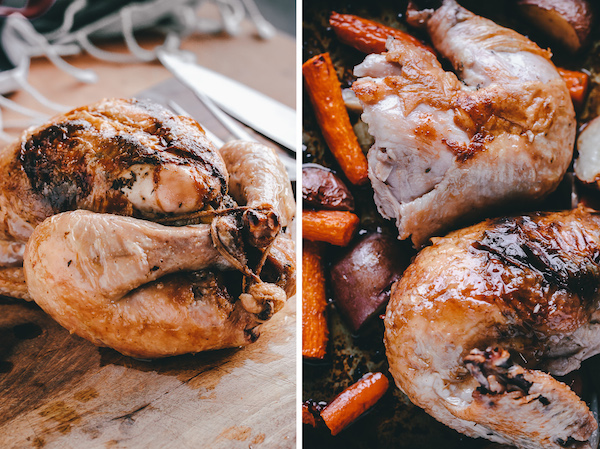 True story, I used to be really intimidated by roast chicken. I also used to think that roast chicken was relatively complicated. Wrong, wrong, wrong. All wrong!
Luckily, I got over that fear a few years ago, and most definitely during culinary school. I also learned the secrets to a really good roast chicken:
SALT. Seriously, salt. This is the most important thing! I used over a tablespoon of kosher salt for this 3.5 lb chicken! It sounds like a ton, I know, but it the most crucial step. The difference between a well-seasoned roast chicken and an under-seasoned roast chicken is night and day. It also helps draw out the moisture from the skin, which results in crispier skin once roasted. We all want crispy chicken skin. I use my favorite kosher salt (perfect for pinching!), and sprinkle it from high up (basically a foot above the chicken!) to make sure it is evenly distributed. General Tip: Use roughly 3/4 teaspoon to 1 teaspoon of kosher salt per pound of chicken, and whatever you do, do not season with basic table salt. Your chicken will end up tasting like a salt lick.
Dry the chicken extremely well. If you can, unpack the chicken, rinse and dry it thoroughly, and allow it to chill in the fridge, uncovered, for at least a full day before roasting. This helps dry it out even further, and will help aid in producing really crispy skin. A wet chicken will steam, a dry chicken will crisp up.
Make sure your chicken rests and comes to room temperature before roasting. This is really tempting step to skip (after all, it basically adds 45 minutes to one full hour or more to the entire process–think 20 minutes roughly per lb of bird), but it is absolutely essential. Don't be freaked out. If you stick a cold chicken in the oven, it will take a really long time for it come to temperature and it will not cook evenly.
Roast at a high temperature (for at least some portion of the cooking time). Roasting at a high temperature (i.e. 450 degrees) ensures that the skin will crisp up! Honestly, there are many schools of thought in regards to the right temperature for roasting chicken (low and slow vs. high the whole time), I do no t claim to be an expert at all and today's recipe  is an example of one of those methods.
Allow the roasted chicken to rest before slicing. Once the chicken is roasted, it is essential that you allow the chicken to rest for at least 15 (however, closer to 30 minutes is better!) before you carve it. The longer the better. Similarly to the second tip, this is a very tempting one to skip (I'm totally guilty of this), but you will be thankful that you did. The reason for this boils down to temperature and pressure–this article explains it perfectly! PS. This is a very good time to steal and snack on the crispy skin.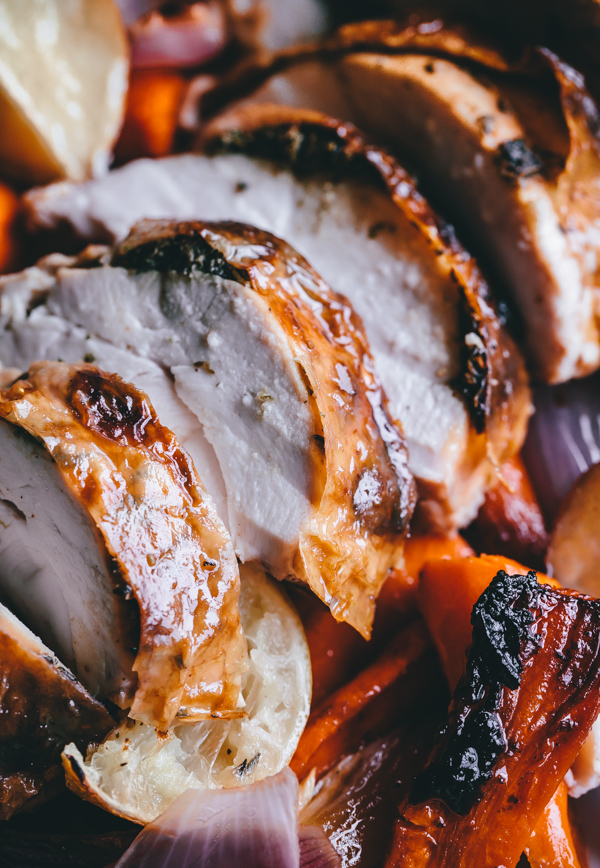 Also, don't forget to remove the entire breast of the chicken before slicing! This will ensure that you slice against the grain and get fat, juicy chicken pieces.
Check out these step-by-step photos for carving tips!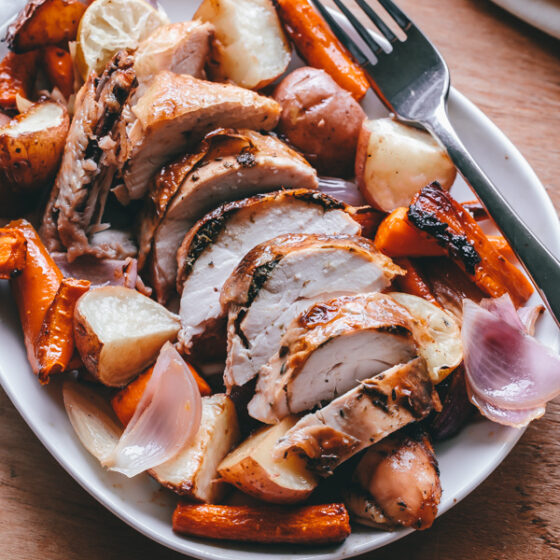 Simple Herb Roasted Chicken with Mixed Vegetables
Yield: 4-5 Servings
Prep Time: 1 day
Cook Time: 45 minutes
Additional Time: 20 minutes
Total Time: 1 day 1 hour 5 minutes
Ingredients
one  (3-4 lb) whole chicken, gizzards removed
kosher salt (roughly 3/4 – 1 teaspoon kosher salt per pound of chicken)
freshly ground black pepper
2 whole lemons, halved and skins pierced with a knife
1 tablespoon unsalted butter, softened
2 teaspoons fresh thyme, finely chopped (dried will also work)
1/4 teaspoon paprika
1/4 teaspoon onion powder
1/4 teaspoon oregano
1/4 teaspoon ground nutmeg
1/4 teaspoon granulated sugar
2 tablespoons extra virgin olive oil
3-4 carrots, peeled and chopped in large chunks
1 onion, quartered
3-4 small potatoes, quartered
3 cloves of garlic, smashed
Instructions
Optional, but recommended: Take the chicken out of its packaging, remove the giblets, and dry the chicken thoroughly (inside and out) by patting it with paper towels. Remove any extra feathers, if present. Place the chicken on a parchment-lined small baking sheet and allow the chicken to 'air-dry' in the refrigerator, uncovered, for 24-36 hours. This will help dry out the chicken and produce extra crispy skin. If you skip this step, be extra careful to thoroughly dry the chicken before roasting!
Preheat the oven to 425 degrees Fahrenheit. Set aside a small roasting pan with a rack (or as makeshift–not as ideal–option if you don't own one, line a baking sheet with a cooling rack).
Put the chicken on a clean cutting board. Dry the chicken thoroughly inside and out, and season the cavity of the chicken liberally with salt and black pepper. Place the lemons inside the cavity of the chicken. Truss the bird.
In a small bowl, combine the softened butter and fresh thyme, paprika, onion powder, oregano, nutmeg, and sugar with a spoon until it is thoroughly mixed. Technically, this step is optional, but I like the added flavor and moisture it adds to the chicken. Using your fingers, carefully rub the butter underneath the skin of the chicken breasts (being careful not to rip the skin) and distribute the butter evenly.
Rub the chicken all over with olive oil (roughly 1 tablespoon) and seasonally liberal the outside (all sides) of the chicken with kosher salt and black pepper.
Toss the vegetables with the remaining tablespoon of olive oil and place on the bottom of the roasting pan. Place the seasoned and herb-rubbed chicken on a rack above the roasting pan. The drippings will fall onto the roasted vegetables and make them extra flavorful and crispy!
Roast the chicken at 425 degrees Fahrenheit for roughly 45 to just over one hour (you should estimate roughly 15-20 minutes per lb of chicken), the juices run clear, or until a temperature inserted into the thickest part of the thigh reads 165 degrees.
Allow the chicken to rest (uncovered) for a minimum of 15-20 (the longer the better!)–do not skip this step–before removing the string and carving. This is a good time to snack on the crispy skin! During this time, I will usually remove the veggies and potatoes and keep them warm in the oven, and make a pan sauce with the drippings.
Nutrition Information:
Yield: 4
Serving Size: 1
Amount Per Serving:
Calories: 318
Total Fat: 11g
Saturated Fat: 3g
Trans Fat: 0g
Unsaturated Fat: 7g
Cholesterol: 142mg
Sodium: 213mg
Carbohydrates: 42g
Fiber: 7g
Sugar: 6g
Protein: 16g
A Beautiful Plate provides nutritional information, but these figures should be considered estimates, as they are not calculated by a registered dietician.
This post contains some affiliate links, which means that I make a small commission off items you purchase at no additional cost to you. Please read my
disclosure policy
for more information.