Simple Herb Roasted Chicken with Mixed Vegetables
I realized a few weeks ago that I have yet to share a simple roast chicken recipe.
Sometimes I get so distracted trying to come up with new ideas and recipes that I forget to share the simple, equally as delicious, ones.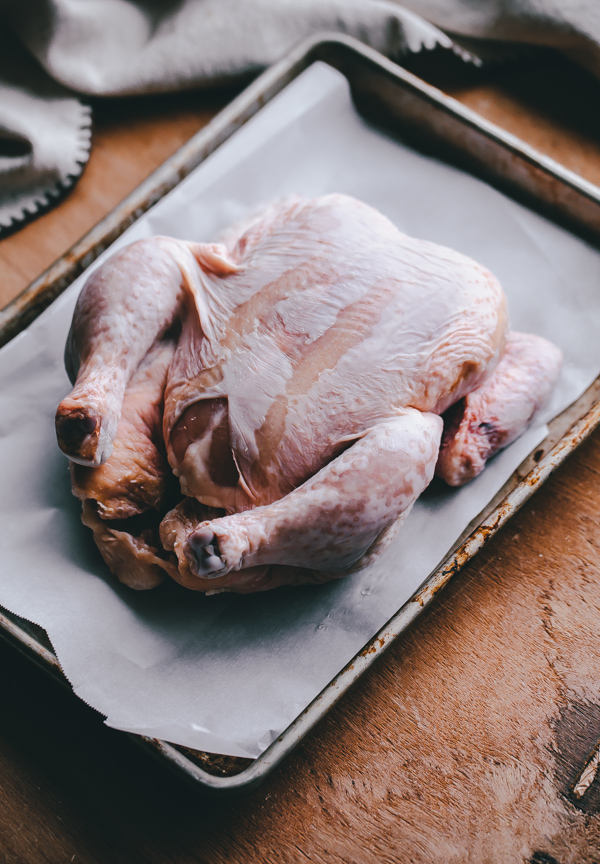 This simple roast chicken is seasoned with a mixture of fresh and dried herbs and spices, and accompanied by a mixture of root vegetables, including carrots, onion, and potatoes.
Feel free to mix up the vegetables (parsnips, turnips, rutabaga, etc, would all be great!) depending on what you have on hand!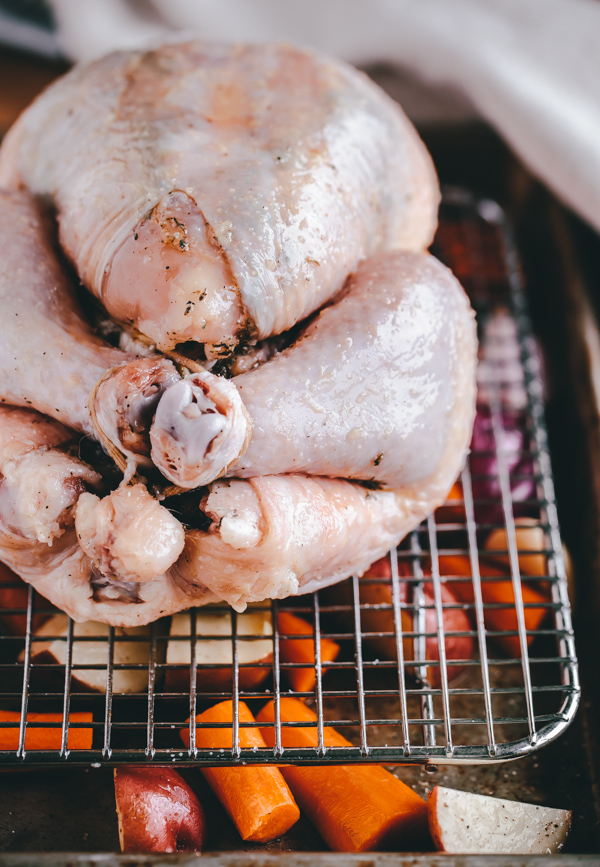 I love adding vegetables and potatoes to the roasting pan because they crisp up and are the perfect accompaniment to the meal. No need to dirty up another pot or pan. It is a complete meal unto itself.
I also stuffed the cavity with pierced lemon halves for an extra boost of flavor!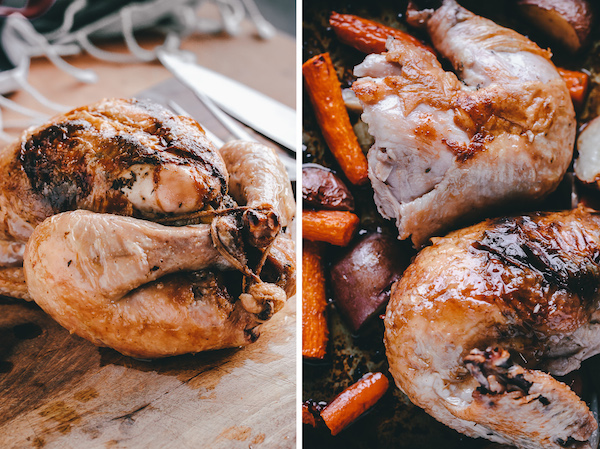 The Best Tricks for Homemade Roast Chicken:
Luckily, I got over my fear of roasting chicken years ago, and most definitely during culinary school. Here are my tips:
SALT. This is the most important thing! I used over a tablespoon of kosher salt for this 3.5 lb chicken! It sounds like a ton, I know, but it the most crucial step. The difference between a well-seasoned roast chicken and an under-seasoned roast chicken is night and day. It also helps draw out the moisture from the skin, which results in crispier skin once roasted. We all want crispy chicken skin. I use Diamond Crystal kosher salt and sprinkle it from high up (basically a foot above the chicken!) to make sure it is evenly distributed. General Tip: Use roughly 3/4 teaspoon to 1 teaspoon of kosher salt per pound of chicken, and whatever you do, do not season with basic table salt. Your chicken will end up tasting like a salt lick.
Dry the chicken extremely well. If you can, unpack the chicken, rinse and dry it thoroughly, and allow it to chill in the fridge, uncovered, for at least a full day before roasting. This helps dry it out even further, and will help aid in producing really crispy skin. A wet chicken will steam, a dry chicken will crisp up.
Make sure your chicken rests and comes to room temperature before roasting. This is really tempting step to skip (after all, it basically adds 45 minutes to one full hour or more to the entire process; roughly 20 minutes per lb of bird), but it is absolutely essential. Don't be freaked out. If you stick a cold chicken in the oven, it will take a really long time for it come to temperature and it will not cook evenly.
Roast at a high temperature (for at least some portion of the cooking time). Roasting at a high temperature (i.e. 450°F) ensures that the skin will crisp up! Honestly, there are many schools of thought in regards to the right temperature for roasting chicken (low and slow vs. high the whole time), I do no t claim to be an expert at all and today's recipe is an example of one of those methods.
Allow the roasted chicken to rest before slicing. Once the chicken is roasted, it is essential that you allow the chicken to rest for at least 15 (however, closer to 30 minutes is better!) before you carve it. This results in more moist roast chicken.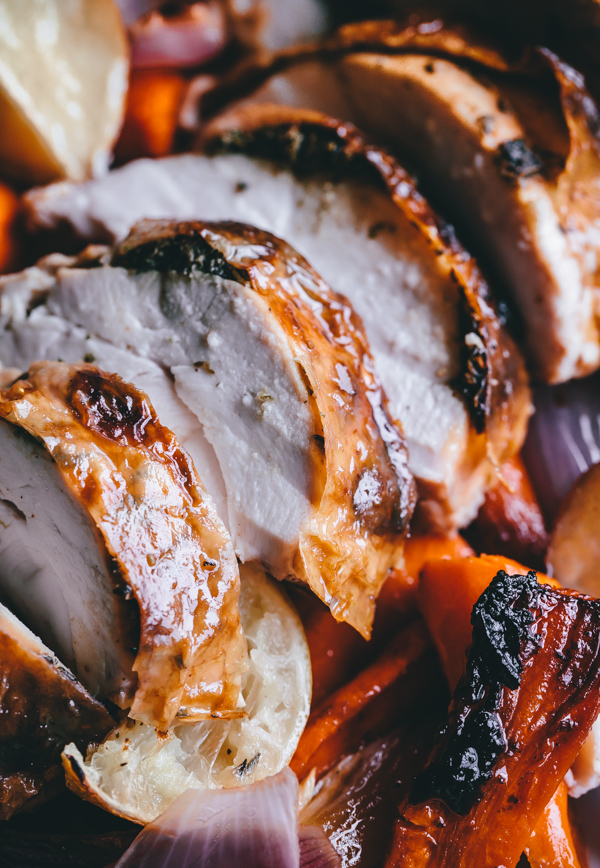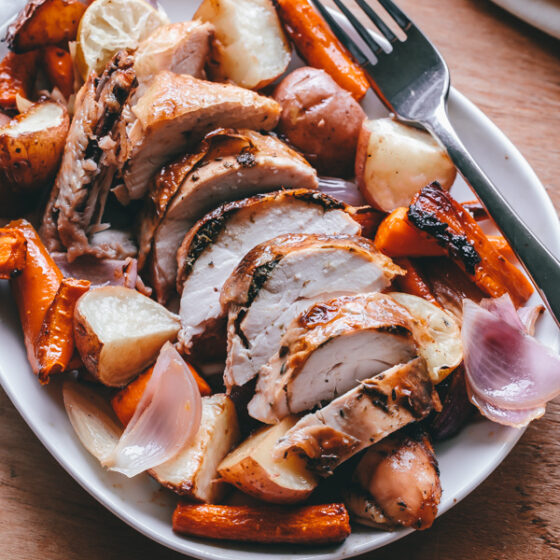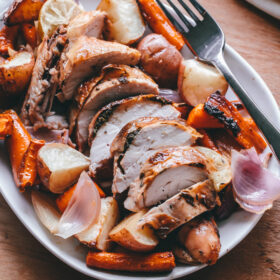 Simple Herb Roasted Chicken with Mixed Vegetables
Simple herb roasted chicken with mixed vegetables. Plus the best for producing an extra crispy, juicy roast chicken!
Ingredients
1 (3-4 lb) whole chicken gizzards removed
kosher salt roughly ¾ – 1 teaspoon kosher salt per pound of chicken
freshly ground black pepper
2 whole lemons halved and skins pierced with a knife
1 tablespoon unsalted butter softened
2 teaspoons fresh thyme finely chopped
¼ teaspoon ground paprika
¼ teaspoon onion powder
¼ teaspoon dried oregano
¼ teaspoon ground nutmeg
2 tablespoons extra virgin olive oil
3-4 medium carrots peeled and chopped in large chunks
1 onion quartered
3-4 small Yukon gold potatoes quartered
3 garlic cloves smashed
Instructions
Optional, but recommended: Take the chicken out of its packaging, remove the giblets, and dry the chicken thoroughly inside and out by patting it with paper towels. Place the chicken on a parchment-lined rimmed sheet pan and allow the chicken to 'air-dry' in the refrigerator, uncovered, for 24 to 36 hours. This will help dry out the chicken and produce extra crispy skin.

Preheat the oven to 425°F (220°C). Set aside a small roasting pan lined with a roasting rack.

Put the chicken on a clean cutting board. Dry the chicken thoroughly inside and out, and season the cavity of the chicken liberally with salt and black pepper - roughly ¾ – 1 teaspoon kosher salt per pound of chicken. Place the lemons inside the cavity of the chicken. Truss the bird.

In a small bowl, combine the softened butter and fresh thyme, paprika, onion powder, oregano, and nutmeg with a spoon until it is thoroughly mixed. Using your fingers, carefully rub the butter underneath the skin of the chicken breasts (being careful not to rip the skin) distributing it evenly.

Rub the chicken all over with olive oil (roughly 1 tablespoon) and seasonally the outside of the chicken with kosher salt and black pepper.

Toss the vegetables with the remaining tablespoon of olive oil and place on the bottom of the roasting pan. Place the seasoned and herb-rubbed chicken on the rack above the roasting pan. The drippings will fall onto the roasted vegetables and make them extra flavorful and crispy!

Roast until the thickest part of the chicken thigh reads 165°F (73°C), about 45 to 60 minutes. You should estimate roughly 15 to 20 minutes per lb of chicken.

Allow the chicken to rest uncovered for a minimum of 15 to 20 (the longer the better!) – do not skip this step – before removing the string and carving. During this time, I will usually remove the veggies and potatoes and keep them warm in the oven, and make a pan sauce with the drippings.
Serving: 1serving, Calories: 318kcal, Carbohydrates: 42g, Protein: 16g, Fat: 11g, Saturated Fat: 3g, Polyunsaturated Fat: 7g, Cholesterol: 142mg, Sodium: 213mg, Fiber: 7g, Sugar: 6g
This post contains affiliate links, which means that I make a small commission off items you purchase at no additional cost to you. Please read my
privacy policy
for more information.