Butternut Squash, Arugula, and Roasted Garlic Goat Cheese Tartine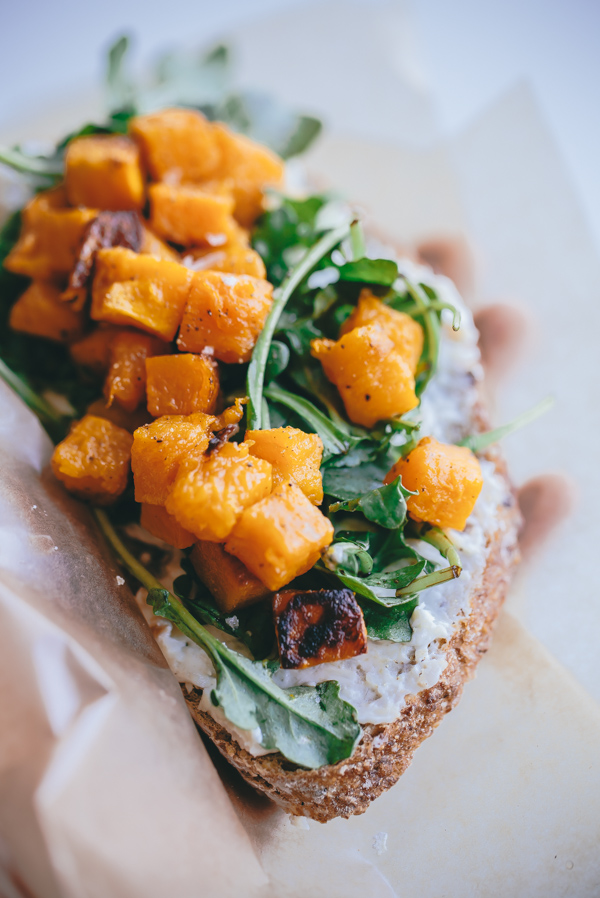 I have a thing for tartines. You know, open-faced sandwiches. Am I alone in this?
They are so elegant and let's face it, most sandwiches have way too much of a bread situation going on. Usually, the best part about any sandwich is the filling, and with tartines, the filling gets the spotlight.
Without sounding like a broken record (blah), I had an amazing fresh fig, goat cheese, and caramelized onion tartine at Maison Kayser in New York City, and have been thinking about it ever since. It was on the best bread known-to-man (ok, bread definitely matters) and it was the perfect epitome of "sweet 'n savory"balance.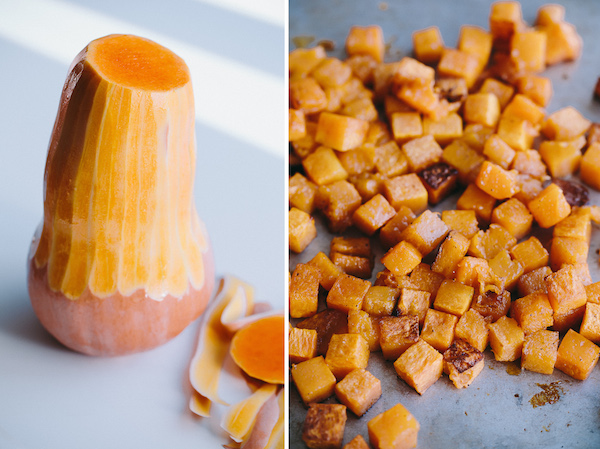 This tartine has a lot of the same good stuff going on in it. Unfortunately, the East Coast is lame (or the Washington, DC area is lame), and fresh figs have all but disappeared. It's ok though, because that frustrating situation resulted in me creating an entirely different tartine recipe with a much easier to find and way more wallet-friendly ingredient: butternut squash.
All you need is a sharp knife, a steady hand, a little bit of faith, and a cheap vegetable peeler.
The butternut squash is cubed, and roasted until it is soft and slightly caramelized. You could easily saute and caramelize it in a large pan on the stove-top, but that requires attention, and since you are already heating the oven to roast the garlic, roasting is easier.
Helpful Tip: Buy butternut squash with a long neck, and relatively small base if at all possible. I prefer the neck of the squash (weirdest statement ever), because it is much easier to slice and dice, and does not get stringy once cooked.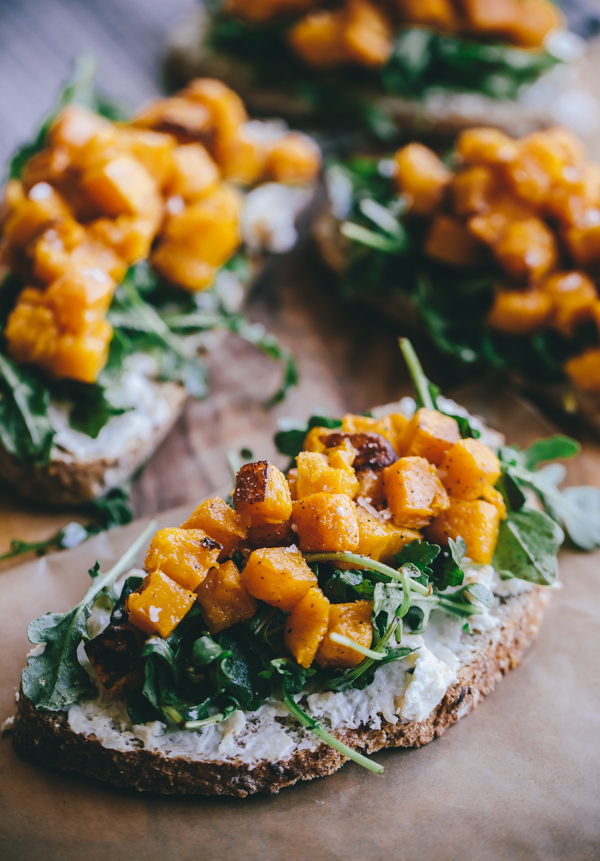 Oh, and that roasted garlic goat cheese?! Only the best thing ever. It is essentially soft goat cheese mixed with an entire head of roasted garlic.
No joke. It is basically goat cheese on crack. The possibilities for it are endless, and I plan on exploring all of them. Don't be stingy with this stuff! Spread it on thick.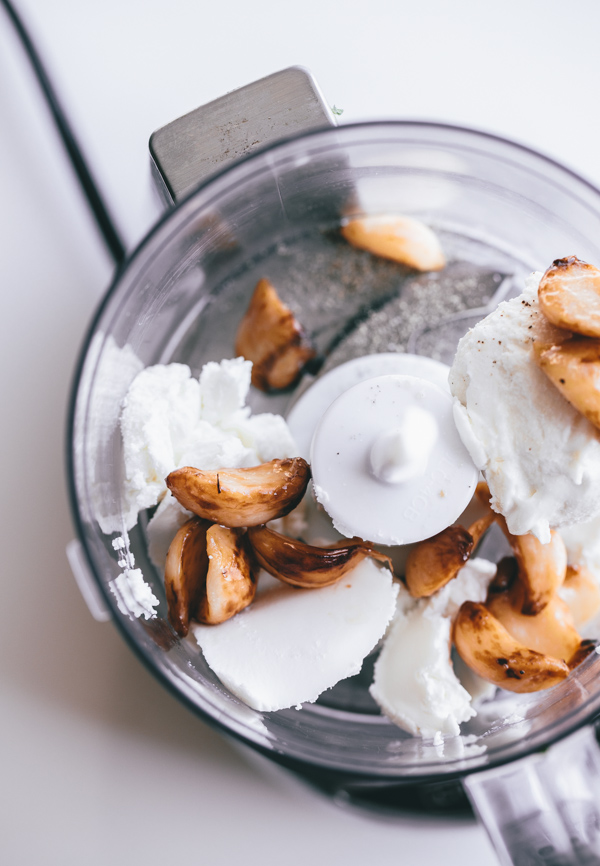 On top of the goat cheese, you'll want to add a nice pile of baby arugula, which is lightly tossed with the teeniest amount of balsamic vinegar, which adds the slightest hint of acid.
The arugula adds that perfect peppery punch.
I loved this on a very grainy, dense bread that I toasted and allowed to cool, so that it had a nice crunch, but feel free to substitute it with a softer, just slightly toasted french boule or very good-quality baguette. It would be just as tasty.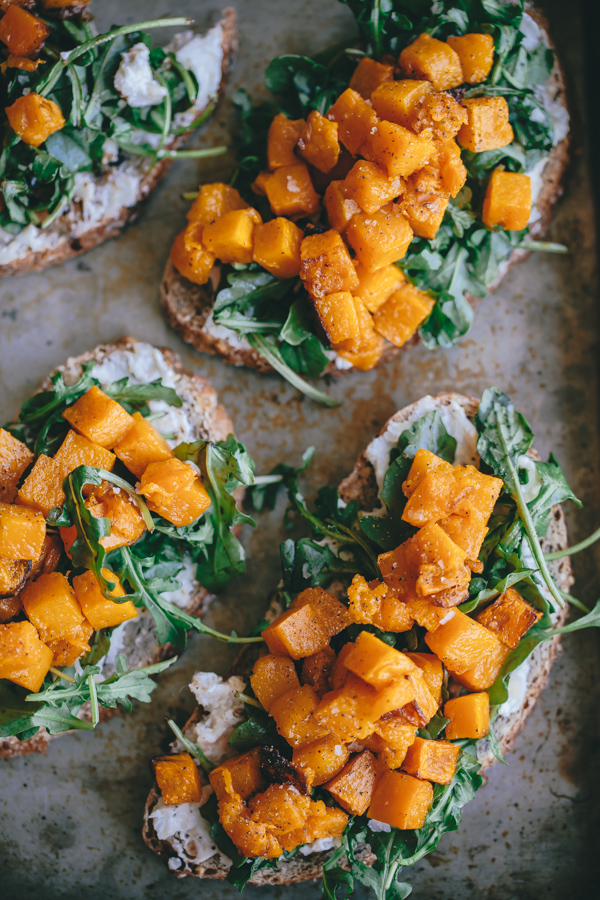 Ok, gotta go and make more roasted garlic! You know, priorities people.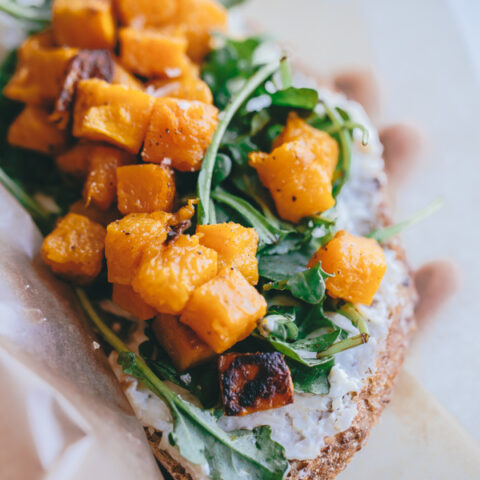 Butternut Squash, Arugula, and Roasted Garlic Goat Cheese Tartine
Yield: 4 Servings
Prep Time: 15 minutes
Cook Time: 1 hour
Total Time: 1 hour 15 minutes
Ingredients
one whole head of garlic
2 tablespoons extra virgin olive oil
1 lb butternut squash, peeled and chopped into 1/2 -inch dice (see instruction below)
kosher salt
freshly ground black pepper
4 ounces soft goat cheese, room temperature
1.5 ounces fresh baby arugula
1 teaspoon balsamic vinegar
4 large thin slices of grainy, dense bread (or a good quality french boule), toasted
Maldon or fleur del sel salt, for finishing
Instructions
Roast Garlic: Preheat the oven to 425 degrees Fahrenheit. Slice the top of a head of garlic off so that the cloves are exposed and gently rub your fingers back and forth over the sides to remove as much of the paper as you can. Drizzle the cloves with 1 tablespoon of the olive oil, and wrap the head tightly in aluminum foil. Roast the garlic until the cloves are caramel in color, about 45 minutes. Allow the garlic to cool completely before squeezing out the cloves. Set aside.
Roast Squash: Meanwhile, chop the butternut squash into a 1/2″ dice by peeling the squash with a vegetable peeler. Trim the bottom and top of the squash with sharp knife. Using the neck of the squash only (if possible), slice the squash horizontally into 1/2″ thick large slices. Chop each slice into 1/2″ matchsticks, line the matchsticks up, and proceed to chop them into a 1/2″ dice.
Toss the diced squash with the remaining tablespoon of olive oil and place on a large baking sheet. Season with salt and pepper. Roast the squash (at the same time as the garlic, preferably, to save time) at 425 degrees Fahrenheit for 20-30 minutes, tossing and flipping the pieces with a spatula 2 to 3 times throughout the cooking process, or until the squash is cooked through and lightly caramelized. Remove from the oven and allow to cool until lukewarm or cold.
Using a small food processor, combine the goat cheese with the roasted garlic cloves. Pulse until well combined (if you do not have a food processor, you can finely chop and mash the garlic cloves with a fork, and just mix in a bowl). Season mixture with salt and pepper.
In a small bowl, toss the argula with the balsamic vinegar until just lightly coated. Toast the bread slices in a toaster (or broiler, watching carefully). Allow the toasted bread to cool completely (otherwise the goat cheese will melt). Spread a thick layer of goat cheese onto each slice of bread. Top with a handful of arugula, and then a large spoonful of roasted butternut squash. Sprinkle the tops of each tartine with Maldon or fleur de sel salt. Serve immediately.
Nutrition Information:
Yield: 4
Serving Size: 1
Amount Per Serving:
Calories: 212
Total Fat: 13g
Saturated Fat: 5g
Trans Fat: 0g
Unsaturated Fat: 7g
Cholesterol: 13mg
Sodium: 460mg
Carbohydrates: 18g
Fiber: 4g
Sugar: 3g
Protein: 8g
A Beautiful Plate provides nutritional information, but these figures should be considered estimates, as they are not calculated by a registered dietician.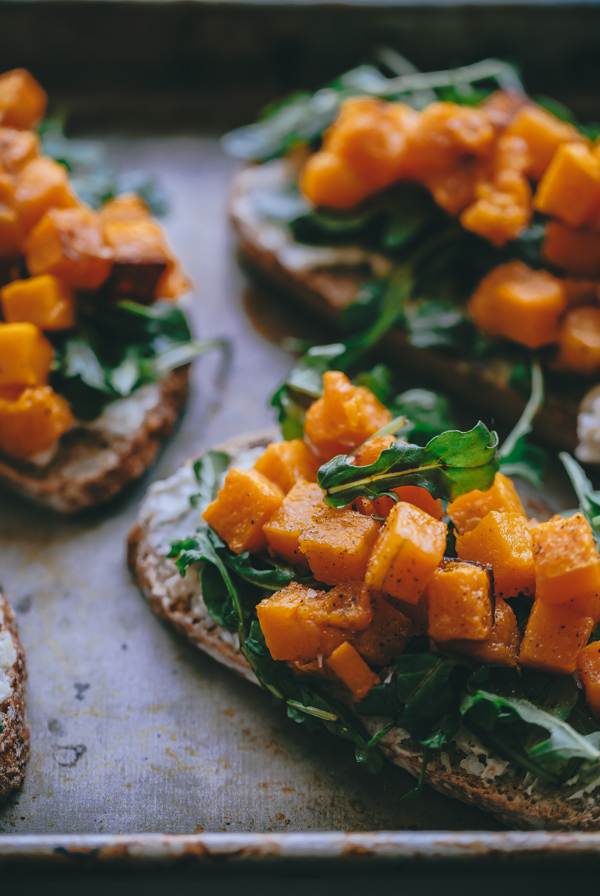 This post contains an affiliate link to my Amazon store! If you buy a peeler (or something else!), I'll get a few pennies, which will help me continue to produce content for this site. Thank youuuuuu!
This post contains affiliate links, which means that I make a small commission off items you purchase at no additional cost to you. Please read my
privacy policy
for more information.