Butternut Squash Tartine with Arugula, and Roasted Garlic Goat Cheese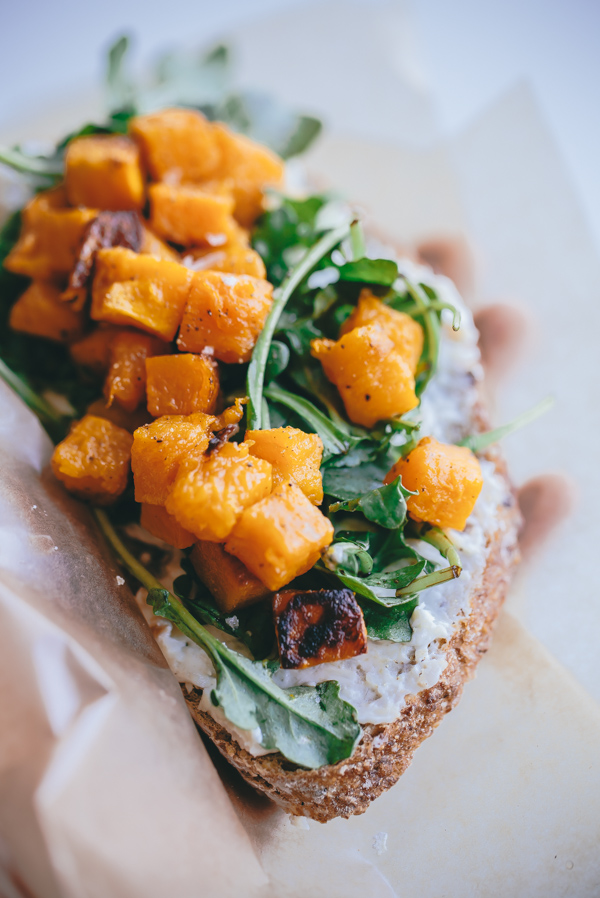 I have a thing for tartine sandwiches. If you're not familiar with them, it is the French name for an open-faced sandwich.
They are elegant and all about the toppings.
Without sounding like a broken record (blah), I had an amazing fresh fig, goat cheese, and caramelized onion tartine at Maison Kayser in New York City and have been thinking about it ever since.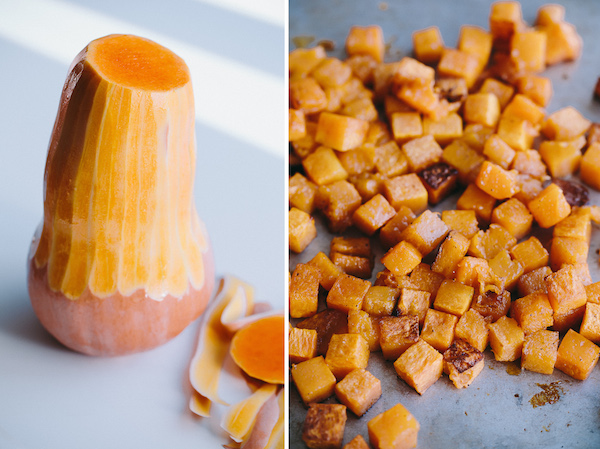 This Butternut Squash Tartine is inspired by the flavors of that tartine, except it is topped with a homemade roasted garlic goat cheese spread and peppery arugula leaves.
The butternut squash is cubed and roasted until soft and caramelized. You could easily sauté and caramelize it in a large pan on the stove-top but that requires more attention than its worth. We'll also be using the oven to roast an entire head of garlic for the homemade goat cheese spread.
Shopping Tip: Buy butternut squash with a long neck, and relatively small base if at all possible. I prefer the neck of the squash, because it is easier to slice and dice and holds its shape very well.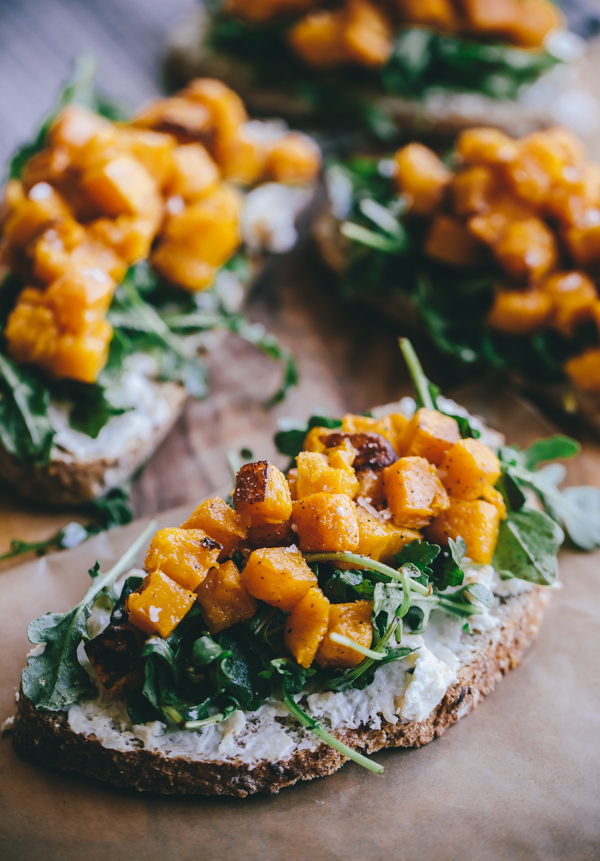 How to Make Roasted Garlic Goat Cheese:
The homemade garlic goat cheese spread couldn't be easier to make! We'll combine room temperature goat cheese with the roasted garlic cloves and whip it in a small food processor.
To save time, you could also substitute this equally as delicious herbed goat cheese. Both options are superb!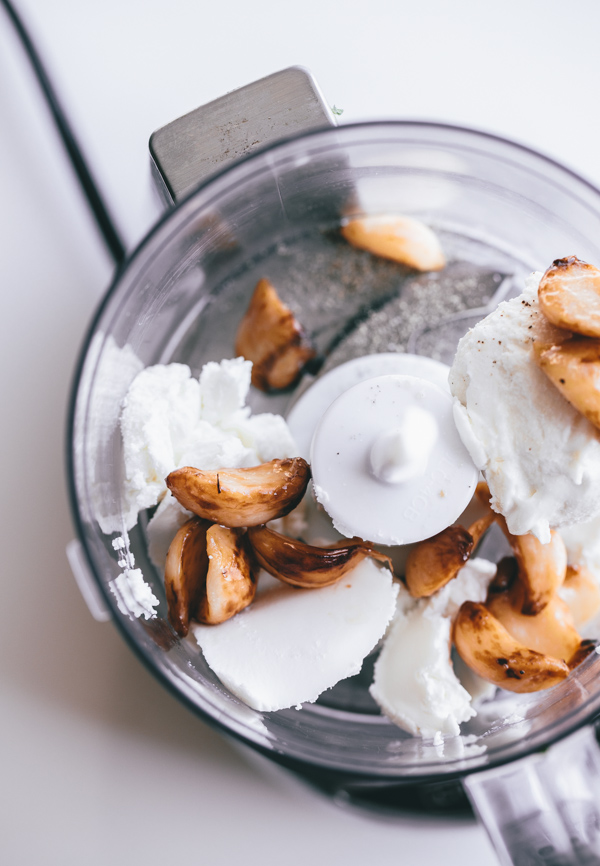 To assemble the butternut squash tartness, we will spread toasted sourdough slices with a generous smear of the roasted garlic goat cheese spread, then add a handful of baby arugula, lightly tossed in balsamic vinegar. The touch of vinegar adds a lovely tangy sweetness that balances the sandwich extremely well.
Last but not least, we'll top the arugula with a generous spoonful of the roasted butternut squash. I can't think of a more delicious sandwich for the fall and winter seasons!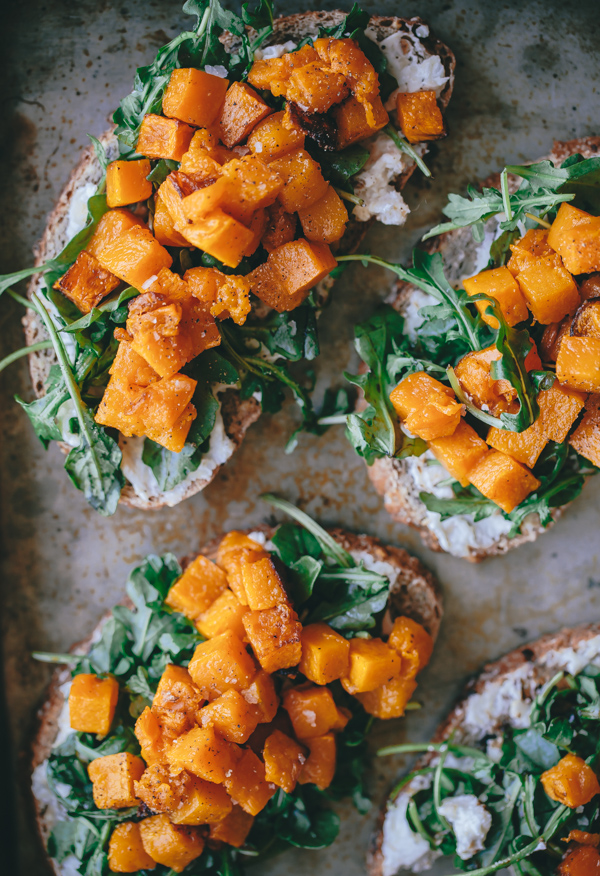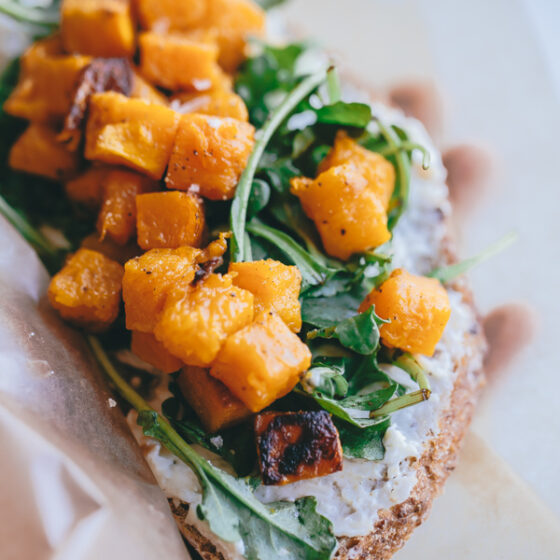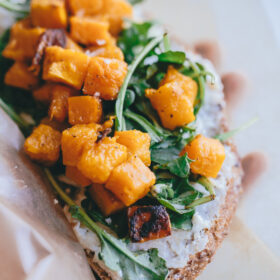 Butternut Squash Tartine with Arugula and Roasted Garlic Goat Cheese
Butternut Squash Tartine topped with a homemade roasted garlic goat cheese spread and peppery arugula leaves. A delicious open-faced sandwich for the fall and winter season!
Ingredients
Roasted Garlic Goat Cheese Spread:
1 whole head garlic
1 tablespoons (15 mL) extra virgin olive oil plus more if desired
4 ounces soft goat cheese room temperature
freshly ground black pepper
Roasted Butternut Squash:
1 lb butternut squash peeled and chopped into ½ -inch dice
1 tablespoon (15 mL) extra virgin olive oil
Tartine Assembly:
1½ ounces baby arugula leaves or small handful
1 teaspoon balsamic vinegar
4 large slices sourdough bread toasted
Maldon or flaky salt for finishing
Instructions
Note: The garlic and butternut squash are roasted at the same temperature and can be cooked simultaneously - please read the full recipe instructions below before proceeding to save time.

Prepare Garlic Goat Cheese Spread:  Preheat the oven to 425°F (220°C) with a rack in the center position. Trim the top of the head of garlic with a knife so that the cloves are exposed. Gently rub your fingers back and forth over the sides to remove as much of the garlic papery skin as you can. Drizzle the cloves with the extra virgin olive oil and wrap tightly in aluminum foil. Place on a small sheet pan or into a baking dish and roast the garlic until the cloves are very tender and golden brown about 45 minutes. Unwrap carefully - be careful for steam burns - and allow the garlic to cool completely before squeezing out the cloves in the bowl of a small food processor. Once the garlic cloves are cool, add the room temperature goat cheese to the bowl. Pulse until well combined (if you do not have a food processor, you can finely chop and mash the garlic cloves with a fork, and just mix in a bowl). Season to taste with salt and pepper, adding an additional drizzle of olive oil if desired. Set aside for assembly.

Roast Squash: Place the chopped butternut squash on a half sheet pan and drizzle with the olive oil. Toss with hands until evenly coated. Season with salt and pepper. Roast the squash at 425°F (220°C) until cooked through and lightly caramelized, about 20 to 30 minutes, tossing once or twice throughout cooking. Remove from the oven and allow to cool until lukewarm or room temperature.

Assemble: In a small bowl, toss the argula leaves with the balsamic vinegar and season with salt and pepper. Spread a thick layer of goat cheese onto each slice of toasted bread. Top with a handful of dressed arugula, followed by a large spoonful of roasted butternut squash. Sprinkle the tops of each tartine with Maldon or other flaky finishing salt. Serve immediately.
Serving: 1serving, Calories: 212kcal, Carbohydrates: 18g, Protein: 8g, Fat: 13g, Saturated Fat: 5g, Polyunsaturated Fat: 7g, Cholesterol: 13mg, Sodium: 460mg, Fiber: 4g, Sugar: 3g
This post contains affiliate links, which means that I make a small commission off items you purchase at no additional cost to you. Please read my
privacy policy
for more information.