Spaghettini with Roasted Tomatoes, Fresh Basil, and Toasted Garlic Breadcrumbs
Quick, easy, and flavorful spaghettini tossed with roasted tomatoes, fresh basil, and topped with crazy delicious toasted garlic breadcrumbs!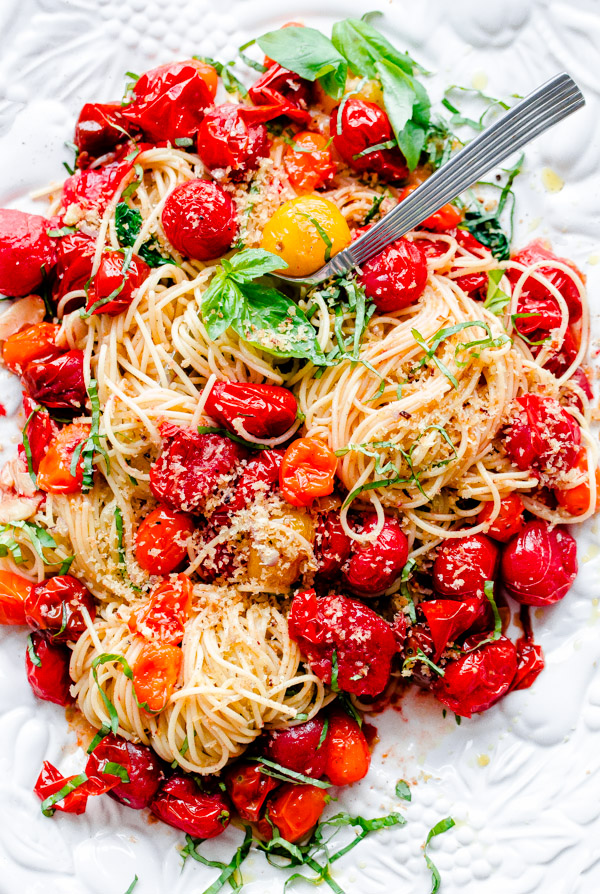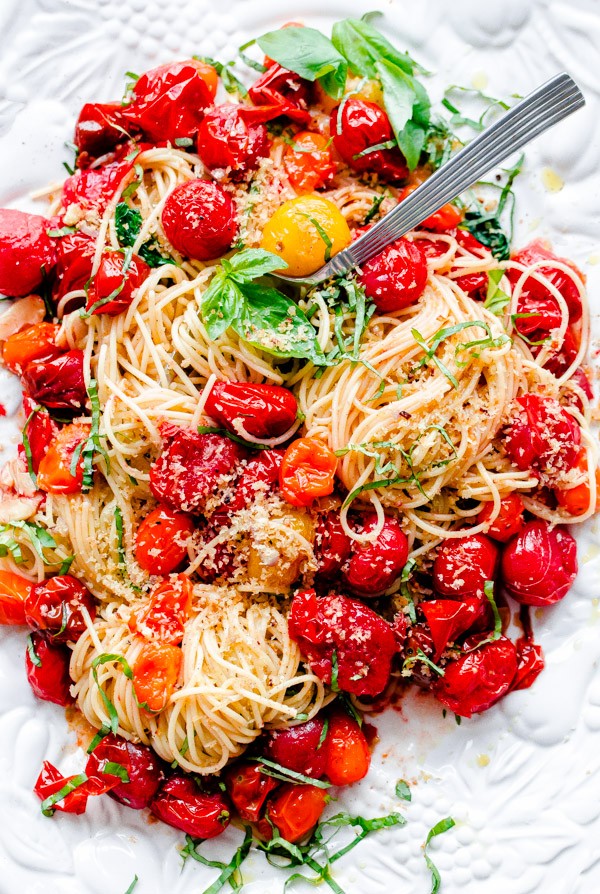 Recently I was asked to do a fun interview with my friends over at The National Pasta Association (I mean, really, how could I possibly resist?) all about my love for food, my favorite summer ingredients, and what I love most about blogging.
You can read the entire interview here, but as I sat at my kitchen counter, cursor blinking on the laptop in front of me, it got me thinking. Why haven't I shared any pasta dishes this summer?
Ones that are easy, require little time at the stove and minimal ingredients, and are my go-to recipes when I'm looking for a fast, delicious, and satisfying meal that works for all occasions.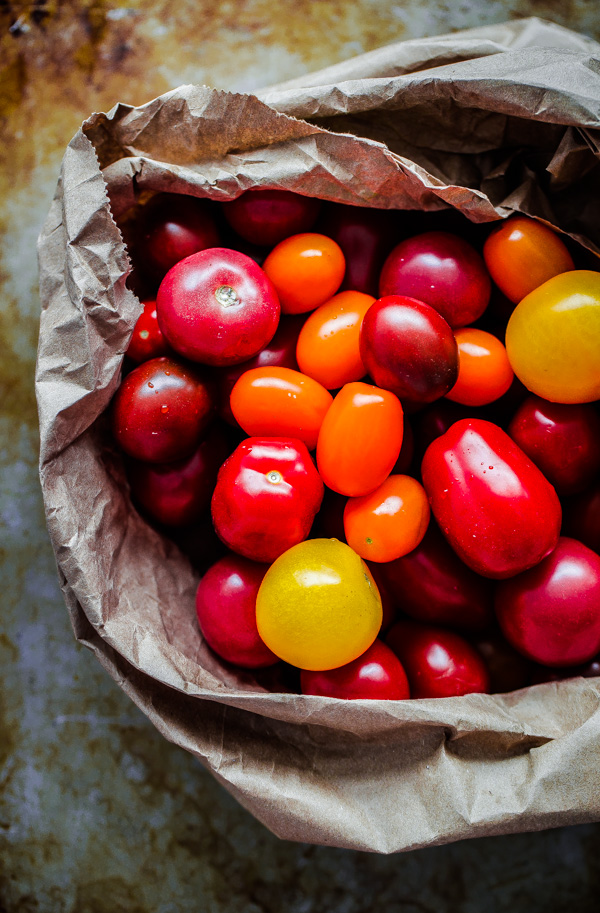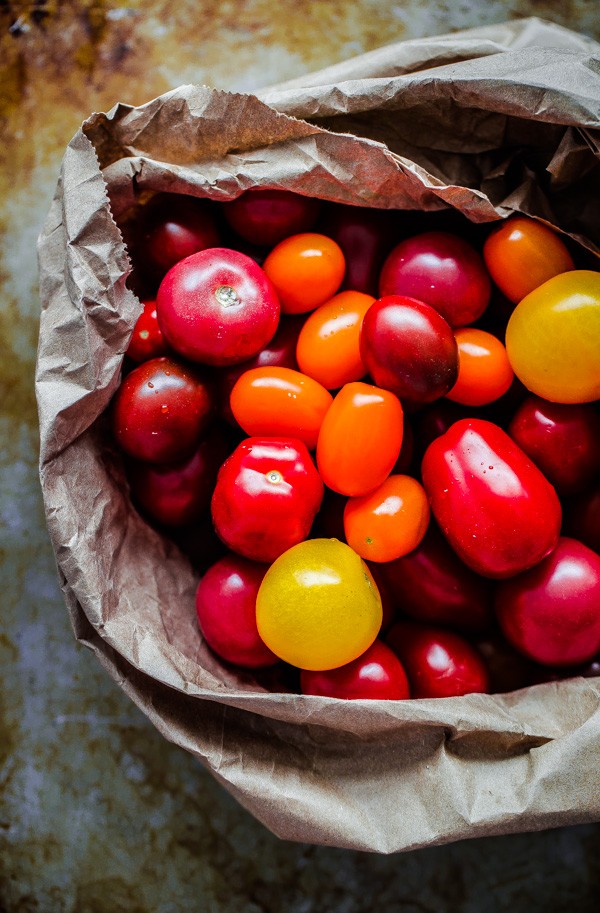 This spaghettini with roasted tomatoes, basil, and toasted breadcrumbs is my answer to that question. I could probably eat it everyday. Scratch that. I could definitely eat it everyday.
The colors, the simplicity, the fresh flavors, everything! Comforting and seasonal. My kind of meal.
I can't decide what I love more about this pasta. The roasted tomatoes (just burst and caramelized), the fresh basil (basil is basil and nothing comes close to comparison in my mind), or the crispy garlic breadcrumbs!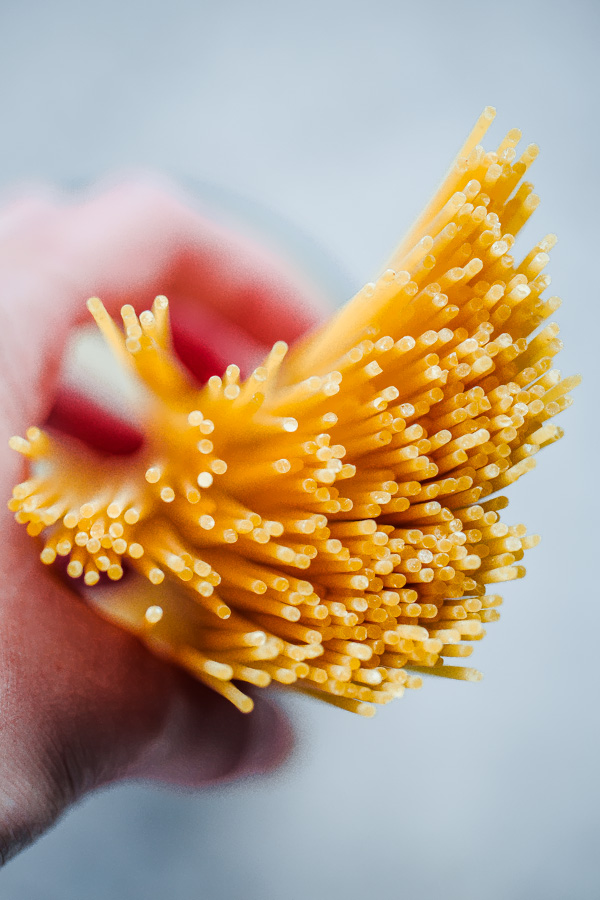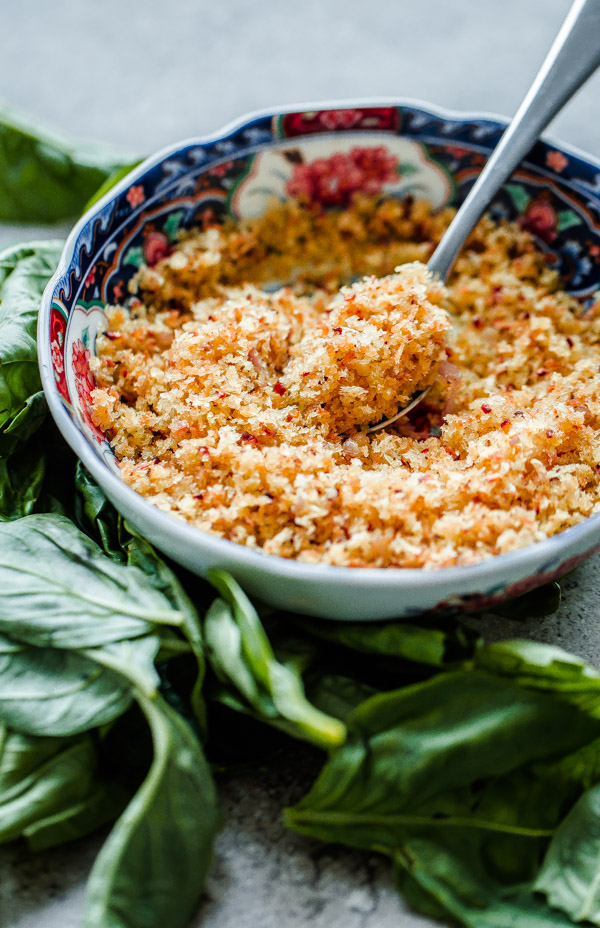 Can we talk about the toasted breadcrumbs for a second?
I'm tempted to say that you should just plan on making twice the amount of breadcrumbs than the recipe calls for, because it will be extremely difficult to share that stuff.
Oh my gosh, the breadcrumbs.
Does it sound redundant to top pasta with breadcrumbs? It's kind of like putting bread on top of bread, I know. But, but! Once you do, your pasta game will never be the same ever again. Allow me to be dramatic for a second: it's kind of life-altering.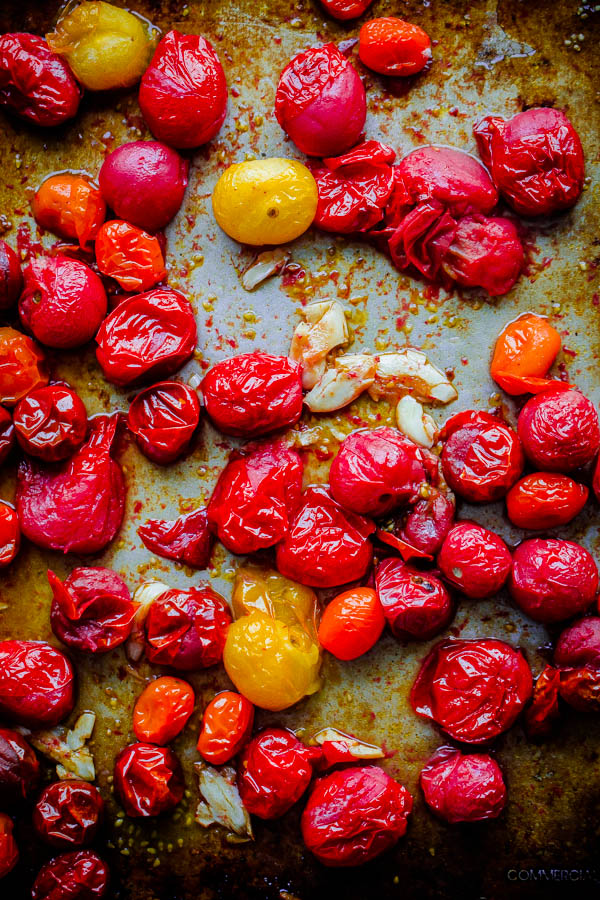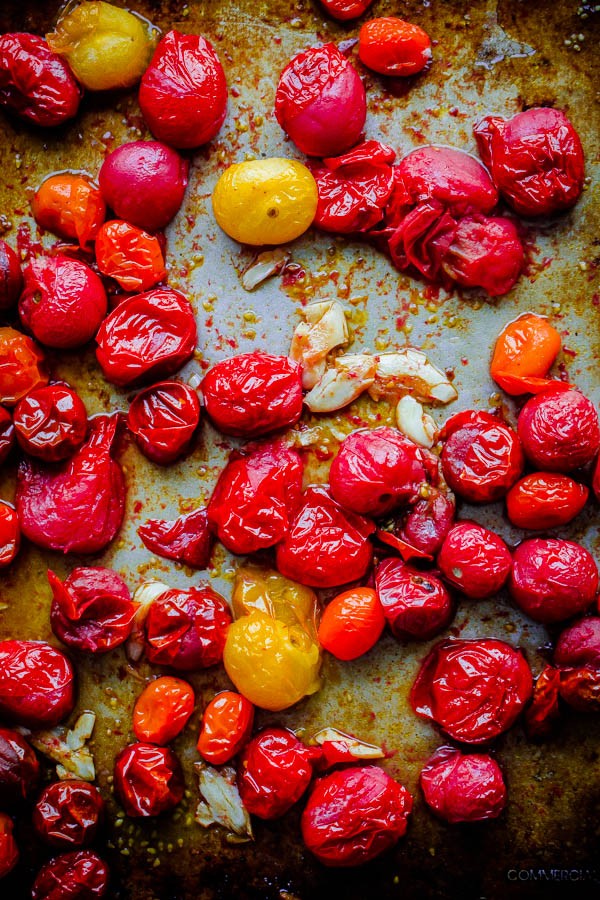 They aren't just any toasted breadcrumbs.
They are actually panko breadcrumbs flavored with fresh garlic and sautéed finely chopped shallot! You can make them in under 5 minutes in a skillet on your stove, so don't skip this step.
Also, try not to eat them out of the bowl, because you are going to want every last crumb of them for your pasta serving.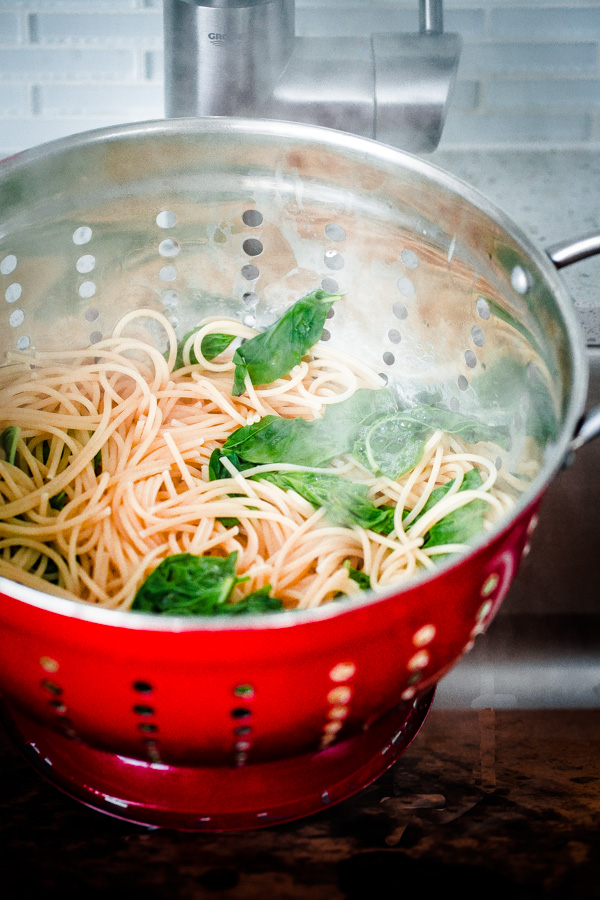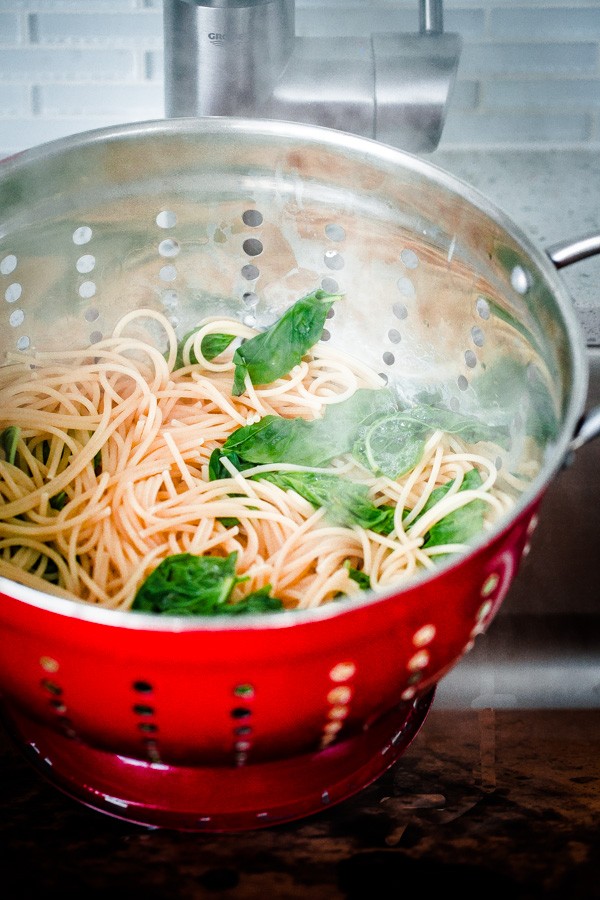 And the tomatoes? I use a variety of small multi-colored tomatoes (you could use larger cherry tomatoes, if you can't find something similar) that are readily available at most grocery stores.
Just drizzle with olive oil, salt, pepper, and add a few smashed garlic cloves, and roast for about 20 minutes in the oven until they begin to collapse and burst.
It really is that simple.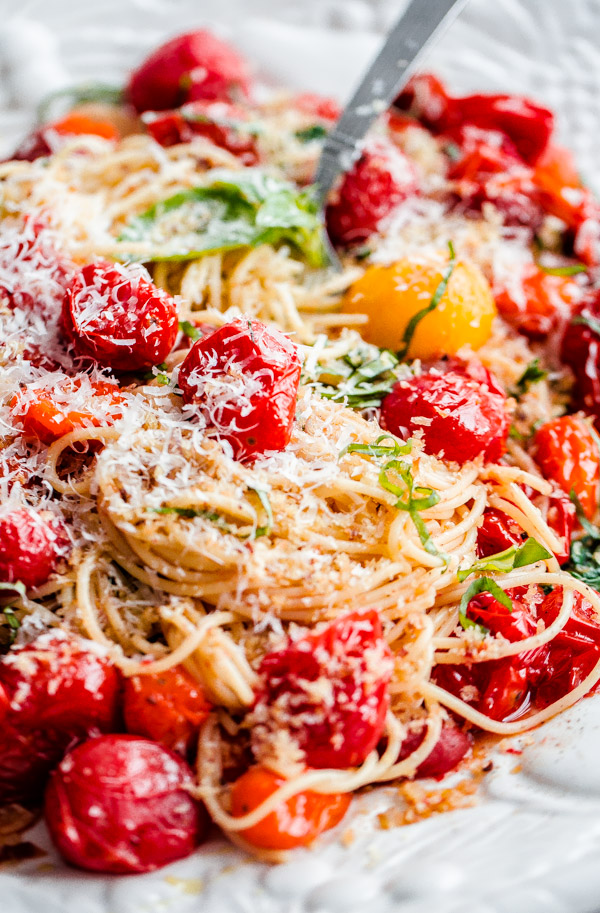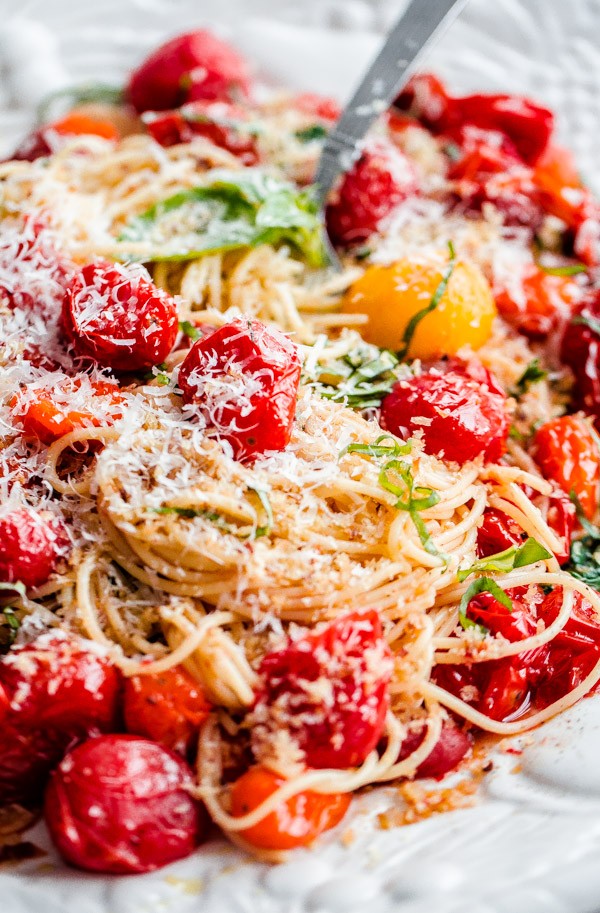 This dish can be thrown together in less than 45 minutes (30 minutes, if you're quick!) and is easy enough for a weeknight dinner, but sophisticated and impressive enough to serve on a special occasion!
My new favorite go-to summer pasta!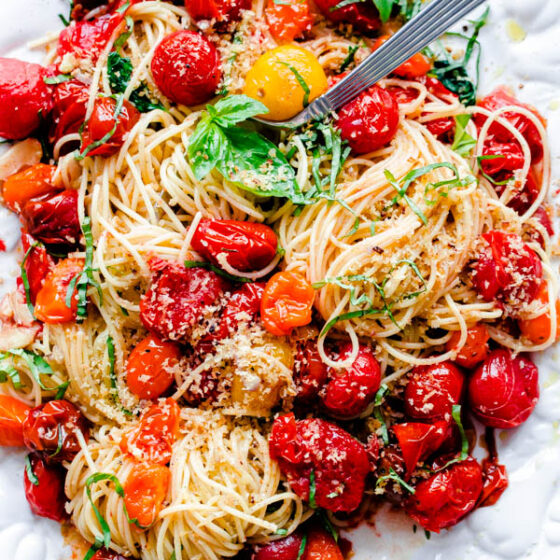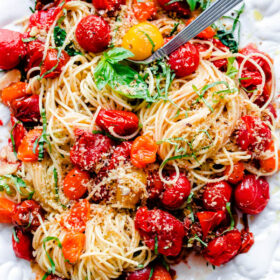 Spaghettini with Roasted Tomatoes, Fresh Basil, and Toasted Garlic Breadcrumbs
Roasted Tomato Pasta with Basil and Toasted Garlic Breadcrumbs. This quick, easy, and flavorful spaghettini is tossed with roasted tomatoes, fresh basil, and topped with crazy delicious toasted garlic breadcrumbs! A delicious summer meal.
Ingredients
Roasted Tomatoes:
2½ lbs small heirloom tomatoes or large cherry tomatoes
2 tablespoons extra virgin olive oil
6 large cloves of garlic smashed
kosher salt
freshly ground black pepper
Crispy Garlic Breadcrumbs:
2 tablespoons extra virgin olive oil
1 medium shallot finely chopped
½ cup panko breadcrumbs
1 garlic clove finely chopped
kosher salt
freshly ground black pepper
For the Pasta:
¾ lb (12 oz) dried spaghettini pasta otherwise known as 'thin spaghetti
extra virgin olive oil
2 ounces fresh basil leaves sliced into ribbons, plus more for garnishing
grated parmigiano-reggiano cheese for serving
Instructions
Roast Tomatoes: Preheat the oven to 450°F (232°C). If your oven runs hot, I recommend reducing the temperature by 25°F or so, or reducing the cook time and watching the tomatoes carefully.

Bring a large pot (8 quarts or larger) of salted water to a boil for the pasta. Rinse the tomatoes and pat them dry. Place the tomatoes and smashed garlic cloves on a half sheet pan, drizzle with olive oil, and season with kosher salt and pepper. Spread them out evenly. Roast the tomatoes for 20 to 25 minutes, flipping them every 5 to 10 minutes or so, until they are soft and have just begun to collapse. Meanwhile, prepare the breadcrumb topping.

Prepare Garlic Breadcrumb Topping: In a small skillet, heat the olive oil over medium-low heat. Add the chopped shallot and sauté for 1 to 2 minutes, stirring frequently, until the shallots have softened and become translucent. Add the panko breadcrumbs and chopped garlic. Reduce the heat to low and toast the breadcrumbs for 2 to 3 minutes, stirring constantly to prevent the breadcrumbs from burning - or until golden and fragrant. Remove from heat and place the breadcrumbs in a small bowl. Season to taste with salt and pepper, and set aside.

Cook the Pasta: While the tomatoes finish roasting (and the breadcrumbs are prepared), boil the pasta until al dente. Reserve ½ cup of the starchy pasta cooking water and drain the pasta. Place the pasta back into the pot and drizzle with a glug of olive oil, and gently toss to coat. Add the warm, roasted tomato and garlic mixture as well as the basil ribbons, and toss gently until combined. Add reserved pasta water as needed to help loosen the pasta until the sauce coats the noodles evenly.

Garnish each pasta serving with basil, torn or sliced into thin ribbons, and a generous sprinkling of toasted garlic breadcrumbs. Serve with freshly grated parmigiano-reggiano cheese.
Serving: 1serving, Calories: 420kcal, Carbohydrates: 53g, Protein: 11g, Fat: 20g, Saturated Fat: 3g, Polyunsaturated Fat: 16g, Cholesterol: 1mg, Sodium: 440mg, Fiber: 8g, Sugar: 10g
This post contains affiliate links, which means that I make a small commission off items you purchase at no additional cost to you. Please read my
privacy policy
for more information.