Seared Scallops with Hummus and Shaved Fennel Salad
Seared scallops served on a bed of warm hummus alongside a shaved fennel herb salad! This elegant main course can be served in less than 20 minutes!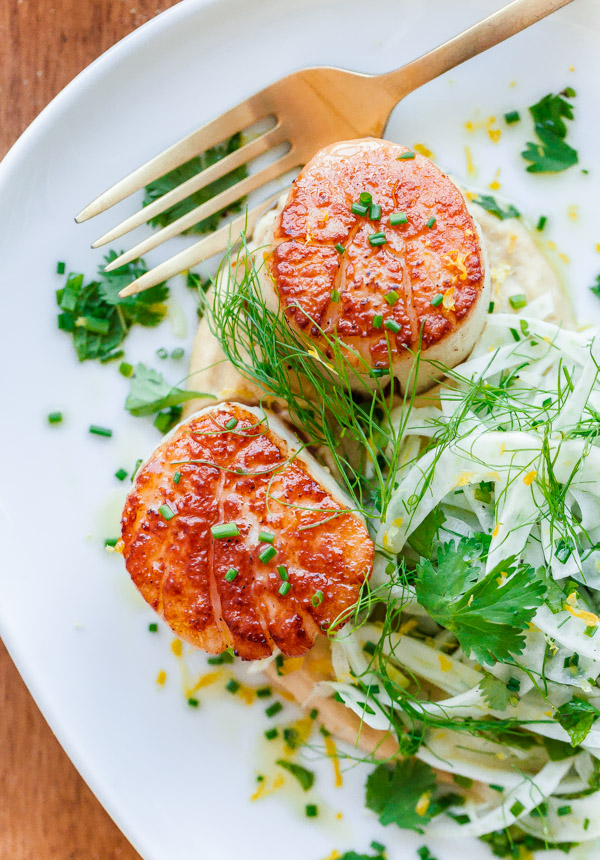 This post is sponsored by Sabra.
Aaah, the humble chickpea. I'm learning more and more about this cute member of the legume family every single day, and more importantly, I'm definitely expanding my uses for it in the kitchen. That's for sure.
Today we're doing something a bit different! We're searing scallops and serving them on bed of warm hummus, alongside a beautifully refreshing and composed shaved fennel salad. It's loaded with fresh herbs (cilantro, mint leaves, and chives) and is quite possibly one of the easiest main course recipes that I've ever shared on the blog! Ever.
You can literally prepare this entire dish start-to-finish in just about 20 minutes. Less, if you're extra speedy in the kitchen! It's packed with fiber, protein, and is naturally gluten-free and healthy to boot. Looks can be deceiving, huh?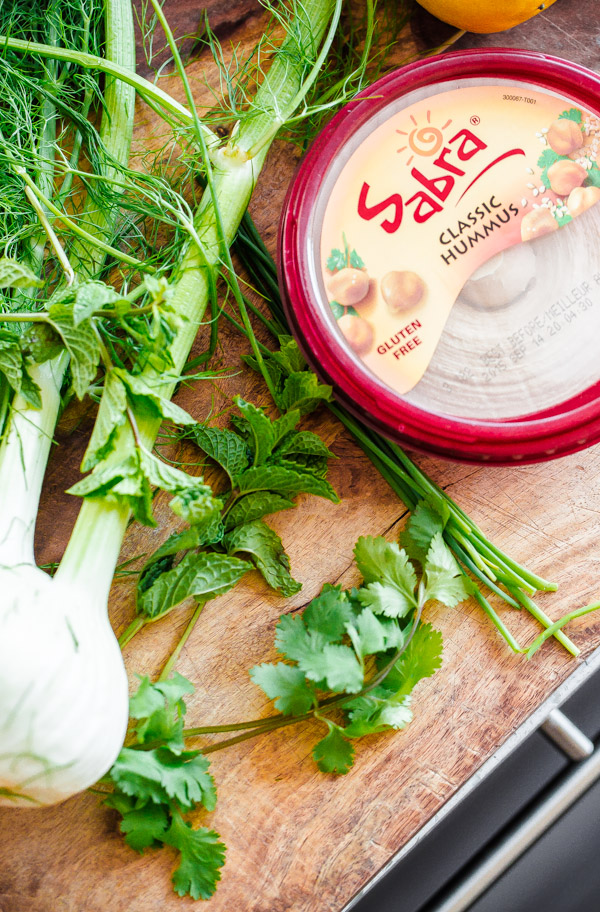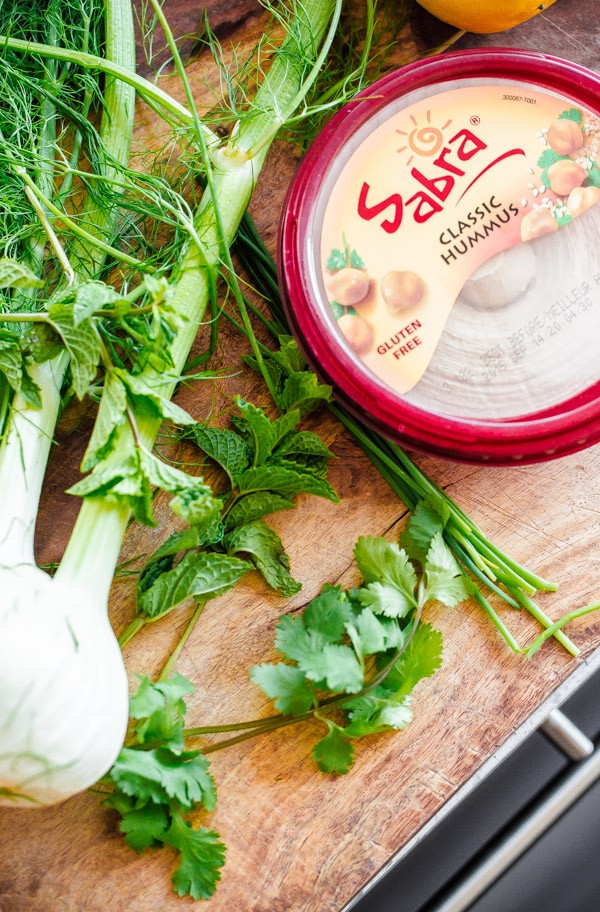 Two months ago, I would have never thought up a dish like this! Remember when I was in the process of moving to Chicago and was running around like a crazy person? Well, I forgot to share one special trip with all of you.
Within just 36 hours of arriving home from our honeymoon in Africa, I actually hit the road to head to Richmond, Virginia to visit my friends at the Sabra Hummus headquarters!
A group of food bloggers (and fellow Sabra tastemakers), including myself, joined up from all over the country to visit their brand agency, learn more about the company and their values, spend a bit of time in their test kitchen, and get a personal tour of the Sabra factory, where all of the hummus-making magic happens. It was an incredibly fun and inspiring trip, and I left with even more respect and admiration for this company that I'm so thrilled to be working with!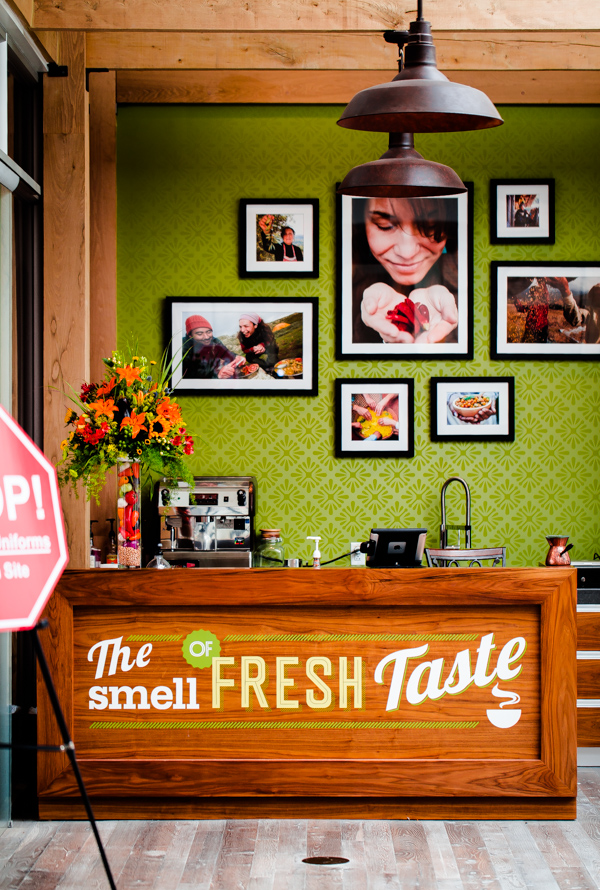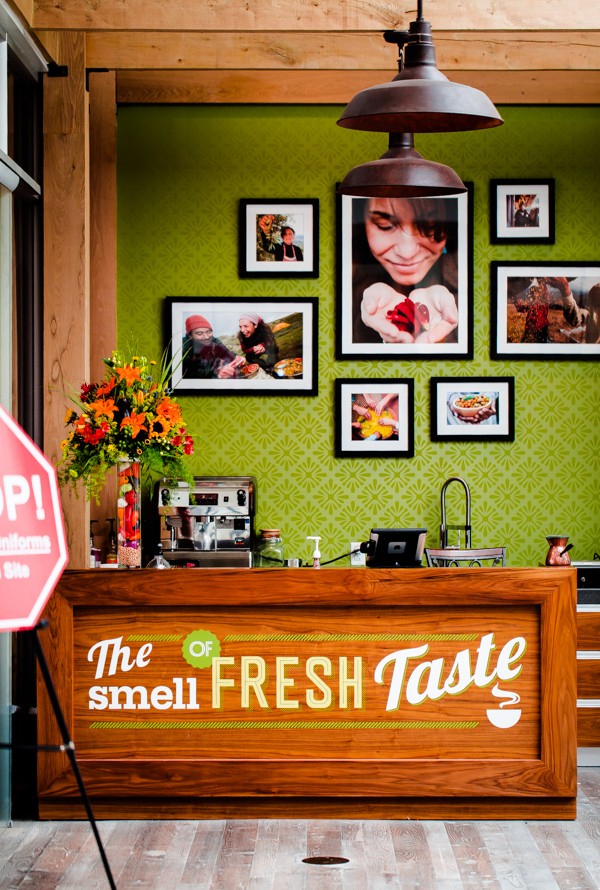 One of my favorite parts of the trip was visiting their lead brand agency in downtown Richmond. We had the chance to learn about the company and it was incredibly informative and interesting. Did you know that 75% of the population is aware that hummus exists as a product, but only 25% of people actually purchase and eat hummus?
Sabra, the company, was founded in Queens, New York in 1986. They helped introduce hummus, alongside some of my favorite other middle eastern dips, to the American population (can you imagine a life without hummus?!) for the first time. In 2007, Frito-Lay bought 50% market share of Sabra, and helped bring it the mass marketplace.
Today, Sabra is the leading brand of hummus and owns just over 64% market share, with their 'Classic Hummus' as their number one product (even more fascinating, it actually produces more revenue than their leading competitor's entire line of products). Over the years, Sabra has added 12 other hummus flavors to their product line, alongside 7 Greek-yogurt dips, fresh salsas, and guacamoles.
The most impressive part of this? They are extremely committed to nutrition, quality ingredients, and environmentally-friendly practices. They recently introduced new packaging, which is made with 30-45% post-consumer recycled plastic, and 35% of their plant's energy comes from renewable resources.
In Sabra's factory, dried chickpeas become spreadable hummus in just under a couple hours! It is a feat in and of itself, and it was fascinating to learn about.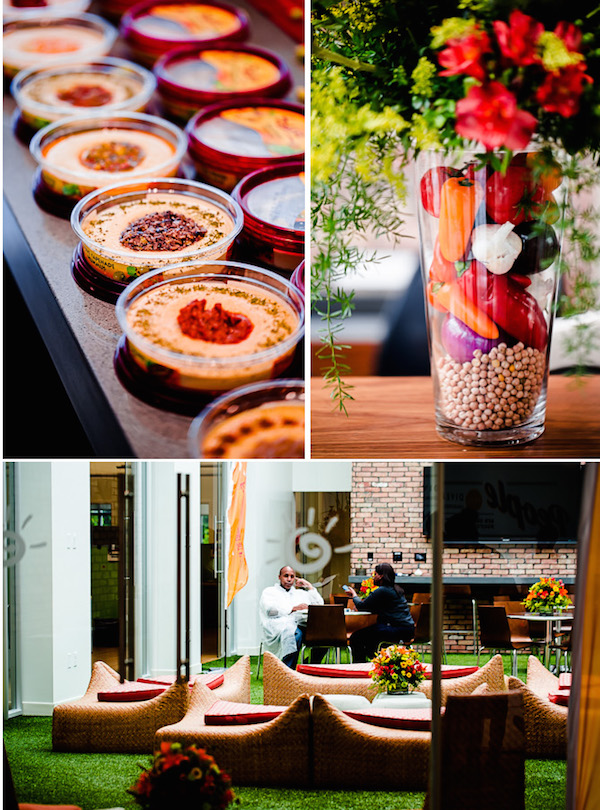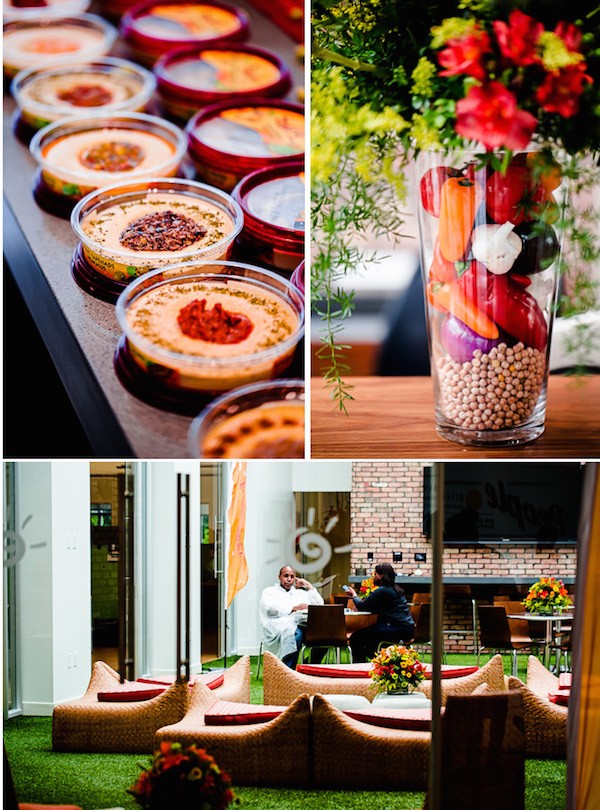 After leaving their brand agency, we then headed to their factory headquarters and main test kitchen! First of all, how beautiful are their factory headquarters? I'm pretty sure all of us at one point looked at each other and said, "Can I come work here?!".
So light, vibrant, and chockfull of inspiring messages about health and wellness. It really was a joy to see the space, and meet so many people at the company that were so passionate about hummus.
Oh, and their test kitchen? Um, I'd like to move in there immediately. We had the chance to listen to their head chef, MaryDawn Wright, talk about the process of testing new flavors and products. We had the chance to taste-test the tahini that Sabra uses in their hummus (they are serious about tahini), the importance of hummus texture and thickness, and try their entire line of hummus flavors, including the soon-to-be released, Rosemary & Sea Salt hummus! [Potentially my new favorite after Lemon Twist.]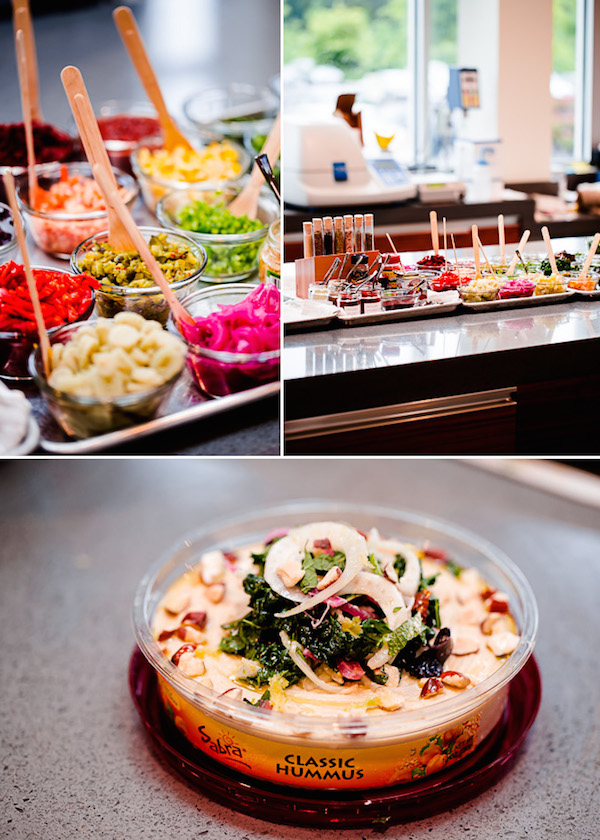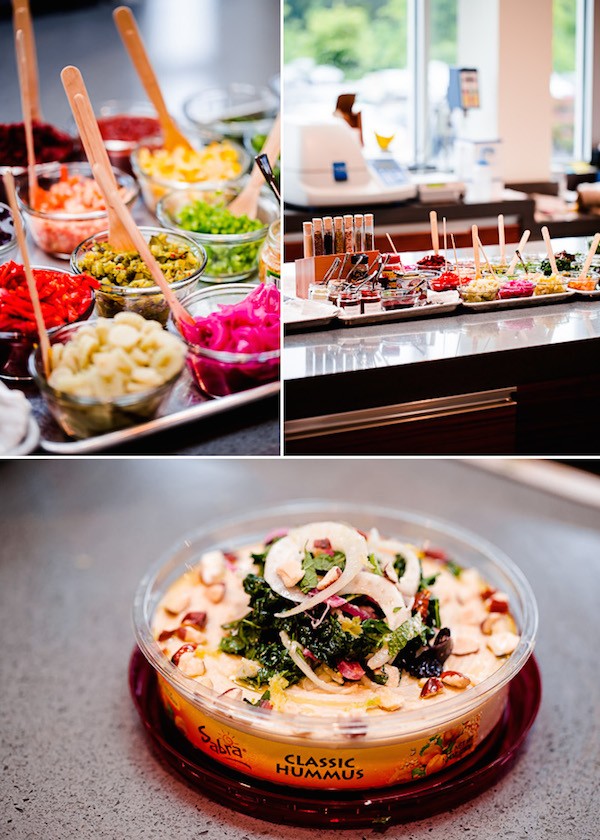 Then, we all got into the kitchen and did a Chopped-style hummus competition! We had only 10 minutes to come up with a new, unique twist on their classic hummus. We had a ton of fresh ingredients at our disposal, along with a huge variety of spices and oils. As strange as it sounds, I actually topped my hummus with a composed kale-fennel-herb salad (seen below).
Once we were finished, an entire team of Sabra employees tested, tasted (repeatedly, I might add!), and judged the winners. Unexpectedly, I actually tied for second place after my good friend and fellow blogger, Meagan!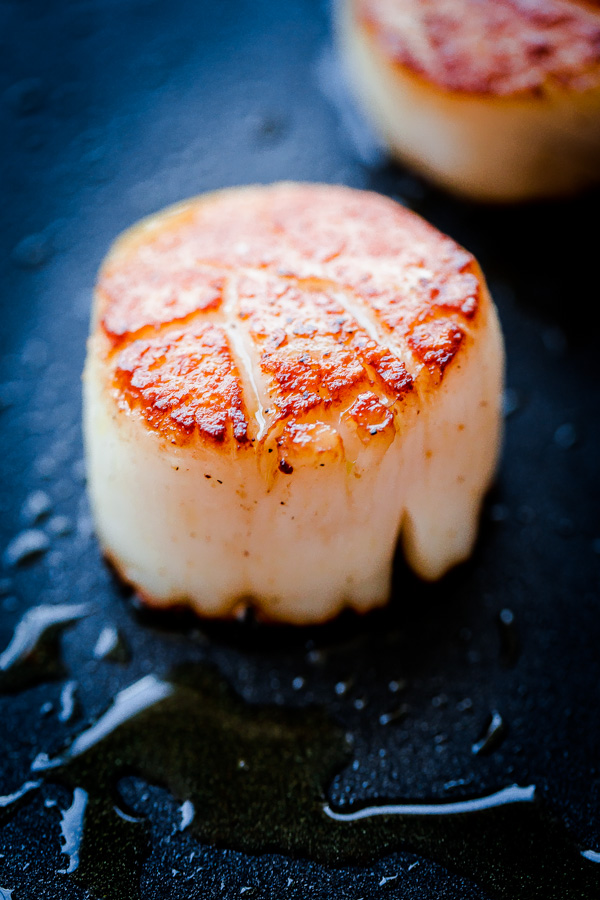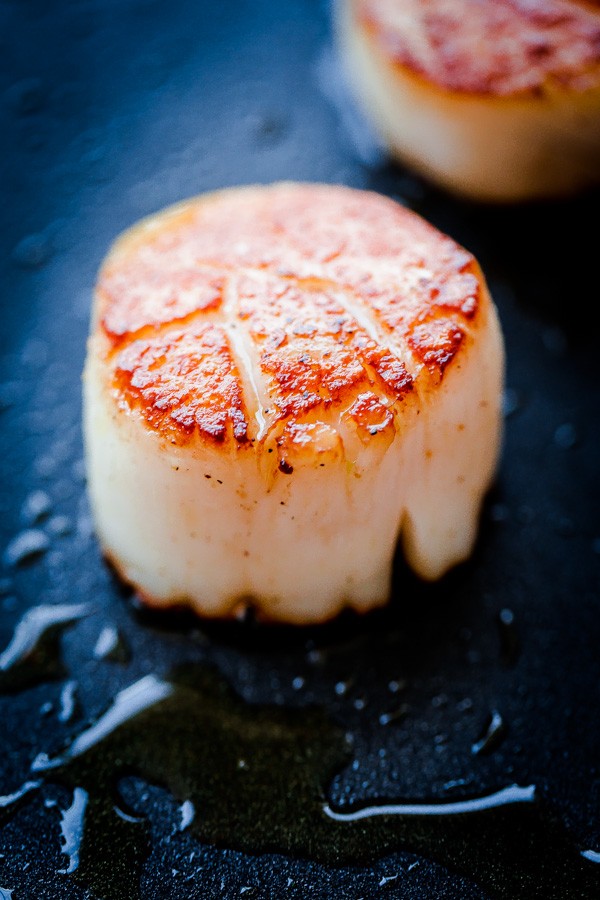 Lesson of the day?
Hummus is an incredibly versatile ingredient that can be used in so many ways and while it is great for dipping, as we all know and love, the possibilities and what you can do with it are pretty endless (in fact, Chef MaryDawn told us that it can even be substituted for butter in your favorite baked goods!).
A big thanks to Sabra for inspiring me to get in the kitchen, be creative, and think outside the box! If it weren't for them, this delicious seared scallop dish would have never come to be. Hope you all have a great weekend!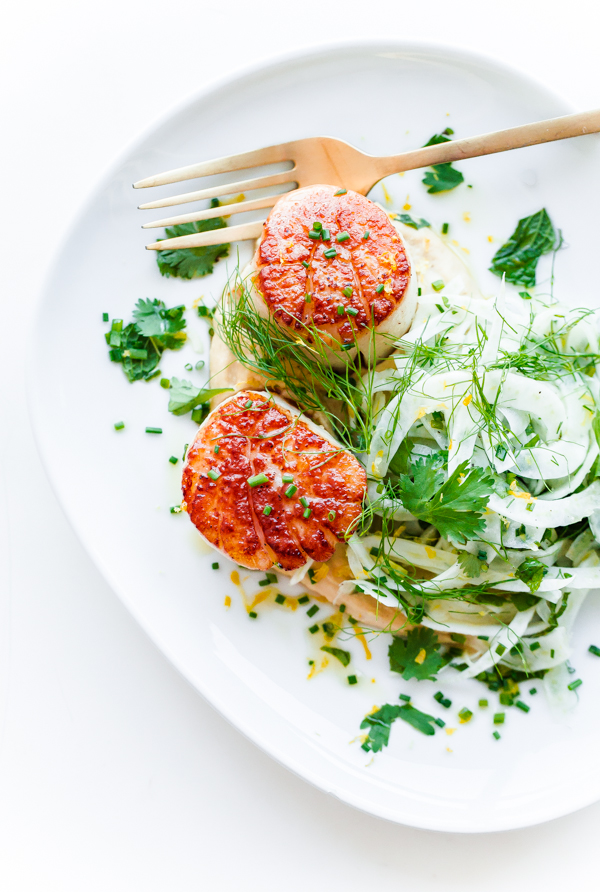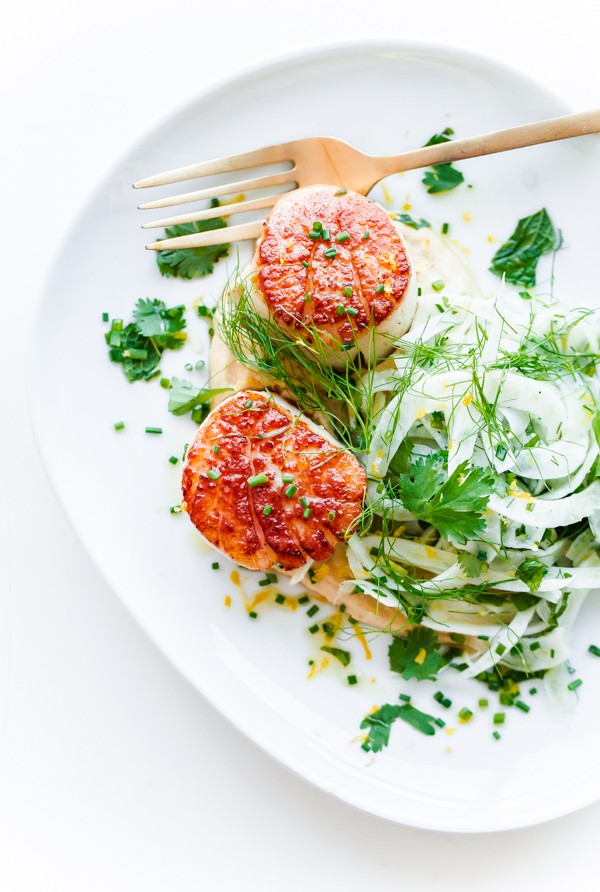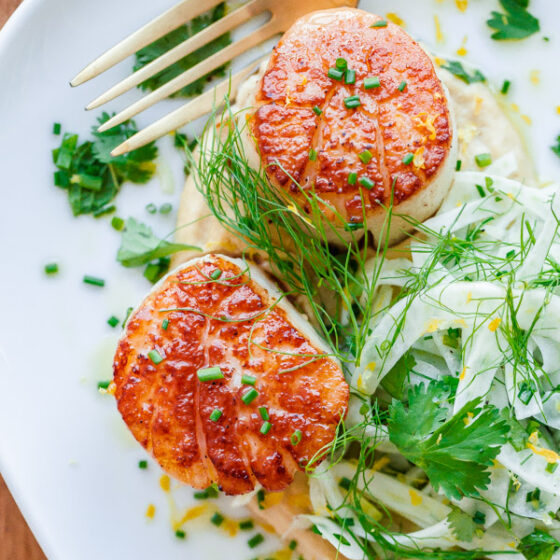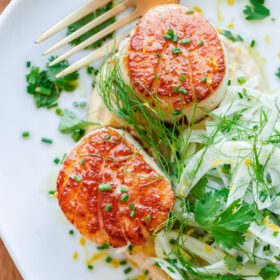 Seared Scallops with Hummus and Shaved Fennel Salad
Seared Scallops served on a bed of warm hummus alongside a shaved fennel herb salad! This elegant main course can be served in less than 20 minutes, is naturally gluten-free, and is packed with protein and fiber!
Ingredients
Shaved Fennel Herb Salad:
1 large fennel bulb, fronds reserved core removed and very thinly sliced with a mandolin
¼ cup fresh mint leaves torn
¼ cup fresh cilantro leaves
zest ½ lemon
2 tablespoons finely chopped chives plus more for garnishing
2 tablespoons roughly chopped fennel fronds plus more for garnishing
1 tablespoon (15 mL) fresh lemon juice
1 tablespoon (15 mL) olive oil
kosher salt
freshly ground black pepper
Seared Sea Scallops:
1½ lbs (0.7 kg) dry-packed jumbo sea scallops
extra virgin olive oil for cooking and garnishing
Instructions
Prep the Salad: Set aside a small ice water bath. Place the thinly shaved fennel into the ice bath (this trick helps keep the fennel extra crisp for serving). Set the fennel and the remainder of the prepared salad ingredients aside as you sear the scallops.

Sear the Scallops: Remove the tough side muscle on each scallop (if present) and discard - or reserve for seafood stock. Ensure the scallops are completely dry prior to searing or they won't brown properly. Pat them dry with paper towels. Season the scallops on both sides with salt and pepper. Heat a large non-stick sauté pan over medium-high heat. Add a tablespoon or so of olive oil to the pan. Once the oil is hot, add the scallops to the pan, setting them apart so they are not touching each other (depending on the size of your pan, you may need to cook them in batches). Sear the scallops for 2 to 4 minutes on each side (adjust based on the size of your scallops) until they have roughly a ¼-inch golden crust on each side and they are still lightly translucent in the center. Set aside on a plate and finish preparing the fennel salad.

Prepare Salad: Drain the shaved fennel from the ice bath and dry it thoroughly (using a salad spinner or blotting it gently with paper towels). Combine the shaved fennel with the fresh mint, cilantro leaves, lemon zest, chives, and fennel fronds in a medium mixing bowl. Add the olive oil and lemon juice, and toss gently. Season to taste with salt and pepper.

Warm the hummus by transferring it to a microwave-safe bowl and placing it in the microwave for 15 to 20 seconds.

Assemble: Place about 2 to 3 tablespoons of hummus on each serving plate, and use the back of a large spoon to create a thin, even layer or swoosh. Top with seared scallops (3 to 4 per person, depending on their size), and add a large spoonful of tossed fennel salad. Thinly drizzle with olive oil, garnish with finely chopped chives, fennel fronds, and some microplaned lemon zest. Serve immediately.
Serving: 1serving, Calories: 263kcal, Carbohydrates: 13g, Protein: 36g, Fat: 8g, Saturated Fat: 1g, Polyunsaturated Fat: 6g, Cholesterol: 70mg, Sodium: 1295mg, Fiber: 1g, Sugar: 1g
I am thrilled to be part of the Sabra Tastemaker program this year! This post is sponsored by Sabra. Thank you for supporting brands that allow me to get in the kitchen, be creative, and share my passion for great food!
This post contains affiliate links, which means that I make a small commission off items you purchase at no additional cost to you. Please read my
privacy policy
for more information.