Spicy Harissa Lamb Meatballs with Feta
Spicy Harissa Lamb Meatballs cooked in a rustic Greek-inspired tomato sauce and topped with tangy feta cheese.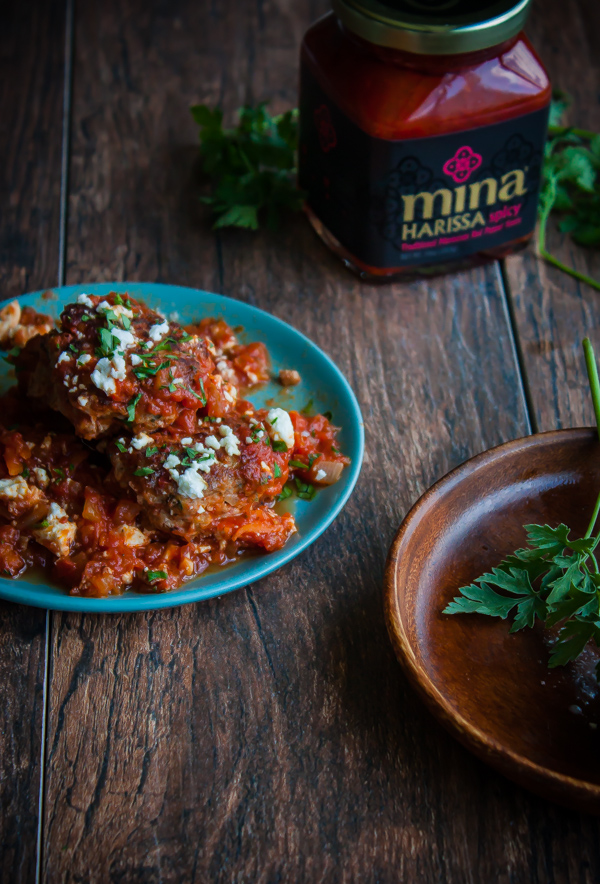 Today I bring you a big 'ol pan of comfort food! Spicy lamb meatballs with a generous sprinkling of crumbled feta cheese. If I had my choice in life, this is the type of food that I would want to eat everyday. Simple, uncomplicated dishes that are full of flavor.
In every good recipe, I feel like there is the one clincher ingredient. The ingredient that helps round out the dish and makes us come back for seconds or thirds.
As you can probably guess, the 'seal the deal' ingredient for these lamb meatballs is, of course, spicy harissa! Have you guys used it before? It is quite possibly one of my favorite condiments ever!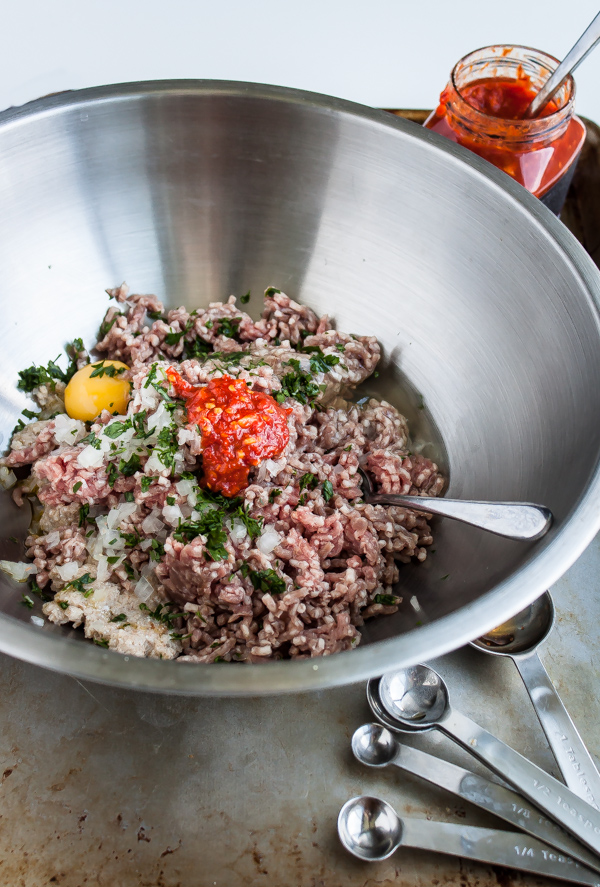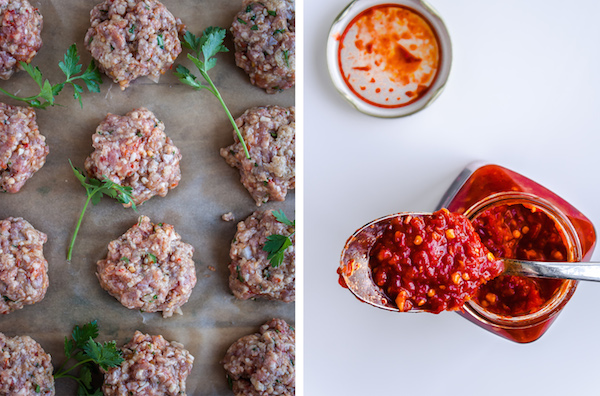 What is Harissa?
For those that are unfamiliar, harissa is a traditional Moroccan hot chile pepper paste. Traditionally, it is used as a spread or topping and added as a flavoring component to a variety of dishes, including stews, braised meats, and soups.
I've been trying to find a great staple harissa for a while now and Mina Harissa is my absolute favorite for a few reasons. Firstly, it has an amazing texture similar to a slow-cooked tomato sauce. Secondly, it only has six ingredients: red red bell pepper, red chili pepper, garlic, extra virgin olive oil, vinegar and salt.
Spicy, but not overwhelmingly hot. I could eat this stuff with a spoon.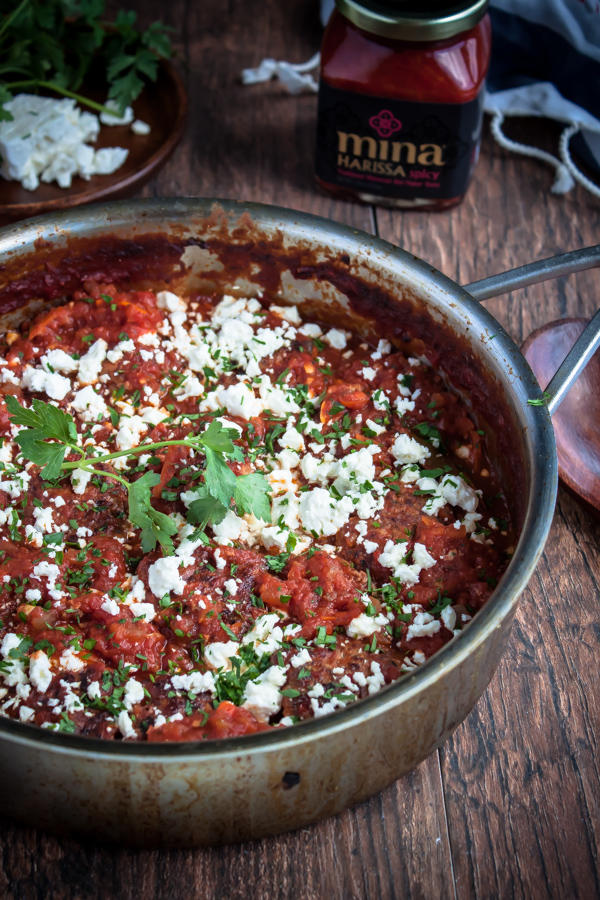 How to Make Harissa Lamb Meatballs:
One of my absolute favorite ways to use harissa is to add it to meat dishes, specifically meatballs. It adds so much flavor and really takes the entire dish to a new level.
In this case, I used it in a Greek-inspired meatball dish comprised of a hearty, rustic tomato sauce seasoned with bay leaves, oregano, and a cinnamon stick, and topped with spicy harissa lamb meatballs.
The meatballs were a twist on one of my favorite recipes and are made from a very simple mixture of ground lamb, onion, parsley, oregano, Mina spicy harissa, an egg, and some milk-soaked bread. The soaked bread mixture helps bind them and keep them extra moist and juicy.
Once prepared, we'll sprinkle everything with crumbled feta cheese and bake the meatballs for 20 minutes. While you could easily serve these meatballs on their own with a nice side salad, they'd be wonderful on top of orzo pasta or whole wheat couscous.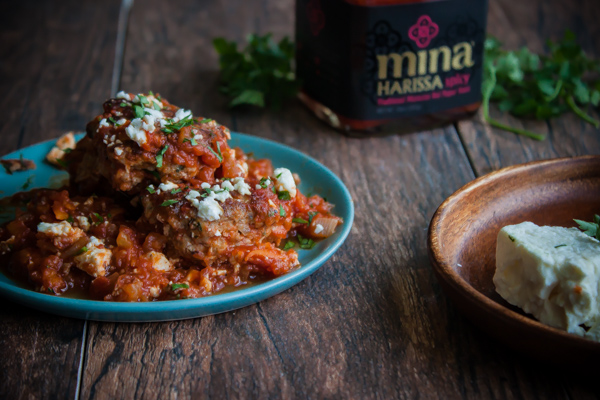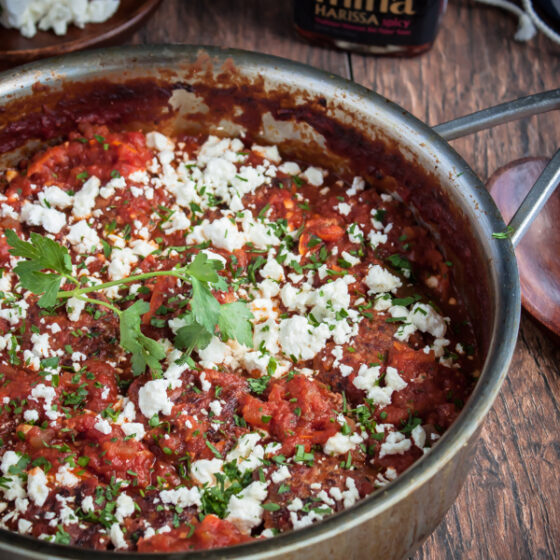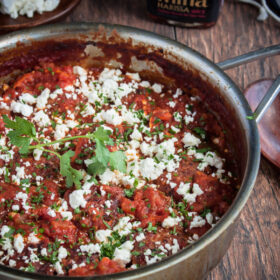 Spicy Harissa Lamb Meatballs with Feta
Spicy Harissa Lamb Meatballs cooked in a rustic Greek-inspired tomato sauce and topped with tangy feta cheese. These meatballs can be serve on their own with a simple green salad. They'd also be great on top of orzo pasta or whole wheat couscous!
Ingredients
Rustic Greek Inspired Tomato Sauce:
2 tablespoons (30 mL) extra virgin olive oil
1 cup finely diced yellow onion
3 medium garlic cloves finely minced
2 dried bay leaves
1 cinnamon stick
1 small carrot finely grated
1 tablespoon dried oregano
1 tablespoon tomato paste
1 (28-ounce) can crushed tomatoes
¼ cup (60 mL) water
freshly ground black pepper
Spicy Harissa Lamb Meatballs:
1 slice whole wheat sandwich bread crust trimmed
⅓ cup (80 mL) whole or low-fat milk
1 tablespoon finely minced yellow onion
1 lb (16 oz) ground lamb
1 large egg
1 tablespoon finely chopped flat leaf parsley
2 tablespoons Mina Spicy Harissa
1 teaspoon dried oregano
avocado or vegetable oil for pan frying
3 ounces feta cheese crumbled
Instructions
Prepare the Greek Tomato Sauce:
Heat the olive oil in large (roughly 3 or 4 quart), shallow sauté pan over medium heat. Add the onion and sauté for roughly 10 minutes, stirring occasionally, until the onions are very soft and translucent.

Add the minced garlic, bay leaves, cinnamon stick, and sauté for an additional minute or until fragrant. Add the grated carrot, dried oregano, and tomato paste and sauté for an additional 5 minutes, stirring the entire time.

Add the canned tomatoes and water and bring the mixture to a simmer. Cover and simmer for 30 minutes, stirring occasionally. Season with salt and pepper to taste. Place pan off the heat and set aside for later.
Prepare the Lamb Meatballs:
Preheat the oven to 375°F (190°C) with a rack in the center position. In a small saucepan, combine the milk and bread and place over low heat. Once the bread has fully absorbed the milk, remove it from the heat and transfer to a small bowl. Mash mixture with a fork until smooth. Set aside.

In a separate bowl, combine the finely minced onion, ground lamb, egg, parsley, Mina Spicy Harissa, and dried oregano. Season with salt and combine ingredients together gently with your ingredients, without pressing or squeezing. It should be very loose and moist. Tip: Season and cook one small patty to test seasoning and adjust if desired).

Carefully shape the meat mixture into 1½-inch diameter thick patties (without squeezing—they should be loosely held together, not tightly compact) and set on a large plate.

In heavy-bottomed cast iron skillet or sauté pan, heat a thin layer of avocado or vegetable oil over medium-high heat. Once rippling, place the meatballs carefully into the pan (you will need to cook the meatballs in batches, do not overcrowd them!). They should sizzle when you place them in the pan.

Sear the meatballs until brown on all sides. They will be delicate, so flip carefully with a spatula to help them from falling apart. Once brown, remove and transfer onto a clean paper-towel lined plate. Note: It is ok if they are not cooked all the way through as they will be baked later.

Once all of the meatballs have been seared, place them carefully into the pan with the tomato sauce. Sprinkle the meatballs and sauce with the crumbled feta cheese. Bake for 15 to 20 minutes or until the meatballs are cooked through. Serve immediately.
Serving: 1serving, Calories: 609kcal, Carbohydrates: 24g, Protein: 38g, Fat: 41g, Saturated Fat: 14g, Polyunsaturated Fat: 23g, Cholesterol: 176mg, Sodium: 992mg, Fiber: 7g, Sugar: 11g
This post and recipe development project was sponsored by Mina Harissa. All opinions are my own.
This post contains affiliate links, which means that I make a small commission off items you purchase at no additional cost to you. Please read my
privacy policy
for more information.