Dark Chocolate Passion Fruit S'mores
Classic s'mores are given an elegant and tropical twist with the additional of dark chocolate and homemade passion fruit marshmallows.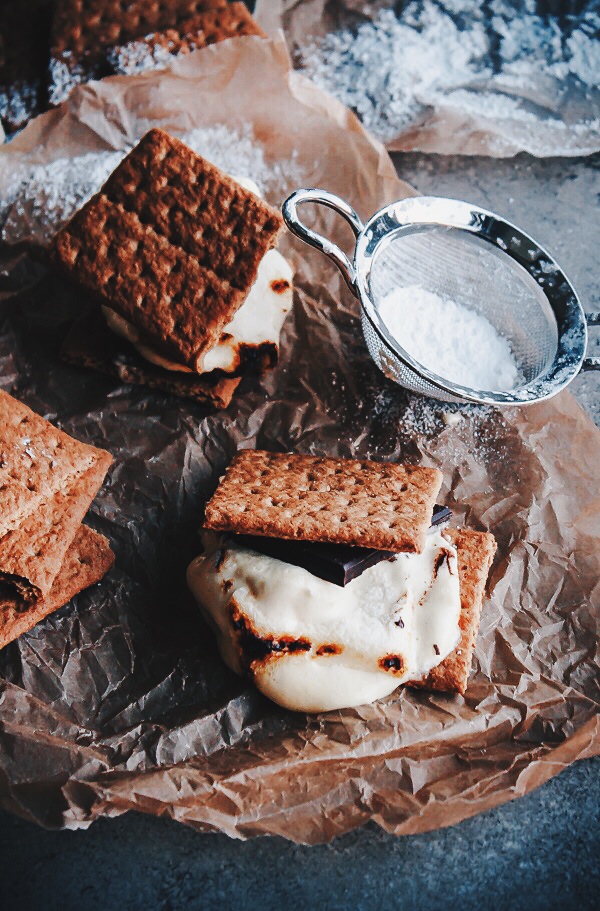 I think I've mentioned this before, but often times I get fixated on an idea and can't let it go for the life of me. Take these Dark Chocolate Passion Fruit S'mores for example.
I've been wanting to share passion fruit marshmallows on the blog for what feels like forever. We made uniquely flavored marshmallows all the time at the restaurant, and the entire concept continues to thrill me to this day.
I mean, homemade marshmallows are already ridiculously fun…but funky flavored ones? Where do I sign up?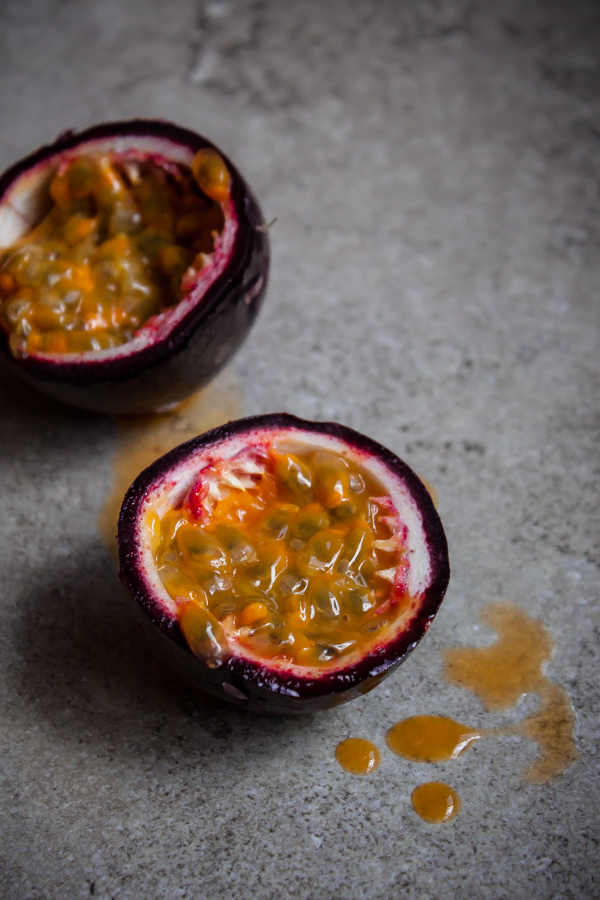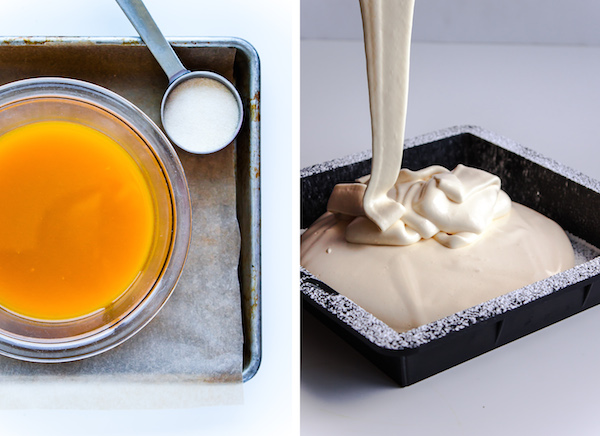 Somehow over the past six months (since I shared this festive holiday marshmallow), I lost sight of my extravagant marshmallow blog plans. I totally hate when that happens.
But…they are in full force right now. In other words, I can't stop thinking of them. I'm having a major marshmallow moment.
I have an entire mini notebook filled with marshmallow ideas.
Don't ask.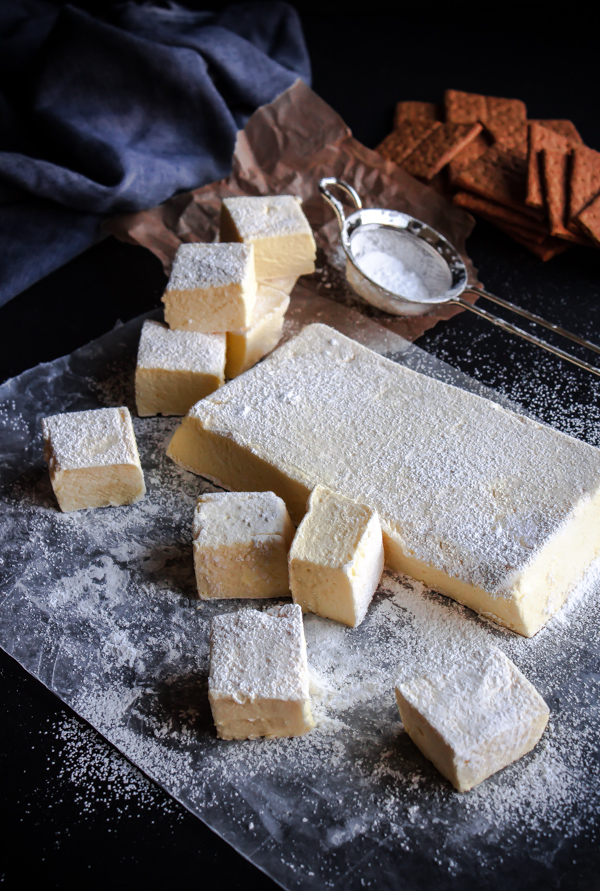 As with many things in life, I blame Pinterest.
Summer arrived and left its mark. The internet is officially exploding with marshmallows–marshmallows on bars, marshmallows on donuts, marshmallows on cakes…if a dessert has the ability to be stuffed or topped with a marshmallow, people are doing it right now.
And what's the next logical progression of a marshmallow moment in the dead smack of summer?
A homemade-flavored-marshmallow-stuffed-s'more moment. Aghhhhh.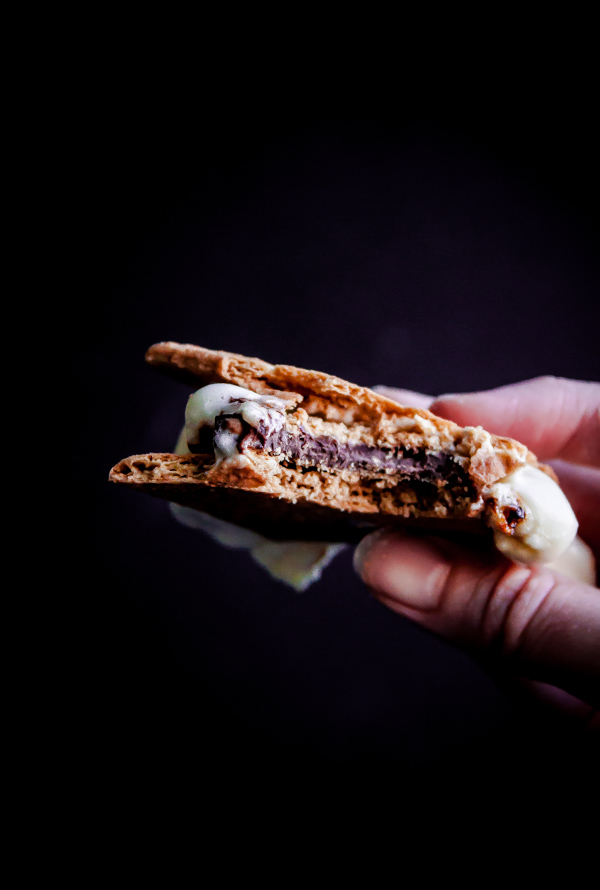 Next logical progression? Take homemade marshmallow idea–tropical, slightly tart and sweet passion fruit marshmallows, toast them lightly, squish them between two graham crackers, and add a generous square of good-quality bittersweet chocolate.
I don't think I'll ever be able to look at a regular s'more the same way again.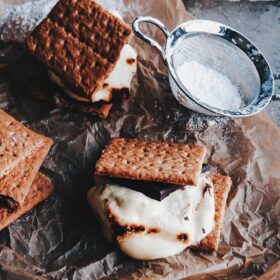 Dark Chocolate Passion Fruit S'mores
Classic s'mores are given an elegant and tropical twist with the additional of dark chocolate and homemade passion fruit marshmallows.
Ingredients
Passion Fruit Marshmallows:
½ cup (60 g) powdered sugar for dusting
½ cup corn starch for dusting
½ cup (120 mL) cold passion fruit puree
1 tablespoon + 1½ teaspoons unflavored powdered gelatin such as Knox's
½ cup (120 mL) water
1 cup (200 g) granulated sugar
¼ cup light corn syrup
⅛ teaspoon kosher salt
1 large egg white room temperature
Dark Chocolate Passion Fruit S'more Assembly:
graham crackers
bittersweet or semisweet chocolate
passion fruit marshmallows see recipe above above
Instructions
Passion Fruit Marshmallows: Sift together the powdered sugar and cornstarch, and set aside in a small bowl. Lightly grease a 8-inch x 8-inch baking pan with baking spray. Generously dust the sides and bottom with sifted powdered sugar and corn starch mixture.

Place the passion fruit puree in a bowl of a stand mixer. Sprinkle the surface lightly with the powdered gelatin. Allow the gelatin to absorb slightly as you distribute it. This will allow the gelatin to bloom properly.

Place the water, granulated sugar, corn syrup, and salt in a small saucepan and stir over low heat, until the sugar has fully dissolved. Bring mixture to a boil, immediately stop stirring, and heat until a candy thermometer registers 240°F (115°C). Remove from the heat immediately and pour the hot sugar into the passion fruit-gelatin mixture, stirring until the gelatin has dissolved.

Using the whisk attachment, beat the mixture over high speed for 6 to 8 minutes, or until it has tripled in volume and is thick and pale in color.

Meanwhile, beat the egg white to stiff peaks in a separate bowl using a hand-held mixer, or by hand with a balloon whisk. Beat the stiff egg whites into the marshmallow base, and mix thoroughly. Pour the marshmallow into the prepared baking sheet, sift the cornstarch/powdered sugar mixture evenly on the top. Allow the marshmallows to set in the fridge, uncovered, for at least three to four hours, or overnight.

Once the marshmallows have set, invert the baking sheet onto a clean cutting board. Using a large knife, cut the marshmallows into 1-inch pieces and place in a large bowl, or on a large baking sheet. Dust with the remaining cornstarch/powdered sugar, and roll the marshmallows on all sides.

Store the marshmallows in an airtight container at room temperature for up to one week. Note: Slightly drier marshmallows will toast more easily than fresh ones.

S'more Assembly: Using a hand-held torch, toast marshmallows lightly, and sandwich them together with graham crackers and a square of bittersweet chocolate.
Tips for Success:
Slightly drier marshmallows will toast more easily than fresh ones!
If you do not have a hand-mixer for the egg white, feel free to whip it by hand using a balloon whisk. It will only take 4 to 5 minutes due to the small amount!
Passion fruit puree or juice can be found at some Whole Foods, other specialty stores, or online.
Serving: 1serving, Calories: 90kcal, Carbohydrates: 20g, Protein: 1g, Fat: 1g, Cholesterol: 8mg, Sodium: 24mg, Fiber: 2g, Sugar: 15g
S'more week anyone?
This post contains affiliate links, which means that I make a small commission off items you purchase at no additional cost to you. Please read my
privacy policy
for more information.