Dark Chocolate Passion Fruit S'mores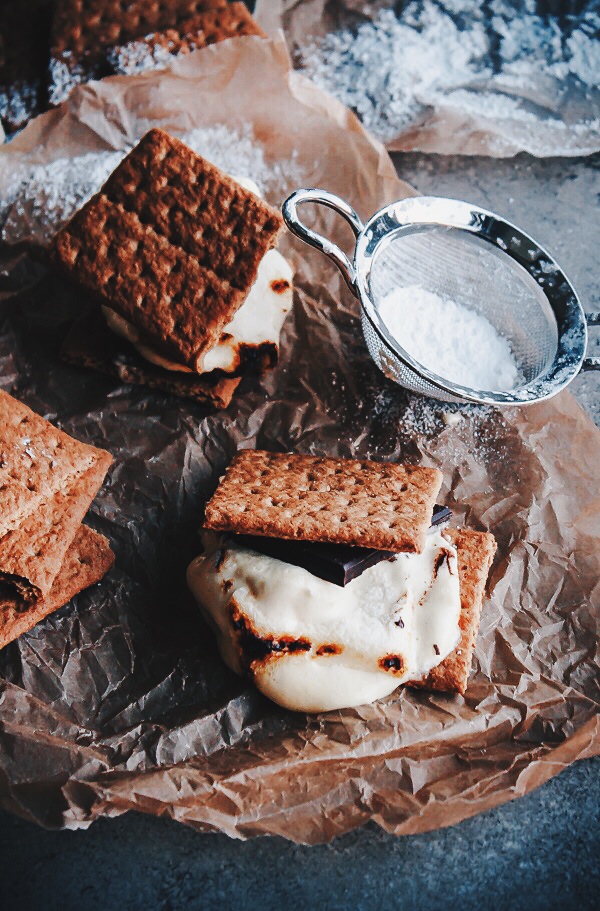 I think I've mentioned this before, but often times I get fixated on an idea and can't let it go for the life of me. Take these Dark Chocolate Passion Fruit S'mores for example.
I've been wanting to share passion fruit marshmallows on the blog for what feels like forever. We made uniquely flavored marshmallows all the time at the restaurant, and the entire concept continues to thrill me to this day.
I mean, homemade marshmallows are already ridiculously fun…but funky flavored ones? Where do I sign up?
Somehow over the past six months (since I shared this festive holiday marshmallow), I lost sight of my extravagant marshmallow blog plans. I totally hate when that happens.
But…they are in full force right now. In other words, I can't stop thinking of them. I'm having a major marshmallow moment.
I have an entire mini notebook filled with marshmallow ideas.
Don't ask.
As with many things in life, I blame Pinterest.
Summer arrived and left its mark. The internet is officially exploding with marshmallows–marshmallows on bars, marshmallows on donuts, marshmallows on cakes…if a dessert has the ability to be stuffed or topped with a marshmallow, people are doing it right now.
And what's the next logical progression of a marshmallow moment in the dead smack of summer?
A homemade-flavored-marshmallow-stuffed-s'more moment. Aghhhhh.
Next logical progression? Take homemade marshmallow idea–tropical, slightly tart and sweet passion fruit marshmallows, toast them lightly, squish them between two graham crackers, and add a generous square of good-quality bittersweet chocolate.
I don't think I'll ever be able to look at a regular s'more the same way again.
S'more week anyone?