Spicy Tuna Onigiri
Homemade Onigiri – learn how to make homemade nigiri with this simple tuna onigiri recipe!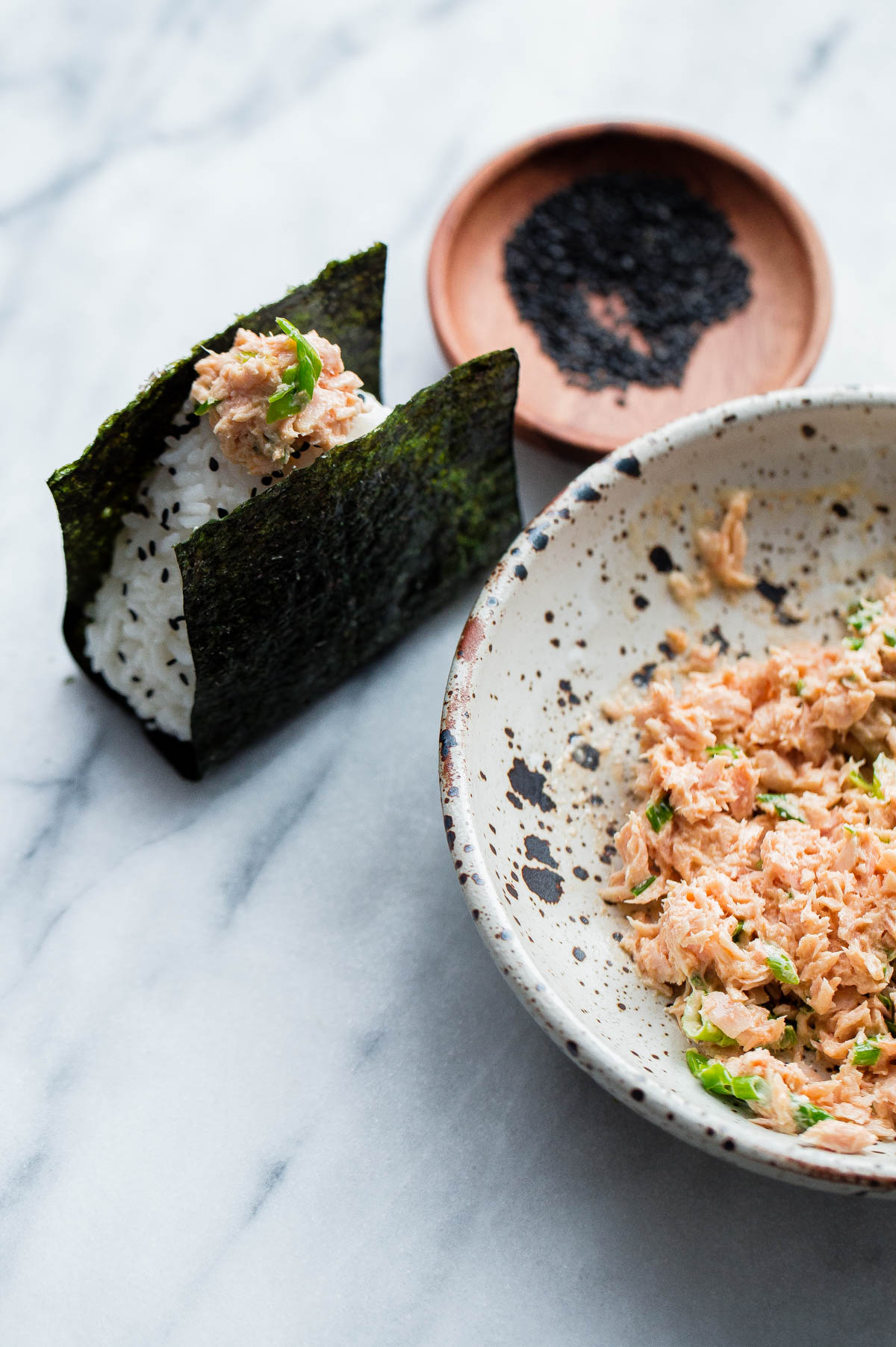 This post is brought to you by Bella Portofino.
If it wasn't clear from Tuesday's post, our trip to Japan in April was quite possibly one of the best travel experiences of our lives!
The people, culture, and cities drew me in more than I ever expected and hardly a week goes by that we don't casually mention our desire to go back.
I would be lying if I didn't admit that our culinary experiences in Japan (and all of those lovely meals we enjoyed there!) were the highlights of the trip. The care, precision, and dedication that Japanese chefs show towards ingredients is outstanding, inspiring, and unforgettable.
Sushi was just the tip of the iceberg.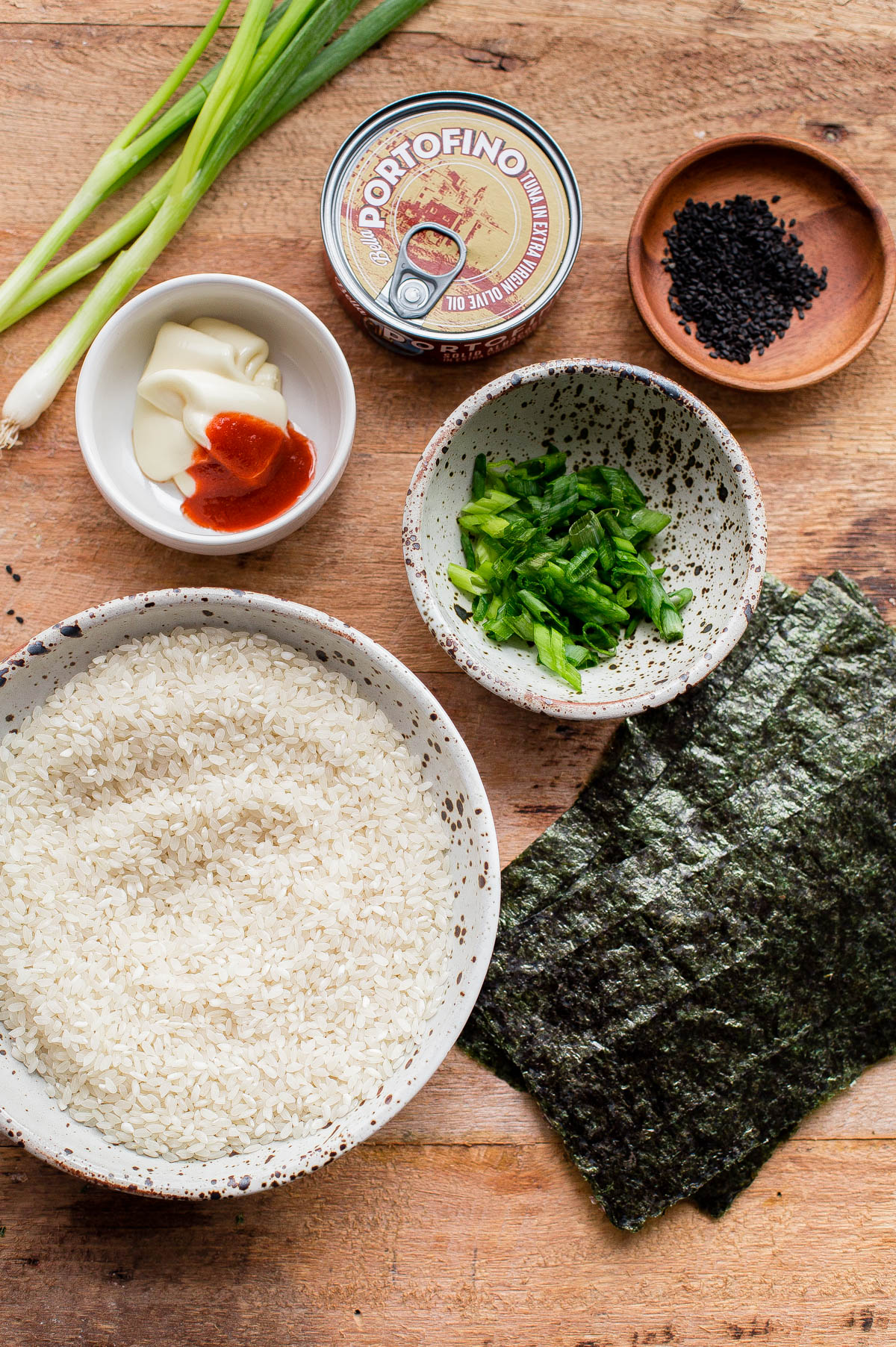 One of the dark horse meals of our entire trip was at Ao Onigiri, a single-counter restaurant in the outskirts of Kyoto that specialized in traditional Japanese onigiri.
As was the case with most of the restaurants we visited during our time in Japan, it was unassuming from the outside and tucked in a residential back alley.
After we determined we were in the right place, we ducked our heads past the blue fabric hanging above the door and walked in to find several people sitting at a six-seat counter. The inside was tiny. Behind the counter, a chef moved with the precision of a dancer, shaping and serving onigiri.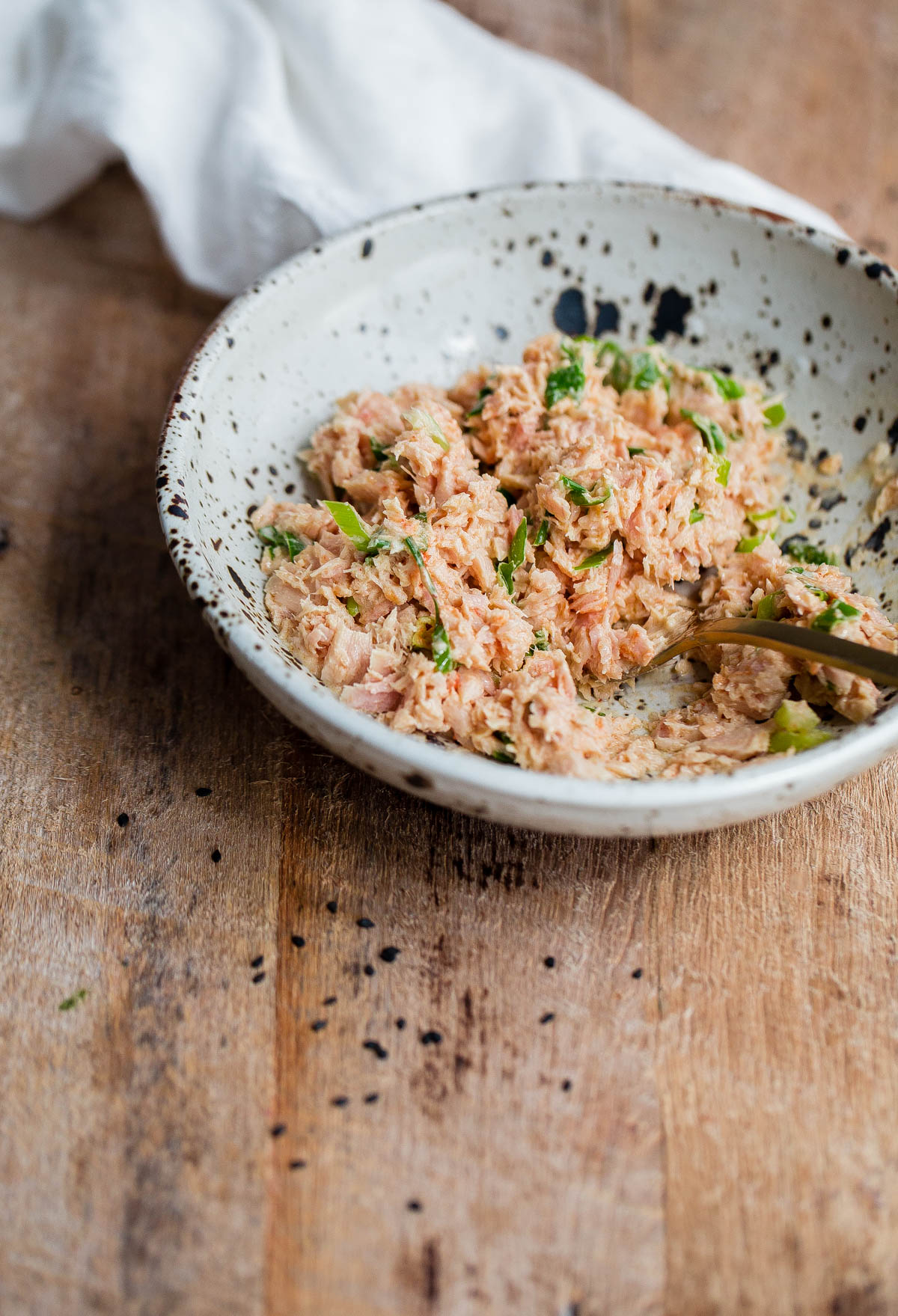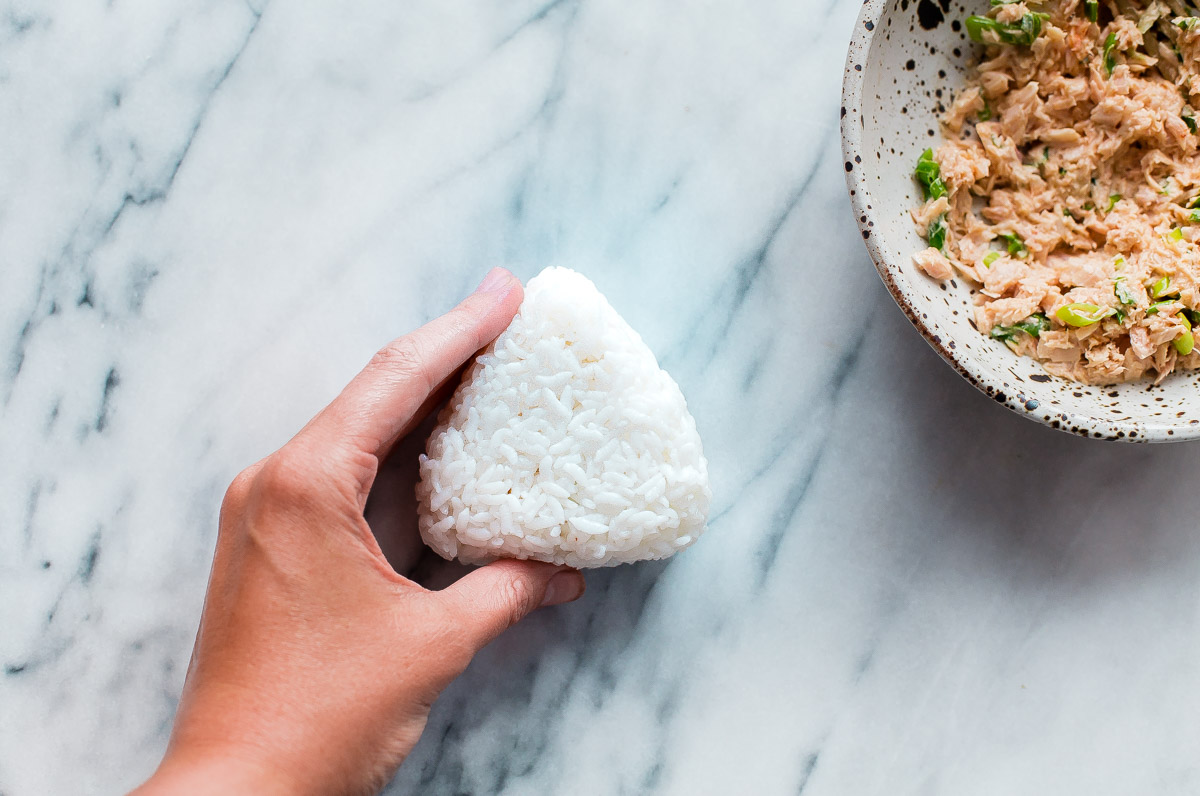 The entire restaurant was a one-man operation. It couldn't have been more efficient or impressive.
We sat down, chose our onigiri fillings (thankfully, there was an English menu!), wrote our order on a small piece of paper handed it to the chef, and within minutes had delicious Japanese onigiri placed in front of us ready to be devoured.
Let me tell you, I enjoyed quite a few onigiri during our time in Japan and these were remarkably delicious. The rice was cooked perfectly, the fillings were spot on, and the nori was delightfully crisp. Quite simply put, I loved them.


What is Onigiri?
If you're unfamiliar with Japanese onigiri, they are essentially rice balls (often shaped into triangles) made from sushi rice and wrapped in nori (seaweed) sheets. While this is not always the case, most onigiri are filled with everything from pickled plum (uemboshi) to salmon, tuna, kelp, and everything in between. The choices are fairly endless.
Onigiri are one of the most popular, portable snack foods in Japan. Similar to foods in other cultures (eg. pasties in England!), onigiri have been a staple of Japanese cuisine for centuries and developed as an easy, self-preserved, on-the-go meal. You can find onigiri in every single convenience store (surprisingly good, but nowhere near as good as Ao Onigiri!) in Japan.
Since our trip, they've become one of my new favorite comfort foods and something I vowed to recreate (at the best of my ability!) once we got home.
In that spirit, I've teamed up with my friends at Bella Portofino to bring you these delicious, comforting homemade spicy tuna onigiri. Old tradition made new and modern. They are simpler than they appear, promise!
The biggest learning curve is the shaping process (and ensuring your rice is cooked properly – tip: a good rice cooker is best for this). I've shared step-by-step photos below!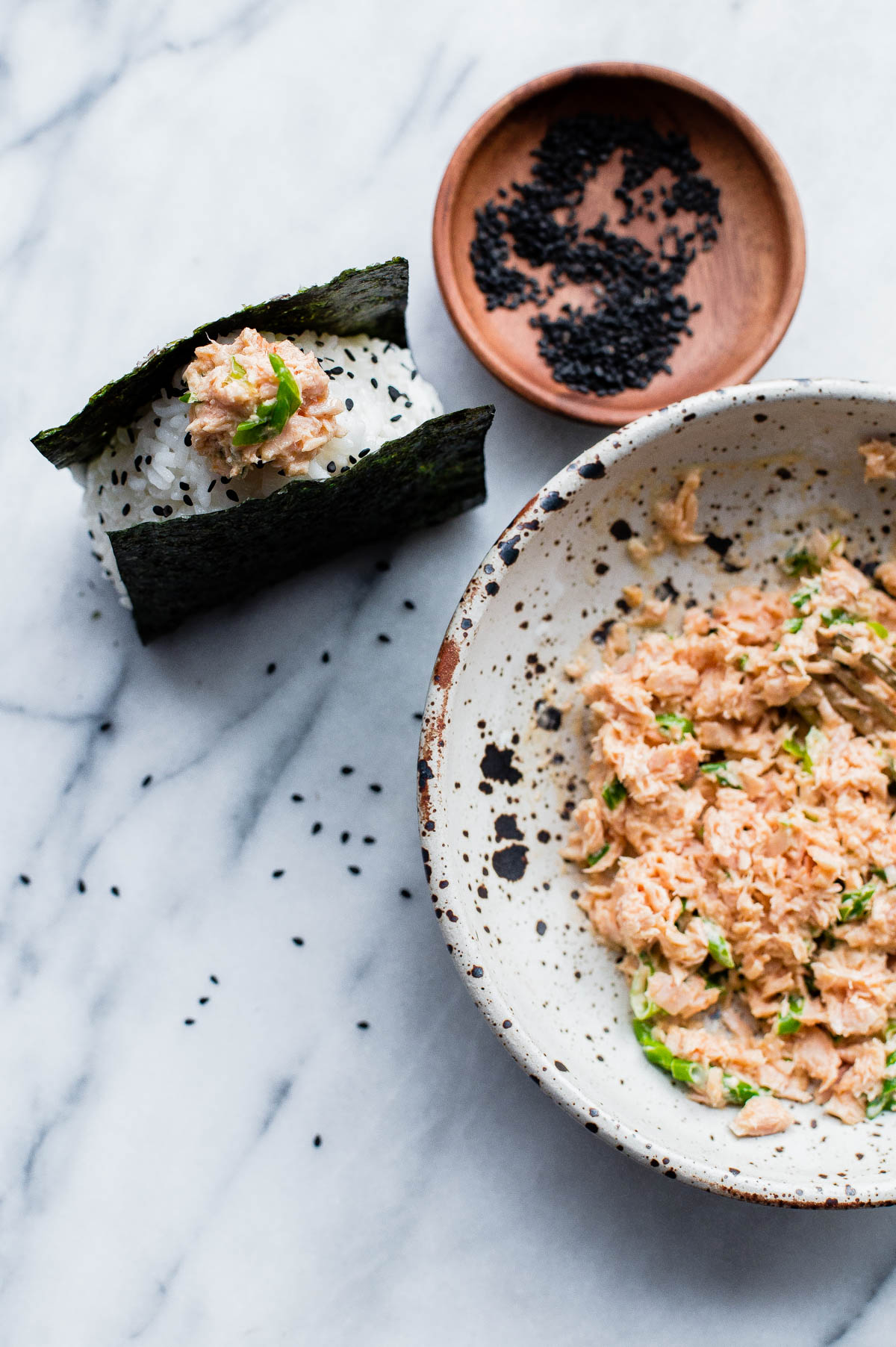 What Do You Put Inside An Onigiri?
One of the more popular, modern onigiri fillings is a simple combination of extra virgin olive oil packed canned tuna and mayonnaise. It's simple, but extremely flavorful and hearty! Bonus: it limits the number of specialty ingredients required to make these.
In keeping with this tradition, I put my own spin on it. While most Japanese cuisine is simple in concept, quality of ingredients is of the utmost importance. This applies to everything from the canned tuna to the sushi rice and nori.
Spicy Tuna Onigiri Filling Ingredients:
extra virgin olive oil packed Albacore tuna (it has a great mild, yet rich flavor!)
traditional mayonnaise
sriracha hot sauce
sliced scallions
rice vinegar
Truthfully, this tuna mixture would taste just as great on a sandwich, but it tastes particularly delicious when combined with fluffy sushi rice and crispy, umami-rich nori.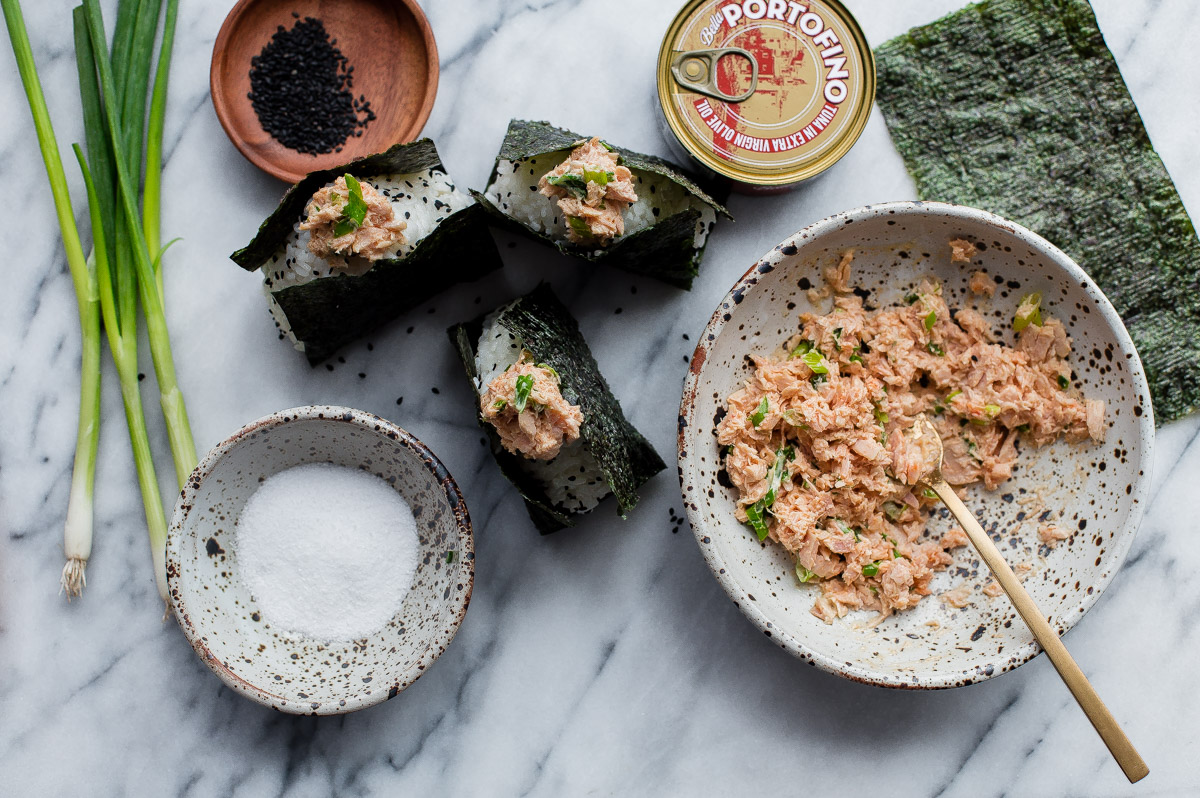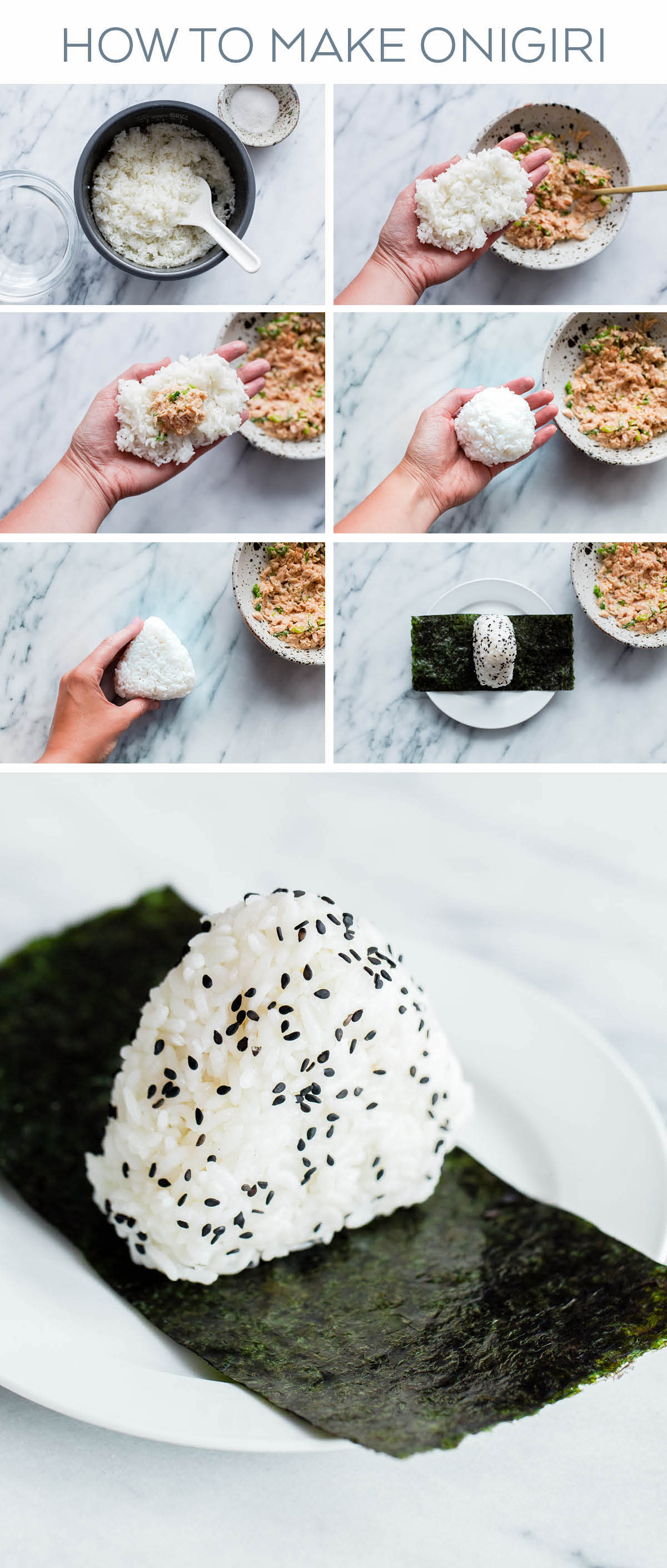 Unlike sushi, which is prepared with sushi rice seasoned with rice vinegar and sugar, the sushi rice used to make onigiri is steamed and only lightly seasoned with salt during the shaping process – nothing else.
While I can't quite promise these are just as good as the ones we enjoyed in Japan, they're pretty darn close!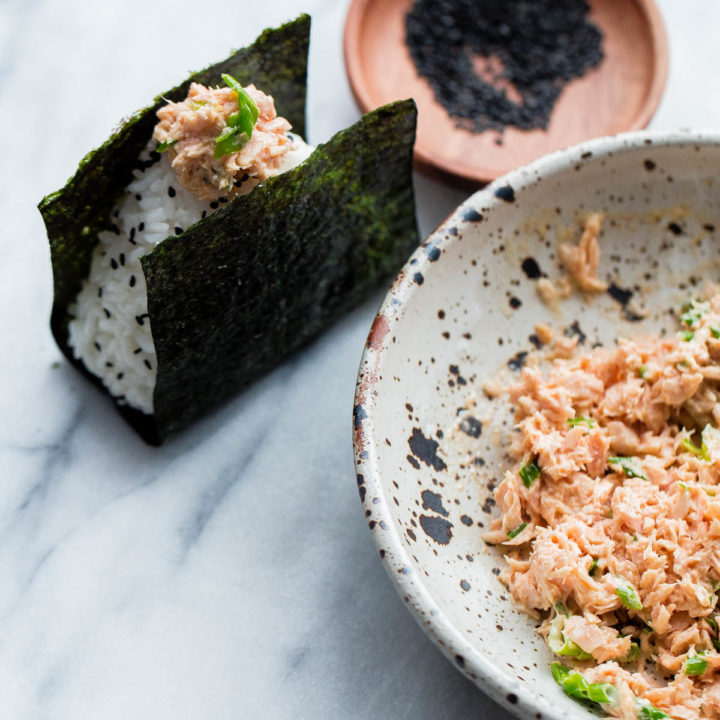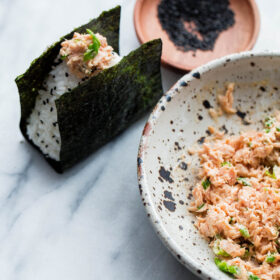 Spicy Tuna Onigiri
Learn how to make homemade nigiri with this simple recipe! This spicy tuna onigiri version is filled with a simple filling of canned olive oil packed tuna, mayonnaise, sriracha, rice vinegar, and scallion.
Ingredients
1½ cups Japanese short-grain rice (sushi rice) about 2 rice cooker cups
15 fluid ounces (440 mL) cold water
kosher salt
1 (4.5-ounce) can Portofino Solid Albacore Tuna in Extra Virgin Olive Oil drained
1½ tablespoons mayonnaise
1 teaspoon sriracha hot sauce
½ teaspoon rice vinegar
1 scallion (green parts only) finely sliced
toasted black sesame seeds for sprinkling (optional)
3 sheets toasted nori cut crosswise in half
Instructions
Prepare the rice: Place the rice in a fine-meshed sieve and rinse well under cold water, rubbing the grains of rice between your fingers, until the water runs clear. This helps remove any excess starch and improves the texture of the rice once cooked. Drain well.

Combine the rice and water, and cook in a rice cooker according to the manufacturer's directions. This method will yield the best-textured sushi rice. If you do not own a rice cooker: Combine the rice and water in a medium (non-stick, if possible) saucepan. Bring to a boil, reduce heat to the low, and cook covered for 16 to 18 minutes or until the water has been completely absorbed. Remove from heat, gently fluff the rice with a rice paddle or wooden spoon, place a clean kitchen towel over the pot, top with the lid again, and let stand covered for 10 minutes. While the rice cools slightly, prepare the onigiri filling.

Make the filling: In a medium bowl, combine the albacore tuna, mayonnaise, hot sauce, and rice vinegar with a fork until evenly combined. Stir in the scallions.

Assemble: Set aside a medium bowl of room temperature water and a small bowl of kosher salt for pinching. Once the sushi rice is cool enough to handle, start assembling the onigiri by hand.

Lightly moisten your hands by dipping them in the water bowl (this will help prevent the rice from sticking to your hands during shaping). Sprinkle both of your palms lightly with kosher salt and rub them together. Grab roughly a ½ cup of sushi rice and gently press into a thick oblong shape in one palm of your hand. Add a tablespoon of the tuna filling, pinched together with your fingertips, to the center of the rice and close the rice over the filling. [If necessary, use an additional pinch or two of rice to cover the filling.]

Gently shape the rice ball into a wide triangular shape using the palms of one hand and the fingers of your other hand, rotating the rice ball as you go. Avoid compressing the rice too hard, it should hold together well but be lightly packed. Sprinkle the outside of the onigiri with black sesame seeds. Wrap each onirigi in a nori sheet and place an additional small spoonful of tuna filling on the top of each onigiri. Serve immediately.
Tips for Success:
Unlike sushi, which is prepared with sushi rice seasoned with rice vinegar and sugar, onigiri is made with steamed rice that is lightly seasoned with salt during the shaping process – nothing else.
Serving: 1serving, Calories: 250kcal, Carbohydrates: 41g, Protein: 10g, Fat: 4g, Saturated Fat: 0.5g, Sodium: 150mg, Fiber: 2g, Sugar: 1g
This post was created in partnership with Bella Portofino and I received compensation for my participation. Opinions are my own. Thank you for your support!
This post contains affiliate links, which means that I make a small commission off items you purchase at no additional cost to you. Please read my
privacy policy
for more information.