Strozzapreti with Pork Sausage, Shaved Brussel Sprouts, and Sage
Strozzapreti pasta with pork sausage, shaved Brussels sprouts, and fresh sage. This dish is addictive, you'll want to make it over and over again!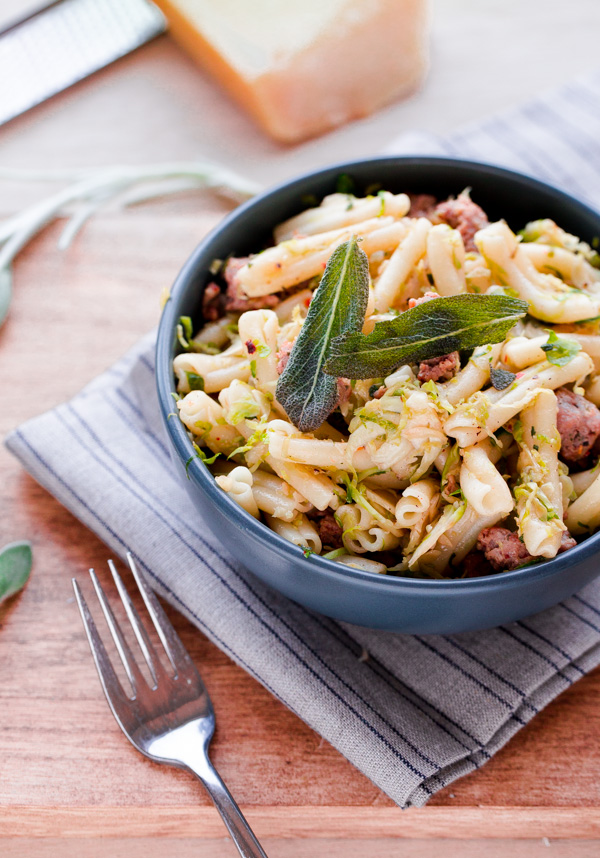 It wouldn't be #BrusselsSproutWeek without pasta! Ok, well, it wouldn't be any week without a good heaping bowl of pasta, but that is an entirely different matter.
You know that famous Sophia Loren quote, "Everything you see I owe to spaghetti." That basically defines my life.
In a nutshell.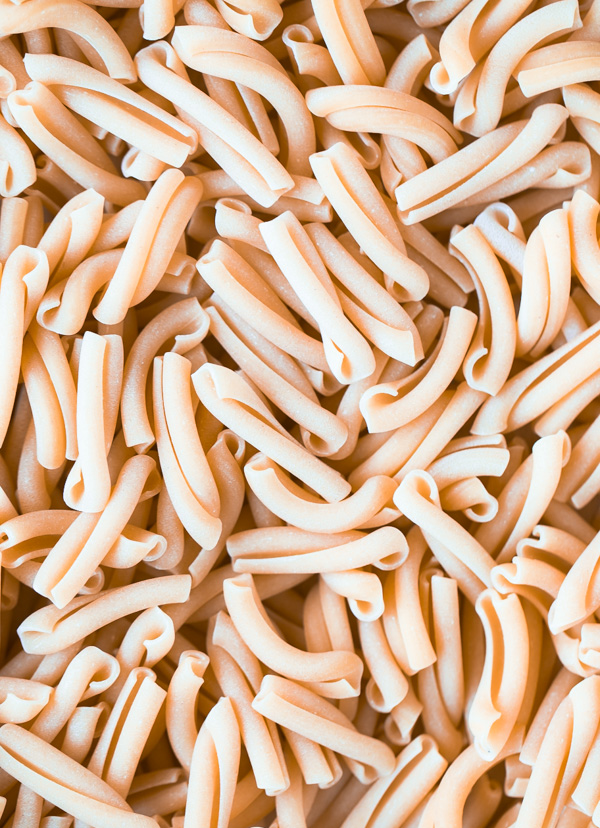 It is my weakness in life.
Except, I prefer not to think of pasta as a weakness, and more so as a life necessity. I can't live without the stuff. I happily accept that I am a lost cause to the anti-pasta movement that seems to be taking over the world. Not a fan.
Seriously, though. Since I've only shared side dishes and one salad recipe thus far, I decided it was about time that I post a main course Brussels sprout recipe for this crazy, I-might-have-caused-a-national-shortage-of-Brussels-sprouts-in-the-process-of-testing-these-dishes, week of Brussels sprout recipes!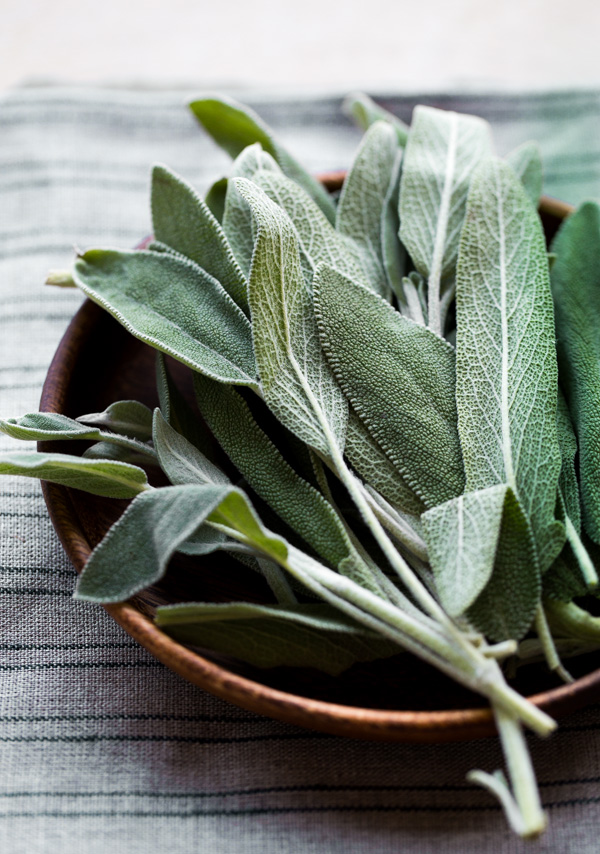 Today's pasta was loosely inspired by a Brussels sprouts, ground veal, and sage pasta that my older sister made for my family last year.
I changed the original dish a lot (honestly, I don't even have the original recipe in my possession!) and nixed the veal for  easier-to-find, seasonal ingredients, such as pork sausage without the casings.
This time of year, just before the holidays, Whole Foods sells various types of ground sausage that you can purchase by the pound without the casings. I happened to find a ground pork sausage with sage, which was perfect for this recipe, but any mild pork sausage would work.
Fresh sage is one of my favorite herbs of all time. It reminds me of stuffing (dressing?), Christmas, sweaters, and all good things in life.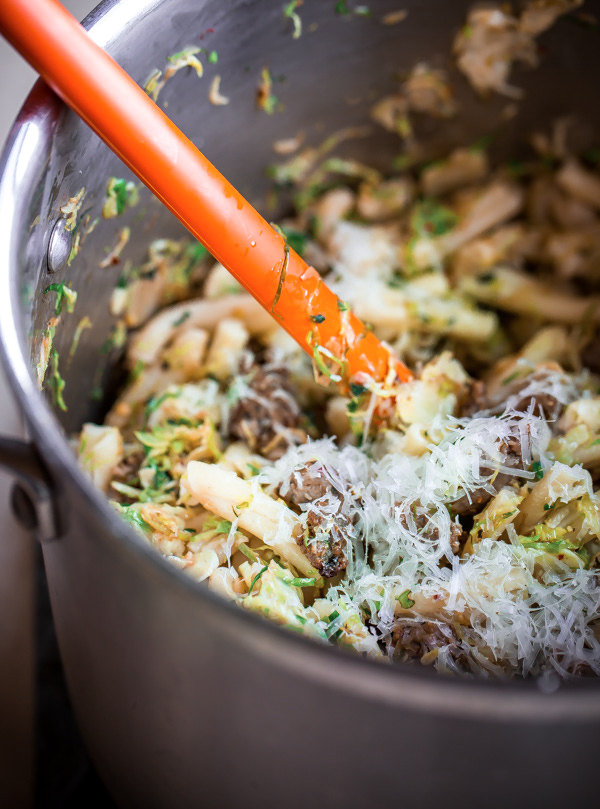 But back to the Brussels! This pasta is chock full of them. Nearly a pound to be exact.
In order to make a pasta that had a generous amount of Brussels sprouts in every bite, I shredded them in the food processor–as I did in yesterday's salad recipe.
They are sauteed in the sausage drippings (yes, yes, yes), and the teeniest amount of water before being mixed with the browned pork sausage pieces, sauteed garlic, and lots of fresh sage.
Since I can't leave well enough alone, I also added a half teaspoon of red pepper flakes, because in my humble opinion, red pepper flakes always make things better. Let's eat!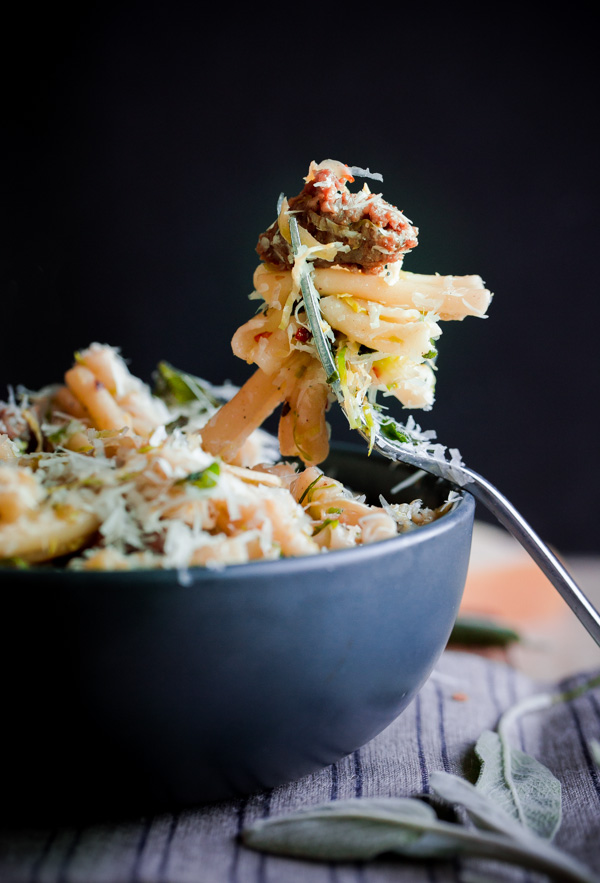 Can I just say that I am totally over typing the word, Brussels sprouts? Unfortunately the obvious abbreviation ('B.S') is not a good solution, so I'm left with no other option.
Serious food blogger problems.

If you want even more Brussels sprouts, check out my Facebook page, where I'll be sharing my favorite links from around the web all week long!