Strozzapreti with Pork Sausage, Shaved Brussel Sprouts, and Sage
This post contains affiliate links.
Strozzapreti pasta with pork sausage, shaved Brussels sprouts, and fresh sage. This dish is addictive, you'll want to make it over and over again!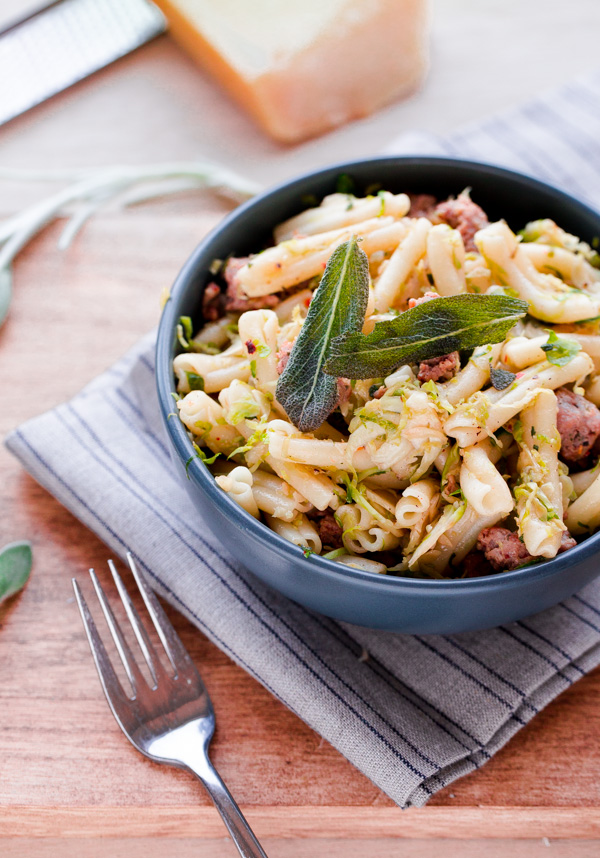 It wouldn't be #BrusselsSproutWeek without pasta! Ok, well, it wouldn't be any week without a good heaping bowl of pasta, but that is an entirely different matter.
You know that famous Sophia Loren quote, "Everything you see I owe to spaghetti." That basically defines my life.
In a nutshell.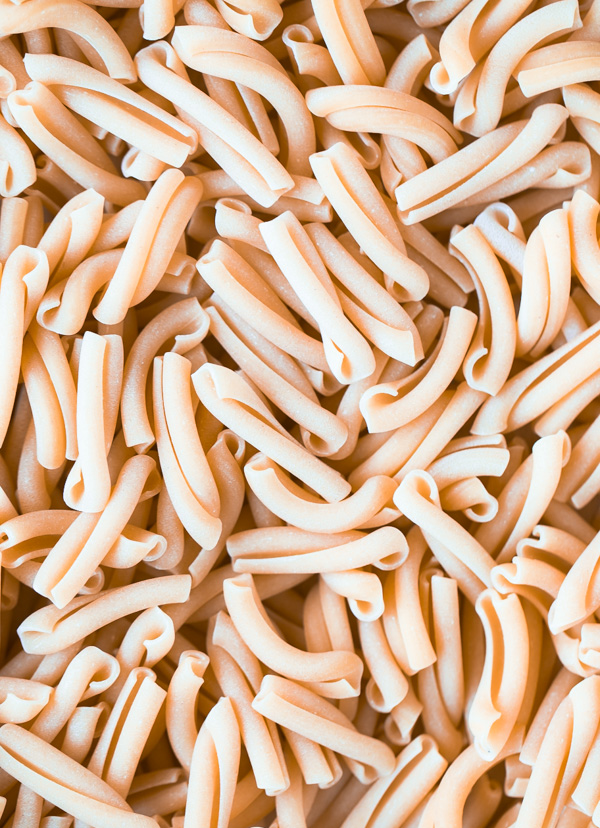 It is my weakness in life.
Except, I prefer not to think of pasta as a weakness, and more so as a life necessity. I can't live without the stuff. I happily accept that I am a lost cause to the anti-pasta movement that seems to be taking over the world. Not a fan.
Seriously, though. Since I've only shared side dishes and one salad recipe thus far, I decided it was about time that I post a main course Brussels sprout recipe for this crazy, I-might-have-caused-a-national-shortage-of-Brussels-sprouts-in-the-process-of-testing-these-dishes, week of Brussels sprout recipes!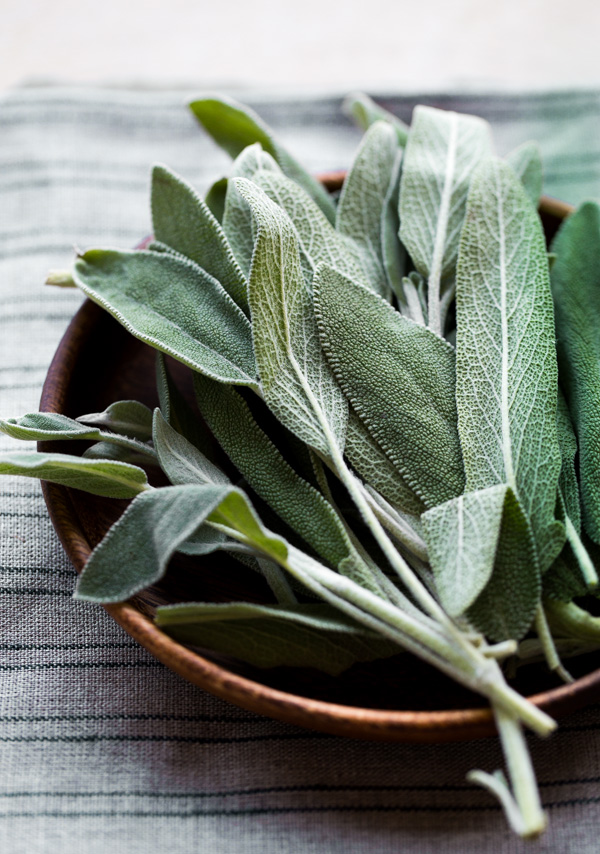 Today's pasta was loosely inspired by a Brussels sprouts, ground veal, and sage pasta that my older sister made for my family last year.
I changed the original dish a lot (honestly, I don't even have the original recipe in my possession!) and nixed the veal for  easier-to-find, seasonal ingredients, such as pork sausage without the casings.
This time of year, just before the holidays, Whole Foods sells various types of ground sausage that you can purchase by the pound without the casings. I happened to find a ground pork sausage with sage, which was perfect for this recipe, but any mild pork sausage would work.
Fresh sage is one of my favorite herbs of all time. It reminds me of stuffing (dressing?), Christmas, sweaters, and all good things in life.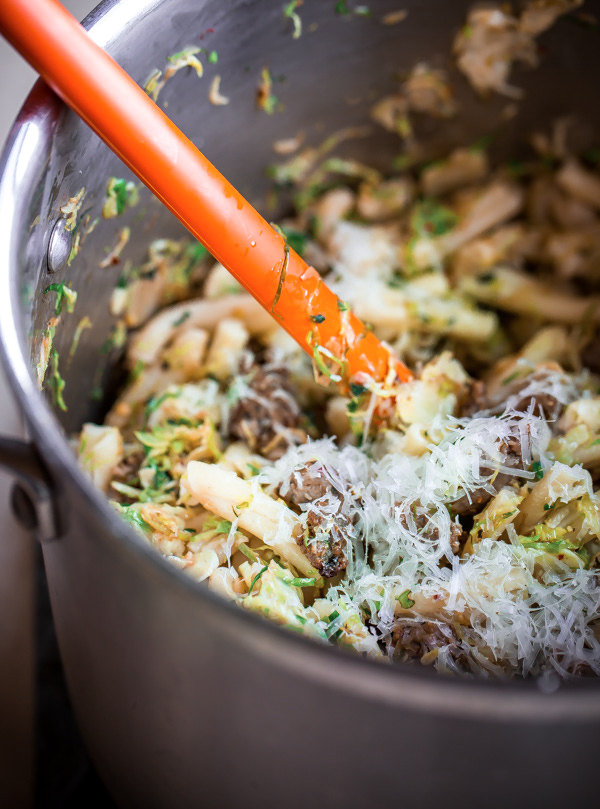 But back to the Brussels! This pasta is chock full of them. Nearly a pound to be exact.
In order to make a pasta that had a generous amount of Brussels sprouts in every bite, I shredded them in the food processor–as I did in yesterday's salad recipe.
They are sauteed in the sausage drippings (yes, yes, yes), and the teeniest amount of water before being mixed with the browned pork sausage pieces, sauteed garlic, and lots of fresh sage.
Since I can't leave well enough alone, I also added a half teaspoon of red pepper flakes, because in my humble opinion, red pepper flakes always make things better. Let's eat!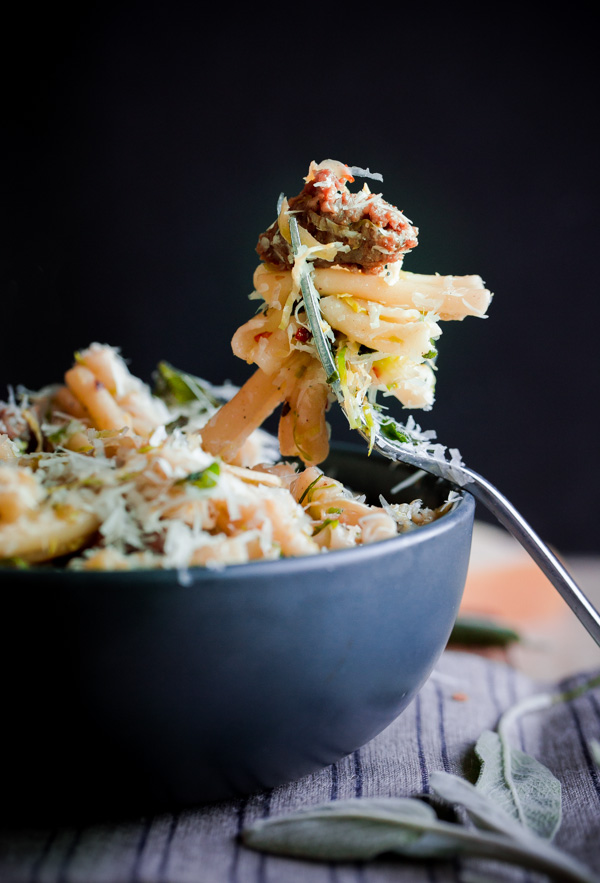 Can I just say that I am totally over typing the word, Brussels sprouts? Unfortunately the obvious abbreviation ('B.S') is not a good solution, so I'm left with no other option.
Serious food blogger problems.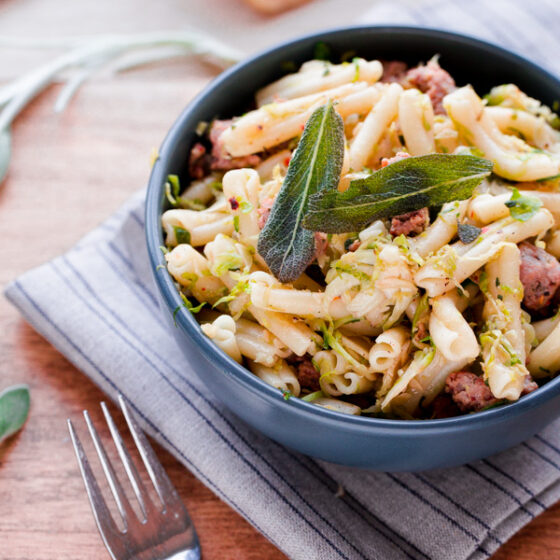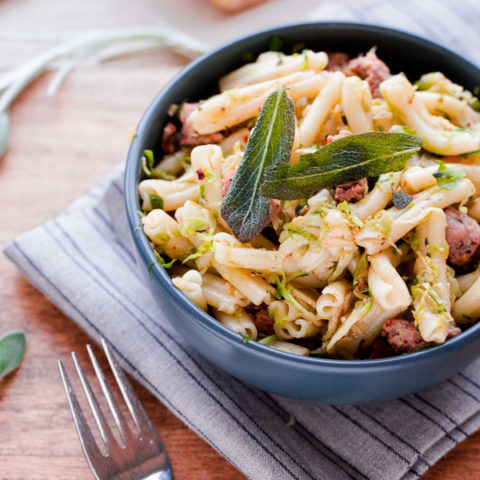 Strozzapreti with Pork Sausage, Shaved Brussel Sprouts, and Sage
Yield: 4-6 Servings
Strozzapreti pasta with pork sausage, shaved Brussels sprouts, and fresh sage. This dish is addictive, you'll want to make it over and over again!
Prep Time: 10 minutes
Cook Time: 25 minutes
Total Time: 35 minutes
Ingredients
1 tablespoon olive oil
1 lb bulk pork sausage (casings removed)
4 garlic cloves, finely chopped
10 large sage leaves, finely chopped
3/4 lb Brussels sprouts, stems trimmed and thinly shaved
1 lb strozzapreti dried pasta (feel free to substitute with orecchiette, farfalle, fussilli, gobetti, or other short textured dry pasta)
1/2 teaspoon red pepper flakes
freshly ground black pepper
kosher salt
parmigiano-reggiano cheese, grated
Instructions
Set the sausage out at room temperature for 20 to 30 minutes before cooking, and prepare the remaining ingredients. Bring a large pot of salted water to boil.
Heat the oil in a large (12 inch), non-stick skillet over medium-high heat. Cook the sausage in three to four batches, breaking the sausage into small pieces as you add it to the pan. Brown the sausage pieces on all sides (you want them to sear and turn golden brown, this will maximize their flavor) and once cooked through, use a slotted spoon to transfer them to a medium heat proof bowl.
Reduce the heat to low and saute the chopped garlic for 1-2 minutes, stirring constantly. Add the chopped sage and cook for another minute or so, stirring. Be careful to prevent to the garlic and sage from burning. Once sauteed, using a slotted spoon to transfer the garlic and sage bits to the bowl of cooked sausage.
Over medium heat, add the shredded Brussels sprouts to the same pan with any remaining sausage drippings that remain. Add two tablespoons of water to the pan. Saute the brussel sprouts, stirring occasionally, until they are softened and lightly caramelized–it will take about 5 to 7 minutes roughly. If the pan gets too dry, add another teaspoon or so of water to the pan as necessary.
Add the cooked sausage pieces, garlic, and sage mixture to the saute pan, and keep warm over very low heat. Season the sprouts with salt and pepper, and add the red pepper flakes.
Meanwhile, add the pasta to the boiling water and cook until al dente. Reserve 1/2 cup of pasta water and drain the pastas in a colander. Return the pasta to the pot. Add the sausage and Brussels sprout mixture to the pasta–add pasta water as necessary. Stir in 1/4 to 1/2 cup parmigiano-reggiano cheese, and serve.Top with more parmesan cheese and fried sage leaves as desired.
Nutrition Information:
Yield: 6
Serving Size: 1
Amount Per Serving:
Calories: 414
Total Fat: 24g
Saturated Fat: 7g
Trans Fat: 0g
Unsaturated Fat: 15g
Cholesterol: 66mg
Sodium: 741mg
Carbohydrates: 30g
Fiber: 3g
Sugar: 2g
Protein: 20g

If you want even more Brussels sprouts, check out my Facebook page, where I'll be sharing my favorite links from around the web all week long! 
This post contains some affiliate links, which means that I make a small commission off items you purchase at no additional cost to you. Please read my
disclosure policy
for more information.