Asian Roasted Brussels Sprouts with Crispy Fried Shiitake Mushrooms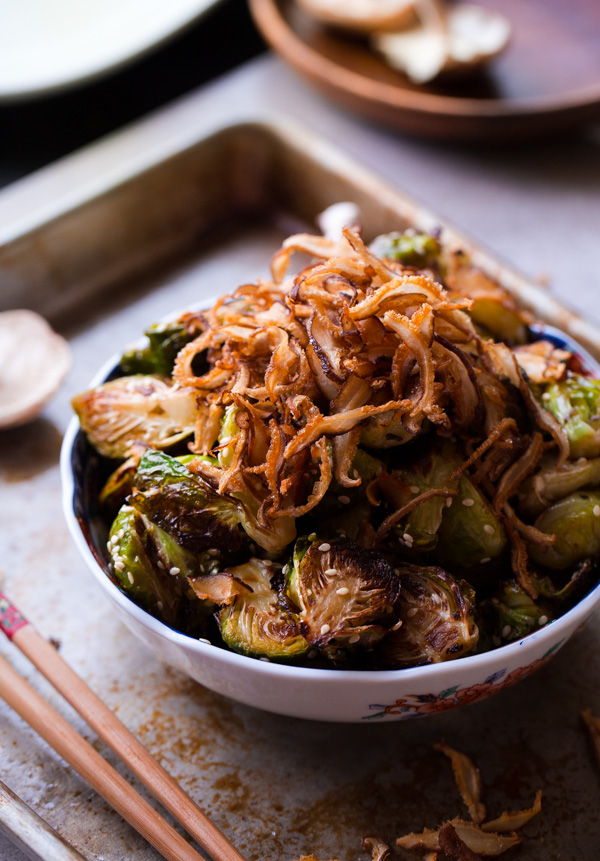 We did it! Today marks the official last day of #BrusselsSproutsWeek. I'm kind of sad actually, even though I have decided to announce a formal separation from sprouts for at least a month (next Thursday excluded). Hopefully I've convinced some haters out there to give them a second chance though!
Five Brussels sprout recipes in five days. We fried the leaves and tossed them with chili flakes and lemon, roasted them with squash for the perfect last-minute Thanksgiving side dish, shaved and eaten them raw in a salad, and tossed them with pasta.
Today, we're roasting them again, except this time we're tossing them toasted sesame seeds and  a really delicious Asian-inspired sauce that totally brings back memories of this other salad I shared back in September.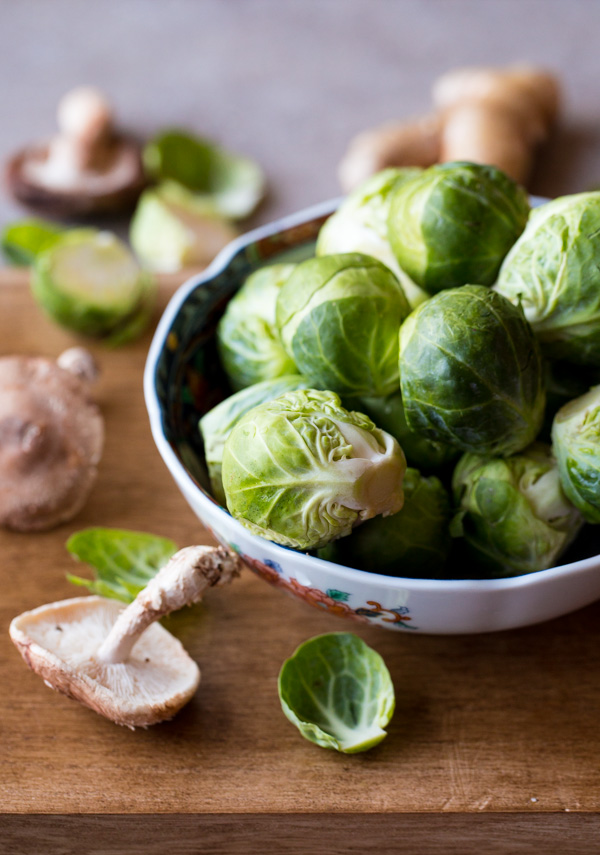 Then I went all out and topped them with crispy fried shiitake mushrooms! I got the idea at the very last minute, hesitated for about a second, and then decided to fully commit to it.
In fact, they totally remind me (at least in appearance) of the crispy onions that people put on top of green bean casserole. I know I'm supposed to be focused on selling this dish, but you should totally swap out crispy onions for crisp fried shiitakes on your green bean casserole this year.
Hello wow factor.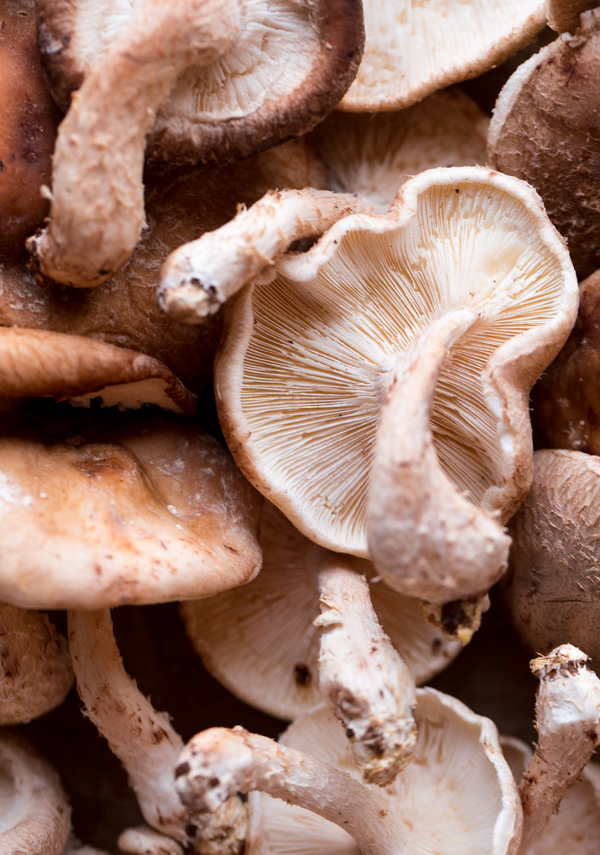 They are so crispy and crunchy, and add great texture to the dish (and I am already picturing dumping them on top of any number of things, including this Asian noodle salad, or basically any soba noodle dish).
The trick to getting crunchy fried shiitake mushrooms is to slice them extremely thin. Like paper thin, you basically want them to be ribbons when you place them into the oil. It takes a little concentration and knife skills, but I promise it is doable.
If the mushrooms are too thick, they won't be able to fry as properly and will have more of a classic mushroom texture. If you don't feel like going to the trouble of breaking out the frying oil again, don't worry. This dish still can hold its own without them.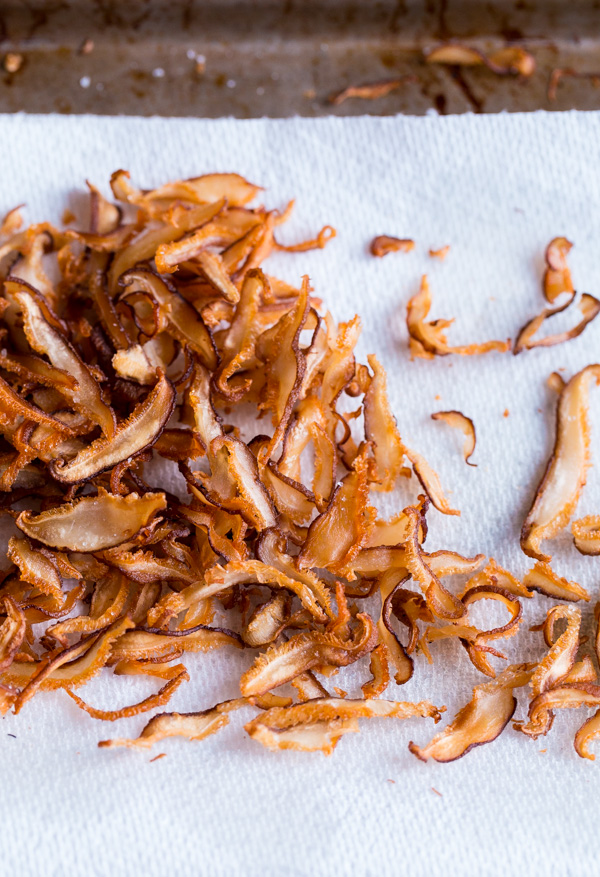 It's Friday, and this is my fifth Brussels sprout recipe in five days, so… I'm officially out of words when it comes to Brussels sprouts, but we still loved these.
Connor happily ate an entire bowl of them, and then formally threatened to move out if he sees another Brussels sprout for a while (again, next Thursday excluded).
Peace out Brussels sprout.
It's been real.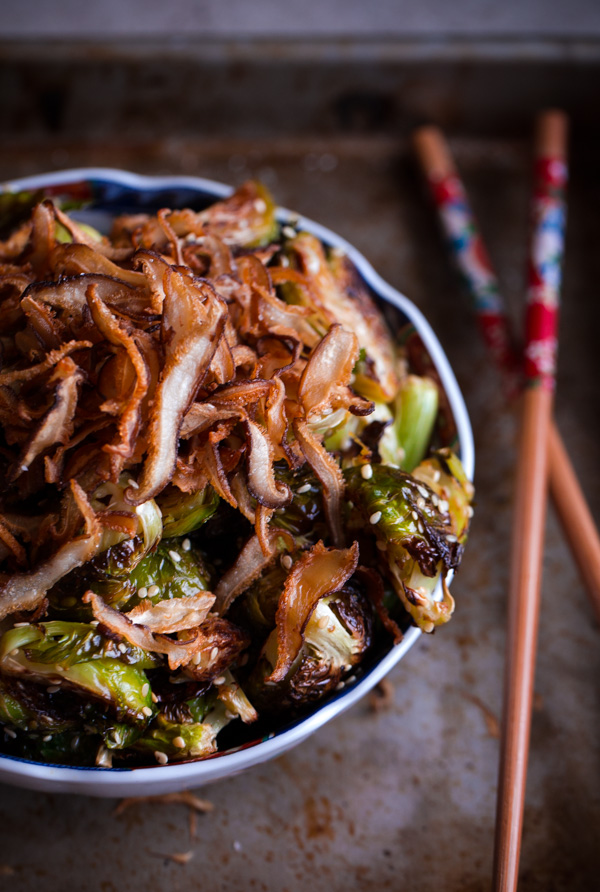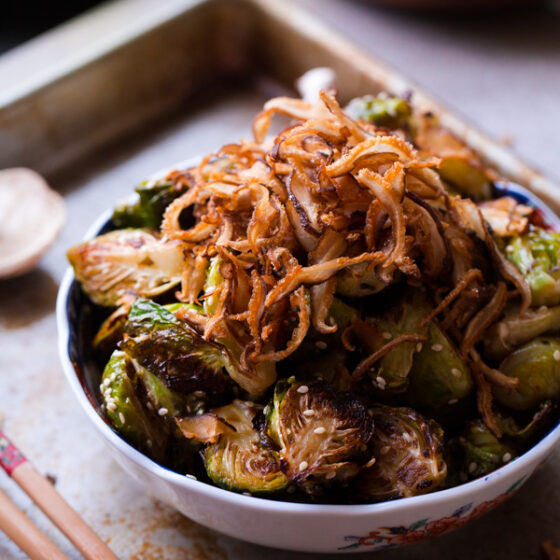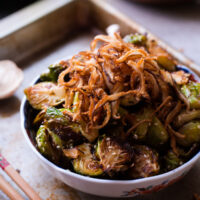 Asian Roasted Brussels Sprouts with Crispy Fried Shiitake Mushrooms
Yield: 3-4 Servings
Prep Time: 15 minutes
Cook Time: 30 minutes
Total Time: 45 minutes
Ingredients
2 lbs Brussels sprouts, stems trimmed and halved (or quarters, depending on size)
2 tablespoons toasted sesame oil
kosher salt
freshly ground pepper
1 tablespoon low-sodium soy sauce
1 tablespoon rice vinegar
1 teaspoon finely grated fresh ginger
1/2 teaspoon white miso paste
pinch of red pepper flakes
2 tablespoons toasted sesame oil
1 tablespoon toasted sesame seeds
Crispy Fried Shiitake Mushrooms (Optional)
2-3 ounces shiitake mushrooms, stems removed and sliced paper thin
1.5 -2 cups safflower oil, for frying
kosher salt
freshly ground black pepper
Instructions
Prepare the Brussels Sprouts: Preheat the oven to 450 degrees Fahreneheit. Place the halved Brussels sprouts on a large baking sheet. Drizzle them with the 2 tablespoons of toasted sesame oil, and toss them with your hands to distribute the oil evenly. Season lightly with salt and freshly ground pepper.
Roast the sprouts at 450 degrees for 20 to 30 minutes, flipping them gently 1 to 2 times during the roasting time to ensure that they caramelize evenly on all sides. Place the baking pan on a rack, and allow them to cool slightly while you prepare the dressing.
In a small bowl, whisk together the soy sauce, rice vinegar, fresh ginger, miso paste, and pepper flakes. Slowly pour in two tablespoons of sesame oil, whisking continuously with your other hand, until the ingredients are emulsified. Season with pepper to taste.
Prepare the Shiitake Mushroom Topping: Heat the oil in a small saucepan over medium heat until the temperature reaches 350 degrees Fahrenheit with a candy thermometer.
Remove the stems from the mushrooms and using a sharp chef's knife, slice the mushrooms lengthwise into paper-thin strips. Line a small baking sheet with paper towels and set aside.
Carefully fry a handful of mushroom slices at a time (be careful, as the oil can spit)–the oil will bubble very strongly at first, and start to subside as the mushrooms are nearly done. Using a slotted stainless steel spoon or spider skimmer, gently flip the mushrooms continuously in the oil until they begin to curl slightly and turn golden brown.
Skim and scoop the mushrooms from the oil and transfer them to the paper-towel lined baking sheet to drain an excess oil. Immediately season them with salt. Fry the remaining mushromos and repeat.
Gently place the warm roasted sprouts in a large bow bowl or platterl. Pour on the sauce and toss the vegetables gently until they are lightly dressed. Season to taste, and top them with fried shiitake mushrooms.
Notes
asian brussels sprouts recipe, asian roasted brussels sprouts recipe, fried shiitake mushrooms
Nutrition Information:
Yield: 4
Serving Size: 1
Amount Per Serving:
Calories: 448
Total Fat: 48g
Saturated Fat: 4g
Trans Fat: 0g
Unsaturated Fat: 42g
Cholesterol: 0mg
Sodium: 133mg
Carbohydrates: 6g
Fiber: 2g
Sugar: 1g
Protein: 2g
A Beautiful Plate provides nutritional information, but these figures should be considered estimates, as they are not calculated by a registered dietician.

If you missed them, check out these other recipes from #BrusselsSproutsWeek!
Want more? Check out my Facebook page, where I'll be sharing my favorite links and recipes from around the web all week long! So.many.brussels.sprouts.